The Toyota RAV4 I drove to this year's Hagerty Festival of the Unexceptional was something of a hit. There were people milling around it all day, peering in through the expansive windows and wedging their heads 'twixt tyre and arch to marvel at the cleanliness beneath. An object of automotive importance it might be, having basically kicked off the crossover craze now saturating the new car market, but it somehow fits right in amongst the Acclaims and the Cavaliers.
That people seem to be sleeping on the RAV4 as a modern classic adds fuel to the fire. Aren't all unexceptional cars slightly under-appreciated? Perhaps it's the general ennui of enthusiasts over that proliferation of crossovers that dominate modern traffic putting them off older cars of the same breed.
How much is your car to insure? Find out in four easy steps.
Get a quote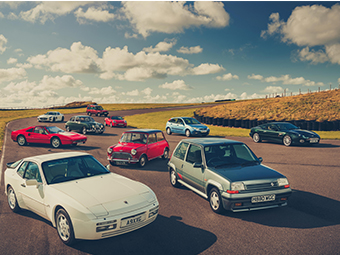 Enthusiasts are more accepting of a Range Rover or a Willy's Jeep, design icons of their time, but outside of the muddy world of off-roading, there's not much appetite for old Suzuki Vitaras or SJ410s. Poor road manners have rarely been a barrier to classic ownership, but the tradeoff is usually iconic style or status, and these smaller Japanese 4x4s haven't yet had the time to acquire either.
The RAV4, which traded some rufty-tuftiness for better on-road chops, fixes that to some degree – but also spawned that modern breed of SUV-alikes that have entirely swallowed up once-loved segments like coupés and convertibles. Praising the RAV4 then, and treating it as a beloved classic, seems a little like doing a deal with the devil.
But if you're in the market for a low-budget, high-utility classic from the 1990s – that'll fit in pretty well at next year's festival – then should you be taking a look at Toyota's genre-defining soft-roader before the market cottons on like it has with sportier Supras and MR2s?
On the other hand…
Deal with the devil or not, the returns are far from hellish. The RAV4's styling, particularly in three-door form and with a set of steel wheels, exudes its decade's optimism from every surface. From the friendly face to the plastic-clad sides, tailgate-mounted spare (no rutting rhinos, that was a Suzuki thing) and the ready-for-the-beach short-wheelbase shell, the RAV4 has a genuine "lifestyle" vibe that makes the go-anywhere pretensions of modern crossovers look as shallow as the puddles you'd think twice about using them to traverse.
You can sense there was a struggle at Toyota between the designers and the suits, the former getting away with a seat fabric pattern that could only have originated in the last decade of the 20th century, the latter fighting back with rows and rows of severe-looking button blanks, chastising the original owner for opting for this GS base model.
Mirror glass is manually-adjustable in this car too (as in there aren't even any levers; you have to get out and do the passenger side yourself), the windows are crank-operated, while at night the instruments glow so feebly it's like trying to read a book illuminated by a candle on a neighbour's windowsill.
But then all the controls and fixtures are Tonka-toy tough, feeling like they'd comfortably serve double this car's 136,000 miles even if the steering wheel and gearknob have long since worn pool-ball smooth. The enormous, hard plastic door pulls don't make great elbow rests but do feel like they could be used in boxing gloves.
Chunky B-pillars limit over-the-shoulder glances, but otherwise it has the same thin-pillar visibility as the classics we know and love. The boot space is modest and the side-hinged tailgate a nuisance in tight spots, but the rear seats tumble individually, so what it loses in flash it makes up for in utility too.
Lugger, not a fighter
From the driver's perch – and you do sit surprisingly high – the RAV4… isn't that spectacular to drive. You barely get a chance to twist the key before the 2-litre, four-cylinder petrol engine whizzes into life and settles into a quiet idle, but once underway anything above 3000rpm on the rev counter is effectively redundant, thrashing away more like a sixties pushrod unit than a nineties twin-cam. The RAV's late-arrival rivals, the Honda CR-V and Land Rover Freelander, improved considerably on its refinement.
Thankfully it delivers suitable performance over the first few thousand rpm and makes access to its performance easy through a light gearshift throw via club-like plastic lever. An occasional shunt from the various shafts beneath reminds you that all four wheels are being powered, and on a motorway cruise (70mph equates to around 3000rpm) there's plenty of belt whine, suggesting Toyota economised on sound-deadening to achieve its 1150kg kerb weight.
That's right, this 2-litre, four-wheel driven vehicle weighs less than a new Ford Fiesta. At 3740mm it's around a foot shorter too, and even a touch narrower, so other than being relatively tall, the RAV4 is dinky and light enough to be little more environmentally impactful than any other '90s classic. It's an easy fit in the garage, and economy figures in the mid-30mpg range are eminently achievable.
Corners? Yep, it does those, with its tyres shrieking at surprisingly low speeds, but the steering is accurate enough via a chunky four-spoke steering wheel nabbed from the Supra. It takes a few passes at a given corner to reassure yourself it's not just going to fall over, but just treat the steering like the low-revving engine; not too much at once, and you'll be well within its comfort zone.
The ride's a bit knobbly, perhaps due in part to the short wheelbase. Sensibly-sidewalled tyres nevertheless take the stress out of potholed roads or rough tracks. Not that we took it any further off road than the odd grass verge to make space for traffic down narrow country lanes. It may be better suited than say, a Nissan Juke, but even when new proper off-roading was never really in the RAV4's remit.
It's funny to think some magazines called the RAV4 a GTI alternative back in the day, though this was the age of the Mk3 Golf so perhaps that wasn't so far from the mark. Until other brands picked up what Toyota was putting down, there were no direct rivals to speak of; a Golf GTI was as relevant as a Jeep Wrangler. In 1995 a RAV4 GX 3dr (better equipped than this GS) was £12,899, around £700 cheaper than the GTI and a grand less than a basic Wrangler.
What's notable is that driving the RAV4 is still a unique experience. An Austin Montego isn't a thrill-a-minute funster either, but drive one today and it's appealing simply for being unlike anything found in any showroom. With the earliest RAV4s approaching thirty years old, the characteristics on offer, from the noise and vibration to the visibility and feel of all the touch points are worlds away from the polished, muted experience of a modern car.
A true everyday modern classic
What the all-wheel drive RAV4 also gives you, as indeed do the practical cabin, the reassurance of the Toyota badge and the general ease of operation, is the option to drive it all year round, in all weathers, and for more or less any journey big or small.
For some this everyday appeal can detract from that classic car speciality of making road trips or the occasional weekend jaunt a rare pleasure. But one of the joys of modern classics, and unexceptional ones especially, is being able to use them day-in, day-out, without slicing chunks from the car's negligible value or worrying too much about the odd parking knock or rust bubble.
You can find an early RAV4 for just a couple of grand, and it'll certainly have a few rust bubbles (though this one is as clean as they come thanks to a full restoration by its Toyota GB owners). Buy smart, keeping an eye on MOT history, evidence of oil changes and find one that hasn't been used too frequently off road, and it's hard to go wrong.
In fact, it's tough to think of another vehicle that might play the year-round classic role better than the Toyota RAV4. Interesting to look at, inexpensive to buy and run and a doddle to drive, it offers an old-car experience in some ways with modern car sensibilities in others. And as we found out at the Festival of the Unexceptional, it's already catching the eye of plenty in the classic car community…
Read more
MGF driven: A fresh look at MG's MX-5 rival
Retro Rewind: Mk4 Toyota Supra vs Mk5 Toyota Supra
Buying Guide: Land Rover Series 1 (1948-1958)