At the wheel: Nik Berg
Owned since: July 2021
Current condition: Fingers crossed
Hands-on or hands-off? Don't mind getting my hands dirty, but some jobs are just too scary
22 October 2021: So far so good
Nik Berg is European Editor for Hagerty US. The British journalist has driven humble cars for Auto Express, supercars for Top Gear and everything in between. His greatest claim to fame is piloting the first hybrid-powered rally to be entered in an FIA rally. He now owns this Lotus Esprit; scroll down to read the updates.
I have had my sanity questioned many times since I bought my 1982 Lotus Esprit S3, on eBay, without ever having seen it. [Yes, Berg really is that brave. Click here – you know you want to. Ed.]
One Twitter commentator suggested that it would be "basically like paying someone to repeatedly kick you in the b*lls and then thanking them afterwards". On this very site someone suggested that my story "brought back so many memories… of the car being in the shop."
And yet I'm 1,000 miles in and serious trouble has yet to materialise. I've had to get used to the idiosyncrasies of twin carbs, which require three stabs on the throttle to prime them before starting. I've battled with selecting reverse, but now I'm winning on that front getting the gear 90 per cent of the time.
How much is your car to insure? Find out in four easy steps.
Get a quote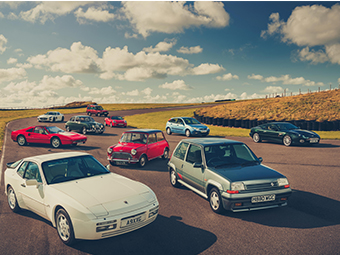 I had one small scare when the engine developed a strange part-throttle misfire on the motorway, but after 40 miles of worry it disappeared as quickly as it came. I put it down to some crud in the fuel. Speaking of fuel, I still haven't managed to completely fill the twin tanks. Although there's a balancer pipe linking them, the procedure requires both fuel caps to be removed and then to gingerly trickle in the super unleaded E5 otherwise it splashes back. Once one tank appears to be full it should in principle divert to the other, but this doesn't quite seem to be the case so, if the pump hose will reach, I pop around to the other side and fill that too. But no matter what, the fuel gauge has never quite registered full.
Talking of fuel, amazingly the Lotus-built 2.2-litre twin-cam engine doesn't appear to use too much of the stuff, with a rough calculation putting it at 30mpg.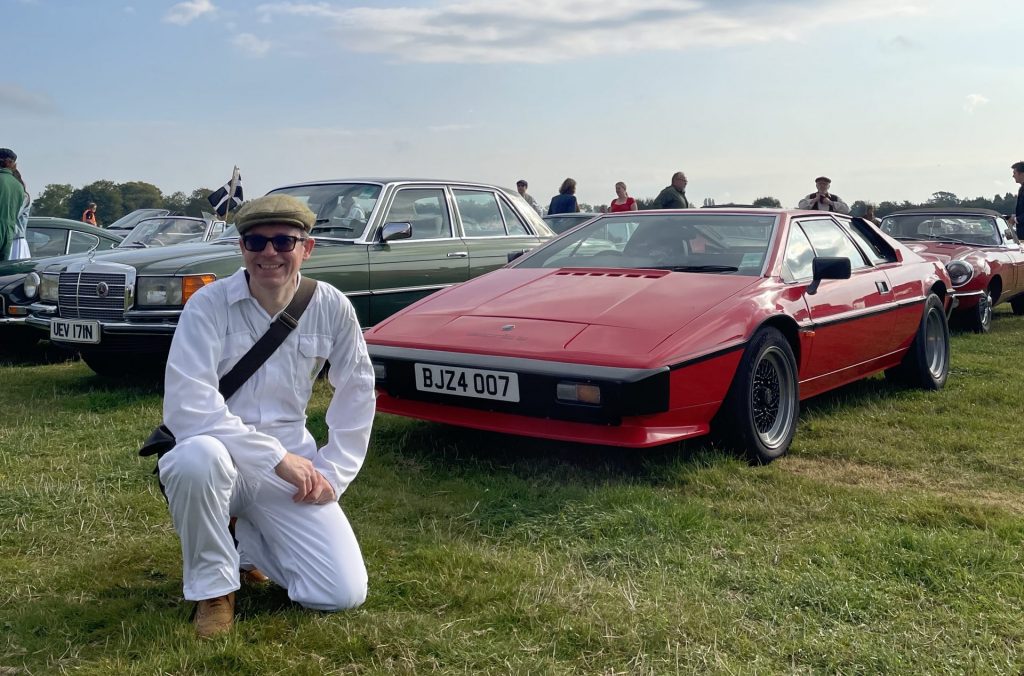 On a trip to the opening of Richard Hammond's The Smallest Cog I collared fellow Esprit owner Harry Metcalfe. We had a lengthy discussion about ride heights as negotiating speed humps is extremely tricky. Harry agreed that my car didn't look too low, but once he'd pulled out various photos and scrambled underneath mine, he reckoned it is actually riding lower than standard. I have yet to investigate whether it's tired springs or a deliberate choice by a previous owner. Whatever the outcome, I'd like it to be a tad higher.
The official To Do list for the Esprit also includes new tyres as the rubber is mis-matched with some fairly budget rubber on the front and ancient but supercool Goodyear Eagle balloons on the rear. "Squirmy" is the best word to describe the feel when they're loaded up going through a roundabout. It could equally be applied to my own feelings down below… One of the fronts has a slow leak, which I think is from the rim, but the wheels could all do with a bit of a refurb and a balance.
That may not sound too onerous, but there's more. The heater doesn't heat, the stereo doesn't work and I have my eye on a period-look Blaupunkt. And then there's the bodywork. A back to bare metal – oops, sorry, fibre – respray is in order, although from a distance you don't see the cracks in the gel coat or where the paint has bloomed to a rose pink. The disintegrated capping rails and windscreen surrounds are bothering me more.
Having enjoyed the Esprit immensely on two trips to Goodwood and accidentally taking it home to Hethel, now that the weather is getting sketchy it's time to find a specialist to go over the car and quote for the bodywork.
I've had a few tips already, but if you've got any fibreglass specialists to recommend please let me know in the comments. I'll report back on progress in my next update and also share the story of the numberplate – which attracts almost as much attention as the car itself. I'll leave that to your imagination…
31 January: The pain of paintwork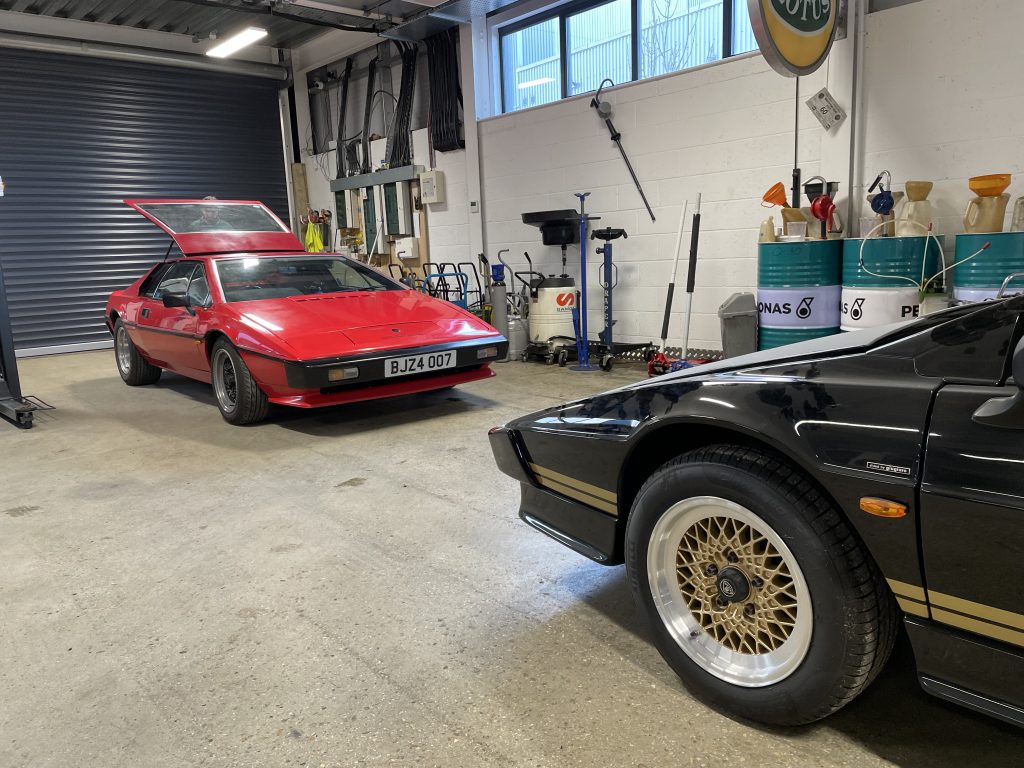 To paint or not to paint. That is the question that I've been asking myself ever since I bought my 1982 Esprit S3 last summer. The Calypso red is almost pink in places, while there are microblisters all around the rear end. From ten feet away it's not so bad, but every time I drive it and then wash it, it does bug me.
The seller rather optimistically suggested that "a couple of grand" would sort it out, although in my head I was thinking it would be rather more. As it turns out, stripping the car back to its bare fibreglass body and restoring it to former glory is going to be considerably more costly, as I found out when I visited a couple of specialists.
Over a couple of days I added another 200 trouble-free miles visiting Allon White Sports Cars in Bedfordshire and Hilton & Moss in Hertfordshire and got almost identical estimates of around £10,000 plus stripping and refitting. By the time all is done that'll be over half the purchase price in paint alone, which is rather scary.
The miser in me is tempted to leave it as and try to live with the patina of a Shedsprit, while there's another voice in my head saying "wrap it". It's probably a false economy, but it's what all the young influencers do, and might make the car more presentable on the road trips I'm hoping to take this year. A stop gap or just sacrilege? What do you think?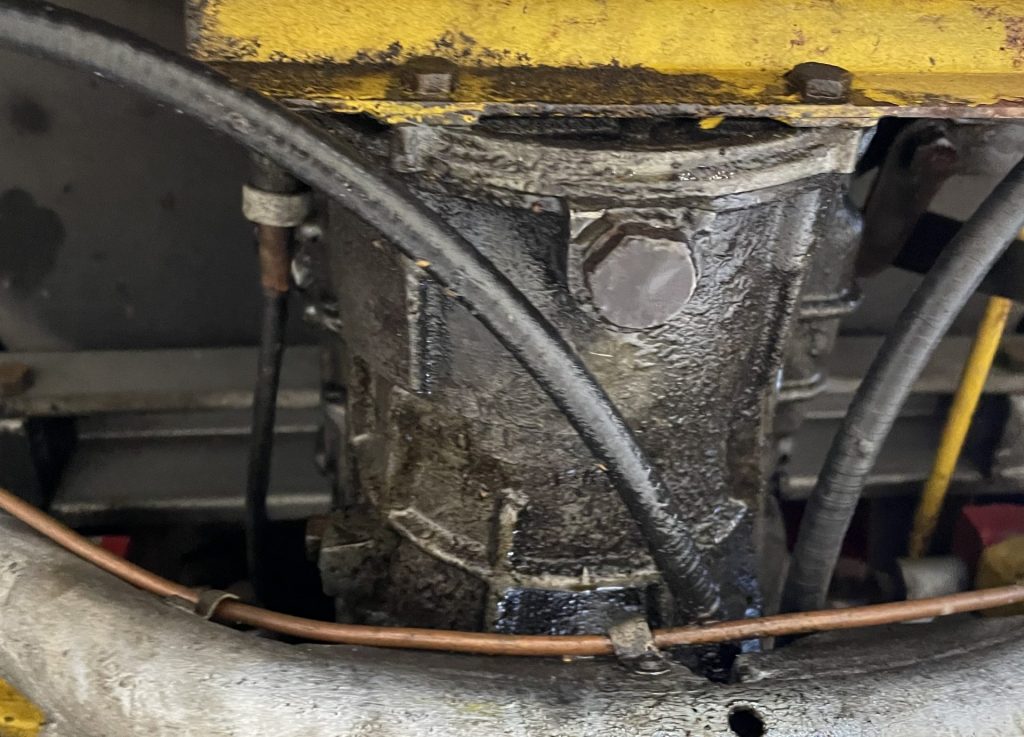 In the meantime, I was able to get the car on a ramp thanks to Josh Kemp at Hilton & Moss and that revealed both good and bad news. On the positive side the underside of the car looks solid and rot-free, on the negative there's quite a lot of oil being sprayed about. It appears that the front crank seal is leaking and there's possibly some seepage from the diff or gearbox, so that's now the number one priority. Well, that and the heater because, at the moment, I'm having to wear an electric jacket and heated insoles for my shoes to avoid being frozen every time I drive.
Given that one of the places I really want to take the Esprit is the mountains above Cortina, some cabin heat will be a must if Mrs B is to persuaded to join me. Why Cortina? Well that's down to the Esprit's starring role alongside Roger Moore – as immortalised in the number plate.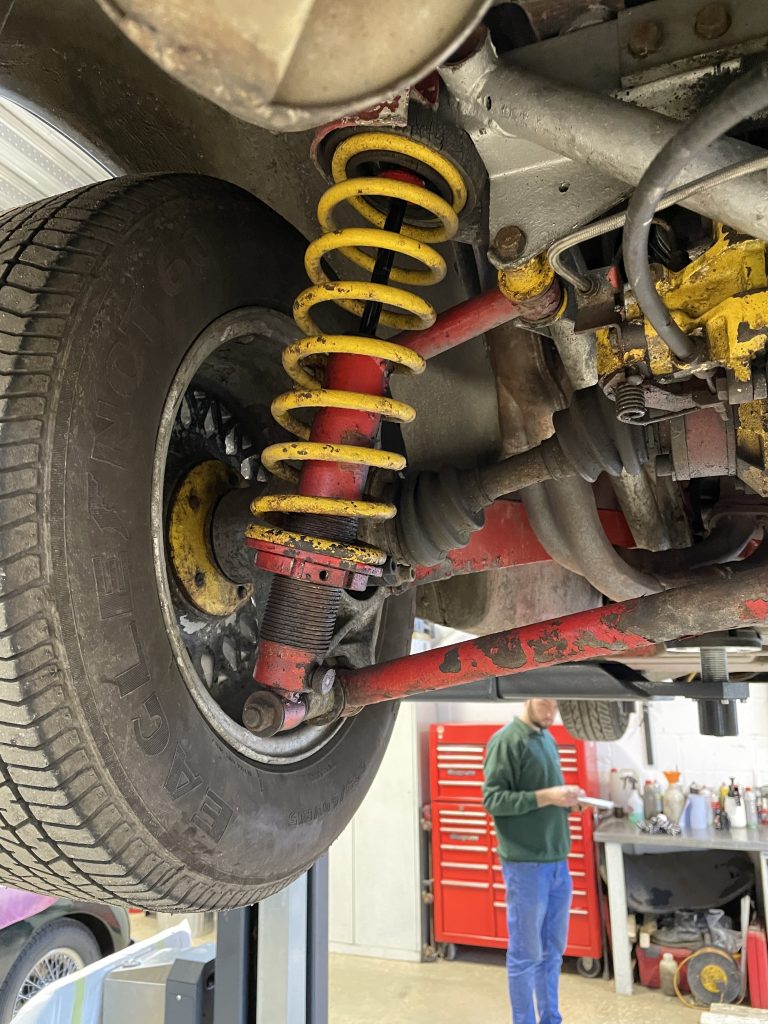 In a lengthy letter from a previous owner he explained that BJZ 4007 was chosen because B is Bond, JZ for James, with a 4 for For Your Eyes Only, and the self-explanatory 007. Let's just say that less high-minded individuals may have other ideas, but it's always a talking point!
21 April, 2022: The Esprit has, ahem, broken down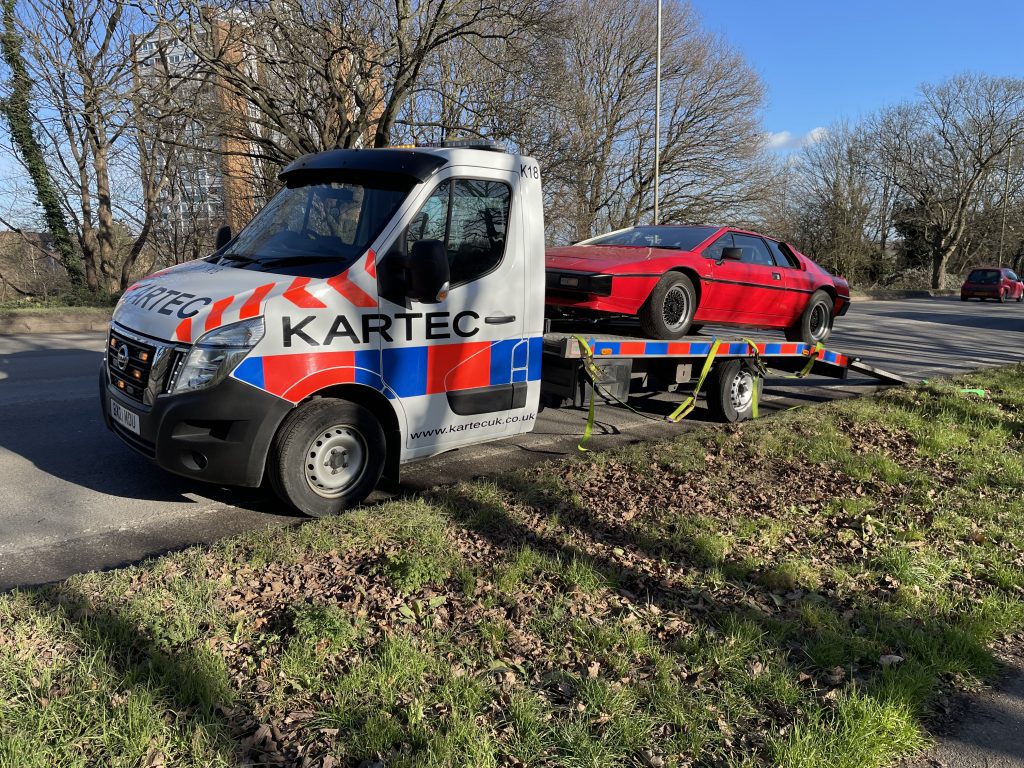 "You do know what LOTUS stands for don't you?" chuckled the mature lady as she walked past. (I kid you not.)
It's not the first time I'd heard this but it was the first time that I'd been genuinely worried it may be true as I stood beside my stricken Esprit on the A41, near Watford, waiting for a low-loader to arrive.
The Esprit has no front tow eye and is also too low to be hooked up on the towing dolly that AA vans carry, so Gary the friendly AA man regaled me with nightmare tales of the S4 Turbo that he'd been trying to fix up for a friend as I paced anxiously up and down, trying to ignore the witty comments of passers-by.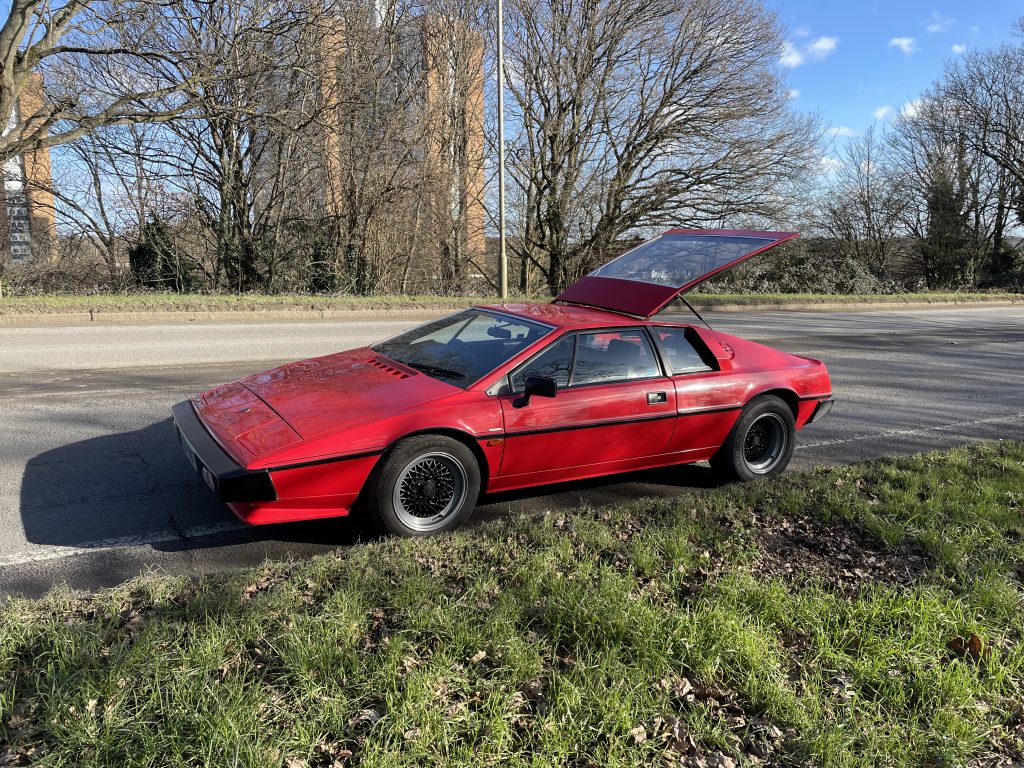 Somewhat ironically, I was actually driving to a garage when disaster struck. I was overtaking a slower car on a short stretch of dual carriageway, pulling around 5,000 revs in second and, as I went to grab third, the throttle stuck wide open. This had happened a couple of times before, but I'd been going slower, straighter and been able to hook my toe under the pedal and free it. I'd also always been in gear. This time the needle on the rev counter spun beyond 7,000 rpm, there was a loud bang, and the engine lost power.
I coasted to the side of the road, and tried restart it without success. Gary arrived within half an hour of my call for help and, after I'd described what had happened, and he was almost hit in the face by the oil filler cap when I attempted to start the engine for him, he called for backup.
A couple of hours later I was sitting in the cab of a Kartec transporter where driver Dan was genuinely delighted by my misfortune. He'd never collected an Esprit before, took plenty of photos and even called his granddad.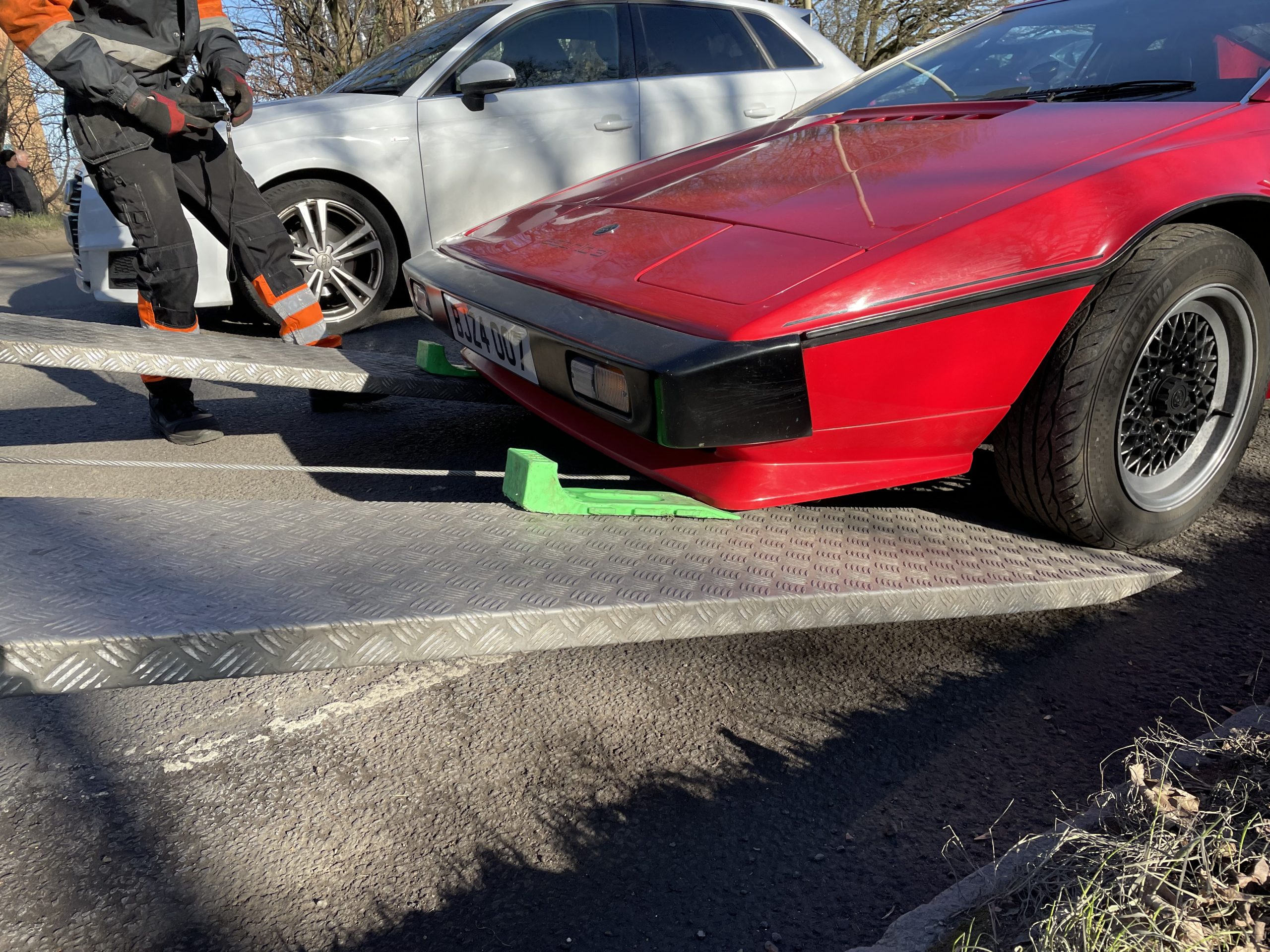 I arrived very late for my appointment at The Beaconsfield Workshop, and owners Dave Redrup and Martin Hawes weren't there, so we pushed the Esprit into a parking spot and bodywork expert Leigh Birch gave me a lift to the station.
For days I waited anxiously to hear the car's fate. I pictured broken valves and a ruined cylinder head. Would I need a complete engine rebuild?
When I finally plucked up the courage to call Martin, I feared the worst. And yet the trouble was not as serious as I dreaded or the roadside comedian suggested.
"We got it running," said Martin. "It wanted to start, so we figured it might be the timing. When we took the distributor cap off the rotor arm was off. So we retimed it and it's all good. Just the carbs to tune."
A huge sigh of relief was followed by a bout of Covid which delayed my plans to go back to Beaconsfield and discuss what I was originally taking the car there for, but eventually I did make it.
Gathering dust between an awaiting-restoration Rolls-Royce Corniche and a Ferrari was my Lotus. It looked a little sorry, but that will be changing soon.
The Beaconsfield Workshop specialises in Rolls-Royce and Bentley servicing and repair, but is also a Lotus Approved bodyshop, and panel man Leigh has been working with fibreglass since he was 15 years old, so I don't think the car could be in much safer hands.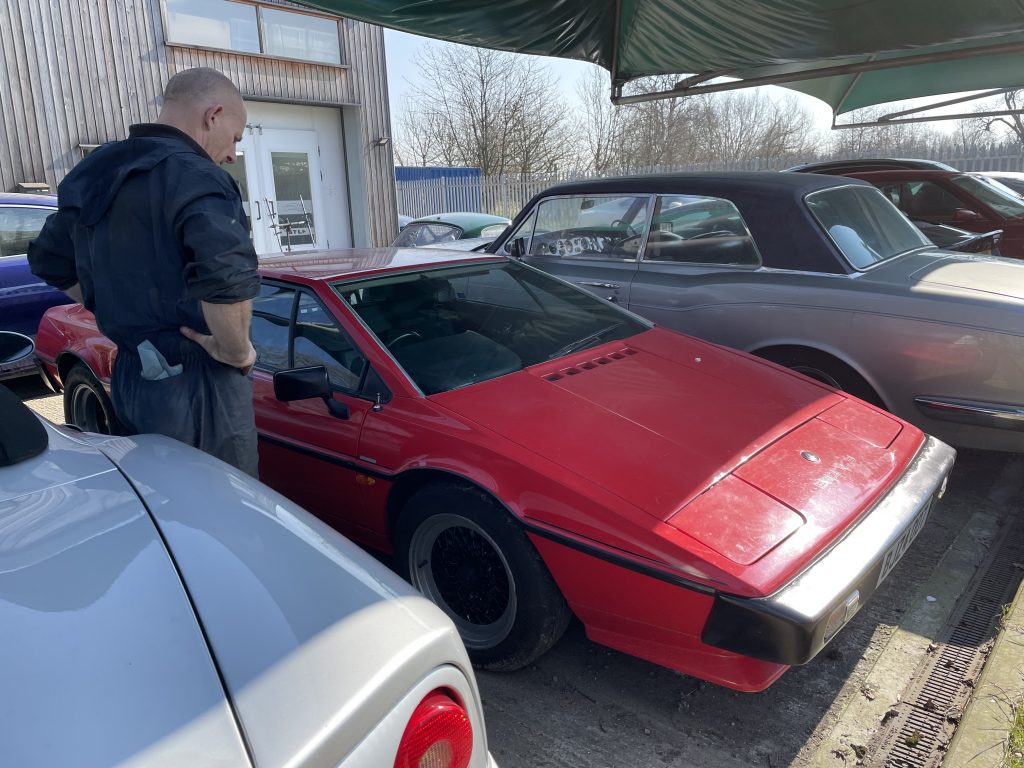 This won't be a full restoration, as Martin seemed to think the car was sound enough underneath. Even the leaking crank seal may not be worth fixing as they have a propensity to just keep oozing oil no matter what you do. So, the focus will be the bodywork – which entails scraping it back to bare fibre, fixing any blemishes or cracks and then reapplying a liquid resin coating before painting begins.
That leaves me with another decision. Should I stick to red, go Bond Bronze or Spy White perhaps? A racing green or black, maybe something that stands out like an orange or yellow?
I've got a little time to decide as the strip down and preparation may take a couple of months or more, but in the meantime I'm open to suggestions.
Tweet to @reallynikberg
Follow @reallynikberg
Read more
I bought a Lotus Esprit – and broke every car-buying rule in the book
Our Classics: 1998 Peugeot 106 Rallye S2
Tracking down my old Ford Sierra Cosworth after 31 years was easier than you'd imagine