At the wheel: Antony Ingram
Owned since: July 2017
Current condition: Scruffy but mechanically sound
Hands-on or hands-off? Happy to fiddle, but leave big jobs to the pros
Antony Ingram is Assistant Editor at Hagerty. He has a soft spot for French and Japanese cars, but despite this has absolutely no intention of buying a Renault Kadjar, which fails to combine the best elements of either nation.
How much is your car to insure? Find out in four easy steps.
Get a quote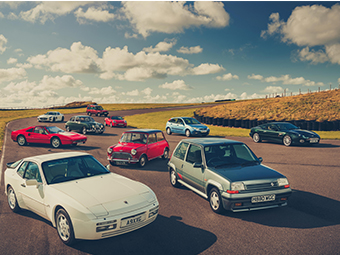 14 September 2021: The story so far
There were many reasons for acquiring a Peugeot 106 Rallye back in the summer of 2017, but a lack of willpower to ignore a car that was only 15 minutes from my office at the time must be fairly high up the list.
Had the car been 200 miles away, I'd likely not have bothered. I wasn't really looking for a 106 Rallye, but office conversation around small, sporty Peugeots, and YouTube videos on a similar theme were a hell of a drug, and predictably after a short eBay search a car turned up not five miles away.
You know how the rest of the story goes: The price was in the right ballpark, the advert was well-written, and the seller said all the right things. After a short test drive I rustled up the cash and found myself the owner of a white 1990s supermini with white steel wheels and a fruity 1.6-litre four under the bonnet.
If you know your Peugeots, you'll know this particular 106 Rallye is a Series 2. The original 106 Rallye debuted in 1994, a homologation special designed, like its 205 Rallye predecessor, to slot neatly into the 1.3-litre classes of Group A and Group N rallying.
The Series 2 arrived in 1997 following the 106's facelift, but now used a 1.6-litre, eight-valve four-cylinder, offering similar outright power – 103bhp, to the 1.3's 100bhp on the dot – but promising less work for the driver, thanks to a 97lb ft output at 3500rpm, rather than 80lb ft at 5400rpm. Styling was softer, interior carpets were blue rather than red, and the Rallye graphics changed to a three-colour flash rather than a four-colour stripe.
I've not always made wise automotive decisions, but four years down the line the Peugeot has proven one of my better buys. In truth, for the first three of those years I didn't make the most of it, covering only around 3000 miles, but in a spell between 2020 lockdowns it became my daily driver for a time and quickly racked up another couple of thousand more. It's since done another few thousand, amassing just over 7000 miles in my hands.
It's been a great advertisement for getting out and using your classic cars. It's all too tempting to treat them with kid gloves, but certainly with a car from the '90s like the Rallye, Peugeot designed it to be used day-in, day-out like anything else. The other day, it ticked over 118,000 miles; not huge for a car now 23 years old, but at just over 5000 miles per year, still well within the capabilities of a relatively modern design.
More importantly though, it's simply been great fun. The idea has crossed my mind several times of letting the Rallye go, but every time I hop back in the idea dissipates like petrol spilled on a forecourt.
With responsive, tactile controls, fantastic agility owing to its low weight (889kg with a full tank, last time it was on the scales) and robust mechanicals, it's become a barometer for every other car I drive, old or new, an important reference point for the qualities that determine a driver's car.
Is it perfect? No, and I don't think it should be; the last thing I want is to put myself off using it as Peugeot Sport intended. It does however still need attention in a few areas, most notably its faded, matte paintwork, and crusty and deteriorated graphics. You'll be able to read more about that in my next report…
Tweet to @antonywrites
Follow @antonywrites
Read more
Dawn Patrol: Bedfordshire and Cambridgeshire
Opinion: Don't let emotions ruin your next car-buying adventure
Our Classics: 1994 Mazda RX-7