Hitting the road before sunrise is one of those ideas that probably sounded like a breeze in the depths of winter, when beams of light struggle over the horizon mid-morning like an overloaded truck cresting a hill, but even by late May our local star happily springs into action well before 5am.
This, as you'll gather, means steeling oneself up for an early start. No coffee, thanks, but with a chill in the morning air and the prospect of a drive on some local roads without a single other soul around, getting up isn't as difficult as it might be.
How much is your car to insure? Find out in four easy steps.
Get a quote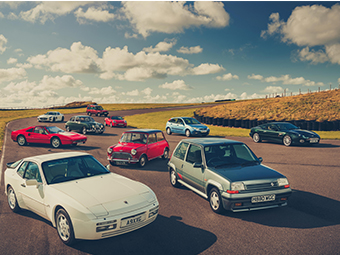 The plan was, essentially, to follow a road known as the B660 from just north of Bedford, to the point at which it crosses the A1 just south of Peterborough. The steed? My 1998 Peugeot 106 Rallye, out of storage for just a week and fresh from some work on its steering rack.
The B660 is not what you might call a "destination" road. There's little in the way of spectacular scenery (unless you're a fan of midlands farmland) and in reality, only a couple of genuinely interesting twists and turns. There are also no long stretches where you can really find a rhythm, with plenty of villages dotted along the route to break the flow, plus the inevitable farm entrances, high hedges and blind brows, all of which encourage you to temper your speed.
Instead it's one of those convenient local roads most of us have nearby, perhaps worth a detour if you've got a few minutes to spare on the commute, and ideal for clearing the head whether you're in a car or on a bicycle, motorcycle or horse. Its location close to a few of the UK's car magazines makes it a popular road for car photography too, and driving as smoothly as possible at 20mph behind a photographer's car is how I discovered its existence in the first place.
At half four in the morning there aren't any bicycles, motorcycles or horses around, and not many car photographers either, but as I join the road just south of Bolnhurst, there appear to be plenty of birds milling about in the mist – all a little surprised to see a 106 Rallye out at this time. (They appreciate its rarity, tweeting – perhaps – about how only 500 S2s were sold in the UK.)
The magpies seem to understand the calamitous potential of a small French hatchback rushing towards them, but the pigeons aren't quite as smart, so the first few miles are spent dodging the reluctant wing-havers like potholes. I also come to a complete halt to let a duck amble obliviously across the road, and a pheasant slightly further up also stares me down for a good few moments before bolting into a hedge. I bet they don't have this problem on the Stelvio Pass.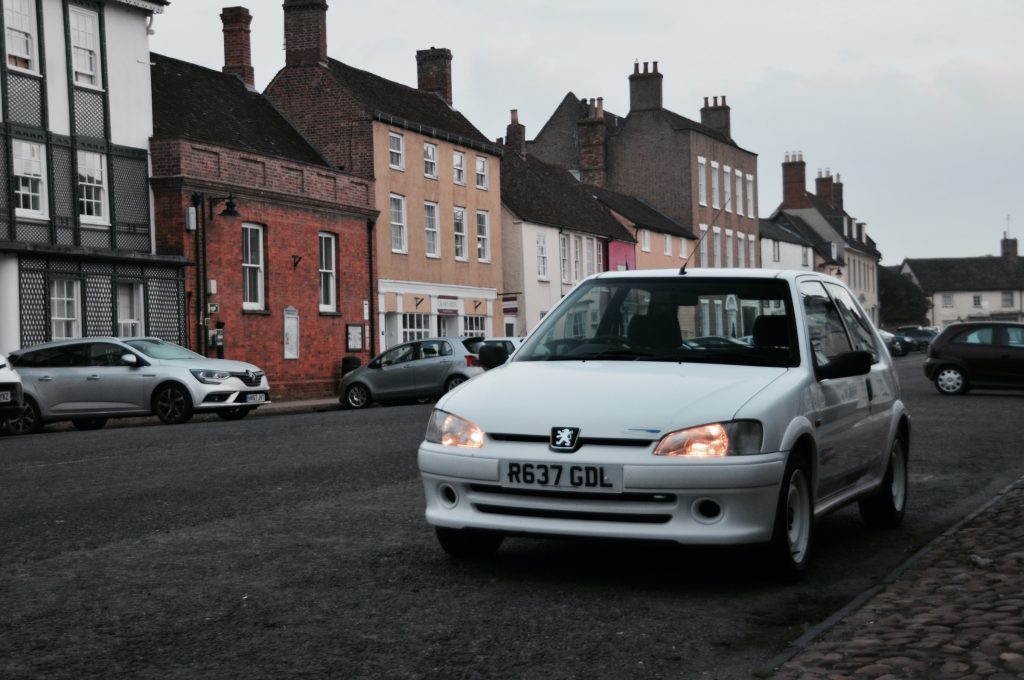 Still, I'm in no rush. The villages come thick and fast south of Kimbolton so there's not much point in building up a head of steam, as you'll only need to shed it again in a corner or two's time. Kimbolton itself appears surprisingly busy on the surface, even though there's not a soul around. Cars are parked either side of the main road just as you'd expect during the day when all the cafés and trinket shops are open. When they are, it's a great spot for a lunch stop. Oliver's Café is a personal favourite.
The first fun stretch of the route opens up towards Catworth, with a series of sweepers and then a climb up a hill before the road opens out towards the aforementioned town. The joy of such a stretch in the Rallye is that you can use most of second and third without playing fast and loose with speed limits, and it's already plenty of fun below 60. Completely standard, there's no obnoxious exhaust note to disturb the peace either. I've driven more than a few cars on that section that are so capable you could put on cruise control and barely feel a thing, but still produce a noise like Hell's plumbing.
Leaving Catworth through a narrow road flanked by roadside greenery you then pop like a cork over the A14 and towards Old Weston. It's north of this village that small cars like the Peugeot feel most at home. There's a flick-flack between the hedges on the stretch from Winwick to Great Gidding in particular where the 106 shows off its party trick, hoisting an inside rear wheel and breaking into a surprisingly gentle slide first one way than the other, all well below the speed limit.
Recent resurfacing has rendered a fairly smooth surface too (with just a hint of loose chippings left from the work), though in reality the bumpiest sections of road can be found in the villages, where you'll be travelling slower anyway.
Branch off in most directions along much of the road and there are other entertaining corners here and there, but the side roads in this part of the world are mostly single-track, and they really do get bumpy, so you'll prefer a car that prioritises feedback and good suspension compliance rather than outright speed and ability. One like the Rallye, in fact, though if you prefer a slower pace of life then something like a 2CV would be perfect. What works on French lanes happens to be pretty good on English ones too.
After leaving Great Gidding the road opens up again, with just a few more gentle turns before crossing the A1. You could, if you wish, continue into the Fens, but the best of the road is behind you. With the sun now up and commuter traffic appearing I instead join the A1 and head home. Fluids warm, head cleared, and still back in time for breakfast.
Also read
Dawn Patrol: Beachy Head, East Sussex
Buying guide: Peugeot 205 GTI (1984 – 1994)
From Paris to Pikes Peak: 7 highlights from 125 years of Peugeot in motorsport