Why you want one: Gallic icon draws larger crowds than many supercars
Years built: 1948-90
Production: 3,873,294
Engine: 375cc/425cc/602cc air-cooled flat twin engine
Horsepower: 9-33 hp at 4,500 rpm
Top speed: 45-75 mph
How much is your car to insure? Find out in four easy steps.
Get a quote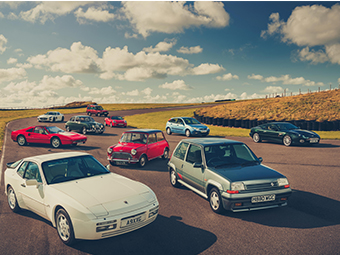 With the recent sale of Bill Harrah's 1965 Citroen 2CV (116 original miles) for an astonishing £49,000 at Artcurial's auction at Retromobile in Paris, perhaps it's time to snap up a good Deux Chevaux while you can still afford it.
If you've ever wondered about marginal motoring in the 1950s, a Citroen 2CV will transport you gently into the past. It was, after all, called the 'Tin Snail.' But it will get excellent gas mileage, be quite comfortable, lead to meetings with cute girls (and boys) and just be flat-out useful. The seats can be removed for a picnic and if you take out the back seat, remove the top and the trunk lid, you can carry a refrigerator (I have). As a genuine four-seat convertible, it also scores high on the fun factor, and with its flat floor, light weight and front-wheel drive, it can go almost anywhere
OK, that's the upside. The downside is that the engine is a tiny little 375/425/602cc air-cooled twin boasting from 9-33 horsepower. The top speed varies from 40 mph-75 mph, there are NO hills you can climb fast, it's not worth fitting a radio due to general noise, and the fact anybody can pry the car open to steal it. You cannot afford to hit anything more substantial than a pillow, and rust attacks a 2CV like a wolverine.
The Citroen 2CV (for two horsepower) was developed by Pierre-Jules Boulanger in 1936 as the TPV or 'Tres Petit Voiture,' a way to get French peasant farmers off horses and buggies and into motorcars. He designed a light car with such a flexible suspension it could transport two adults and 200 pounds of fresh eggs across a plowed field without the eggs being broken. Early cars were made of aluminum and had water-cooled two-cylinder engines of 375cc. They lacked starter motors and had only one headlight, being classified as motorcycles. About 250 were built before WWII, and three prototypes survive.
The 2CV that was launched in 1948 was completely different. It was made of very thin steel, had an air-cooled engine, inboard front brakes and four-wheel independent suspension, which consisted of a longitudinal coil spring on each side of the car. Simple and effective inertia coil spring dampers were mounted vertically by each wheel. The seats were mere deckchairs, the gearshift stuck out of the dash like an umbrella handle and could be twisted, pushed and pulled to change gear. The convertible top extended clear down to the back bumper and the wiper was driven off the speedometer cable (the only instrument). Logic: If you're not moving, why do you need a wiper?
The first 2CVs were a huge hit, simple in the extreme and grey in color. The ripple-bonnet 375cc Model A lasted until 1953, then was replaced by the 425cc AZ, AZL and AZLP which ran until 1960, still with suicide front doors, though it gained a boot lid instead of the canvas cover in 1957. These are increasingly collectible but also getting very rare. My uncle, who was a doctor in Paris for many years, used to buy a new 2CV every January, drive the wheels off it for a year, fix nothing, then buy another one.
Citroen production started in Slough in 1953 and ended in 1960 with only 673 saloon, 291 vans and 29 pickups built, so you'll be lucky to find one. 1960 saw the ripple bonnet replaced by the smoother one and the 2CV evolved though the '60s and '70s, with the 602cc AZAM in 1963, front hinged front doors in 1964, and third side window in 1965. The 425cc engine was bumped to 435cc in 1968 and the two engines made up the 2CV4 and 2CV6 through the '70s and into the 1980s. Disc brakes followed in 1982. Production of the 2CV was moved from Paris to Vigo in Portugal in 1988 for the final two years. LHD or RHD make no difference, at the speed you'll be traveling.
Many special models were built in the '70s and '80s, such as the Spot, Dolly, Beachcomber, France 3, Charleston, James Bond, Cocorico, Bamboo and Perrier. If you're going to pay extra for one, make sure it really was made that way. Corrugated 'camionette' vans have their own following, but usually led hard lives. Style points for original sign-writing on the side, however. A Mehari plastic-bodied beach car was also offered, latterly with four wheel drive, but ultra violet rays have reduced the bodies to eggshells and the red plastic color to pink.
During the 1960s, the twin-engine 4X4 Sahara was made in very small numbers (694) but very few survive and the next one to come to auction will probably top £70,000. Even rarer is the Slough-designed, fibreglas-bodied Bijou of 1959-64, of which only 207 were built.
If you're looking to buy a 2CV, your main enemy will be rust. Since the youngest are now 21 years old and were built from paper-thin steel, this is a deal-breaker. That rules out many cars from most of northern Europe, and a wise buyer will make connections in the south and west of France, Spain and Portugal.
The front axle tube mounts, longitudinal shock mounts and the gas tank area are logical places to check first for rust. On the body, floors, sills, windshield frames — especially around the vent — rear panels above the bumper and fender edges are potentially nasty. Check the rear lower bolt area of the front fender; also the headlight bracket support. Replacement chassis were made and these are galvanized, so they're easy to spot. Don't rush to buy a rusty car "that comes with a replacement frame," however, as you'll be building the car from scratch, and if it's that rusty you'll need more parts anyway. Prices for drivable cars range from about £3,000-£10,000, with junkers below this and overly ambitious owners above it. Ask lots of questions before you go see a car.
With 3.7 million 2CVs built, parts are no problem, except for early trim, and don't worry about body work — just buy new panels. That's all anybody did when they were new — if they fixed the car at all, that is. There are numerous clubs and parts suppliers on the Internet, stretching around the world. But a club is always a good place to start if you want to buy a car, so look up 2CVGB and The Citroen Car club for leads and good advice.
Also do your homework: read The Essential Buyer's Guide to the Citroen 2CV, by Mark Paxton; 64 pages £9.99, www.velocebooks.com.