Against the backdrop of a torrid year, in 2021 there were changes in the car collecting space as certain makes and models stirred interest in the market place – and we can reveal the so-called winners of the year which sold for significantly more than their Hagerty Price Guide valuation.
The team that updates the Hagerty Price Guide every three months picks through Hagerty's own insured values, tracks auction sales in the UK and beyond, speaks to dealers and clubs, and partners with other industry specialists so that Hagerty's values of cherished cars are indicative of what is really going on in the market. Within the Hagerty Price Guide, four valuations for a car are provided, ranging from 'Fair', which is going to need work, to 'Concours', which represents the best of the best.
How much is your car to insure? Find out in four easy steps.
Get a quote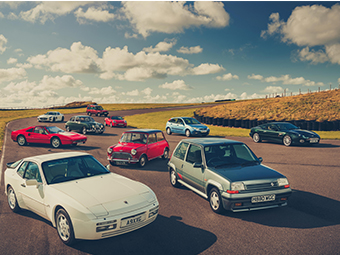 Every year though, there are auction sales that exceed our – and usually the auctioneer's – expectations. Sometimes, these mark a trend in a model that is growing in value. At other times, the sales are what we call 'outliers', one-offs that are the result of a particularly special car or two very determined bidders in the room at the same time.
In 2020, we saw a 1972 Bentley Corniche sell for a staggering 155 per cent more than its valuation in the Hagerty Price Guide. Did anything get close in 2021? Let's find out. Here, ranked from low to high, are ten cars sold in 2021 for prices that were way over our top Price Guide values.
1980 Rolls-Royce Silver Shadow II
HPG Value: £26,500
Sale price: £30,375, Bonhams MPH
Hagerty Price Guide increase: +14.6%
Described as 'beautifully presented' by the auctioneer, this grey Silver Shadow II exceeded both Bonhams MPH's expectations and Hagerty's, selling well over both the top estimate of £25,000 and our top Price Guide value of £26,500. The difference between really well-maintained examples of a Silver Shadow II and those that need a little TLC is huge, but that reflects potential restoration costs that can be high. Good ones, as this looks to be, therefore draw the eye of serious buyers. Is it a trend? Hagerty thinks that the very highest-quality 1970s and 1980s Rolls-Royces will probably continue to increase gradually in value – one reason we included the Camargue in the 2022 Hagerty Bull Market List.
1960 Aston Martin DB4 GT
HPG value: £1,700,000
Sale price: £1,975,000, Bonhams
Hagerty Price Guide increase: +16.2%
Values of the Aston Martin DB4 GT have remained strong in recent years, even when other pre-1970 Aston Martin models have reduced in price. So this was a strong sale. Hagerty classed it as a Condition 4 'Fair' car with a guide price of £1,700,000 but the car was a mixed bag: mostly restored to seemingly a very high standard and with matching numbers but in need of reassembly and with a few parts missing. Bidders saw the opportunity to finish the restoration and grab a potential bargain: with top Hagerty DB4 GT values at £2,700,000 there was still a chance to create something that was worth more than the final cost.
1987 Porsche 959 Series 1 Komfort
HPG value: £972,000
Sold for: £1,158,125, RM Sotheby's
Hagerty Price Guide increase: +19.2%
This Porsche 959 was one of the highlights of RM Sotheby's London sale. With around 16,600 miles from new, regular servicing by Porsche and regular use, it sold significantly over its top £1 million estimate and some way over the highest Hagerty Price Guide value at the time of £972,000. It wasn't even the most valuable example sold this year: that record is held by another car sold by RM Sotheby's, in St Moritz back in September for 1.97m Swiss Francs, around £1.5m. Hagerty believes that the 959 is now firmly in the collectors' spotlight, and that this rising price trend is likely to continue, reflected in adjusted valuations in the Hagerty Price Guide.
1999 Aston Martin DB7 Vantage coupé
HPG value: £29,900
Sale price: £37,356, Historics
Hagerty Price Guide increase: +25%
Last year, Hagerty identified the Aston Martin DB7 in its 2021 Bull Market List, highlighting it as a sports car likely to rise in value. This sale seemed to confirm the choice: with just 22,000 miles from new and in a great colour combination of Aston Martin Racing Green and Saddle leather, it exceeded its £29,000 top estimate and our 'excellent' Price Guide value by 25 per cent. Is this a trend-setter or just a one-off? Hagerty believes the former; values of the very best examples of DB7s are likely to continue to increase in collectability.
1971 Iso Grifo S2
HPG value: £275,000
Sale price: £345,000, Bonhams
Hagerty Price Guide increase: +25.5%
This car was a very strange mixture. On the one hand, it had many attractive features for the collector: one owner from new, manual five-speed 'box, the ultra-rare 7.4-litre 'Can Am' engine and was one of only three right-hand drive '7 litre' cars. Oh, and the phenomenal yellow paint which, in my opinion, made it the stand-out car of the Goodwood Revival auction. On the other hand, it needed recommissioning having been off the road since 1974. Hagerty duly categorised it as 'Good' with a Price Guide value of £275,000. Bonhams was a little more conservative, with an estimate of £200,000 to £250,000. Bidders disagreed, and the price shot up, finally selling at £345,000, some 25.5 per cent above the Hagerty price. A one-off? More than likely.
1965 Ford Mustang GT Fastback
HPG value: £40,500
Sale price: £51,520, Historics
Hagerty Price Guide increase: +27%
Hagerty classified this 'Suffix A' Mustang as condition 2 'Excellent' when it was presented for sale at Historics' May 2021 auction at Ascot Racecourse. A factory GT manual, complete with the AC option, it is an exceptionally rare car especially in the UK, and the bidders agreed. Estimated at between £33,000 and £42,000, the car sold for £51,520 including costs, 27 per cent over the Hagerty Price Guide value.
1957 Mercedes-Benz 190SL
HPG value: £160,000
Sale price: £219,375, H&H
Hagerty Price Guide increase: +37%
The Mercedes-Benz 190SL is a car that Hagerty has considered to be undervalued for some time – and it seems that buyers now agree. Values seem to have taken off in recent months, as this extraordinary sale by H&H, in November, shows. The car in question was a perfect example of Hagerty's 'concours' condition: one of only a handful of right-hand drive cars, it had undergone a meticulous restoration and was presented in a great combination of Anthracite and cream leather. Those consigning the car at H&H seemed unsure just how well it would sell, giving it a strong but wide estimate range of between £150,000 and £200,000. With commission, it easily exceeded this, selling for £219,375, some 37 per cent over our top value. Hagerty believes this sale, although extraordinary, marks a shift in values for top examples of the car, and we will be raising our top Price Guide value at the next update.
1961 Morris Minor 1000 saloon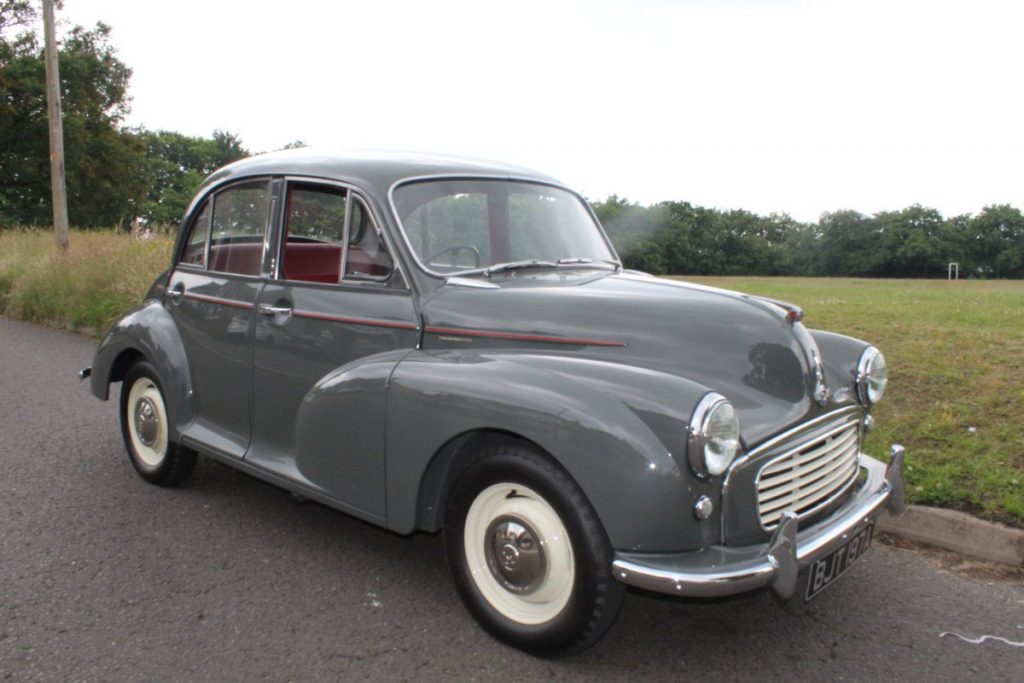 HPG value: £10,600
Sale price: £14,938, SWVA
Hagerty Price Guide increase: +41%
The SWVA auctioneer described this car as, 'without doubt the best Morris Minor I have ever seen', and Hagerty classified the concours-winner as a straight 'Condition 1' car. The sale price smashed our top value by 41 per cent and was more than double SVWA's top estimate of £6950. Hagerty classes this sale as an outlier: Morris Minor values have been static for a while now, and this is unlikely to signify an upward trend but what it shows is that the very best examples of any car are always desirable to the right buyer at the right time.
1966 Ford Lotus Cortina Mk I
HPG value: £41,500
Sold for: £63,000, Silverstone Auctions
Percentage Difference: +52%
This nicely presented Lotus Cortina outperformed the Hagerty Price Guide value by 52 per cent when it was sold by Silverstone Auctions at the NEC in November. The subject of an older restoration but carefully preserved in recent years, the price went against the trend, which has seen the Price Guide values fall by just over 2% in the last quarter alone. That said, this was a special car, owned by TV personality Mike Brewer which likely brought the bids rolling in. Still, it even exceeded Silverstone's own expectation of a high estimate of £55,000.
1991 Audi Quattro RR 20V
Hagerty Price Guide Value: £101,000
Sale price: £163,125, Silverstone Auctions
Hagerty Price Guide increase: +61.5%
Wow – this Quattro didn't just exceed expectations, it blew them out of the water. Just before the sale, Hagerty wrote about the car and forecast that it would be the first road-going Quattro to sell for over £100,000. Little did we know how frenzied the bidding would be: the sub-10,000-mile car in pearlescent white paint and mid-grey interior finally sold at £163,125 including commission, a massive 61.5 per cent over Hagerty's top value. However, since then nothing else has come close to this price, the highest public auction sale being a very clean 97,000-mile example sold by CCA in December for £71,595. Hagerty believes that the Silverstone sale was a high water mark that values will take a while to catch up to, even for the very best of examples.
Read more
2022 Bull Market List: 10 of Britain's hottest collectable cars
10 sales that smashed the Hagerty Price Guide in 2020
High-flyers: The most influential sales of 2021