At the end of the month, Silverstone Auctions is offering a remarkable 1991 Audi Quattro at its Silverstone Classic sale. Believed to be the very last right-hand drive ur-Quattro to leave the Ingolstadt factory, it has been driven just 9654 miles by its two registered owners and is reported as being superbly presented with pearlescent white paint and mid-grey leather interior. The pre-sale estimate is £75,000 to £95,000, and Hagerty believes that after commission, this car could be the first of its kind to top the £100,000 mark.
Hagerty Price Guide values of early Quattros have soared over the last five years with the top value of late 'RR' 20-valve models like this one rising 170% from £31,700 to £85,600.
How much is your car to insure? Find out in four easy steps.
Get a quote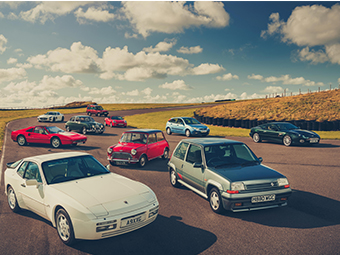 The market for vintage Quattros market was fairly tame until 2015, when a Sport Quattro sold for $401,500 (£260,895) at an RM Sotheby's auction in Arizona and collectors suddenly took note. Compared to 10 years ago, the Hagerty US Price Guide #2-condition (Excellent) values for these short-wheelbase cars are up 415 per cent, to $458,000. In the UK, we rate a Sport Quattro in the same condition at £305,000. Other ultra-rare Group B-era homologation cars have followed suit and appreciated over the past few years, too.
But what's been especially interesting to watch is how the Sport Quattro's rise has trickled down to the Ur-Quattro. They are not especially rare cars, with 11,452 built over the model run, but they are instantly recognisable classics that evoke a time of technical innovation and motorsport dominance that resonates with many Generation X enthusiasts. Hagerty insurance quotes are up 150 per cent since 2017, suggesting interest in these cars only continues to grow.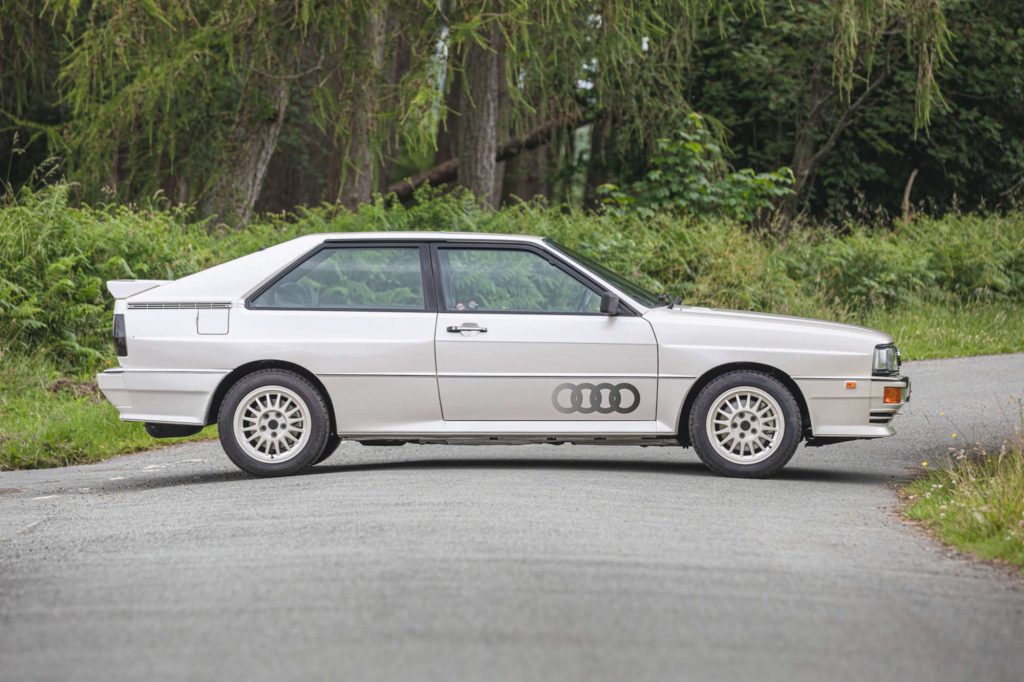 But it's also interesting to note that most of this growth has been for cleaner examples (you can find values for a 1991 car like the Silverstone Auctions example here), while movement for condition #4 ('fair') cars has been quiet. For better or worse, these cars were partially hand-built on a dedicated line in Ingolstadt. Interior quality wasn't the best, electrics were iffy, and heat soak after hard runs could cook oil and create problems with the turbo. Plus, parts and repair on these old Audis is not for the faint of heart, so most buyers are looking for cleaner examples. This is one of the cleanest out there; Hagerty expects the bids to fly in and top the high estimate.
With their combination of retro styling and ground-breaking technology it's easy to see why the market loves these cars so much.
Back in 1980 when the Quattro was first released, all-wheel drive meant heavy transfer cases, high ground clearance, and lots of extra weight. The Quattro changed all that and in the process, changed rallying forever by becoming the first all-wheel drive car to win the World Rally Championship. Other than a brief triumph by the rear-drive Lancia 037 in 1983, no two-wheel drive car has won the title since.
The genius behind the Quattro was the simplicity and cleverness of its engineering and design. In 1977, prompted by the snow-driving prowess of the VW Iltis military vehicle, Jörg Bensinger, an Audi chassis engineer who oversaw experimental running gear projects, hit upon the idea of a road car with full-time four-wheel drive. Working with project director Walter Treser, and under chief technical director Ferdinand Piëch, Bensinger began work on an Audi 80-based prototype employing the Iltis' drive design.
Initial tests proved the potential of the all-wheel-drive system, but the locked axles compromised handling. Seeking to keep weight and complexity down, Audi's breakthrough came when transmission design head Franz Tregler came up with the solution of a hollow secondary shaft in the gearbox that would enable power deliver to both axles via a differential at each end. The Quattro was born.
After a successful launch at the end of 1980, Audi continually improved the Quattro with better materials, lighting, and interior tweaks, including revisions to the steering wheel, centre console and even a digital dashboard with an LCD screen for 1983. Exterior changes were minor during its 11-year run, though the biggest shift came in 1985 with updates to the grille, headlights, and trim. 1987 brought a Torsen centre differential to replace the manual locking setup, as well as a barely larger 2.2-litre turbocharged inline-five engine with the same 197bhp but improved low-end torque. Finally, 1989 heralded the arrival of the engine's four-valve head and dual overhead cams, which bumped power to 227bhp and top speed to 143mph. All Quattros, early and late, came with a five-speed manual gearbox.
Other Quattros have achieved higher values before, but they have been Sport Quattro examples: the fibreglass-bodied, Kevlar-reinforced, boosted-to-high-heaven homologation special that commands iconic status today. This short-wheelbase, 302bhp dynamo was built to satisfy rules for Audi's entry into Group B for 1984. It featured two valves per cylinder and an aluminium block, plus wider arches and wheels than standard. Despite being extreme in every sense, the Sport Quattro wasn't super-successful in the World Rally Championship (WRC) against the intensely competitive Group B field. It found much greater success in later hill climbs at Pikes Peak.
Also read
Market watch: How classic car auctions have performed in the first six months of 2021
Market Watch: Blue-collar to blue-chip for Sierra RS500
Can this Mitsubishi Lancer Tommi Mäkinen jump higher than £100,100?