The hammer price makes the headlines when a car is sold, but there's another element we're interested in when classic and exotic cars cross the auction block – how the value compares to the Hagerty Price Guide and wider market.
Of the cars sold at auction in the UK last year, some have wildly outperformed not just their auction estimates but also the Hagerty Price Guide (HPG) value. Models from the likes of Bentley, Mercedes and Porsche have smashed the HPG value, by as much as 155 per cent.
How much is your car to insure? Find out in four easy steps.
Get a quote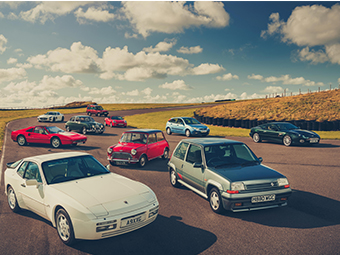 How is that significant? Well, the Hagerty Price Guide is reached by the continual monitoring of auction results, independent sales, insurance values and the expertise of Hagerty's own team, and is a broad and reliable indicator of where listed makes and models sit in terms of market valuation. So any car that greatly exceeds it is, by definition, greatly outperforming the market.
As most car enthusiasts will appreciate, however, the story behind the individual car can count for a great deal. A classic's history, provenance and specification can push values to new heights; but when you mix in good old-fashioned buyer enthusiasm and, dare we say it, a touch of the ego, the price can rev up like a finely tuned V12.
Without further speculation, here are 10 interesting cars that exceeded the Hagerty Price Guide in 2020.
1972 Bentley Corniche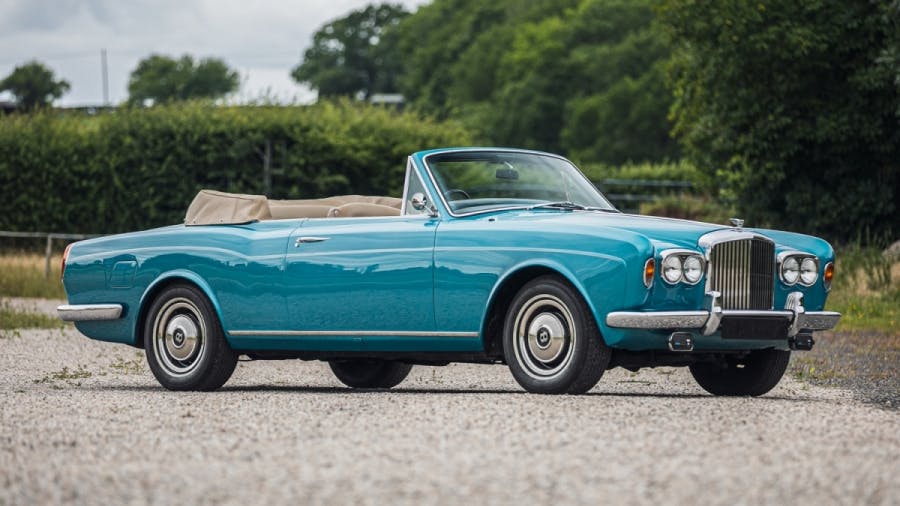 HPG value: £62,100
Sale price: £158,625, Silverstone Auctions
Hagerty Price Guide increase: 155 per cent
As our rundown of the most valuable British cars sold at auction in 2020 illustrated, it's been a ripe old year for cars built in Blighty. Further reinforcing that impression was a 1972 Bentley Corniche sold by Silverstone Auctions, in July. It both exceeded its generous £80,000 – £90,000 estimate and the Hagerty Price Guide valuation, selling for more than two and a half times the £62,100 value.
Its rarity compared to its better-known Rolls-Royce equivalent might have had something to do with that. Only 43 right-hand drive examples were built, from 570 in total, which is little more than a tenth of the equivalent total number of Corniches made by Rolls-Royce.
This particular car was chosen for display during Bentley's 100th anniversary celebrations at the 2019 Goodwood Festival of Speed, and deep within the car's weighty history files is the invitation letter from the Duke of Richmond himself.
1989 Mercedes-Benz 300 SL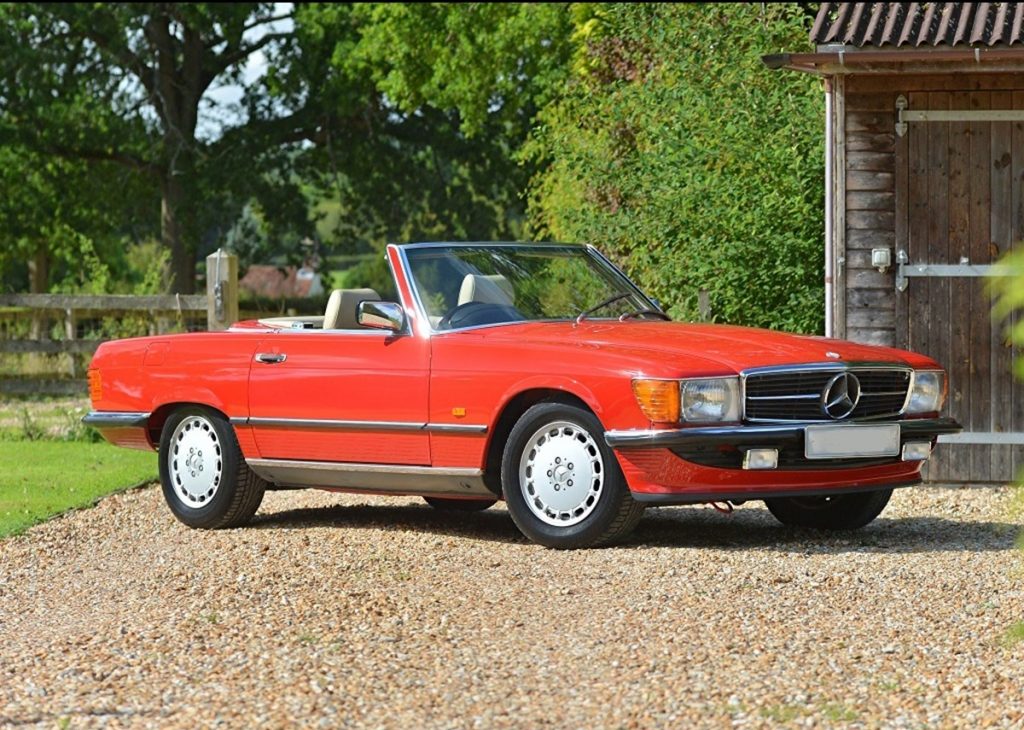 HPG value: £28,500
Sale price: £70,184, Historics Auctioneers
Hagerty Price Guide increase: 146 per cent
The second decade of the millennium saw the wonderful W113 Mercedes "Pagoda" SL climb rapidly in value while the car that followed languished behind, perhaps seen as too common and, whisper it, a relic of the shoulder-pads era. If the 1989 example that sold through Historics in September is anything to go by though, the twenties could be the decade the R107 SL comes into its own.
Granted, the car looked particularly fine in its Signal Red paintwork, and sixteen service book stamps despite little more than 10,000 miles of use on the islands of Jersey and Guernsey at the hands of just one owner give the car great provenance. But the car itself must be desirable too, and while the Hagerty Price Guide value of £28,500 fell right between the £25k-£30k estimate, the SL eventually blasted through to a £70,184 hammer price.
1988 Porsche 928 SE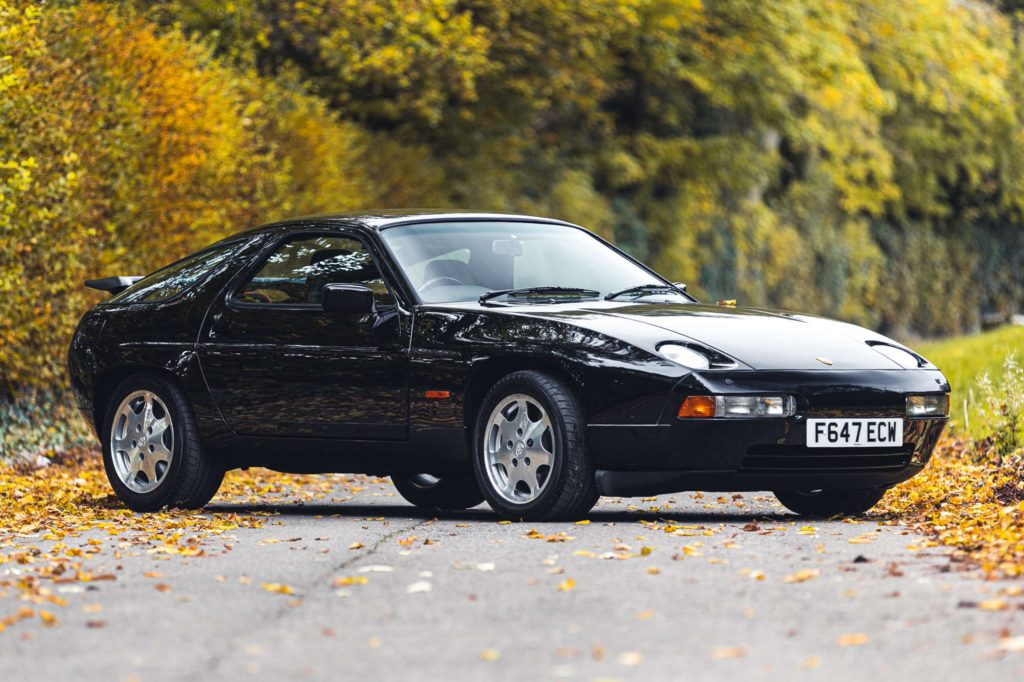 HPG value: £68,800
Sale price: £129,375, Silverstone Auctions
Hagerty Price Guide increase: 88 per cent
Another classic to have skimmed somewhat under the radar up until now, Porsche 928s were once among the cheapest way into the Stuttgart brand's products, often because buyers were apprehensive about the cars complexity and running costs.
And while most are unlikely to hit the spectacular highs of the 1988 928 SE that sold with Silverstone Auctions in November, the £129,375 sale price, 88% over the Hagerty value, suggests the tide may be turning.
What (other than the price) made the car special? Its condition for one, with 10,325 miles on the clock, and its unusual first owner from registration in May 1988 right up until a refresh with Hexagon Classics in 2015: the Egyptian Embassy. As an SE – for Sport Equipment – it's also a rare model, with just 42 produced for the UK market in right-hand drive. SEs included a snappier 2.73:1 final drive, a limited-slip differential, a close-ratio 'box and lighter, wider wheels. Clearly somebody at the Egyptian Embassy couldn't resist its charms.
1971 Lamborghini Miura P400 SV Speciale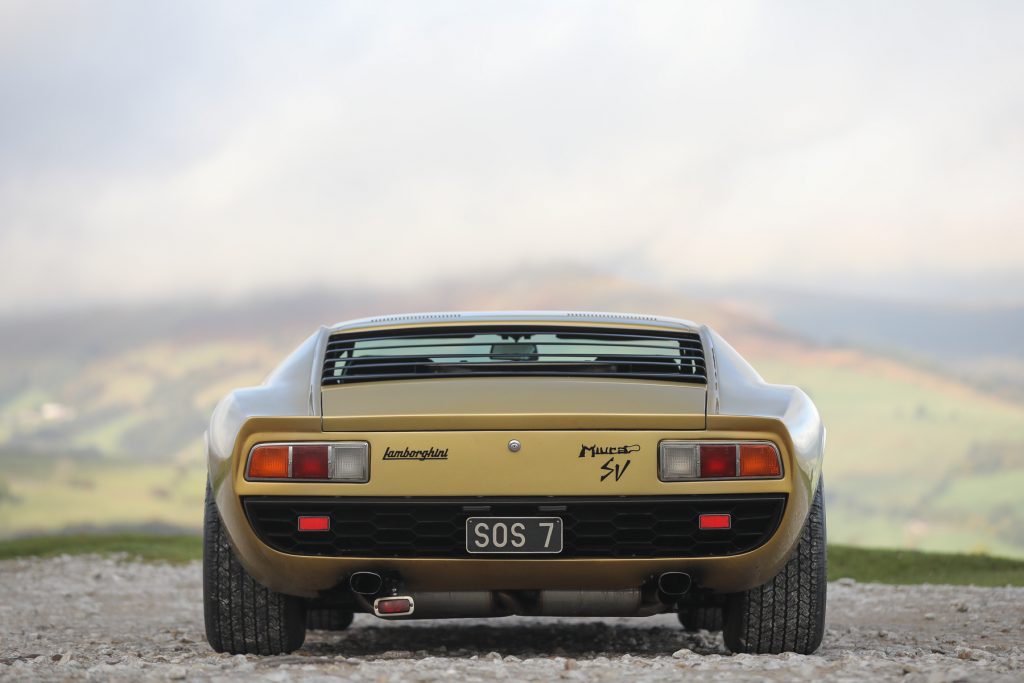 HPG value: £1,720,000
Sale price: £3,207,000, Gooding & Company
Hagerty Price Guide increase: 86 per cent
A Miura, wildly valuable? Say it ain't so… Okay, you're expecting this one to be expensive, and indeed the Hagerty Price Guide value of £1.7 million is healthy. So it was no surprise that an estimate of £1.6m-£2m was set for this Oro Metallizzato P400 SV Speciale, at Gooding & Company's Passion of a Lifetime sale, in September.
And then the 1971 car climbed to a spectacular £3.2 million, a full 86 per cent over book value, and comfortably the highest hammer price of any vehicle on our list, if not quite the highest overall sale in 2020.
Miuras don't really need a great deal of explaining, but chassis 4878 does have a few tricks up its sleeve. Its first owner, industrialist Jacques Dembiermont specified the addition of a dry sump and ZF limited-slip differential as per the Miura Jota. Gooding & Co described it as "one of the most extraordinary Lamborghinis of all time", and now it has an extraordinary price to match.
1961 Jaguar Mk II 3.8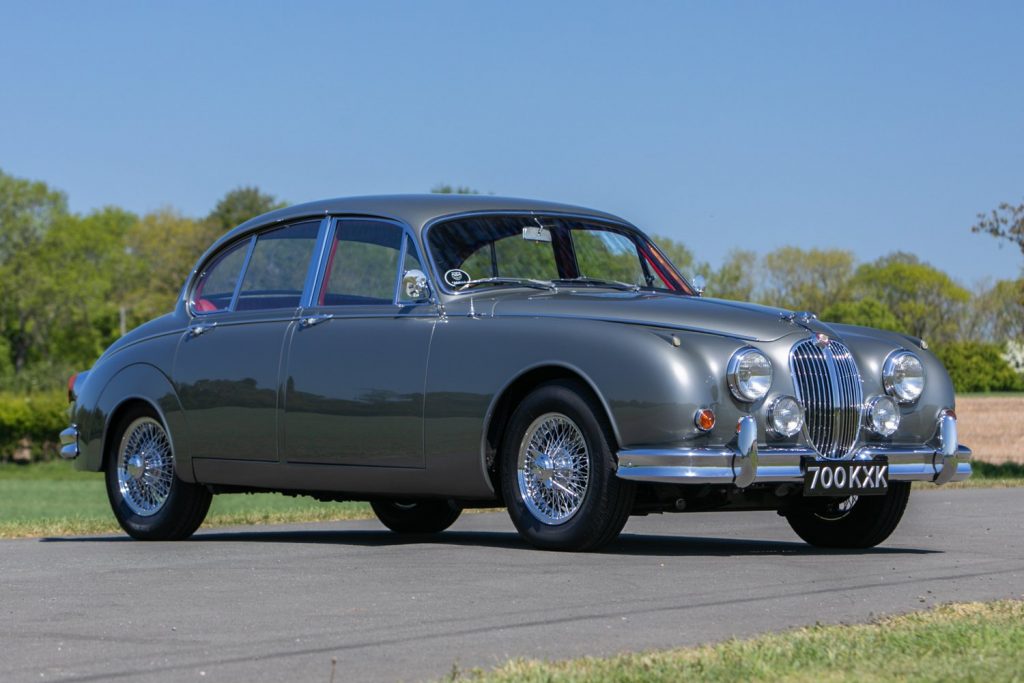 HPG value: £69,800
Sale price: £93,500, Silverstone Auctions
Hagerty Price Guide increase: 34 per cent
It's not surprising to see Jaguar Mk IIs going for big money these days, but at a third over our Hagerty Price Guide value, this particular 3.8-litre 1961 Mk II still did pretty well, and comfortably exceeded its £60,000 upper estimate in the process. Sold with Silverstone Auctions back in May it pretty much ticked all the boxes, which could explain the result, as a matching-numbers car with a comprehensive history, previous magazine features, a heritage certificate, and even a previous celebrity owner!
That owner was Richard Fairbrass, the lead singer from Right Said Fred, who owned the Jag between 2006 and its most recent owner in 2011. Fairbrass bought the car from a specialist with around £60,000 worth of enhancement work, topping off a restoration prior to 2005 that had returned the car to its original colour after a dubious spell in coffee and cream paintwork. Let's hope the hefty price won't dissuade the new owner from adding to its 20,400-mile tally.
2005 Porsche 911 Turbo S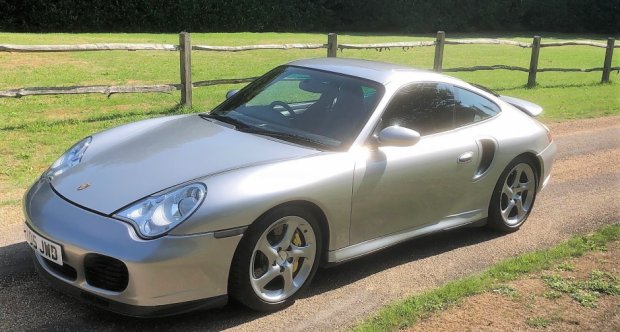 HPG value: £60,800
Sale price: £81,000, Silverstone Auctions
Hagerty Price Guide increase: 33 per cent
Slowly but surely Porsche's 996-generation 911 is coming of age, but the sale of a 2005 911 Turbo S at Silverstone Auctions in August shows that when it comes to any 911, the more unique examples will always command the most money. A sale price of £81,000 is a surprise even so, eclipsing an estimate of £45,000 – £55,000 and ending up 33 per cent over the Hagerty Price Guide, though our figures cover all Turbos rather than the even more potent S.
That's to take nothing away from the quality of this particular car. With little over 18,000 miles on the clock, a manual gearbox, a full aero kit and a classy black-over-black colour combination it's in enviable condition, while Turbo S niceties include ceramic brakes (their use not as widespread at the time as it is now), as well as a powerkit taking output to 450bhp and top speed to 190mph. A full history file made it the complete package for bidders, so maybe it's no surprise to see a 996 this high up our list.
1987 E30 BMW M3 Competition Pack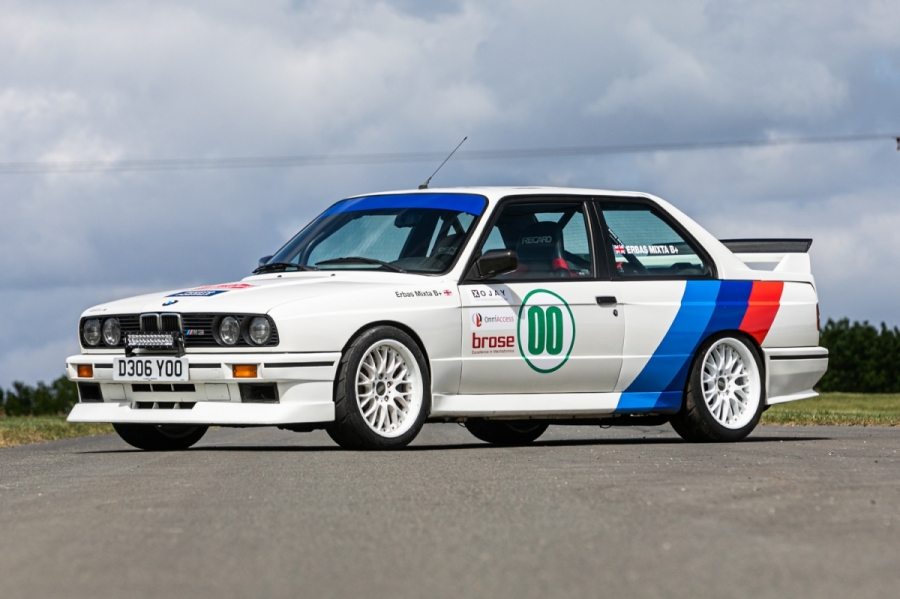 HPG value: £72,300
Sale price: £92,950, Silverstone Auctions
Hagerty Price Guide increase: 29 per cent
BMW's E30-generation M3 has enviable road-racing heritage with countless touring car championships to its name, but it wasn't unusual to see the cars on tarmac rallies back in the 1980s either – agility and poise making up for a lack of fashionable all-wheel drive on the grippy asphalt. This 1987 car didn't start out as a rally model but was instead converted at a later date, and this competition preparation is at least part of the reason for a sale price 29% over the Hagerty Price Guide value.
Modified with the usual rally amenities plus a balanced and lightened 2.5-litre competition engine, the M3 is packing some real Canned Heat, and no doubt Feels Just Like It Should… but maybe that's also because it comes from the collection of Jamiroquai frontman Jay Kay. Mr Kay is well known for his better-than-average collection of cars, and you might say he's done Alright with the sale of this particular M3…
1960 Mercedes-Benz 190 SL Hardtop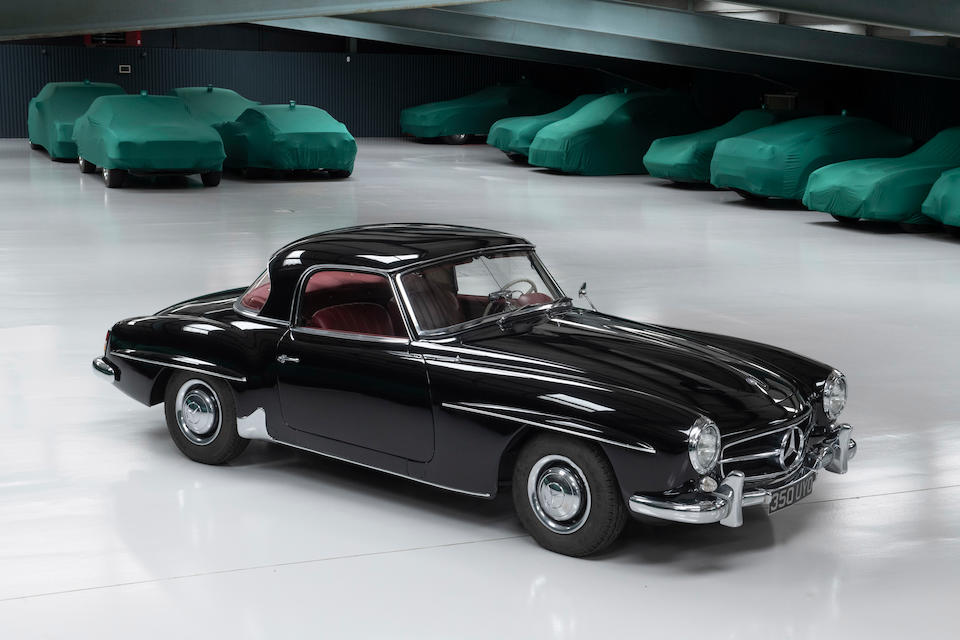 HPG value: £127,000
Sale price: £155,250, Bonhams
Hagerty Price Guide increase: 22 per cent
Unlike the R107 Mercedes-Benz SL elsewhere on this list, the W121-generation SLs have been valuable for a long time, riding the crest of the wave from its W198 Gullwing sibling. As such a £155,250 sale price for the black beauty sold with Bonhams at last year's Goodwood SpeedWeek doesn't seem all that unusual, but it was still enough to outpace both a £120k high estimate, and Hagerty's own £127,000 price guide value.
Supplied with a matching factory hardtop, the 190 SL was never quite as exotic as the 300 SL, motivated by just a 105bhp 1.9-litre four-cylinder and lacking the more famous SL's racer-style spaceframe construction. It does have those boulevard-cruiser looks though and a gentler temperament, and a recent restoration and chunky history file surely helped this one achieve its full sale potential last October.
1973 Dino 246 GTS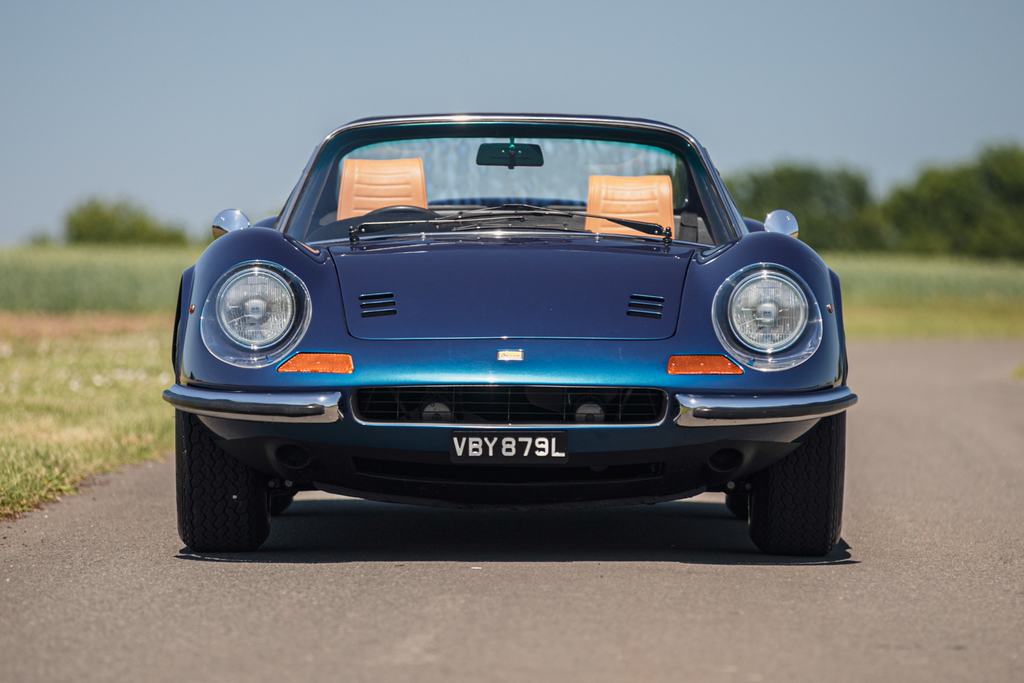 HPG value: £278,800
Sale price: £337,500, Silverstone Auctions
Hagerty Price Guide increase: 21 per cent
Flip through classic car magazine classifieds from the early 2000s and it wasn't unusual to find Dino selling at around the £60,000 mark. This 1973 GTS, the open-topped Spider variant with its removable roof panel, sold for £337,500 back in late July – adding a fifth to its Hagerty Price Guide value and falling neatly between its £300,000 – £350,000 estimates.
A comprehensive history file helped this example along, including its original bill of sale from Dick Lovett in 1973. The car retains its original and quite appropriate hue too, Azurro Dino Metallico, though the excellent condition of the paintwork can be explained by a comprehensive, 450-hour refresh in February 2001. Supplied in right-hand drive it sounds like the perfect car to take for a celebratory summer drive, when Covid restrictions will hopefully be a fading memory.
1972 Lamborghini Miura SV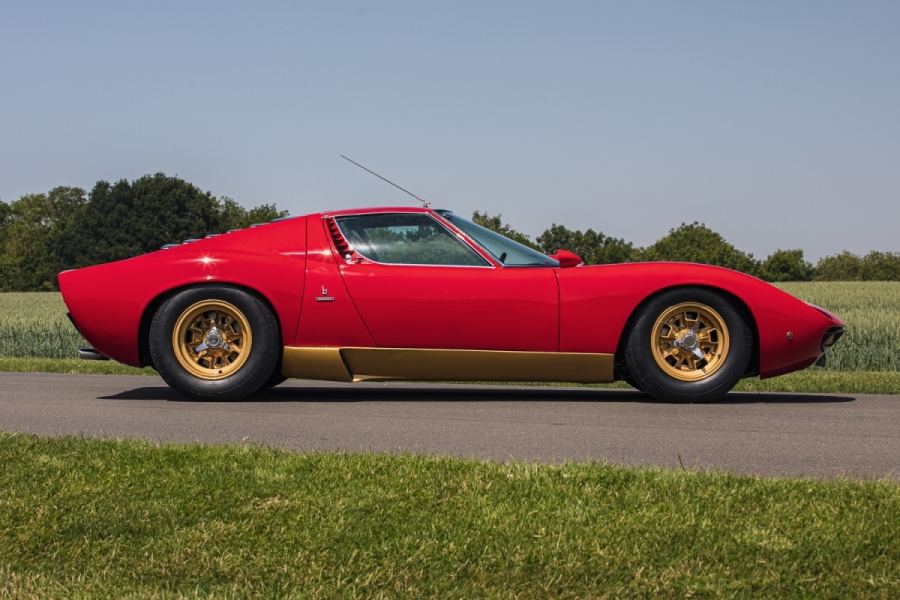 HPG value: £1,720,000
Sale price: £1,912,500
Hagerty Price Guide increase: 11 per cent
The second highest sale price on this list but bottoming out our top ten in terms of value over the Hagerty Price Guide, this time Silverstone Auctions was the platform for one of Lamborghini's most celebrated models. Here too is a good indication of how history can affect the end value, for while this 1972 Miura has no skeletons in its closet, its back-story isn't quite as fascinating as that of the £3.2 million 1971 car either.
Not that £1.9 million is a bad result, and still registered 11% over our price guide, even if it fell short of the £2.4 million upper estimate on the day. The car is still one of only 11 right-hand drive models in Super Veloce specification – and a desirable "split-sump" variant at that – and despite its European specification it spent most of its history in Australia, before returning to the UK in 2010 – and has since been a Car magazine cover star too.
Now see the 10 most expensive British cars sold in the UK last year