Mike Brewer is selling some cars and wants to shake on the deal – only this time, it's not for a TV show.
The popular presenter is instead auctioning off some of his personal collection at the upcoming NEC Classic Motor Show sale, hosted by Silverstone Auctions.
How much is your car to insure? Find out in four easy steps.
Get a quote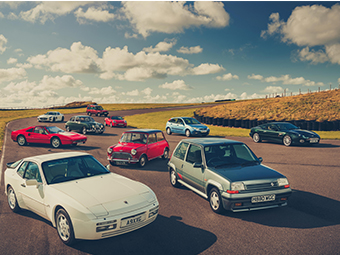 Long-time viewers of Wheeler Dealers will know that Brewer is a bit of a whizz when it comes to cutting a deal, and some amazing cars have passed through the show's workshops over the years. All though were eventually sold on to recoup costs – and of course, enhance the narrative – including those, like the Lamborghini Urraco that Brewer found in a Polish barn, that he was sad to see go.
But as a well-connected enthusiast, Brewer has added plenty of cars to his personal collection over the years too. And like many of us, not all of these cars can stay forever, so the jovial TV personality has chosen instead to sell them at the busy NEC Classic Motor Show sale on Saturday, 13 November.
"I am sad to see these cars go, but it was time for a change" explains Brewer. "I want to consolidate my collection. Each car has its own unique story, and they all deserve a new home."
The collection includes five desirable classics. First across the block will be a 1972 Citroën SM 2.7 in metallic green, fully restored during Brewer's ownership and winner of a concours trophy at a national Citroën event. It's also set to appear in an upcoming episode of The Grand Tour, though its condition suggests the trio took rather more care of it than their usual steeds. It's expected to reach £35k-£45k.
Two Minis follow, first a 1967 Cooper S and then a 1961 Mini Seven, formerly from the collection of American collector Phil Reed. When Reed passed away and his children sold off the collection, Brewer snapped up both. The green Cooper S is one of the 1275cc models and has a guide price of £50k-£60k, while the red Seven is an early "floor start" car and could pull in £15k-£18k.
Following the Minis is a 1966 Lotus Cortina Mk1 in the traditional white and green colour combination. Restored over eight years from 1999, with around 70,000 miles on the clock, the car has covered just under 6000 miles since. A guide price of £45k-£55k puts it somewhere between Condition 2 ("excellent") and Condition 1 ("concours") in the Hagerty Price Guide.
Finally, there's a modern classic: a 2002 Ferrari 360 Spider F1. Tour de France blue paintwork over tan leather is a classic combination, and while the automated manual 'F1' gearbox isn't the most desirable in Ferraris of this era, it comes with a folder showing previous work (including a recent cambelt, and a roof in perfect working order). And what better way to enjoy that naturally-aspirated 3.6-litre V8 than with the roof down?
Elsewhere in the NEC Classic Motor Show sale you'll find a selection of even more hardcore modern classics, as well as such niceties as a pair of pristine Mk1 Escorts – a rare Twin Cam, and an RS1600 – a Williams FW14 display car, a Mini Moke from The Prisoner, and even a Porsche 996 GT3 in German police livery.
Read more
10 modern classics ready to rev up your driving
Our pick of Minis, Maestros, Mazdas and more at SWVA's Autumn auction
French revolution: 5 game-changing Citroëns