It's a new year, which means another 12 months of classic car auctions to look forward to, following the progress (or lack of) of cars you've got your eye on or hoping to pick up a bargain in the making should you be the only bidder in the room. The Silverstone Auctions Race Retro Classic and Competition Car Sale is one of the first – not to mention one of the longest names – of 2023, with 55 cars set to go under the hammer at Stoneleigh Park.
We'll provide a full preview of the Race Retro auction nearer the time, but in the meantime we're highlighting seven magnificent Lotus Elans, many with celebrity provenance. It's a rare opportunity to find so many available at once. Rob Hubbard, sales director of Silverstone Auctions, said: "If ever you have wanted to purchase a Lotus Elan there will never again be an opportunity like this one, to choose your ideal car from this outstanding collection put together by Deryck Norville [a former Cosworth engineer]. Each one also comes with a provenance that just adds to their interest."
That provenance makes more than a great talking point at a car show or marque meet-up. It can, in certain cases, add to a car's value, something Hagerty has highlighted in its 2022 Power List.
If you're interested in these or any of the other cars in the Silverstone Auctions sale, you'll need to be in Warwickshire on Saturday 25 February 2023. And to compare any of their estimates to the Hagerty Price Guide values, follow this link.
Lotus Elan Drophead Coupé – Ron Hickman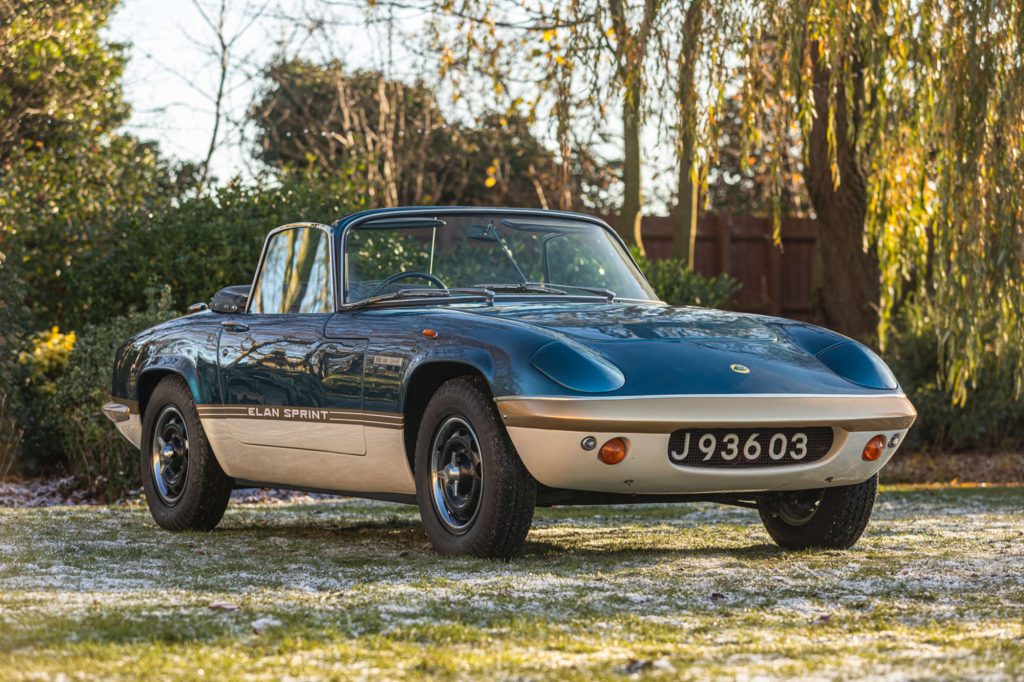 Estimate: £70,000 – £90,000
Lotus enthusiasts will remember Ron Hickman for his work on the original Elite, Elan, Elan +2 and Europa. The South African designer joined Lotus in 1956 after meeting company founder Colin Chapman at the Earls Court Motor Show but left Lotus in 1967 to pursue other projects. He's best known for designing the Workmate, which Black & Decker put into mass production in 1973; Hickman earned a 3 per cent royalty on every one sold. Nice work if you can get it.
Ron Hickman moved to Jersey in 1977, retiring five years later, with this Elan kept at his villa overlooking St Brelade's Bay. The car was the subject of a complete restoration in 1997 and used sparingly until Hickman's death in 2011. Derek Norville purchased the car nine years later, adding it to his 'Piddington Collection'. The Hagerty Price Guide shows values of up to £65,000 for a concours example of a Sprint FHC. Will the Hickman connection power that on?
Lotus Elan S3 SE – Rob Walker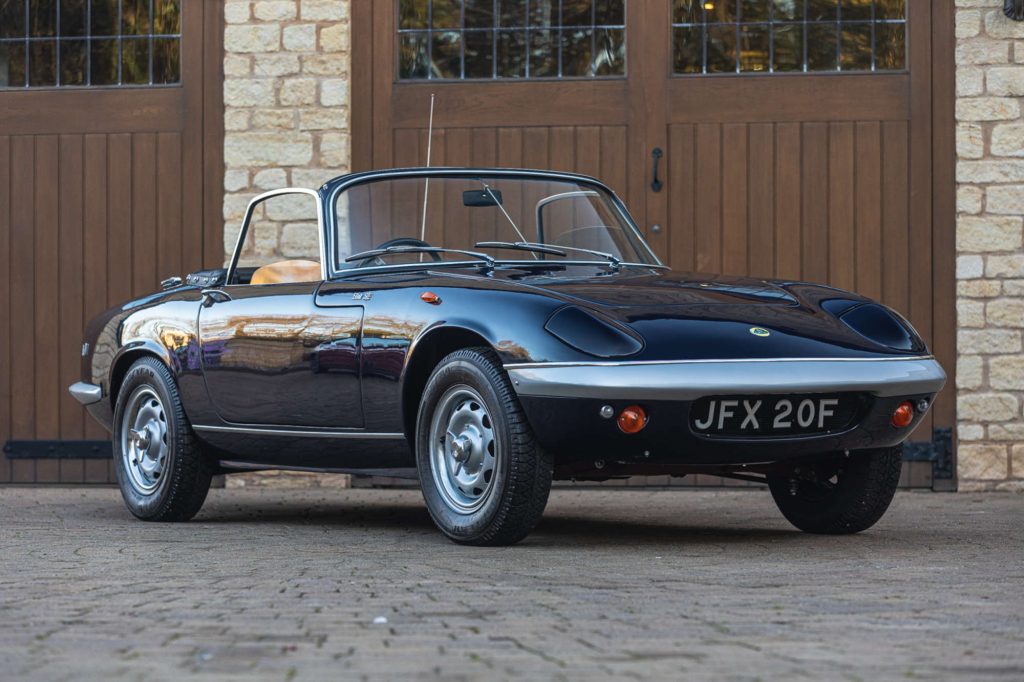 Estimate: £50,000 – £80,000
As his obituary in The Guardian points out, Rob Walker once listed his occupation as 'gentleman'. He was born into the wealthy Johnnie Walker whisky family and is perhaps best known for running the successful R.R.C. Walker Racing Team in the 1950s and '60s. Working with Walker, Stirling Moss finished third in a Cooper-Climax T51 in the 1959 World Championship, before switching to Lotus from the second race of the 1960 season. His victory at Monaco in 1960 was Lotus' first F1 race win, albeit by a private team.
Walker ran the successful R.R.C. Walker dealership at Corsley Garage near Warminster, which is where he took delivery of this 1968 Elan S3 SE. The car was finished in Walker's signature Ford Midnight Blue to commemorate Moss' victory for Team Lotus at the 1961 Monaco Grand Prix. With its history, it's little wonder it's anticipated to outperfom values in the Hagerty Price Guide.
Lotus Elan S3 SE – Peter Sellers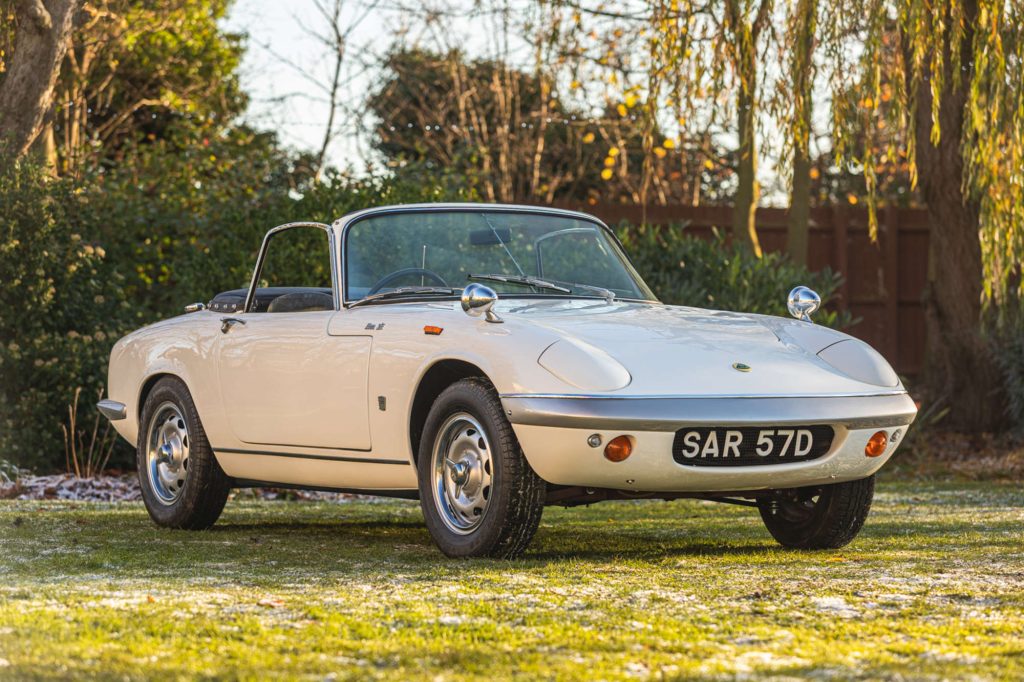 Estimate: £80,000 – £120,000
Cars formerly owned by Peter Sellers are like buses: you wait ages for one to come along and then two appear at once. Hot on the heels of the Radford Mini de Ville we reported on, yesterday, is this Lotus Elan S3, said to have been owned by the late actor and comedian from 1966 until 1969. It's no stranger to the auction scene, having gone under the hammer at the NEC Classic Motor Show in 2015, selling for £50,625.
It's expected to fetch considerably more in 2023 – considerably more than the average prices in the Hagerty Price Guide, too – but then it has been treated to what Silverstone Auctions calls a "beyond Concours d'Elegance" standard restoration. Amazingly, it hasn't turned a wheel since the restoration, which raises the usual question: to use it or store it? It must be the former, no?
Lotus Elan S4 FHC – Jochen Rindt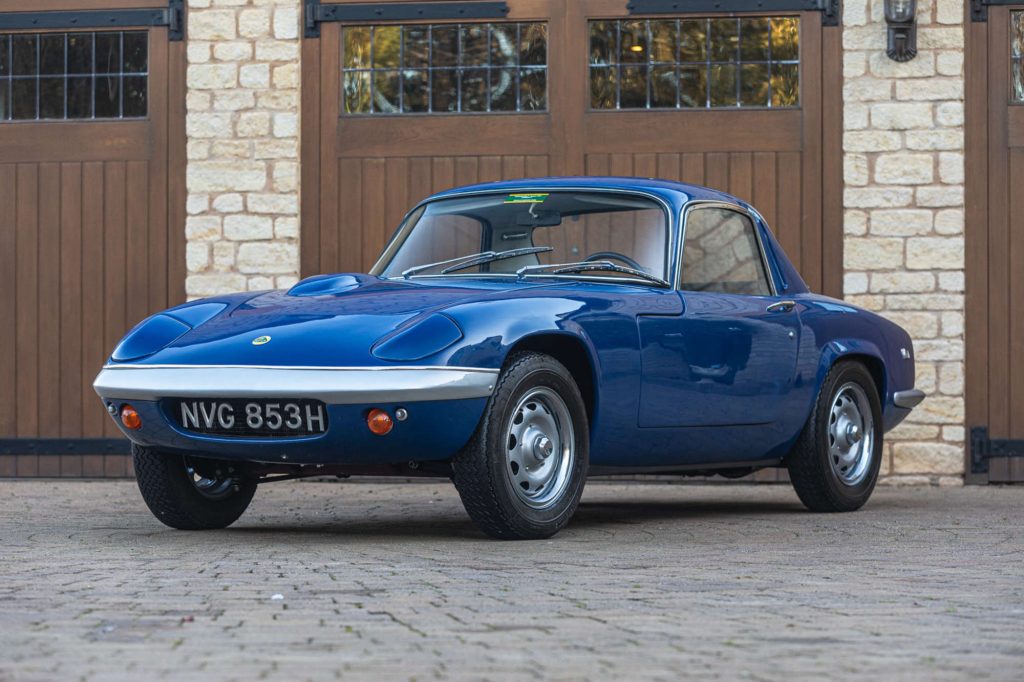 Estimate: £80,000 – £120,000
This 1969 Lotus Elan S4 FHC offers poignancy to go with its provenance. It was presented to Jochen Rindt at the end of the 1970 German Grand Prix, following the Austrian driver's fourth consecutive victory for Lotus and his fifth of the season. Two races later, Rindt suffered a fatal accident in practice before the Italian Grand Prix; he was just 28.
Rindt was awarded the title posthumously, having secured enough points to beat Jacky Ickx. There's a photo online showing Rindt being handed the keys by a beaming Colin Chapman, along with one of him testing an Elan Sprint prototype with optional two-tone paint finish. Like the ex-Peter Sellers Elan, 'NVG 853H' has been treated to a complete restoration. Given its history, we're not surprised that the car is estimated at more than twice the value of a concours Elan S4 FHC.
Lotus Elan S3 Drophead Coupé – Diana Rigg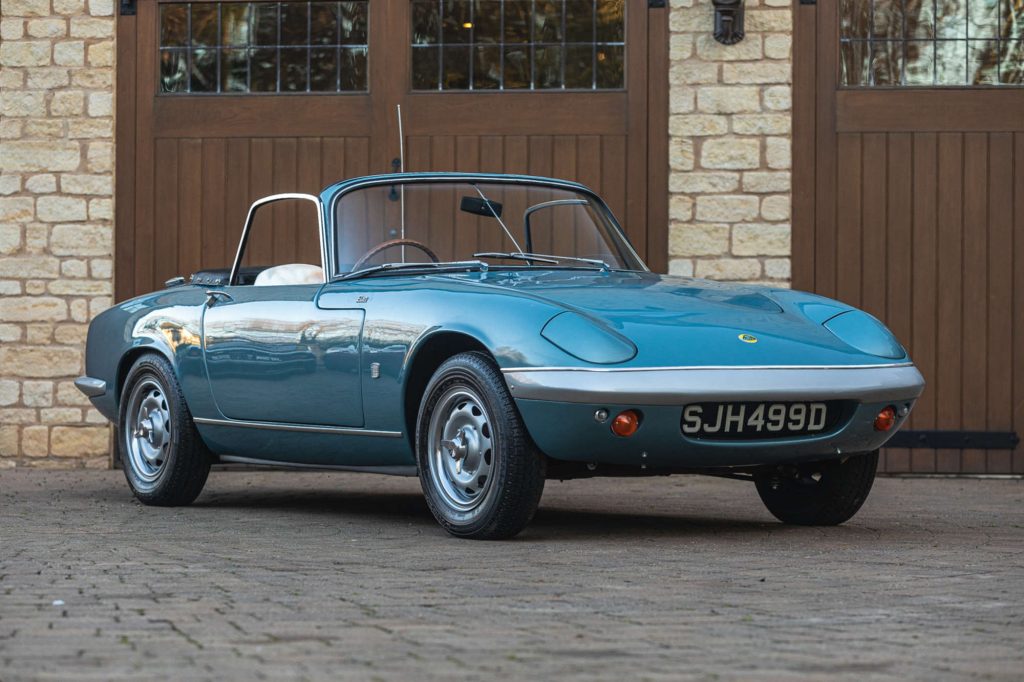 Estimate: £80,000 – £120,000
According to Silverstone Auctions, "this is the most famous Lotus Elan in the world." Quite a claim, although given its role in The Avengers – not to mention ownership by a certain Diana Rigg – it's a claim that's not without substance. 'SJH 499D' featured as Emma Peel's car in 19 episodes before being gifted to Rigg at the end of the sixth series.
Not being into cars, Rigg gave the Elan to a friend, who later sold it to her sister in America. It returned to the UK to reside in the Cars of the Stars Museum until it closed in 2011, when it was acquired by the Miami Auto Museum. Fortunately, the 1966 Elan S3 fixed-head coupé has since returned to the UK, where a Westminster radio receiver has been fitted to pay homage to Peel.
Lotus Elan S4 Coupé – Keith Duckworth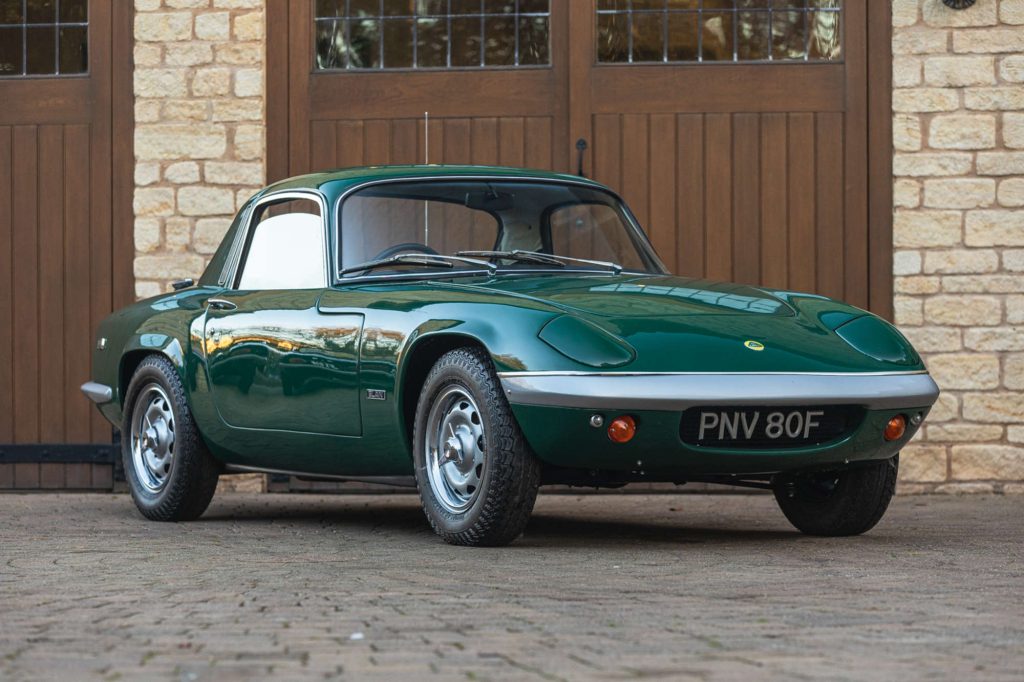 Estimate: £50,000 – £80,000
This one is known as the 'Duckworth Elan', having been gifted to the co-founder of Cosworth by Lotus Cars to commemorate the first victory by a Cosworth DFV-engined Grand Prix at Zandvoort in 1967. It's a very early Elan S4, which was rescued by Deryck Norville and sent to Ken and Neil Myers for a complete restoration. This was completed in 2017.
As Silverstone Auctions points out, the chassis, body and engine are original and the car was repainted in its original Lotus British Racing Green. Mike Costin, the other founder of Cosworth, was also insured on the car and used it occasionally.
Lotus Elan Sprint
Estimate: £50,000 – £80,000
This Elan Sprint comes without the provenance of celebrity ownership, but it was the last one to be registered in the UK. It was supplied in kit form to Ken Myers, who ran the Lotus main dealer in Northampton and planned to build for his son Neil's birthday. That never happened, so the car was sold to a husband and wife who kept it for 39 years. It sold for £29,900 at an auction in 2014.
Neil would finally get his hands on the car when Deryck Norville, owner of the collection, entrusted him and his dad to carry out a full restoration. One marque expert has described the car as: "Probably the best FHC Sprint in the world." Fancy placing a bid? Make sure you're at Race Retro in February.
Read more
Our Classics: 1982 Lotus Esprit S3 | Counting the cost of Esprit ownership
Restoring a Lotus Elan kept me sane during lockdown
I bought a Lotus Esprit – and broke every car-buying rule in the book