Peter Sellers was simply obsessed with cars. At one time the British comedy legend, considered the most bankable star on the silver screen, seemingly spent everything he earned on automobiles. By the time he was 39 Sellers is believed to have owned more than 80 vehicles. His friend and Goon Show collaborator Spike Milligan would refer to Sellers' cars as his "metal underwear" because he changed them so often. More often even than his wives and girlfriends.
The arrival of something newer and better, or seeing fellow movie illuminati behind the wheel, would be enough for Sellers to sell up and buy afresh. Heaven forbid that car should develop a fault, as Milligan noted during an interview with Terry Wogan in 1987.
How much is your car to insure? Find out in four easy steps.
Get a quote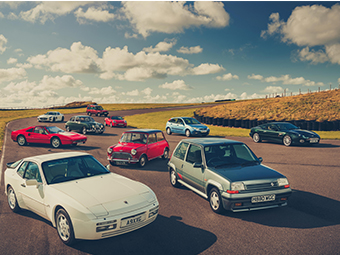 "Three o'clock one morning the phone rang and it was Peter," Milligan revealed. "He said 'Will you come round right away?' I said: 'Well I'm not unconscious'. He said: 'Please come around straight away,' and I thought he was having trouble with one of his wives, so I put my overcoat on over my pyjamas and got in my Mini Minor. When I got there he was sitting outside. It was three in the morning, wintertime, snow on the ground. 'What's this?,' I said.
"'This is a brand new Rolls-Royce,' he said. 'There's a squeak in the boot. Take this piece of chalk and this torch and get in the boot. I'm going to drive down it up and down the street and when you hear a squeak make a little cross.' So I got in and he drove this Rolls-Royce up and down the pavement to shake the springs. The police must have seen him because I heard a car pull up and the crunch of gravel. Suddenly a policeman shone his torch on me in the boot and said: 'Oh, it's you'."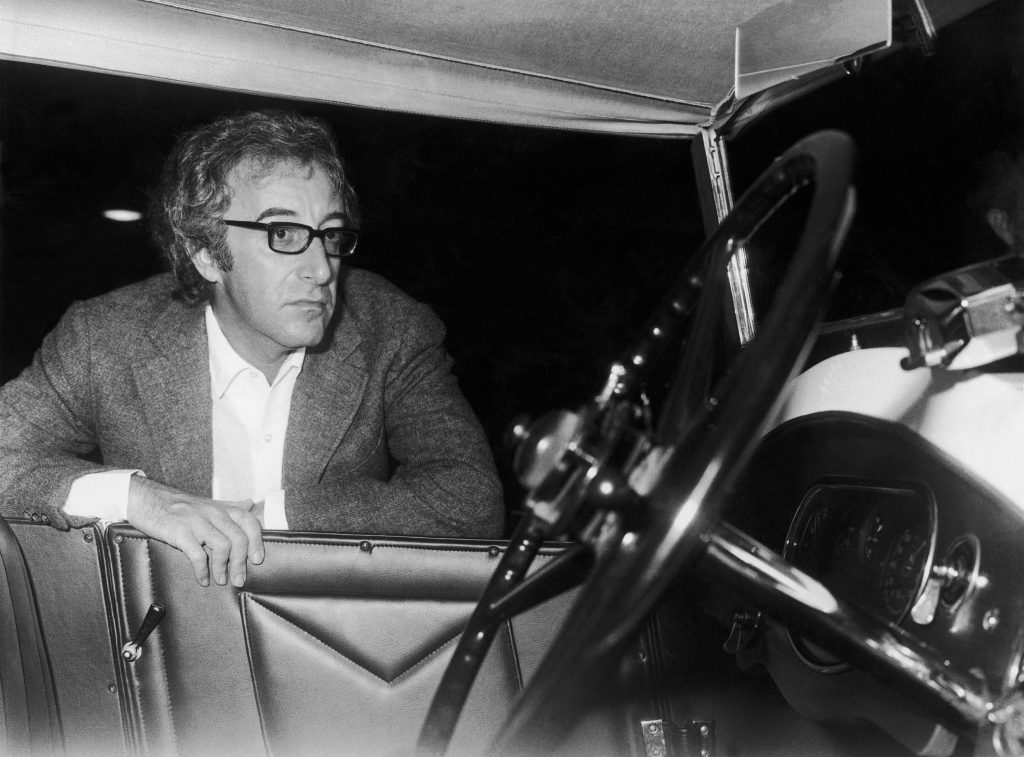 It wasn't Sellers' first Rolls, that was a 1956 Silver Cloud, previously owned by Cary Grant, and it wasn't his last, having received a Silver Cloud III in addition to a reported million-dollar fee for appearing in 1967's Casino Royale.
Over the years Sellers' stable would include mostly British cars, beginning with 'Old Min', a 1930 Austin Heavy Twelve Open Road Tourer. Sellers is said to have given the car to Milligan, but took it back within a week after discovering it had been left out in the rain. The fact that Milligan had also apparently swapped its radiator-topping temperature gauge with a coffee percolator may have contributed to this fit of pique.
After a run of Jowett Javelins, MG Magnettes and Rover P4s Sellers celebrated his success in 1955's The Ladykillers by buying a Jaguar XK140. Next came the Cary Grant Rolls, followed in 1959 by a Bentley S1 Continental. Two years later Sellers was behind the wheel of an Aston Martin DB4 GT and then a Mercedes-Benz 300SE Cabriolet before his heart was turned by the Italians.
First it was his The Millionairess co-star Sophia Loren that Sellers lusted after. Then it was Ferrari, with a 1962 250 GTE, a 1965 500 Superfast and a 1967 275 GTB/4 all passing through Sellers' hands in the 1960s.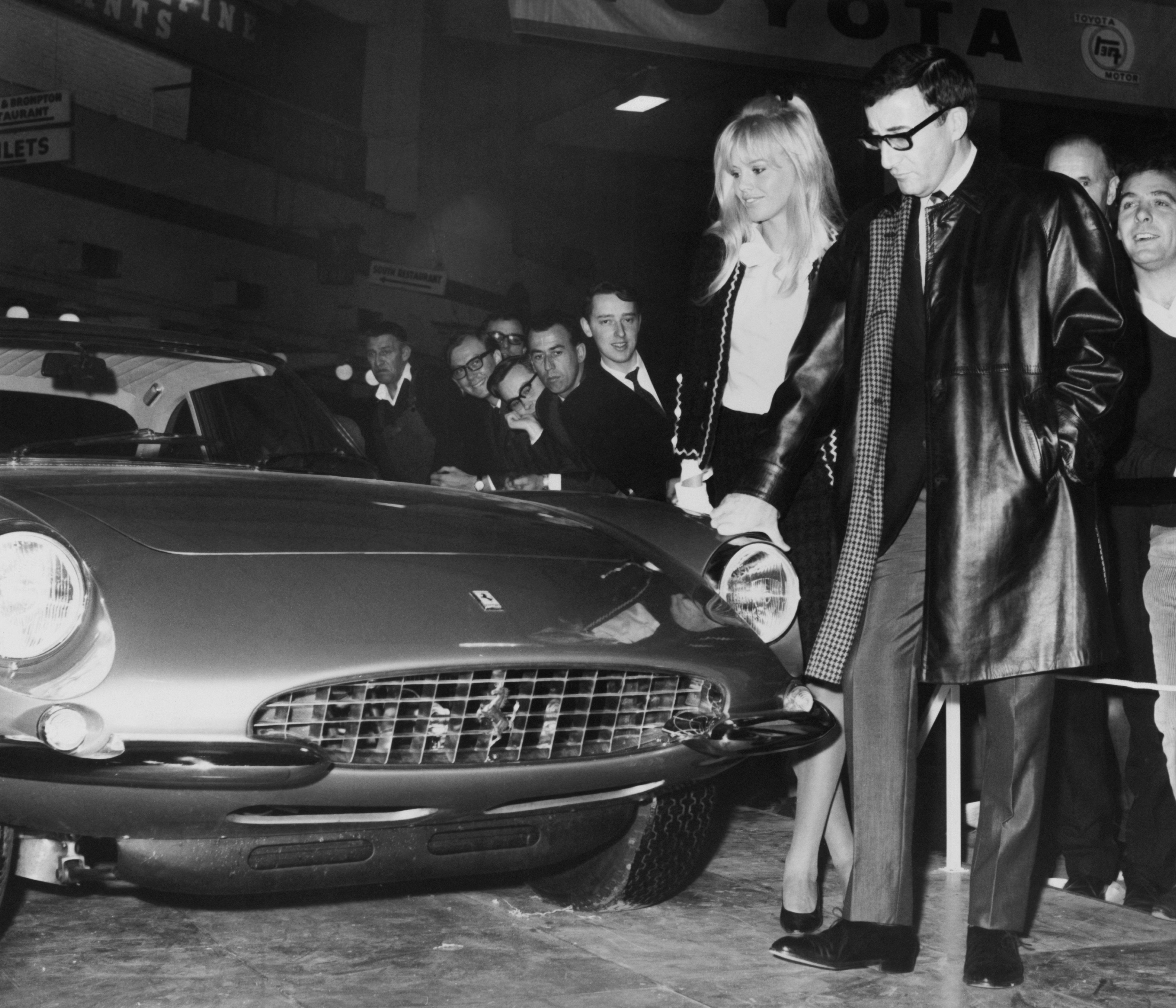 In amongst those was a Bristol 407 by Carrozzeria Viotti, straight from the Turin Motor Show stand and a purple 1963 Mini Hooper Cooper, coachbuilt to Sellers' specification with Connolly leather hide, electric windows and radio aerial. At the time it was said to be the most luxurious Mini ever made. A Buick Riviera arrived around 1964 (but didn't last long as Sellers' hated the handling), as did a Lotus Elan coupé. A year later an Aston Martin DB5 Drophead came along, together with a Bentley S3 Continental Drophead. He reportedly tried to have the engine from a Scout armoured car fitted to a Lagonda, but it wouldn't fit.
In 1975 Sellers had another infatuation. This time it was with a Mercedes-Benz 450 SLC owned by his friend Blake Edwards, director of the Pink Panther movies. Edwards bought the car for his wife Julie Andrews and they would drive it between the UK and Spain where the power couple had a holiday home.
With its 225bhp 4.5-litre V8 it was one of the fastest and most powerful Mercedes of the day, and just the job for cruising from one country to the next. It was based on the 107, a car that was a big step on from the 113 pagoda-roof roadsters. Built to pass new standards of crash test legislation, they were strong things that led the engineers working on them to coin the term "panzerwagens". The SLC, introduced in 1972, only added to that impression, and would go on to make an unlikely entrant in long-distance rallies on the World Rally Championship calendar.
Ordering the car from Mercedes, Edwards specified his SLC with a unique set of features that would suit frigid, damp British winters and long, sweaty Spanish summers. The seats were velour so they would get neither too hot nor too cold and the sunroof, when combined with the open windows of this pillarless coupe, would allow plenty of air to flow through the cabin without the buffeting of a convertible.
Sellers acquired the car from Edwards and Andrews, but, as was his way, he soon bored of the Benz and sold it on after a little more than a year of driving the SLC. We can't know what it was about the Mercedes that led to Sellers letting it go so quickly. Perhaps it was too sensible for his tastes at the time? Maybe his need for speed was too great? Or did he want to outdo his peers and arrive at red-carpet events in something altogether more exclusive? Regardless, the car is back in circulation, after a complete restoration the car is to go under the hammer at Historics Auctioneers' Ascot sale, on 17 April.
The vendor Ian Berg bought the car five years ago from another Historics auction, his winning bid just £3640. After Sellers it was believed to have passed through the hands of a further five owners, and was in a particularly sorry state. Rust had got a hold of most of the body panels and set into the chassis and box-sections. The rubbing strips were well and truly rubbed. The interior was knocked about, with ripped upholstery and stains everywhere you looked, but the fundamentals were all present and correct. So Berg set about a total rebuild.
"We completely dismantled it, took it back to bare metal, replaced any panels that were required and rust-proofed it," he tells Hagerty. "It wasn't a case of how many hours was spent, it was years. There were hundreds of hours spent just on the bodywork. I even tracked down the original data card to match the paint and interior trim," says Berg.
Having previously restored Inspector Morse's Jaguar, Sir William Lyons' personal Jaguar Mk X and a Lynx Eventer owned by the Gucci family, Berg is no stranger to celebrity car reincarnations.
"I'm a film producer and authenticity is really important to me, to put it back in a condition that's as new. As you look at that piece of history, if you then preserve that and bring it up to the standard where it's going to survive, then you're giving it a whole new life," he says.
The engine was rebuilt, the electronics renewed and the suspension and brakes refurbished. "It will do 120mph on the autobahn. It's like driving a modern car, but with all the style of a classic. These cars are very rare now, and I think that this is probably the best example in the world now," adds Berg. Sure enough, in photographs at least, it appears immaculate and very much a measure of restrained good taste.
That it's been driven by Blake Edwards, Julie Andrews, and Peter Sellers makes this 450 SLC a truly unique example. The mileage – 116,000 – might be considered high for some cars but this any SL is just getting into its stride around this point. And it could be yours for as little as £29,000 if the auction estimate proves an accurate reflection of the market.
If Sellers was still alive today we're pretty sure he'd be watching, if not actually bidding, himself. And if the successful buyer happens to hear a squeak coming from the boot, they can grab a piece of chalk and a torch, phone a friend and, well, you know the rest…
Read more
The complete guide to £35,000 starter classics
10 sales that smashed the Hagerty Price Guide in 2020: Mercedes 300 SL
What you C is what you get: Five generations of Mercedes C-class