Twenty-eight years and nearly 11 million models after Mercedes-Benz dealers first started selling the original C-class, the brand has revealed the fifth generation model in all its technological glory.
More frugal, refined, and high-tech than ever, the latest C will no doubt carry out its duties to a T, but we're less interested in the new model than we are its heritage. If the rival BMW 3-series has been a figurehead for the kind of dynamic abilities we can expect of our compact executive cars, then the C-class has led the way for technology and comfort.
How much is your car to insure? Find out in four easy steps.
Get a quote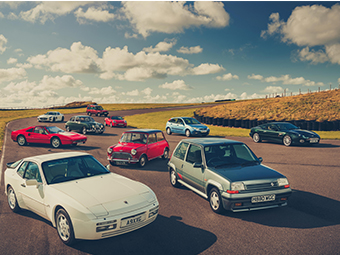 It's also the latest chapter in a story that actually started a decade earlier than the first car to wear the C-class badge.
W201 190E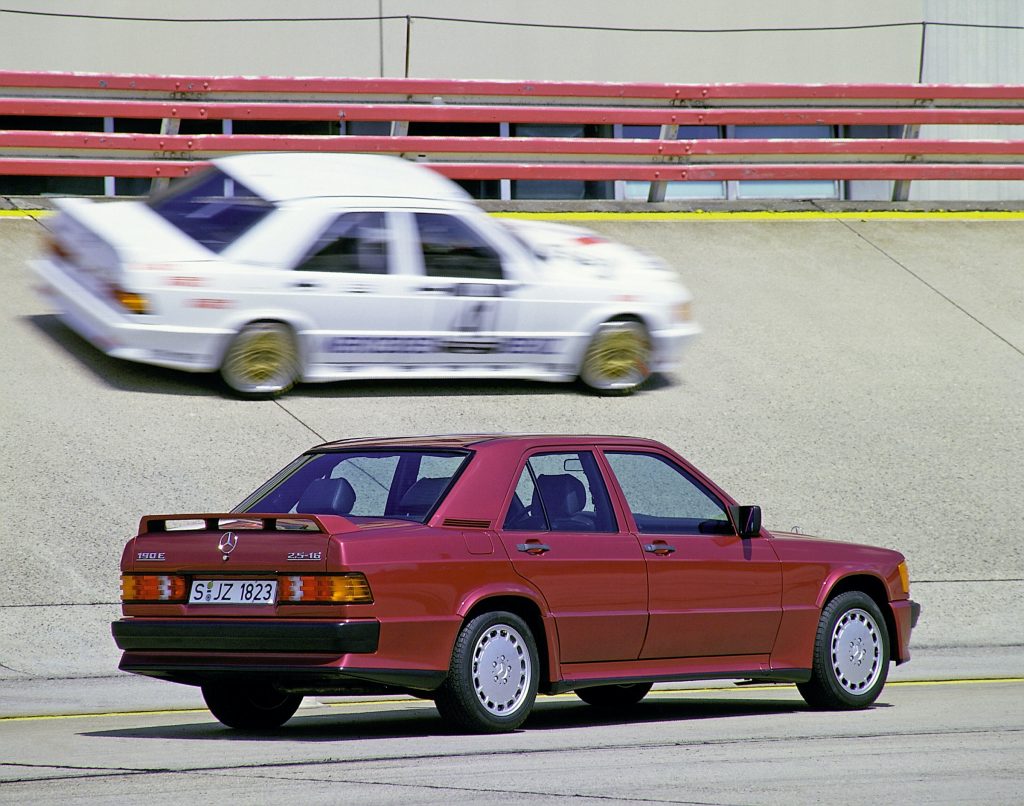 "Hang on," you're thinking, "that's not a C-class". And you'd be right, but as Mercedes' first toe-dip into the compact executive car segment it can be considered the car's spiritual predecessor. You'll also note that the 190E's internal model code, W201, is followed directly by every C-class that has come since. Bruno Sacco's handsome saloon is a C-class in all but name.
It's also hugely significant, not just for opening up Mercedes-Benz to a whole new client base, but also for its technological advancements. It's regarded as the first production car to use a multi-link rear axle, for instance. This brought cornering stability at a time when BMW 3-series pilots were taming oversteer from the E30's old-school semi-trailing arm setup.
The 190E also laid the groundwork for the performance models that followed with the innocuously named 2.3-16 (and later 2.5-16), better known by its nickname, "Cosworth". This homologation special was intriguing in its own right – and made a hugely successful touring car – but it also now has a closer link to the latest W206 C-class than you might have expected: the new C will once again return to a four-cylinder layout for its performance variants.
W202 C-class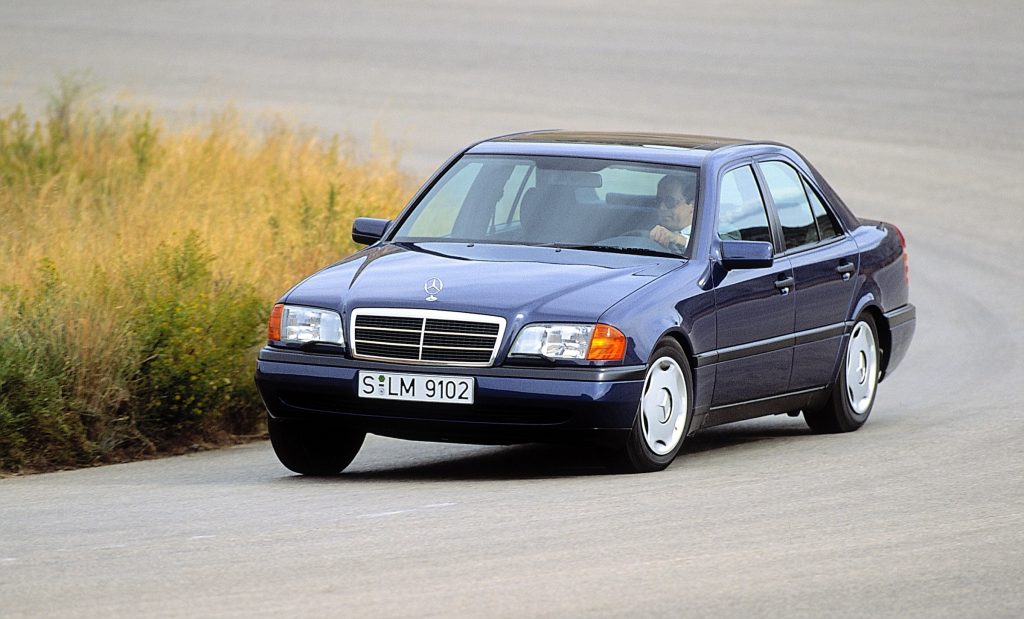 The C-class debuted in 1993 with the W202, and befitting its all-new name, any similarities to the 190E were primarily those of market positioning. It had new competition, in the form of the E36-generation BMW 3-series (and soon, the first Audi A4), a lineup of multi-valve engines, turbochargers for its diesels, and supercharged options in the petrol range.
It was more spacious than its predecessor despite not growing significantly in size, and featured numerous safety improvements, among them the standard use of airbags. An estate model also joined the range, a variant the 190E had previously lacked.
The greatest leap though was with the performance models. AMG had been responsible for various performance Mercedes since the mid 1980s (and long before that in racing), but 1995's C36 AMG was the first AMG developed in-house, using a handbuilt 276bhp inline six. It was later replaced by the V8-powered C43 and, on special order only (and at huge expense), a barmy 342bhp C55.
W203 C-class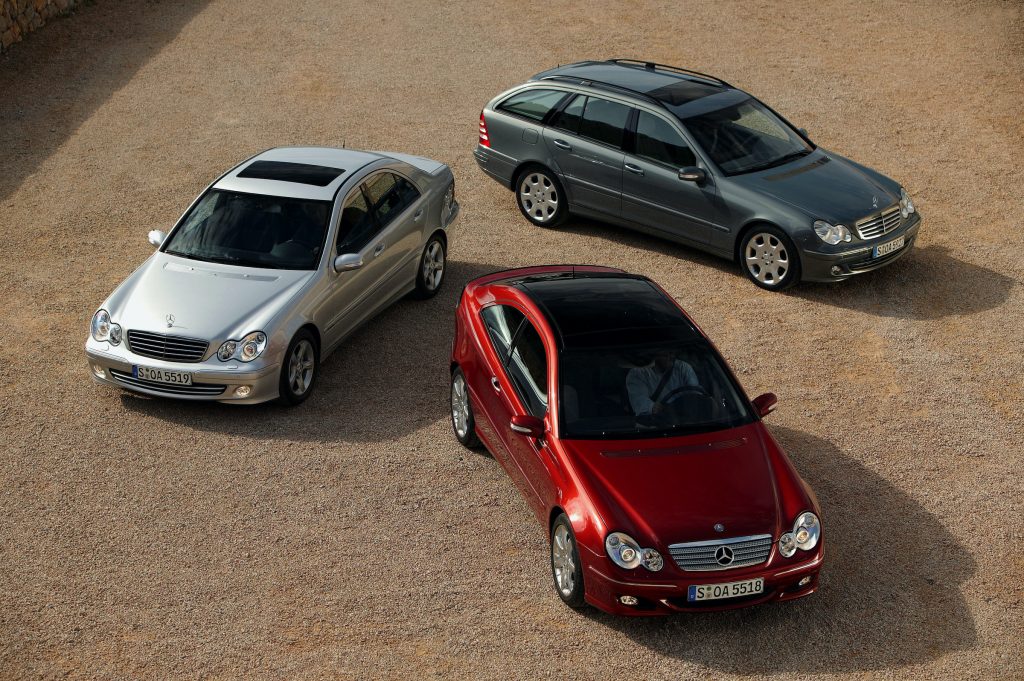 Mercedes-Benz will tell you the W203 was a significant technological step. Visually dynamic – it featured rounded lines first seen a few months earlier on 1999's W220 S-class – it had a greater focus than ever before on handling, the latter surely spurred on by tough competition from its compatriots in Munich. There was also a new "Sports Coupé" hatchback, ready to take on the 3-series Compact.
History though is judging the W203 C-class in a harsher light. While all the above undoubtedly still applies, the car is also known for less favourable characteristics, such as more complex electronics, lacklustre material quality and, most offputting to buyers looking for a modern classic in the 2020s, a continuation of the rust issues also suffered by the W202.
Avoid all this and the W202 is still a fine thing, and offers both better performance and lower fuel costs than its predecessor. And, of course, the all-important AMG variants: the C32 with its supercharged V6, and the C55 packing a thumping 5.4-litre naturally-aspirated, 362bhp V8; each now among the least expensive way into an AMG-fettled Mercedes.
W204 C-class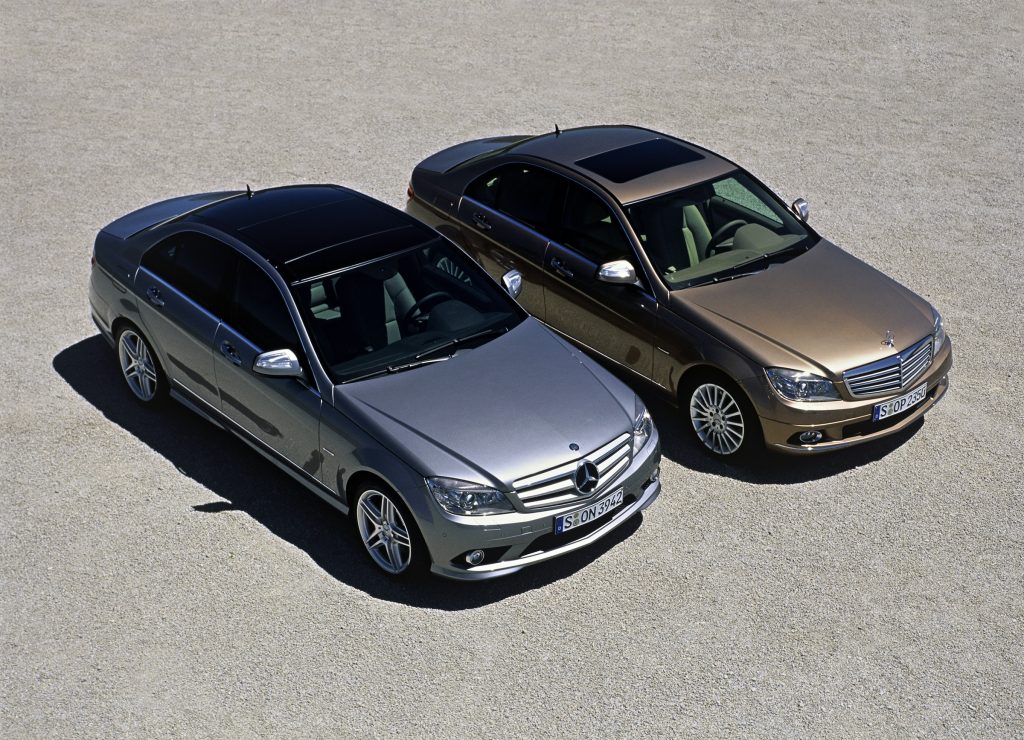 The 2007 W204-series C-class could be considered something of a return to form for the model line. In pure aesthetic terms it was more grown-up than its predecessor, with a chunkier look that implied solidity, and the option of either a classic Mercedes radiator grille or a sporty number with the three-pointed star front and centre.
It also ditched the W203's three-door hatchback for a proper two-door coupe model (though the Sports Coupe did continue with W204-inspired styling for a few years, badged CLC), and once again the engine lineup was overhauled, with claimed 17 per cent improvements in fuel efficiency.
And then, once again, there were the AMGs. Available in all W204 body styles, AMG installed its M156, 6.2-litre naturally-aspirated V8 alongside a seven-speed auto. It made 451bhp initially, with a bump to 480bhp with 2009's Performance Package, and sounded like a weekend at the Daytona 500. One to buy and set aside? Quite possibly. Collectors have already snaffled the ultimate incarnation of the C, the Black Series.
W205 C-class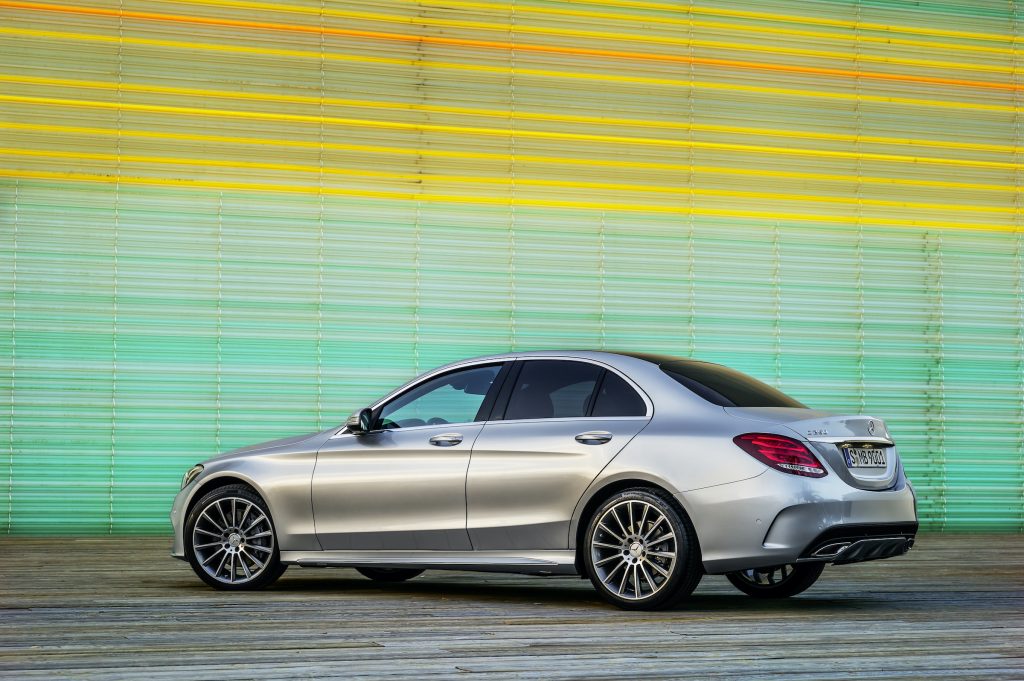 More fluid, organic styling defined the fourth-generation C-class, but like previous generations Mercedes-Benz made great technological strides in the seven intervening years, and an interior that could bear comparison with the plush S-class. Model for model it was claimed to be 100kg lighter (though new engines and trim lines obfuscated these numbers slightly) and once again, the engine range was overhauled, with supercharged petrols traded for turbochargers.
Estate and coupé returned and with the CLK now long gone, a convertible was also introduced in 2016 for the sun-worshippers. Safety technology really took off with the W205 too, with driving assistance functions like adaptive emergency braking and active lane keep assistance chiming in when required.
The old-school might have mourned the passing of the old 6.2-litre V8 too if its follow-up, the now-ubiquitous M177 twin-turbo V8, wasn't replacing it. Despite the muffling of turbos it still sounded like thunder and made the old 6.2 frankly feel a bit tardy; no great surprise, with 503bhp and 516lb ft in C63 S form.
W206 C-class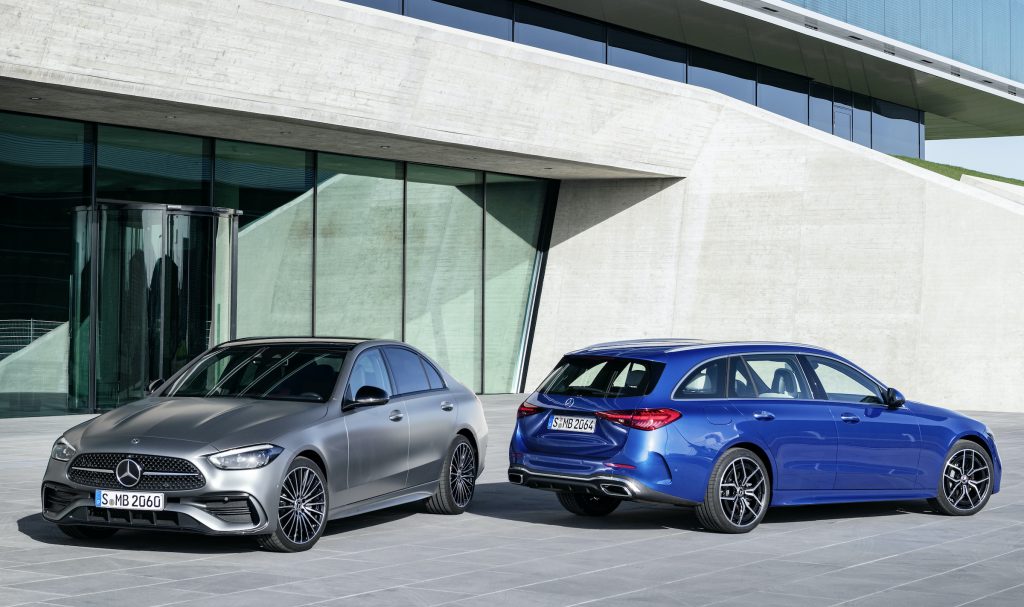 And so, in 2021, it's all change again for the C-class, with a "more digital and efficient world". There's a weight of expectation on any car as popular as the C-class – more than 10.5 million have been sold to date – and in a rapidly changing market the new C needs to remain ahead of the curve rather than merely follow its path.
Technology is once again key to this, with rear axle steering on some models (applied to good effect on the AMG GT, so hopefully the C will make good use of it too), the latest generation of the brand's MBUX infotainment system, and some form of electrification on every one of the available powertrains. The manual gearbox – never popular in any Mercedes, but long offered – is no more, while the engines are now four-cylinder units across the board.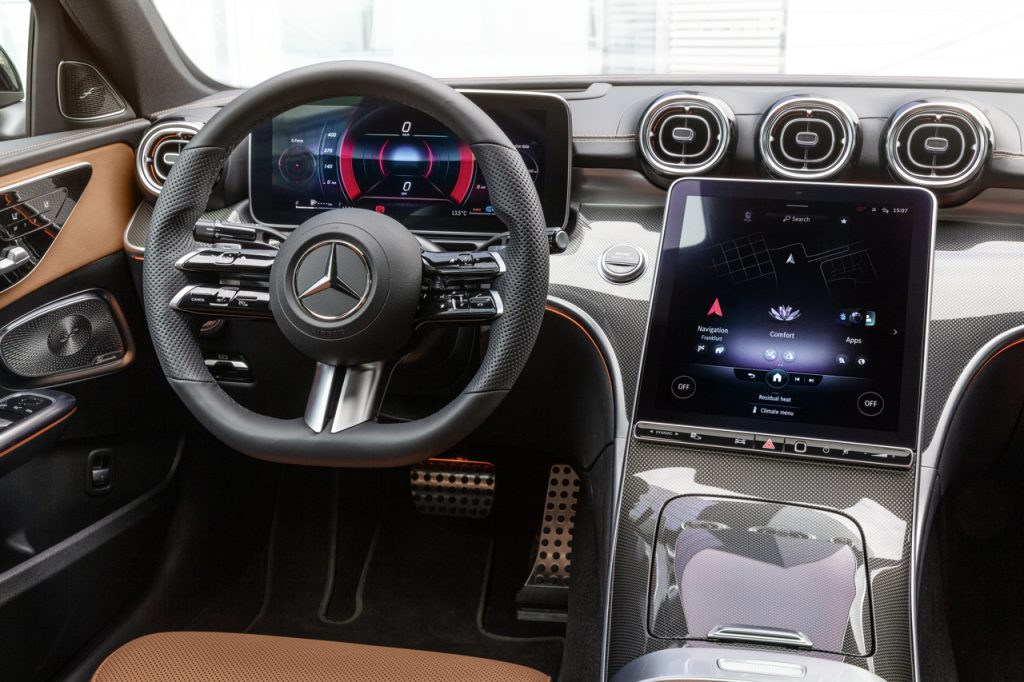 And, for the first time since the 190E 2.3-16, that will apply to the eventual performance model too. The result (some kind of high-performance hybrid is anticipated) will no doubt be wildly capable but whether they pack the character of the previous sixes and eights – or indeed the 190E's four-pot with its Cosworth-developed head – remains to be seen.