Something of a mystery, Bristol discretely went about its business as a maker of exclusive, British cars for decades. But the car company with aviation heritage flew beneath the radar of the majority of motorists. So after 75 years of trading, perhaps it was unsurprising that the quiet but cult British car marque went into liquidation.
A potted history of Bristol Cars can be read here telling the story of this unusual car brand. But to best appreciate what it was about the obscure car maker that appealed to a small band of classic car enthusiasts, you have to get inside the mind of an owner – an owner, in fact, like me, with first-hand experience of both the classic straight-six and V8 models.
How much is your car to insure? Find out in four easy steps.
Get a quote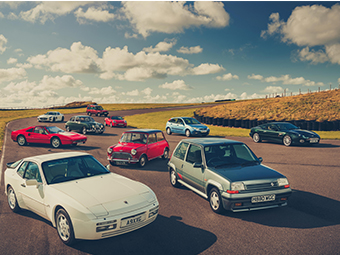 I'm not quite sure why, but I've always had a soft-spot for Bristol. It holds a special place in my memories and affections, perhaps because it chimes with my appreciation of the unexpected, being refreshingly off-beat and idiosyncratically British, quietly driving in its own direction with little fuss or bother.
As a car-obsessed kid, I would ask my father to make a beeline for the Bristol Cars stand at the Earls Court Motor Show, each autumn. Despite his reputation for being surly and abrupt, long-term sole Bristol Cars owner Anthony Crook was always perfectly polite and warm towards me and my dad, welcoming us on to his roped-off exhibition stand, allowing me to sit in a car (which felt like a huge privilege) and handing me a now rare and collectable flimsy leaflet, cheaply printed on what felt like toilet paper.
In later years, an occasional visit to the landmark Bristol Cars showroom in Kensington High Street was always something to savour. Opening the heavy glass door was like stepping back in time into an environment that hadn't really changed since the business took up residence there in 1960.
Personal visitors (a rare breed) were initially greeted by an antique wood-framed information board giving current Bristol model prices and stock, displayed via old press-in plastic lettering, most of which had yellowed in the sunlight and often fell off. Once inside, visitors were either met by Anthony Crook's slightly dismissive French secretary, or, if lucky, by the imposing Mr. Crook himself, who would slowly emerge from his private office in the corner of the showroom.
I was fortunate enough to be taken down into the showroom basement once, which resembled Churchill's war room and contained rows of aged metal filing cabinets, each one crammed with records of each Bristol car built, in addition to old literature and photos.
After decades of admiring Bristol's from afar and devouring the erudite motoring journalist LJK Setright eulogising about the exceptional engineering and driving qualities of these fine machines in CAR magazine, I found myself becoming the owner of an example of the marque; an immaculate straight-six powered 401, built in 1951 and delivered new to a doctor in Cheltenham.
'My' Bristol was bought on impulse at a classic car auction for traditional British sports cars, after I accompanied a friend who had his eye on a Triumph TR6. Beyond a pie and a pint, I had no intention of buying anything at the auction, particularly a car, and especially not a Bristol.
The TR6 my mate fancied turned out to be a bit of a shed, but 'my' metallic gold 401 just stood out me, being the right car but in the wrong place, and barely commanding a second glance from attendees, most being there to bid on a classic MG, Triumph or Morgan roadster.
When the moment came for the immaculately presented Bristol to go under the hammer, my friend goaded me to take a punt on the car, which was estimated to fetch far more than I could afford and would be willing to pay. With little interest in the room, the auctioneer reluctantly dropped his opening bid, and then dropped it again… and again.
I responded and made the first bid. With my head spinning and heart pounding, I suddenly realised what I had just done and was willing someone else in the room to make a counter bid. For what seemed like an eternity, my (low) bid stood, until another 'punter' eventually tapped his nose, much to my relief. Caught up in the moment though, and with my friend egging me on, my hand shot up again, almost involuntarily, with a counter offer. This time my fellow bidder shook his head, the auctioneer's gavel hovered for what seemed like an age, to establish if my still paltry bid would be accepted, it dropped and I found myself the owner of a fine Bristol 401.
Taking delivery a couple of days later, I immediately bundled my friend and his wife into the Bristol and boldly (naively) drove it over to France for a large classic car event being held near Paris. With hindsight this was probably foolhardy in a totally unknown and untested car, but the 401 didn't miss a beat. In fact, it proved a joy to drive, and even made it onto the cover of La Vie de l'Auto for the French magazine's event report.
Smitten with the 401 and its considerable charms, I soon bought a second Bristol, this time a 1972 411 Series 3 (the one to have) in royal metallic blue (the colour to have) with its thundering but thirsty V8. Although quite different in character to the 401, the hand-crafted 411 was equally pleasurable to drive with supreme steering and instilling a strong sense of wellbeing, although the average 7 mpg fuel consumption was painful to live with, particularly in comparison to the 401's quite frugal mid-20s mpg thirst.
Since acquiring my Bristols, I have been fortunate enough to drive many other examples of the Filton marque's output. Time behind the wheel of any Bristol is always time well spent; the compliant chassis, sublime steering, willing engines, quality engineering and well-planned and cosseting interiors make for a seductive package, one that few other luxury sporting cars can better. But don't take my word for it, try one for yourself if ever you get the chance.
Over the 75-year life of Bristol Cars, it is estimated that just 3,000-or-so cars were produced, spread across fewer than 20 different models, making Bristols notably more exclusive than Alvis, Aston Martin and Bentley models. Despite this, most Bristol models remain unloved, more affordable and better value than their prestige British rivals, although values have been climbing in recent years.
From noted Bristol owners Peter Sellers, Richard Branson and fashion designer Paul Smith, through to musicians Liam Gallagher and Tina Turner, as well as nobility and discerning motorists the world over, these exclusive hand-built cars deserve more recognition.
This enthusiast unapologetically hopes that Bristol Cars will rise again and create distinct cars that are suitably 'ship shape and Bristol fashion.'