Last year, with the arrival of the James Bond movie No Time to Die, Hagerty investigated how much more valuable cars that had starred in Bond films were compared with their standard, road-going equivalents. The story proved popular, republished by media outlets all over the world.
Yet that's just one blockbuster franchise. Surely other famous movies, celebrities or sports stars will also impact the prices of cars associated with them? To seek out the answer, Hagerty decided to crunch the numbers and see what the data told us. It was no easy undertaking, but the answer was fascinating, fusing pop culture with motorsport and the collector car market.
To answer our question, we had to find the celebrity cars that had been offered for sale. We searched our own databases and third-party sources for cars with a famous pedigree, forming a list of over 260 vehicles owned by everyone from Adolf Hitler to Kris Jenner and starring in movies from Herbie to Le Mans. We took the price they had achieved (or been estimated at) and then found the value of a 'standard' equivalent at the time.
For those cars sold in the last 14 years, this was relatively straightforward: where we could, we matched the car with our values in the Hagerty Price Guide for that year. But for older cars, it was more difficult; for these, we had to conduct research using period auction results and advertisements, insurance data and other information to construct a value as we would a new car in the Hagerty Price Guide.
Some cars were extremely difficult to value. When you're trying to work out the standard equivalent of a Popemobile or a Batmobile, things can get strange. If at all possible, we either valued a non-movie equivalent or the vehicle it was based on, such as the 2008 Mercedes ML500 Popemobile that was sold in Dublin in 2016. One-offs, like the Pagani Zonda LH, built to spec for Lewis Hamilton and sold in Riyadh in 2017 also challenged us, so we took the price he originally paid and increased at the same rate as a standard Zonda.
Racing cars were also a problem. We decided quite early on that we couldn't include 'pure' racing cars of which there is no road-going equivalent, as each would be valued according to the races it won (or didn't). Also, racing cars tended to have more than one driver over a season or two.
Finally, we were left with a huge list of famous people and films and the difference or 'delta' between their cars and a normal equivalent model. Now we had to work out a way of comparing them, especially tricky as a number of them were linked to many different cars. It wasn't just the case of making an average of the deltas, as 10 per cent of £1 million is a lot more than 90 per cent of £20,000. Fortunately, the analysts behind the scenes of the Hagerty Price Guide were able to write the formulas and calculate the results.
We then broke down the master list from rank order to the six categories of the 2022 Hagerty Power List: Movies, Movie Stars, Musicians, Racing Drivers, Royalty, and Notable & Notorious. The last category included some fascinating cars including a wonderful 1964 Lincoln Continental limousine that not only carried Pope Paul VI but also the Apollo astronauts during their ticker tape parade on their return to Earth.
Hagerty Power List 2022 – Top 10
So, who came out on top? Who are the most influential celebrities when it comes to car values? In straight percentage terms, the Notorious B.I.G. has the biggest difference with an 18,650 per cent increase, followed by the Bullitt Mustang with 15,982 per cent and Tupac in third place with 8233 per cent.
But are these really the ones with the Power? Hagerty doesn't think so. All of these 'winners' – and eight of the top 10 in pure percentage terms – were from one-off sales of individual cars. Some of them, like the Tupac car, are reported sales too rather than definite values. So, we decided to add another layer of analysis and take just those people or movies that have had at least eight sales of cars.
This, therefore, is the definitive Top 10 from The Hagerty Power List 2022. These are the movies and celebrities who have a real, lasting influence over the values of collectable vehicles.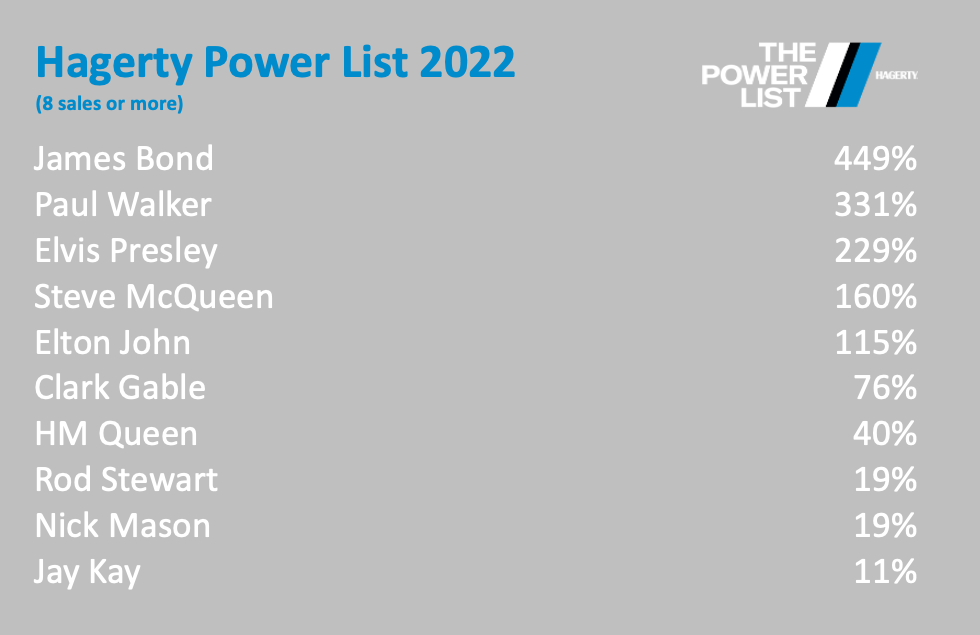 And once again, it's our old friend James Bond who once again triumphs over his rivals. Paul Walker is in a strong second place and Elvis an unexpected third in front of Steve McQueen. These are the people and figures with real power over the car world.
Next year, the Hagerty Power List will return, even bigger and better – and we'd love to know what categories you'd like to see included in future.
See the categories from The Hagerty Power List 2022
• The Hagerty Power List 2022: Movies
• The Hagerty Power List 2022: Movie stars
• The Hagerty Power List 2022: Musicians
• The Hagerty Power List 2022: Royalty
• The Hagerty Power List 2022: Drivers
• The Hagerty Power List 2022: Notable and notorious