The year is approaching its end but specialist car auctions show no sign of slowing down. November is another bustling month for the classic car market, with RM Sotheby's, Bonhams, Silverstone Auctions, Historics Auctioneers, and H&H Auctions all conducting sales in Britain this month – and modern-classic cars continue to entice a younger audience to the sales.
Some of the headline-making highlights include a genuine Jaguar C-Type and a 2016 LaFerrari with special order paint, but many of the cars that caught our attention come in at the more affordable of the price spectrum. Whether you call them modern classics, youngtimers or something else, there are loads of 1980s and newer performance cars up for auction in the UK this month, and many of them are limited-production models or homologation specials. Here are the 10 that we'll be watching most closely.
How much is your car to insure? Find out in four easy steps.
Get a quote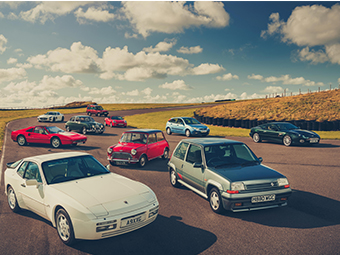 1987 Aston Martin V8 Vantage Zagato Coupe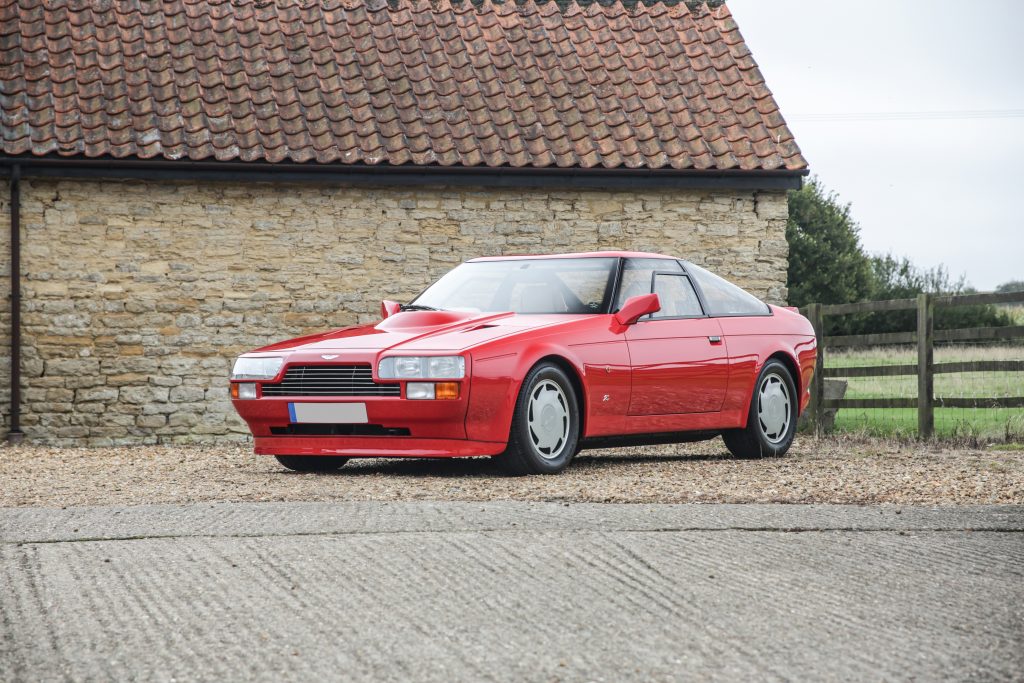 RM Sotheby's London
Estimate: £300,000 – £350,000
Aston Martin and Zagato have had a few flings since they first came together in the 1960s, and most of those flings produced curvy, elegant gran turismos. But curves weren't exactly in back in the '80s, and the limited run of fewer than 100 Aston Zagatos back then were all about edges and angles. Now, the Etch-a-Sketch styling may not be for everyone, but you could never call one of these cars boring. And with less than 400 miles on the clock, this is a rare opportunity for Aston fans.
The Gladiator Red V8 Vantage Zagato up for auction in London this month is represented as one of 51 coupés. A right-hand drive model, it has a ZF 5-speed and a 408bhp 5.3-litre V8 fed by Weber carbs. It is also represented with just 396 miles from new, but according to RM Sotheby's has been serviced regularly so it is still drivable. If you prefer a little wind in your hair or just prefer blue, the same auction also has a one-of-37 Volante Zagato, finished in Salisbury Blue over Magnolia leather.
1998 Subaru Impreza 22B STi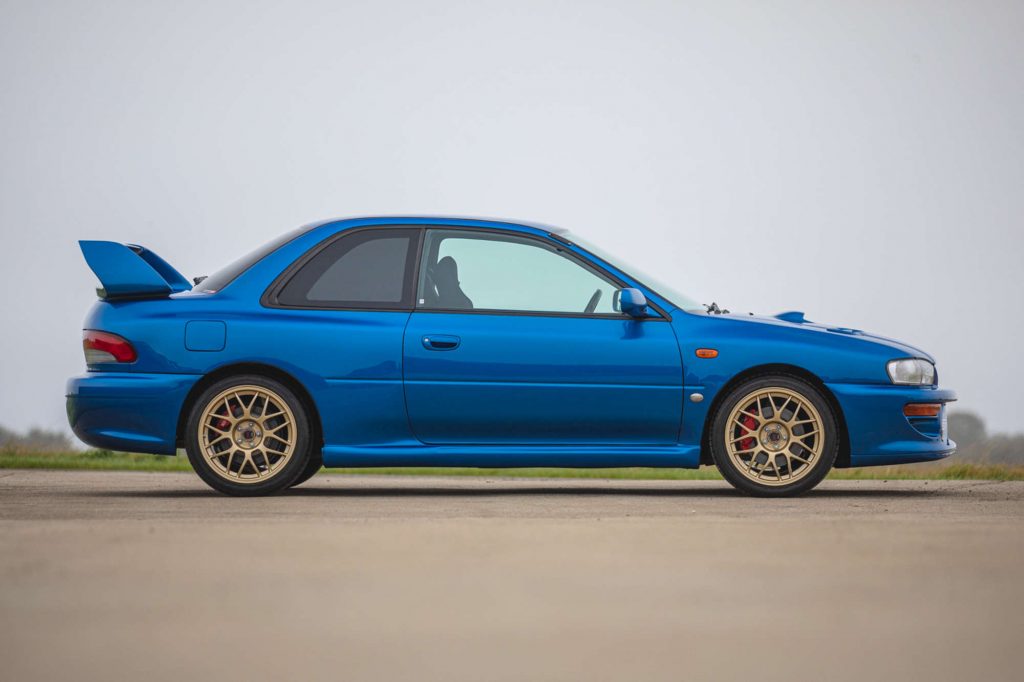 Silverstone NEC Classic Motor Show
Estimate: £230,000 – £280,000
More than any other brand, Subaru built up its performance image on the stages of the World Rally Championship, and the 22B STi is an embodiment of that rally prowess in a road-going package. Arguably the most desirable Subaru of them all, it celebrated the company's third consecutive WRC constructors' title (1995-97) as well as the company's 40th anniversary, and it showed off the tuning prowess of STi, Subaru's in-house performance department. Compared to the standard WRX, the 22B got more power, stiff Bilstein shocks, twin-plated metal and ceramic clutch, and aero kit. Subaru built 400 examples for the Japanese market, and reportedly sold every last one in the span of half an hour.
Only a tiny number of additional 22Bs were built for sale outside Japan, and the one up for auction this month is represented as one of 16 destined for the UK. It has 15,500 miles and two owners to its name, the first of whom was David Darling, the video game developer responsible for the Colin McRae Rally computer games.
2001 Mitsubishi Lancer Evolution VI Tommi Makinen Edition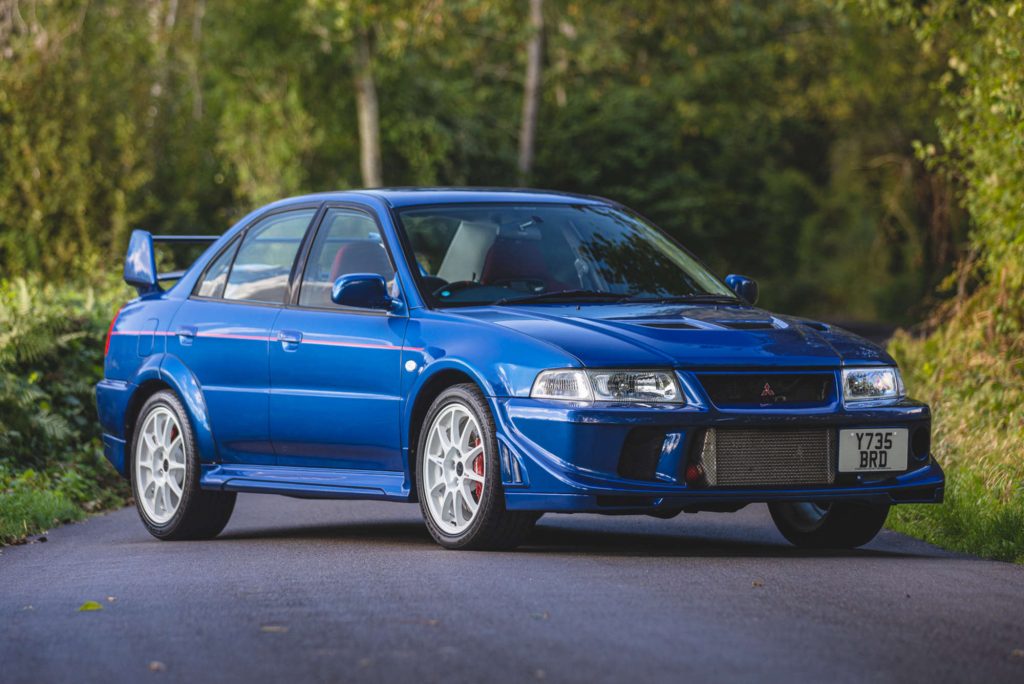 Silverstone NEC Classic Motor Show
Estimate: £60,000 – £70,000
If you spent your late 1990s and early 2000s rooting for Mitsubishi over Subaru in the WRC, then this Lancer Evolution offered at the same sale is probably more your speed. It's an Evo VI, which was built from 1999-2001, but what makes it even more special is that it's a Tommi Makinen Edition, or TME.
Built to celebrate the Finnish phenom's four consecutive WRC drivers' titles with Mitsubishi, the TME came with a more responsive turbocharger, lowered suspension, quicker steering, upgraded exhaust, a new ECU, stronger transfer case internals, a new front bumper, 17-inch WRC Enkei alloy wheels, embossed Recaro seats, and a Momo steering wheel. The car on offer from Silverstone is represented as the 60th of just 250 TME cars officially imported to the UK, one of just 50 in Canal Blue, and with 25,000 miles. If you prefer red, there's a TME finished in Passion Red up for grabs at the same sale.
1989 Ford Sierra Cosworth RS500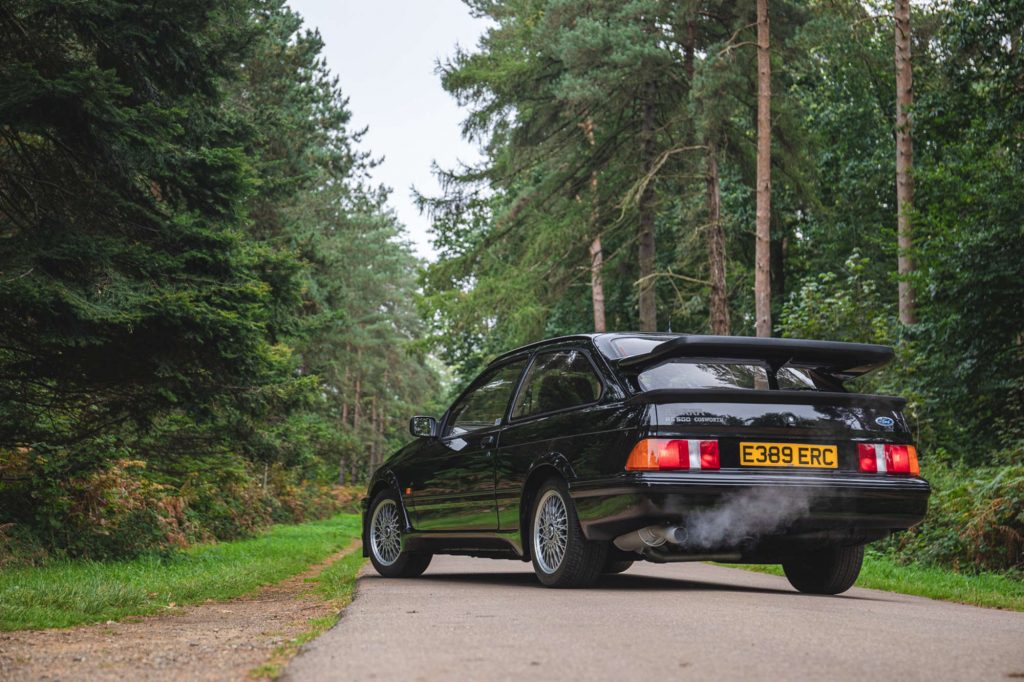 Silverstone NEC Classic Motor Show
Estimate: £100,000 – £120,000
A bland, Belgian-built commuter car turned touring car champion, the Sierra Cosworth followed the familiar fast Ford formula. Thanks to the tuning wizards at Cosworth, it was a race-proven homologation special that could humble proper sports cars but was also relatively affordable and practical. Motorsport magazine called it "quite simply the best high performance saloon in the world", and in late '80s touring car racing the Ford was the car to beat.
In turning the humble Sierra into a track warrior, Cosworth took the cast-iron block 2-litre four and fitted a 16-valve aluminium head and an intercooled Garrett turbocharger. Suspension was upgraded and the steering ratio quickened as well, and visually the massive rear spoiler is the car's most distinguishing feature.
There are several noteworthy fast Fords on offer at the Silverstone NEC Classic Motor Show auction this month, including Capris and an Escort RS1600, but this Sierra Cosworth is arguably the most desirable. Only about 5500 Sierra Cosworths in total were built, but this car is one of 500 "RS500" models that were sent to Aston Martin Tickford to receive a stiffer engine block, larger turbo, and larger intercooler. Silverstone's example is said to have travelled just 15,103 miles.
2000 Nissan Skyline GTR V-Spec II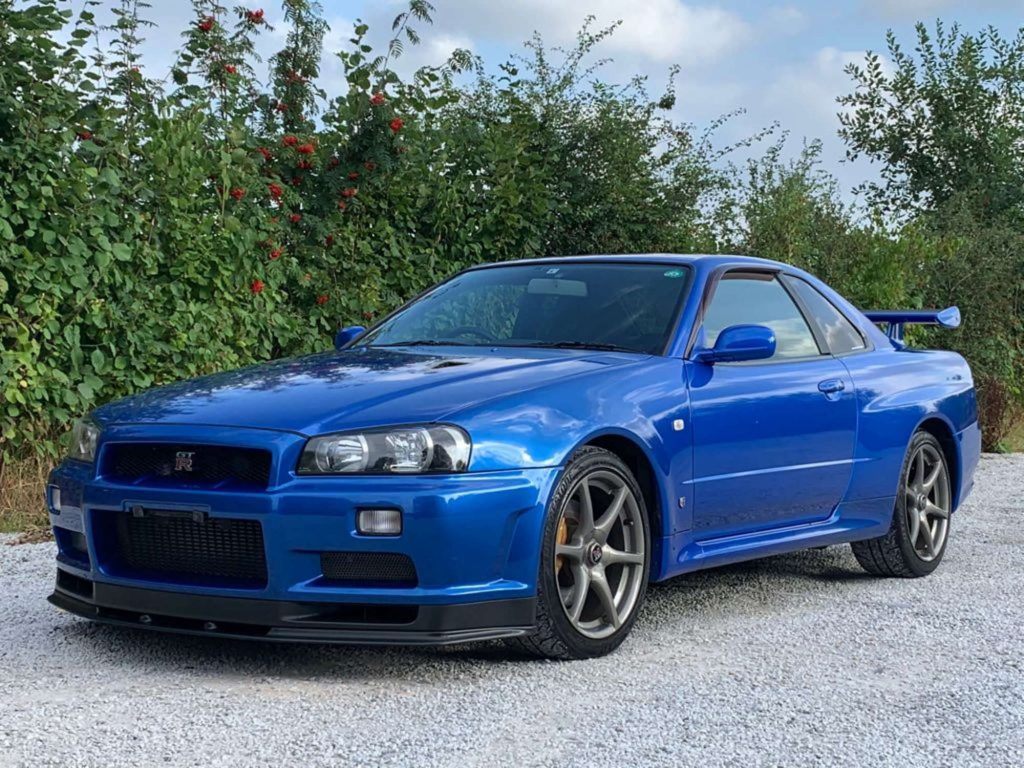 Silverstone NEC Classic Motor Show
Estimate: £110,000 – £120,000
One of the fastest, most technologically advanced cars of the late 1990s/early 2000s, the R34 GTR was available in several guises. The V-Spec (Victory Specification) came with Nissan's ATTESA E-TS "Pro" all-wheel drive system with active rear limited-slip differential as well as firmer suspension and an aero kit. This example on offer from Silverstone is a V-Spec II, which features further upgraded suspension, larger rear brake rotors, and a carbon fibre bonnet. The dash-top MFD (Multi Function Display) allows you to monitor the status of many obscure items, most of which you'd think would only be of interest to a tuner – injector delivery, exhaust and intake manifold air temperature, hinting at its appeal to tuners.
In the UK, Nissan made the R34 available through its network, the first time this had happened, as its predecessor, the R33, was imported and sold for Nissan by Middlehurst Motorsport. This example for sale is actually a single-owner Japanese market car finished in Bayside Blue, and is reported to be one of just 1855 R34 V-Spec IIs built.
1993 Ascari FGT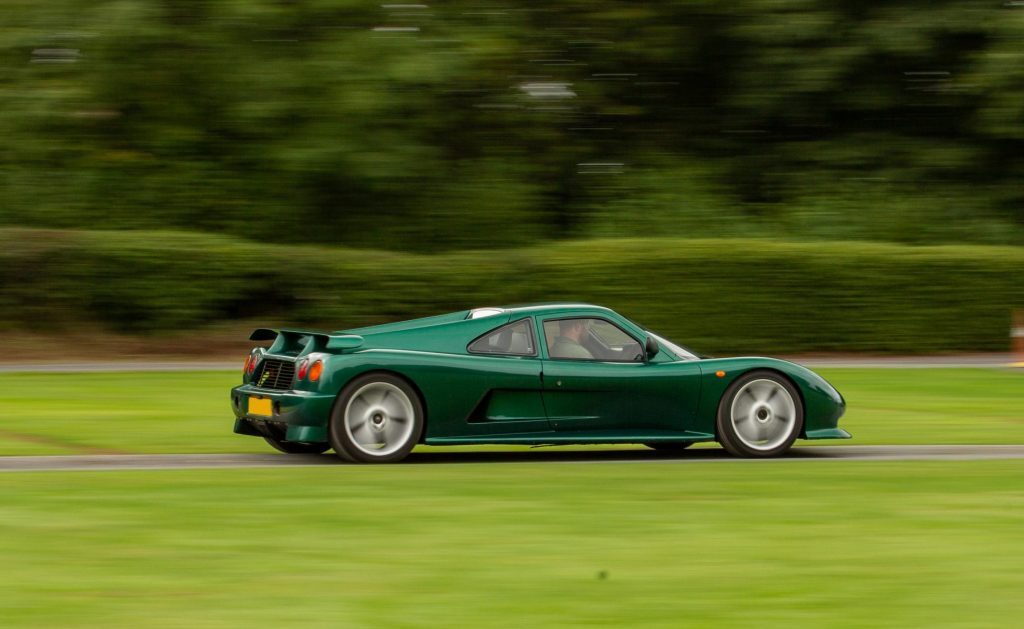 RM Sotheby's London
Estimate: £60,000 – £80,000
A true international affair, Ascari was a company named after an Italian, based in England, powered by the Germans, and managed by a Dutchman. Aside from video games or old episodes of Top Gear, though, few people have actually seen one of these short-lived supercars.
When Ascari started in the 1990s, the company bought a design from Lee Noble for a low-slung coupe with spaceframe chassis, fibreglass/Kevlar body, and Chevrolet V8 mounted in the middle. Called the FGT, the Noble-designed car caught the attention of Klaas Zwart, an engineer and racing driver, at the 1995 British Motor Show, and Zwart was charmed enough to buy the whole company outright. From the FGT, Ascari then developed its first real production car – the BMW-powered Ecosse.
This car is the FGT prototype, represented as the first car to wear an Ascari badge and as having been used for promo and press duty in the company's early days. Powered by a 420-bhp Chevrolet V-8, it was brought out of long-term storage by the current owner and recommissioned over the course of three years with help from Lee Noble.
1990 Mercedes-Benz 560 SEC Koenig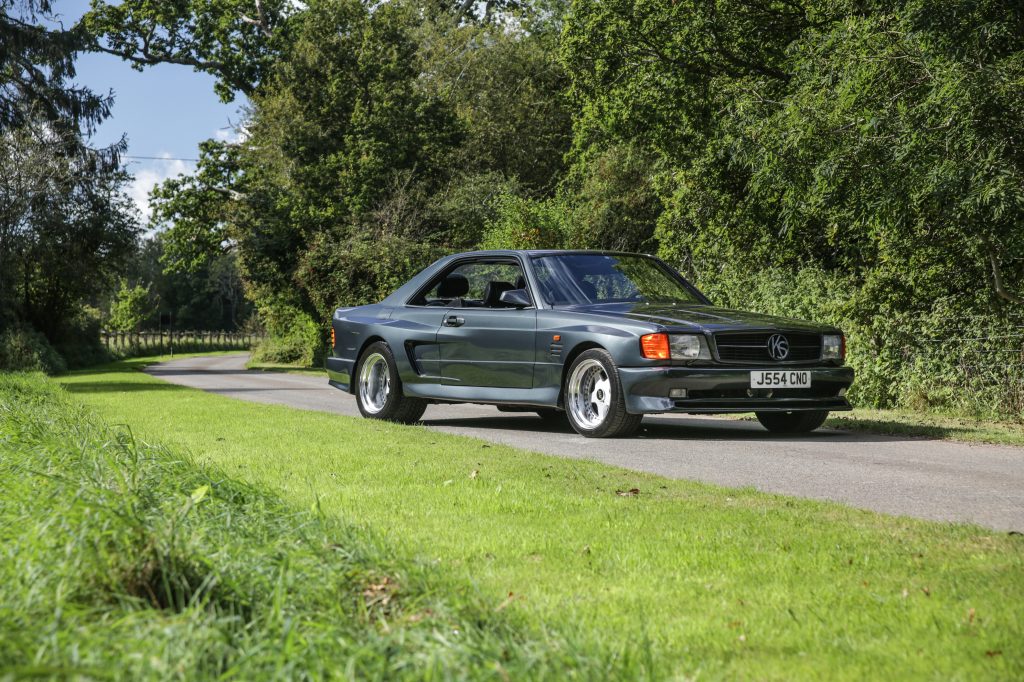 RM Sotheby's London
Estimate: £125,000 – £150,000
Slapping on a body kit and fancy wheels rarely makes your car worth more. In fact, it usually makes your car worth less, so why does this modified 560 SEC have a six-figure estimate? Well, that's because its modifications came not from a back-alley body shop but from Koenig, one of the most well-known '80s tuners who made already exclusive cars like Porsches, Ferraris and Benzes even flashier.
This car, ordered new from Japan, went to Koenig-Specials in Munich and received a special body kit, 17-inch staggered OZ Racing split-rim wheels, and an Albrex supercharger that boosted performance from 268 to a reported 400 bhp.
1978 Mercedes-Benz 500 SL Koenig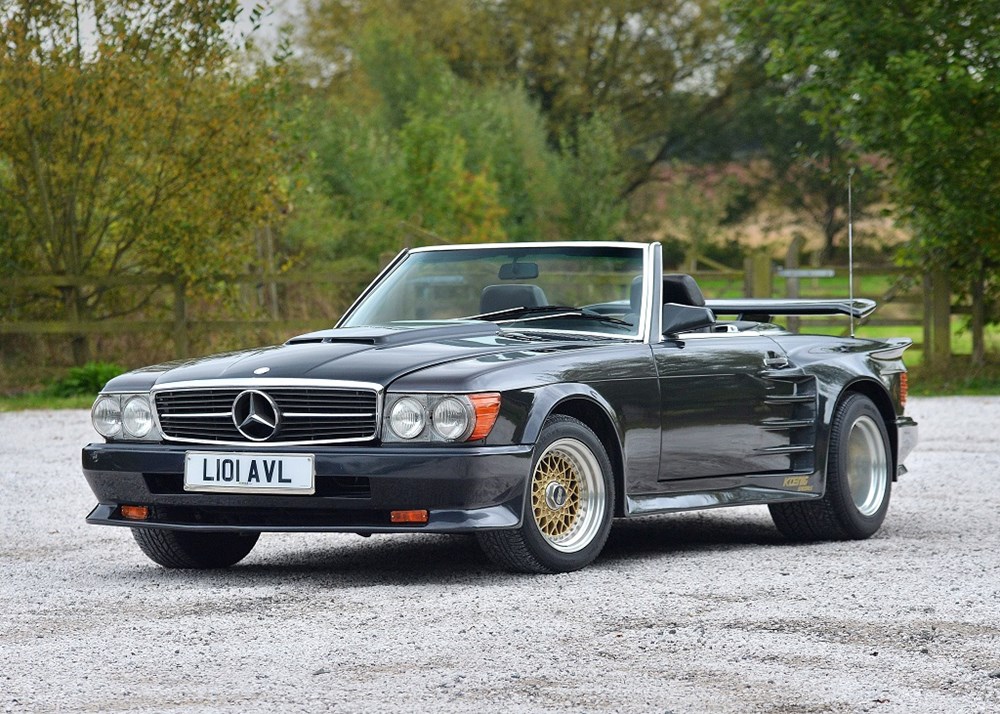 Historics Auctioneers Mercedes-Benz World
Estimate: £49,000 – £55,000
Another, even wilder-looking Koenig-modified Benz up for grabs in the coming weeks is this 500SL, imported to the UK from Spain last year. With that massive rear wing, Ferrari-like side slats, BBS competition wheels, gold hardtop and full wood steering wheel, there is no missing it. And with a Remus competition exhaust system, you'll hear it coming, although according to Historics Auctioneers "the final exhaust box was taken out because under the TUV Spanish regulations, flames are not allowed."
1980 Vauxhall Chevette HSR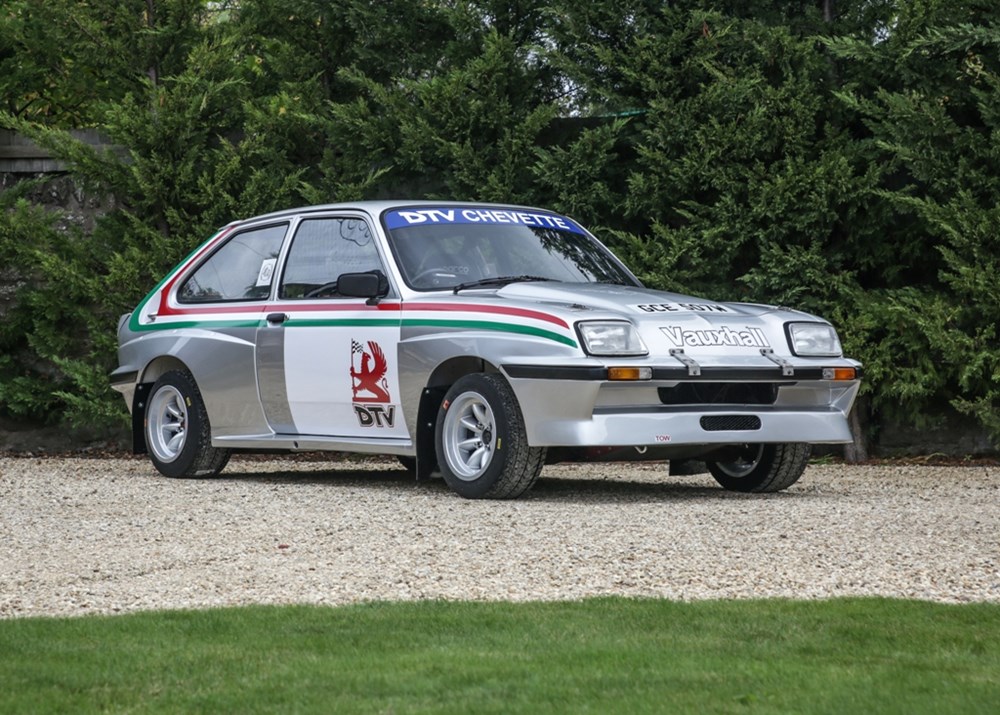 Historics Auctioneers Mercedes-Benz World
Estimate: £80,000 – £100,000
The Vauxhall Chevette was never the first name in performance, but it was a competitive car in international rallying, particularly on Tarmac events. The rally version, called the HS, had a 16-valve cylinder head for its 2.3-litre slant-four and was further developed in the 1980s into the HSR with improved suspension and lighter fibreglass body panels.
This car was campaigned by Vauxhall-Ireland in 1981, but in 1985 it went into private ownership and won the Shell Oils National Rally Championship in Ireland. There are actually two original Chevette rally cars up for auction this month, the other being an ex-Jimmy McRae Chevette HS.
1984 Renault 5 Turbo II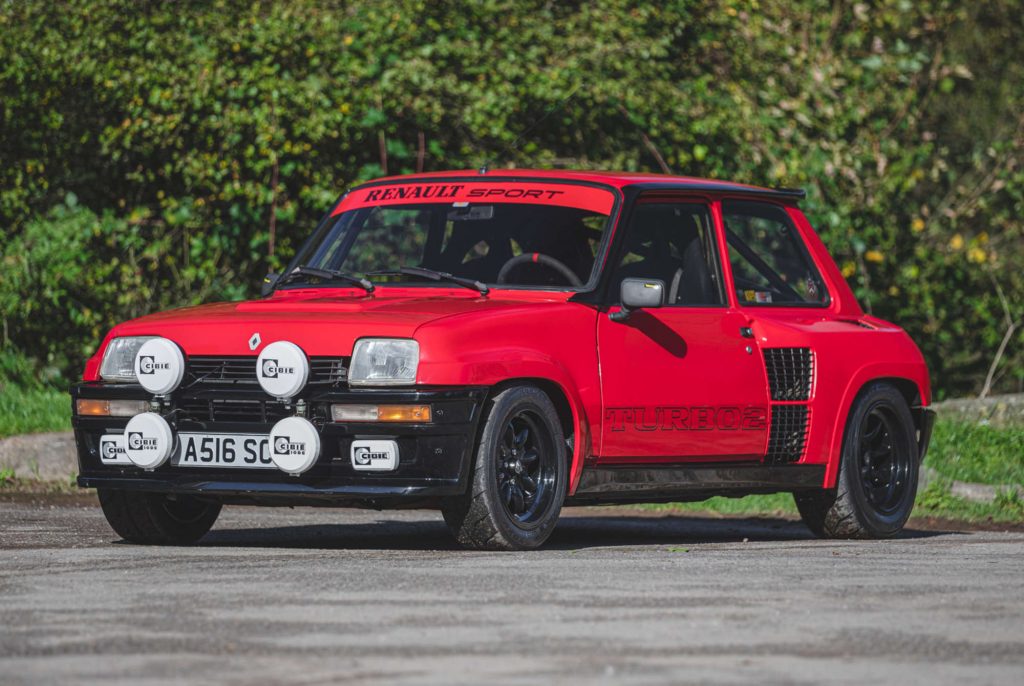 Silverstone NEC Classic Motor Show
Estimate: £65,000 – £75,000
Designed with Group 4 rallying in mind, the R5 Turbo was Renault's original mid-engined hot hatch. Given a 1.4-litre turbo four-cylinder motor driving the rear wheels, it won several World Rally Championship events in period and was competitive on Tarmac stages well into the Group B years.
Unlike many homologation specials, the R5 Turbo sold in significant numbers. After building the 400 cars necessary to take it rallying, Renault kept on going, and in the end nearly 5000 examples were built. This one is a more common and less expensive Turbo 2, which had fewer alloy components and used more standard Renault parts, but its ownership history at least makes it a standout. Derek Warwick, who drove for Renault in Formula One for the 1984 and '85 seasons, was gifted the car by the team in 1984.
Read more
9 modern classic cars to beat the ULEZ charge
Cheddar Gorgeous: 10 times Britain perfected the wedge car
9 Cinderella classic bikes hidden in the shadows