This interview was held during a Scramblers Assembly, held on the historic site of Bicester Heritage, in Oxfordshire. Hagerty is proud to support Bicester Heritage as its insurance partner. To find out more about Scramblers and sign up for membership, click here.
When you already own a Subaru Impreza Turbo that you've had from new, there are not many options when it comes to stepping up the ladder of modern classic performance cars. However, Chris Thorogood found a way by adding an Impreza 22B to his garage.
How much is your car to insure? Find out in four easy steps.
Get a quote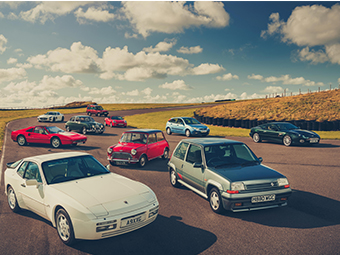 "It's maybe not the most imaginative or diverse garage having two Subaru Imprezas," says Chris. "But they are quite different cars to drive and I always wanted a 22B as it's a bit of Q car. This is the ultimate iteration of the Impreza and I promised myself I'd have one when I got the chance. That opportunity came in February 2017 and I've covered around 1000 miles per year in it since. The previous owner sold it as he was only managing about 400 miles each year."
It certainly is the pinnacle of the 1990s Imprezas thanks to a 2.2-litre engine that gave the car the '22' in its title. The 'B' comes from Bilstein, which supplied the shock absorbers. With an official power output of 276bhp, though its true maximum was undoubtedly higher, the 22B claimed 0-60mph in 4.9 seconds. Again, this proved to be a modest number and several contemporary road tests dropped that figure to as low as 4.7 seconds.
Chris' car is one of the 16 original UK cars supplied through Prodrive, the company behind Subaru's World Rally Championship team. The 22B was not a homologation special but a near as possible replica of the team's two-door rally car. As a result, it came with a seam-welded body shell for greater strength, quicker steering rack, and bulging wheelarches to house 17-inch alloys rather than a standard Impreza WRX's 16-inch items.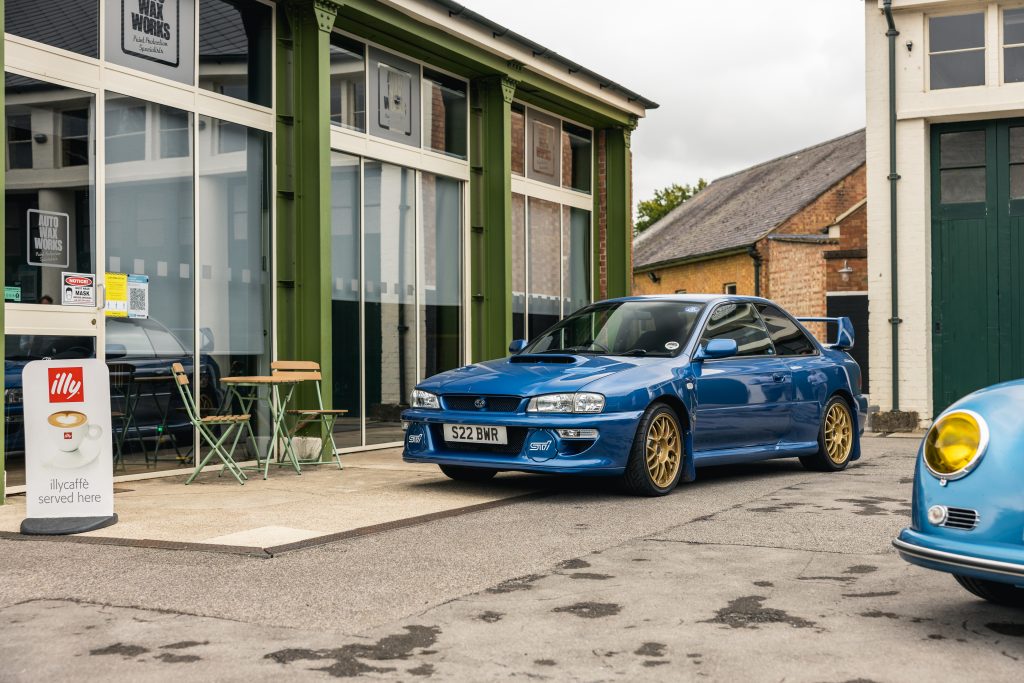 The 16 Prodrive cars, which are the most sought-after Imprezas now, also received tweaks to make them more suited to British roads. Revised final drive and gear ratios were used, along with the front and rear lights of a UK Impreza, and these cars came with a factory three-year warranty unlike the grey import versions brought across from Japan.
All of these details are what make the car so special to Chris. "The 22B is a great way to meet like-minded people. I'm always entertained when chatting and people know far more about these cars than I do. Once, I had a young Aston Martin apprentice pull in behind me and he asked 'Is that a real 22B?' He was awe-struck when I said it was. It also opens doors, like when I turned up to Caffeine and Machine for one of their Daikoku nights and didn't realise I should have bought a ticket in advance. I was just about to turn around for home when I was ushered into the middle of the car park and given a prime spot. The 22B is that type of car."
Chris is well aware of the effect such a rare car has on those in the know, though his wife reckons the 22B "looks like a drug dealer's car." Undeterred by this and steeply rising values for the model, Chris uses his regularly. "I think it's a great shame that many cars, not just 22Bs, have become investments that get locked away. Cars need to be used to keep them in good condition. I love taking my car to Le Mans with a great mix of classics and friends, and we meet my son half way as he lives in Denmark. He's already told me he wants the 22B when I'm gone!
"I don't take the car off the road in winter as it's great to go out on a dry, clear day on brilliant local roads that are ideal for the 22B. There's not much can keep up with its acceleration and overtaking is so easy. It handles fantastically, too, and the ride is firm but not harsh."
To make sure the 22B is on the button when Chris wants to drive it, the car is kept on a trickle charger in a dehumidified garage and routinely warmed up thoroughly on the driveway if the roads are covered in salt, to keep it ready for that moment when it can come out to play. Roger Clark Motorsport carries out the maintenance on the car, which has amounted to preventative measures such as new belts, hoses, and water pump in Chris' ownership. He's also coated the underside with Dynax S50 to keep corrosion away as he's had to replace the sills on his other Impreza.
"The increasing value makes me pamper the 22B ridiculously", admits Chris. "However, there's no point having a car like this and not using it the way it was intended for. It's way too good to keep hidden in the garage."
Read more
Your Classics: Dr John Liverton's Jaguar Mk II is perfect for the Le Mans run
Your Classics: Mike McDonald and his Citroën Traction Avant once owned by Dave Davies of the Kinks
Your Classics: Matthew Lange and his Ferrari Daytona