"There are so many cars that got away, but we'll start with the one that I'm still upset about every single day.
Imagine it's the noughties. I've got a real thing for Subaru and managed to get hold of one of their homologation cars designed by Peter Stevens called the Impreza 22B STi. They only built 424, so they were a unicorn even then.
As a sacred car, the one thing you should never do is modify them, but I did all sorts of amazing and ridiculous things. I fitted a carbon fibre bonnet and bumpers, big brakes and big rear wing, covered it in graphics and changed the seats. Everything was carefully chosen to be reversible.
How much is your car to insure? Find out in four easy steps.
Get a quote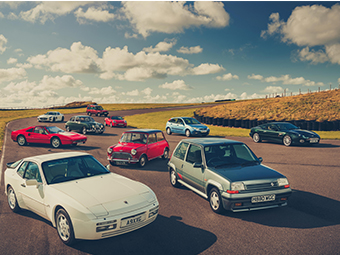 It was in magazines all over the world and for the year and a half that I owned it, it was probably the most famous 22B. Everybody spoke about "this crazy guy in England that modified this 22B." It did so much PR for my Subaru tuning business, TSL Motorsport – and offended lots of people too. Posts in forums said things like 'This is the worst thing I've ever seen; this guy is outrageous; he shouldn't be allowed to have a Subaru.'
It was a very together homologation car and drove unlike any other Impreza because of its 2.2-litre engine and short-ratio gearbox. It had the most beautiful wide wings and no rear doors so had a much sexier rear haunch compared to the GC8 Impreza. Every time I drove it I felt very special.
A customer that used to bring it to us for a service sold it to me. I then, rather stupidly, sold it to a kid who blew the engine up soon after by driving it like an absolute twonk, apparently. I had put it back to standard and sold the modification parts separately – with the exception of the rear bumper which someone had driven into at Santa Pod.
I think I paid £21,000 and sold it for £26,000. I thought I was an absolute dealer, and of course, those cars are now worth hundreds of thousands. The crazy thing is, because they're so expensive and the bits for them are so hard to get, you'd almost feel a bit scared to drive it. If you curb a wheel or crack a bumper, that's almost a write off – it's alarming how expensive they are to repair.
I've lost track of it because it's had so many number plates, but each vehicle has an issue number so that's how I'd find out which one it is. If I had a hundred grand would I buy the 22B? The genuine answer is probably not. There are so many other cars out there for that amount of money that I'd like to own a little bit more. Or, I could buy a couple of cars. I also think it would be bad to own it again for four times what I paid for it the first time.
The 22B had a profound effect on me – it's the reason why I'm a car hoarder. At the moment I own 54 cars and I won't sell any of them. I don't ever want to sell something that I think might go up in value and then watch somebody else enjoy that return so I'll keep adding to the collection until I run out of space.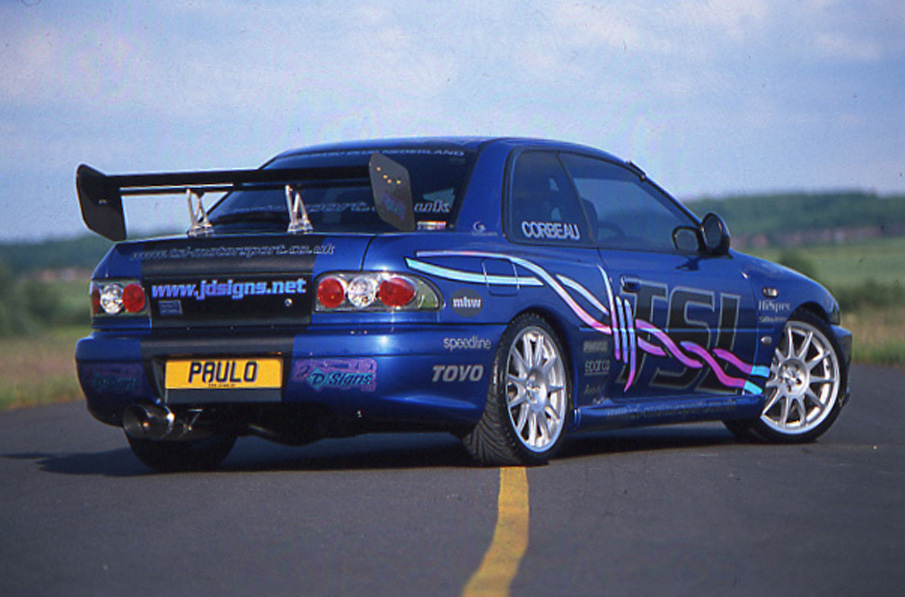 The next car that got away is a 1971 Volkswagen Squareback [also known as the Variant or Type 3] which I bought when I was 17-years-old. It was my second car, and my second VW. I had a really cool Beetle (which I'd also like to get back) and I swapped it for the Squareback. It does it exist, it is on the road and I've met the person that's got it. I constantly try to get her to sell it to me but she won't be parted from it.
Cars are special at any age, but when you're really young, they represent adventure and the spirit of exploration. I put my drums in the Squareback and took it to band practice and gigs, I went away in it, I went to job interviews in it, I went camping in it, I drove it all over the place – with various degrees of reliability. Back then, drive-thru McDonald's were a fairly new thing so I took it to a drive-thru and stuck Ghost Busters symbols on the side for a joke.
It wasn't a dynamically brilliant car and it was agriculturally slow. It had a little air-cooled engine, and it wasn't that practical because I'd lowered it. The ride was bumpy and not that enjoyable, but it was mine, and I loved it. It was called Heidi and is the only car I've ever named – maybe that tells you something.
I had it for about a year and sold it on through a mate thinking I'd never see it again. Fast forward to about 14 years ago when I was doing a TV show at Santa Pod raceway on the Bug Jam VW Festival and I was walking down the fire-up pit lane doing a piece to camera talking about Run What Ya Brung [a drag race where you're allowed to take any car up the drag strip for a bit of fun and silliness] and I was saying how amazing it is because it's open to all. You can bring your daily driver, you find all sorts of things like VW campers, crazy old beetles or even a Squareback 1971. That's when I saw my car.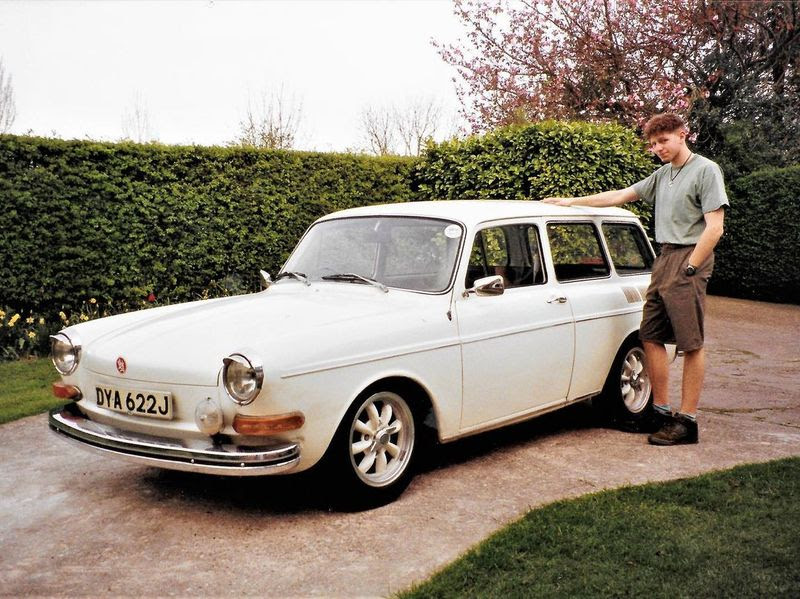 This is on film somewhere. I was like 'This is my car, this is actually my car.' I interviewed the lady that owned it and said 'Do you realise you are driving my old Volkswagen Squareback?' I don't think she believed me.
The Squareback is the one I'd really really like to get back because it has so many special memories but she doesn't want to sell it. When somebody loves a car, if you hassle them and put too much pressure on you'll end up alienating them. I just give a very gentle reminder every now and then that I'm interested. More often than not, when they're ready, and that's the most important thing, when they're ready to let the car go, they will call.
There's one car that I really wish I'd bought. It's the replica 1961 Ferrari 250 GT that they used for all the stunt driving in Ferris Bueller's Day Off. It's a really iconic film if you're my age, and a truly iconic film car. It was such a huge part of the storyline and a classic car with a history like that is such a cool pop culture artefact.
It was about ten years ago, it was £25,000 and I just couldn't afford it. Every day of my life I will regret not buying that car, I bet it's easily worth £150,000 now. My advice to anybody is if you can afford the finance payments on the car of your dreams, just do it. You never get the chance to buy them again.
That said, there are a hundred great reasons to buy a classic car but never buy it because you think you're going to make money on it. If that's a happy bi-product that's wonderful. That's what I tell everybody, but because of my background dealing in car sales I always make a little calculation just to see if it makes financial sense and how much money it might eventually make. I wish I could switch that part of my brain off but my cars are my pension.
As a dad in the motor trade I'll always try and steer my kids down the right path when they buy their cars but it's important to let them do their own thing. They need to find out through their own experiences with a bit of light-touch parenting to help them out.
I want them to find their own passion for it. What's cool is that I see little glimmers every now and then. They'll see a car in the street, and be like 'Oh, I'd like one of those as my first car', and they know what they don't like which is even more brilliant.
For me, as a collector, there's a real pleasure in just looking at the cars that I own. Of course, driving them is the most fun, but our office is above the garage and it's just nice to go and make a cup of tea and have a look. If I got these cars back I'd have a special little area for them.
To the person that owns the 22B; I really hope you're enjoying it and looking after it because it's an absolute treasure. To the individual with the Volkswagen Squareback; please sell it to me. To the person with the car from Ferris Bueller's Day Off; you lucky devil!"
Read more
Cowland on Cars: Average is the new epic. Treat yourself to something utterly unexceptional
The One That Got Away: Mike Brewer's once-in-a-lifetime Lamborghini Urraco barn find
The One That Got Away: Steve Parrish and the Yamaha TD2B that made him partially deaf