Paul Cowland has got it bad. Even before we have waded through the sea of cars parked before us at the entrance to his workshop, a casual glance is enough to know that the man we see on the telly likes to scratch an itch.
A Panther Kallista blocks our way, a Subaru Leone's bumper nudges up against its wing; there's a Volkswagen T3 Camper suspended in the air on a ramp, in the middle of the floor area is a comically small 1967 Subaru 360 and somewhere off in the far corner, next to an unusually silent TVR Cerbera, sits a doomed Pontiac Trojan supercar from General Motors – underneath a Lincoln Town Car.
How much is your car to insure? Find out in four easy steps.
Get a quote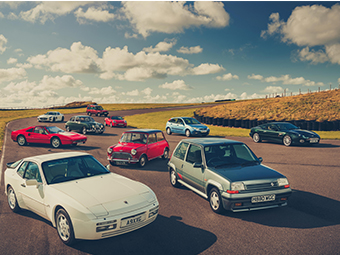 Everywhere you look there are unconventional cars. They are out of the ordinary, different to the usual suspects – oddballs, if you will. And that's what Cowland loves about them.
Every car has a story to tell. Take the Rolls-Royce Silver Shadow. Its past owner took it to the garage for a load of work – fourteen thousand pound's worth, on a car that was worth considerably less – then never returned to collect the car or settle the bill. After four years of trying to reach the owner, the garage sold the car to cover its losses. Cowland was the recipient.
There are many moments when he has been in the right place at the right time to pick up a bit of a bargain. But where did it all begin?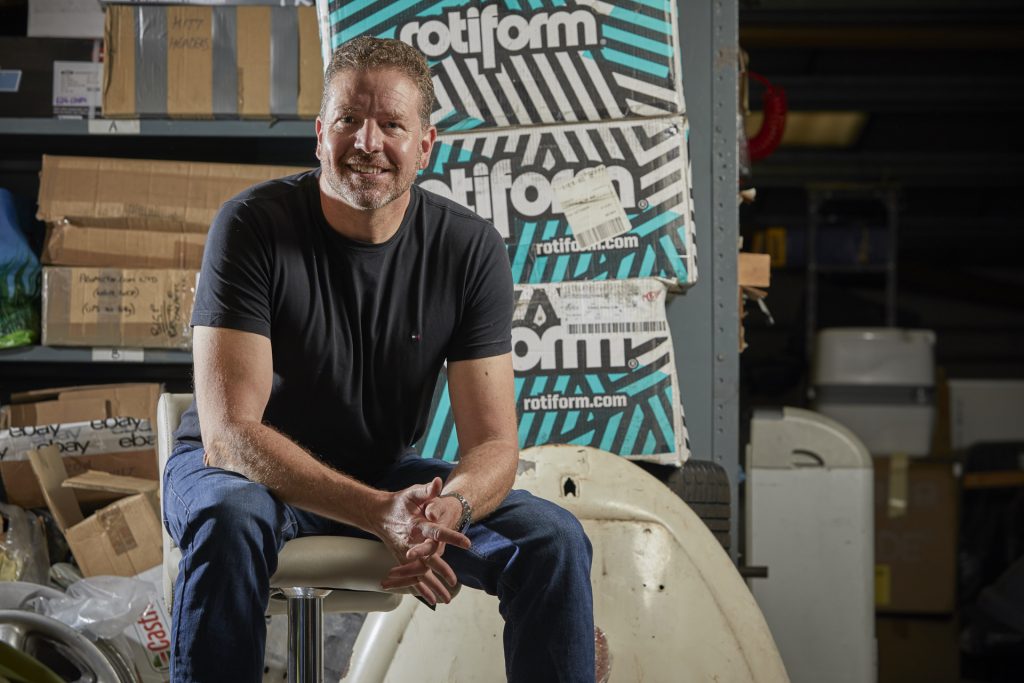 "The first car was the VW Camper," says Cowland, who presents Salvage Hunters: Classic Cars and Motor Pickers, both available through Discovery+.
He turns to face the brown Volkswagen that's suspended in the air, on an inspection ramp. "Emma, my wife, and I bought that together 18 years ago. We'd only been going out a couple of months, and it was for sale literally at the end of our road. That was £3000, for a one-owner from Germany, rust-free, very early – first month of production – T25 Westfalia.
"I don't have any kind of formal savings or pension, other than the building and things you can put in it. But with classic cars it's a pension you can enjoy today and maybe, maybe, you get a pay day at the end of it all. And if you don't, you've had 30 years of having fun with classic cars."
It probably goes back further than the Camper, though. From a young age, says Cowland, he had a hoarder mentality, collecting Matchbox cars and car keyrings, and that's since been applied to the way he buys cars.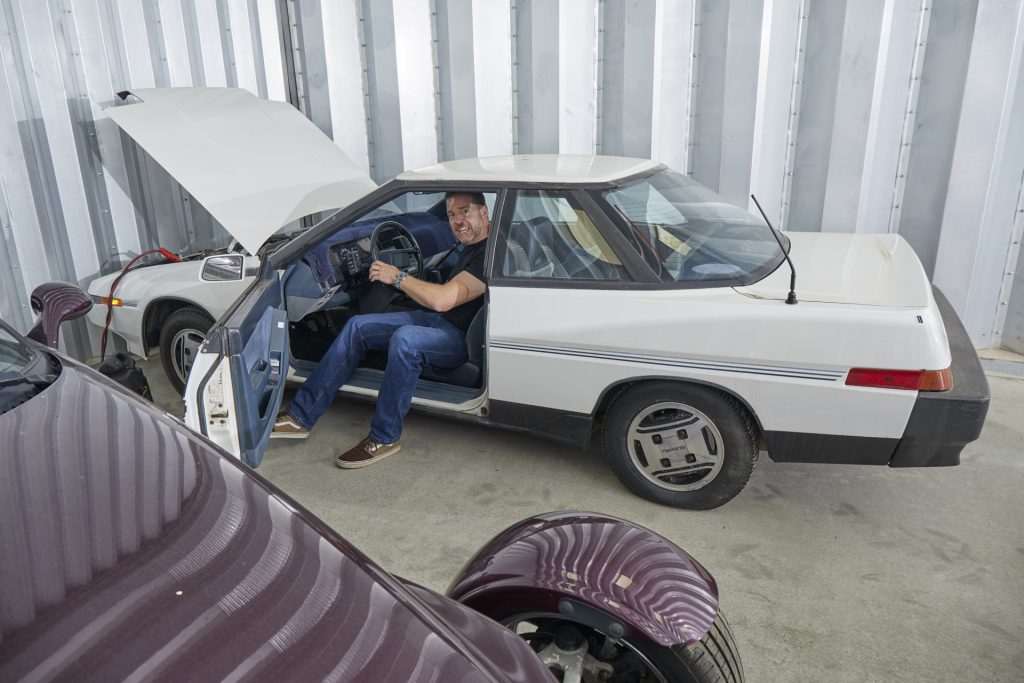 It appears, I suggest, that because of his reputation and the circles he moves in, people now approach him with the offer of cars. "It is like old ladies with cats," laughs Cowland. "You get an old lady that everyone knows on their street as the mad old cat lady, and if you find a little cat that needs love and care, you take it to the old cat lady. I am that old cat lady, for cars! Waifs and strays and things where people will say, 'Ah, mate, you'll know what to do with this.'"
The collection now numbers in the region of 50 cars. The eureka moment for Paul and Emma, his "long suffering" wife, came when they bought the house they now live in. At the time, they needed a bridging loan to snap up a bargain project house. The bank agreed, but Cowland hadn't appreciated it would require a deposit on the new property.
"I was like, 'What do you mean, a deposit?' They needed the money in the space of a week. So I sold my Nissan 300ZX, my monster truck, a beautiful, original Saab 900 convertible, and we sold them quickly and for a nice profit, got the money together and got our loan. So then my missus and I thought, of all the places to put our money, cars is probably a clever place to put it."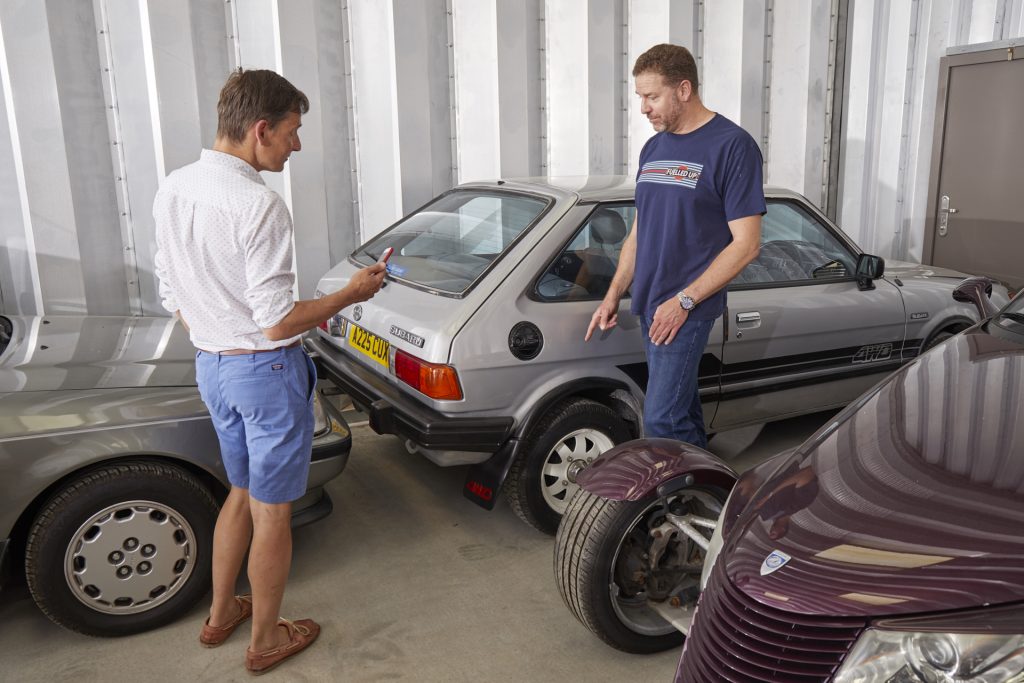 He claims to have not paid a massive amount of money for any one car, and owns them all outright. He adds, with a straight face, that if his work in television and PR dried up – "God forbid" – you could live probably two or three years off these if the phone stops ringing. "It's a self-employed mentality."
Cowland jokes that his passion for cars affected his chances of working effectively in anything other than the wider automotive industry. He started working as a salesman for Saab and Subaru dealers, explaining why, when we wander around his man cave near Nottingham, we're never far from a Saab or Subaru. A delightful 96 takes pride of place, as far as I'm concerned, and is joined by a 99, a 900 Turbo and a 9000 Carlsson. As for the Subaru contingent, it doesn't get much more quirky than his Giugiaro-designed SVX – but it does get faster, with an Impreza Turbo (bought from Drew Pritchard, his opposite number on Salvage Hunter: Classic Cars) tucked up amongst the sea of metal, glass and plastic rubbing strips.
With the collection growing slowly but oh-so surely over time, Cowland got another cat-lady tip off about a workshop that was soon to come to market, following the death of the previous owner. It was four years ago, and he stresses he wouldn't have been able to make the acquisition without the support of a bank manager who understood what Cowland did.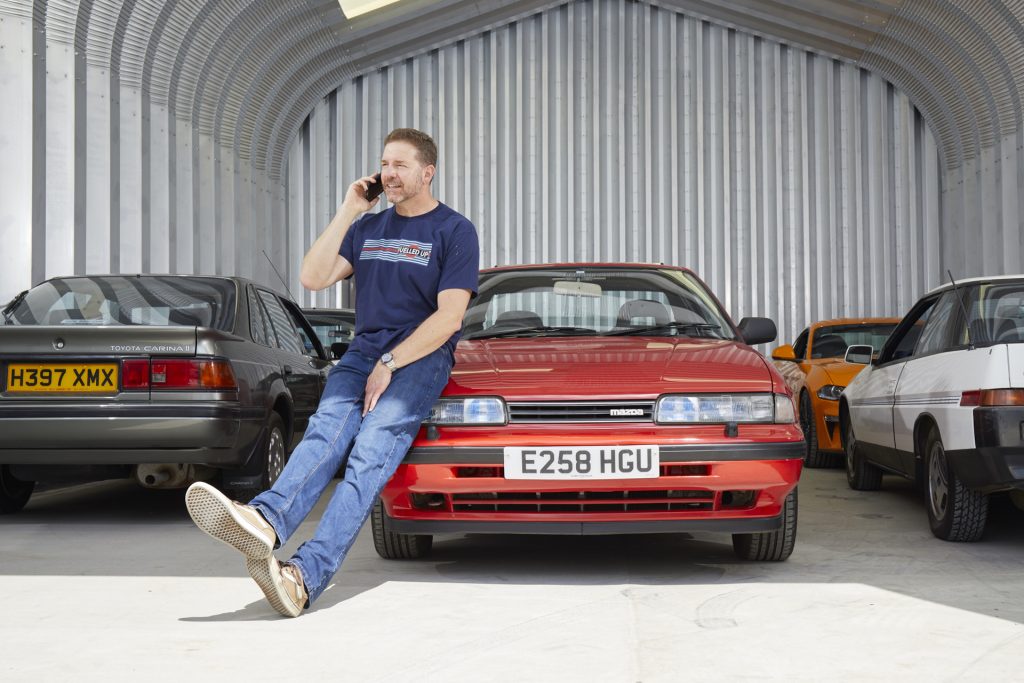 The sale included everything inside the building – ramps, tools, spares and a job lot of spare engines for double-decker buses. The latter were sold, while "a 1932 coachbuilt Rolls-Royce was sold, via a third party, to a guy in China who wanted it to sit by a swimming pool."
In an adjacent building, Cowland has a selection of cars that are causing him a headache.
A Mazda 626 Coupé jostles for position with a Toyota Carina II and rare Subaru XT that wasn't sold in the UK – this one imported from America. With the exception of the steering wheel and wheels and tyres, there isn't a curve on it. In a far corner sits a perky little Subaru GLF 4×4 which is believed to the last one remaining on the road in Britain – a fact attributed to Cowland spending an unhealthy number of late-night hours on the How Many Left website
Part of me wonders whether he sees himself as a saviour? A crusader, coming to the rescue of cars that would otherwise face the crusher? It's a label he enthusiastically accepts. He is proud to do his bit and keep these cars on the road or simply off someone's driveway, sat in the elements where they'd otherwise rust in peace. The trouble is, the foster figure can't stop welcoming more vulnerable characters into the fold.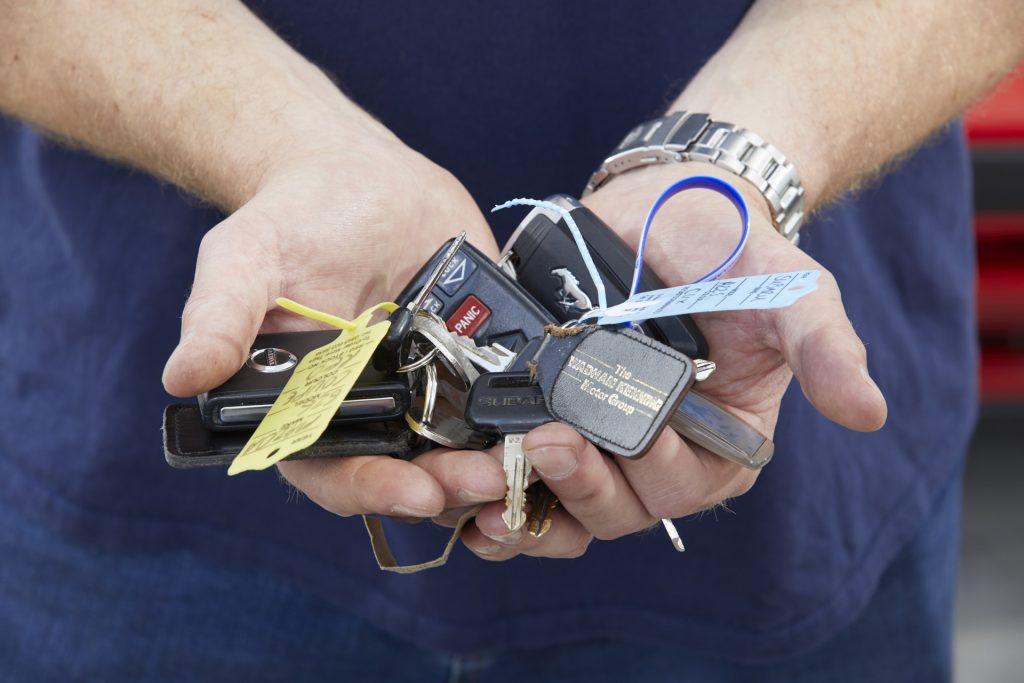 The dilemma for Cowland is which of his "ordinary, unloved" classics he'll bring to the Hagerty Festival of the Unexceptional, at the end of this month.
"I'm erring towards the Toyota Carina II, because it's in such good nick, but some of the other cars have a better story that goes with them, so I'm torn," he tells us.
He may be undecided about which to bring to the event – which, incidentally, Cowland will be judging at – but there is one thing he doesn't need any help in deciding: buying more cars.
As I finish writing this story and prepare it for publication, Cowland announces he has bought an original generation Renault Espace. Like I said, he's got it bad.
Read more
Cowland on Cars: Average is the new epic. Treat yourself to something utterly unexceptional
11 cars to get you gently excited for the 2021 Hagerty Festival of the Unexceptional
Bland of the rising sun: 13 unexceptional cars that put Japan on the map