"It was so cold in there, the kind of cold that goes right to your bones, but I was giddy with excitement. We were in Poland, in the winter, in a garage that was under a foot of snow staring at a car that was going to be blooming amazing for us, it gave off a sort of warm glow, but it was literally frozen in the corner – it hadn't been turned over or moved for around 20 years. "It" was a 1972 Lamborghini Urraco, a once in a lifetime barn find.
The wheels were locked and it was millimetres away from this brick wall, so we couldn't move it, but I needed to pull it away to make sure the side I couldn't see was as nice and clean as the one I could. We stood there, in our really thick coats, speaking in broken language to its owner (who just sort of collected and neglected cars because he could) through an interpreter, trying to work out how to do it.
How much is your car to insure? Find out in four easy steps.
Get a quote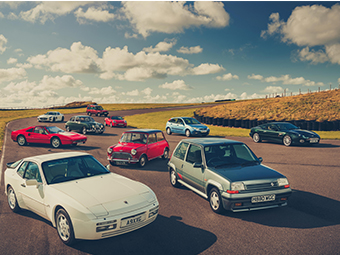 It took about four hours, and quite a lot of stress, but we managed to move the car using GoJacks, which pumped it up and acted like trolleys beneath the wheels. Somehow, we then managed to winch the car up onto the back of a trailer.
The plan was to transport it to my workshop in the UK and take it apart there. All the way back I thought to myself, this is the most exciting thing I could ever dream of, what an opportunity to put a car like this back on the road. I paid £20,000 for it and I've not found anything like it since.
I don't like people that buy cars to lock them away – if you buy a classic, drive your classic. Cars like to be used, they like to be started, they like oil pumping through their veins, they want to be hot, the gaskets want to get heated up, the rubbers want to be squished and squashed, otherwise they simply decay. So to open up a barn door and see a Lamborghini there like that, and a Lancia Montreal in the same state (but sadly not for sale), was annoying.
When the Lamborghini came into our own space, into a nice warm workshop with heaters, I just stared at it. I thought, this is one of the most beautiful things I have ever seen and I must keep it, somehow. Unfortunately, my Wheeler Dealers contract didn't allow for that.
Edd China and I took about doing the restoration. The first thing to do was free up the brakes and find out what was wrong with them, then refurbish the engine. It needed all sorts of things doing to it, but there are probably only about three people in the world that are alive today that know how to work on one of these cars because they really are rare – so we had our work cut out.
We put a new timing belt on it, replaced the idler belt pulleys, fitted a new distributor cap, HT leads, spark plugs and air filter. We changed the oil and filter, installed a new clutch, clutch plate, clutch disc, clutch slave cylinder and clutch release bearing. It has four Weber twin-barrel downdraft carburettors which are really hard to adjust, so we brought in Chris Evans' expert mechanic to do the setting up. The bodywork was lovely, all it needed was a deep polish and the interior needed a wipe over.
I spent around £7,000 refurbishing the Lamborghini and it took about 13 days from start to finish. It's my job, that's what I'm good at, but during that period, both of us fell in love with the car, it was a wonderful thing to have around. Finished in green with a tan leather interior, it was just sublime. It was an absolute snapshot of the 1970s. With a sort of wedge design, muscular sides and haunches that meant it looked fearsome, it also had the most wonderful V8 engine in the rear, which would scream and shout behind you as you went down the road.
We took it for a test drive across the Dolomite mountain range with 100 other Lamborghinis on their way to Bologna to celebrate the marque's 50th anniversary. There was snow on the mountain tops, and although I can't remember what top speeds we achieved (roads through the Dolomites are very twisty so you don't really get to go flat out) we were really pounding it, I think we were trying to break it!
I didn't actually cry when we sold it, reluctantly, to one of Edd's close friends for £37,000 in 2013. I didn't want to say goodbye and I never got to see it again. To this day I'm kicking myself. Every time it comes up for sale (most recently for over £150,000) or it's featured somewhere, some smart b****r will send me a screenshot of it and go "ha ha!"
I was sad to see it go because it was an adventure from start to finish. It's too much money to buy it back now, but it would be lovely to catch up with it again. If the present owner is reading this, you've got yourself a once-in-a-lifetime car that has had a very special rebirth by two over-enthusiastic British guys and you should treasure every moment of it."
Also read
The One That Got Away: Steve Parrish and the Yamaha TD2B that made him partially deaf
Lamborghini Espada and Ferrari 308 GT4 | The Next Big Thing with Magnus Walker
From wreck to dream drive: Simon Kidston's astonishing £400,000 restoration of a one-of-a-kind Lamborghini Countach LP400