My 'bucket list' started in 2012 when I almost bought a new Lamborghini Gallardo. Fortunately common sense took hold of me, as I am too old and too slow to drive a fast car like a Gallardo, but a couple of years later I watched the Wheeler Dealer TV show about restoring a Lamborghini Urraco P250 from Poland, and the bug returned.
After watching this TV show a few times and a glass or two of red wine I had a little look on the internet and found a Urraco P200 in Belgium.
How much is your car to insure? Find out in four easy steps.
Get a quote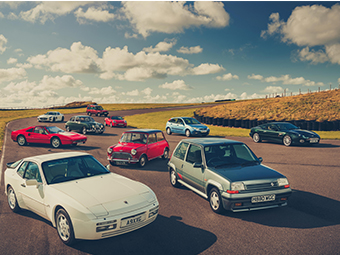 I then made my cleverest move. Colin Clarke was recommended to me as the UK Urraco specialist, and his workshop is only ten miles away from my house. Colin went to Belgium and inspected the car thoroughly and I bought her sight unseen, an arranged marriage.
She arrived in the UK with RUF wheels, fabulous to look at but terrible to drive, half as wide again as the standard wheels so parking with no power steering was very difficult and the low profile tyres along with incorrect geometry made the drive terrible.
The most important thing to do was get the correct wheels and tyres on the car which I did; it now handles very well. I drive about 4,000 miles a year in the car in the UK, I work weekends so it is mainly driven during the week.
The car was sold to me as having the two and a half litre V8 P250 engine, and it is registered as a 2,500cc engine. The P200 had a sleeved-down two litre engine and was sold with no purchase tax in Italy during the fuel crisis just like the Ferrari 208. They made just 66 P200s.
A continental tour was the the second part of my bucket list. My Gallardo-owning friends Dave & Cathy Thomas completed the 50th Lamborghini anniversary tour in 2012 to Italy. They had a fantastic time and I wanted to do a similar trip, so I joined the Grand Tour 2017 from Bilbao to Marbella.
It was lovely experience, great people, great cars and miles of empty roads. Several times we had to put low octane fuel in the car, and although we drove up and down mountains with the carbs set for sea level, the engine never missed a beat! The huge advantage was the low-end torque; I discovered that in previous years people had driven Ferrari Dinos that would have been much more of a challenge than a torquey V8 Urraco due to many more gear changes.
The car was prepared for the Grand Tour by Colin Clarke and Tom Ransom, my navigator was Bernard Kidner, I owe all of them a drink. The A/C compressor sadly died two weeks before the Grand tour and there was no time to replace it.
The lack of A/C made it a challenge for Bernard and myself with 44C in the shade outside the car and considerably more inside, so hot that I had to wear driving gloves to handle the steering wheel and gear shift.
1,200 glorious miles later we made it to the finish in Marbella and we won the Spirit of the Grand Tour prize. Thank you to Bernard, Jeremy Jackson Sytner, Chris Bucknall and all the other drivers on the tour for helping us on our first Grand tour.
"Classic Cars, you have to drive them and not leave them in your garage!"
Photographs by Lola Mayhead (aged 12) under the expert tuition of the hugely talented Amy Shore.