"I used to sit on the parcel shelf when I was a kid. I wouldn't recommend that now, of course! But I used to use it as a back seat when I was four or five years old, so the Ferrari Daytona was always my favourite one."
Matthew Lange's Ferrari 365 GTB/4, popularly referred to as the Daytona thanks to its racing success at the famous US circuit, is among the better-known ones in the car community, having appeared in several car magazines and making regular appearances on Lange's Twitter and Instagram accounts.
How much is your car to insure? Find out in four easy steps.
Get a quote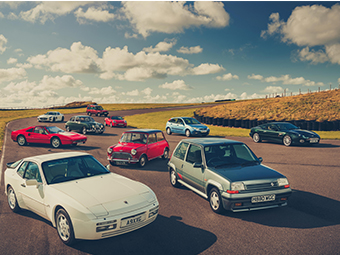 And thanks to childhood memories like those above, it's the car his father passed down to him when Lange turned 30. And if you've seen it before, it's because Lange uses the car regularly – though these days he's more likely to be found in the driver's seat than on the parcel shelf.
"My dad bought it as a two-year-old car in 1976," he explains. "It was actually his company car, and he used it pretty much every day. But by the late 1980s it got to the point, like all Italian cars of that period, where it was looking a bit rusty and a bit tatty, so he bought a 365 GT4 2+2 to use as a daily driver, and the Daytona became a weekend car."
With the Daytona now free from daily duties, it also received a colour change both inside and out. Originally painted Dino Blue Metallic with a blue leather interior, the car has for most of its life been Rosso Chiaro (popularly, but incorrectly referred to by most as Rosso Corsa), with its blue seats dyed black.
Lange has considered reverting the car to its original colours, but reckons in many ways that would be erasing most of its history. "I don't ever remember the car being blue myself. Even some of my friends who are obsessed with originality say that it's far better known as a red car."
Lange continues. "He always said that he'd leave me one of his cars, but in the early 2000s he told me, 'you might as well have it when you're young enough to properly enjoy it', so he gave me the car when I was in my early 30s."
Living in London though, it would be six or seven more years before using the Daytona didn't require a 40-minute drive just to collect it, so those initial trips were brief. "Then in around 2013 I bought a house with a garage so I could finally keep the car at mine."
Since then, the Daytona has averaged more like 3000 miles per year – 2020 excepted. Many of the miles have been amassed on continental road trips, from the Le Mans Classic, to several Journées d'Automne classic car events. "My dad passed away in 2015, and because he loved the cars and had done a lot of classic rallies himself, several friends organised a trip in his honour. I did around 2100 miles in three weeks on that trip." In all, Lange estimates he's put more than 20,000 miles on the Daytona in his ownership.
Suggesting it's pretty close to being the perfect road trip car, Lange does have a few words of warning. The first is that the GTB/4's factory air conditioning is fairly hopeless, and with "that large Aga" sitting up front, it can get a bit toasty. The second is that when you drop the windows to give the air conditioning a helping hand, the intake trumpets from those Weber carburettors up front funnel plenty of petrol fumes straight into the cabin.
"My wife hates the fuel smell! I remember when I came back from one of the trips, I walked in with the usual 'Hi honey', and she ordered me to get straight in the shower and put all my clothes in the wash, because I just stank of petrol…"
On the plus side, road-trip fill-ups don't come too frequently, thanks to a tank that holds 127 litres when full – though all that extra weight does affect the car's balance and ability to negotiate bumps, so most of the time Lange runs on around half a tank. And while some are critical of the car's seating comfort behind a high-set steering wheel, this one is apparently fine. "Maybe it's because the packing in my seat is a bit old, and it's worn into being a comfortable driving position. Maybe I've just got the shape for it!"
Lange corroborates rumours that old Ferraris need time to warm up though, and reasons that a lot of discourse over them being hefty to drive is actually just a lack of time behind the wheel.
"Most people drive the car from cold, for less than 20 minutes, and hate it. Even I think it's not really a pleasant car until it's properly warmed up. Then the steering starts to lighten up, the suspension beds in, the engine and transaxle oils both come up to temperature… though modern oil does help. I use Valvoline VR1 10w60 – it's an unusual choice, but really seems to work. But that old adage you can't get second gear in an old Ferrari until it's warm? That's very true."
Mechanical maladies have amounted to an oil line coming adrift on one of Lange's road trips, and a failure to proceed in the Channel Tunnel one time after the car's starter had cried enough at the repeated starting and stopping on the way in. The oil line was fixed quickly with a new clamp and a top-up and the starter issue fixed itself, "though for some reason, it never likes starting on the Eurotunnel…. Maybe it's the carburettors complaining at the change in pressure."
With Ferrari Daytona values in a steady climb, there's always the risk that a car like this will become too valuable to use, but Lange is pragmatic.
"If you think about it, the investment that me and my dad have put into the car is relatively little. He probably paid the equivalent of 911 GT3 money for it in the 1970s, and other than routine maintenance it's required relatively little since. There are plenty of people who'd thrash a brand new GT3 around a track, so from that point of view the investment isn't that high – though I can fully understand someone paying half a million quid or whatever today might feel differently."
The car may be enjoying some restorative work soon, but for Lange, it's a car he'll keep forever.
"I've got this idea that one day, it'd be great to have the longest continual family ownership of a Ferrari," he says. "I think there are still a few owned today by people that bought Ferraris in the 1950s, but I see it as a bit of a challenge. It's a good chance of being the longest in regular use."
Read more
Ferrari F355 or 360 Modena? Magnus Walker drives the V8 icons
Still want that supercar? Up close with the new RML Short Wheelbase – the GT inspired by the Ferrari 250 SWB
Your Classics: Jim Sword and his Jasag homebuilt racing car