A LaFerrari, one of the so-called holy trinity of supercars, is set to go to public auction – the first to come to market in the UK since 2018.
Offered at RM Sotheby's London auction on 6 November, over the same weekend as the 125th running of the London to Brighton Veteran Car Run, the sophisticated LaFerrari supercar is a stark contrast to the simple veteran cars taking part in the run, and illustrates engineering progress over the past century.
How much is your car to insure? Find out in four easy steps.
Get a quote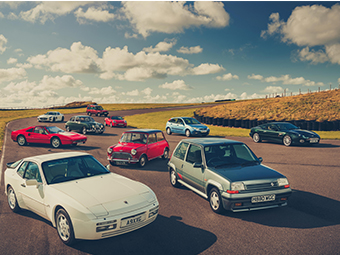 Born of a time when Ferrari slugged it out with McLaren and its P1 hypercar and Porsche waded in with the 918 Spyder, the LaFerrari was the Italian sports car maker's first plug-in hybrid, featuring so-called HY-KERS technology first developed for Formula One motor racing.
Only 499 LaFerraris were made, less than half the number of F40s made, but more than the F50 and Enzo supercars that preceded the LaFerrari.
Its specification was the stuff of petrolhead dreams. Engineers fitted the mid-engined two-seater with the most powerful, naturally aspirated V12 in Ferrari's history, at the time, which developed 790bhp. It was paired with an electric motor powered by a plug-in lithium-ion battery, which offered a further 160bhp and always operated in tandem with the V12, making the LaFerrari the most powerful hypercar of the holy trinity – at 950bhp – in addition to it being the lightest of the trio, at 1255kg. (The McLaren P1 boasted 903bhp and 1450kg, the Porsche 918 Spyder 887bhp and 1640kg.)
The car being offered by RM Sotheby's in its London sale is special for a number of reasons. The colour is a special-order Rosso Vinaccia or 'red wine' paintwork with a contrasting tan leather interior that is an unusual but very beautiful combination. The second is that it comes complete with a full set of fitted luggage. And as mentioned, there hasn't been one sold in this country since 2018.
Values of the LaFerrari have slipped slightly over the last few years, with the Hagerty Price Guide range now spanning £1.52 million to £2.4m, depending on condition, down from £2.67m to £3.06m in January 2019.
Values of the more exclusive, open Aperta model have also fallen, now ranging £2.25m to £3.56m, down from £3.9m to £4.48m. Interestingly, although the average age of a LaFerrari owner is 60, there is a much bigger percentage than normal of Generation X (born 1965-81) owners: 37 per cent compared to 27.4 per cent for all classics that Hagerty insure.
With each car being built to order, there are many combinations of colour and interior trim, with a few options, but mileage seems to be the big differentiator in value. This example has 918 miles on the clock, but for a LaFerrari, that's actually a fair amount: of those offered at auction since January 2019, none has exceeded 1000 miles and this one is the second-most driven. Those with slightly longer legs seem to go through the dealers: at present Romans has one on offer at £2.195m with 2300 miles and Simon Furlonger another advertised at £2.4m with 1616 miles.
Although this car is very unlikely to reach the $7m (£5.53m) record sale achieved for a non-Aperta model back in 2016, also by RM Sotheby's, it will undoubtedly draw the crowds. A price close to the middle of the pre-sale estimate of £2.2m to £2.5m seems very possible.
Read more
Your Classics: Matthew Lange and his Ferrari Daytona
Ferrari F355 or 360 Modena? Magnus Walker drives the V8 icons
Wheeling and dealing in the fastlane: 'You couldn't sell a Ferrari 250 GTO because it was too slow to win races'