He was an amateur racer who shared track time with some of the greats. In the 1977 Brands Hatch Six Hours, the final start of his original career, he drove a Porsche 911 RSR with future Indianapolis 500 winner Danny Sullivan and respected Cheshire car dealer Brian Classick. They finished 11th overall and third in class in a race won by factory Porsche stars Jacky Ickx and Jochen Mass. "A podium finish in a world championship race was probably a good time to stop," says Michael Fisher.
He later returned to the wheel to dabble in historic racing, but Fisher's story is not so much about the results he achieved as the cars he has owned – and, in some cases, how he stumbled upon them.
How much is your car to insure? Find out in four easy steps.
Get a quote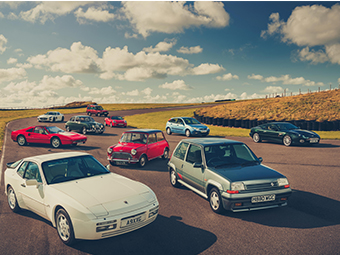 The inventory is long and diverse, though he does have a particular penchant for Ferraris. He even recounts a time when it was almost impossible to sell a Ferrari 250 GTO because they'd been outclassed on the race track.
"I reckon that started when I was about four," he says. "My parents had given me a book with these thick cardboard pages, each of which contained an image of a racing car. It was a photograph of the Pampas Bull [José Froilán González] that caught my imagination, sitting in his Ferrari with its egg-crate grille." (Fisher has taken to posting shots of his old cars – and photographs from noted Ferrari aficionado Jacques Swaters, whose archive he owns – on Instagram, using the handle @brdcspeedman; from seemingly out of nowhere, he had amassed nearly 40,000 followers… before changing his account to @brdcspeedyman.)
Nowadays a budding racer would cut their teeth in karting. Fisher took his competitive bow at the wheel of a Ferrari 250GT SWB, a car that might nowadays fetch £6,000,000 at auction; 50-odd years ago, Michael paid £800 for his.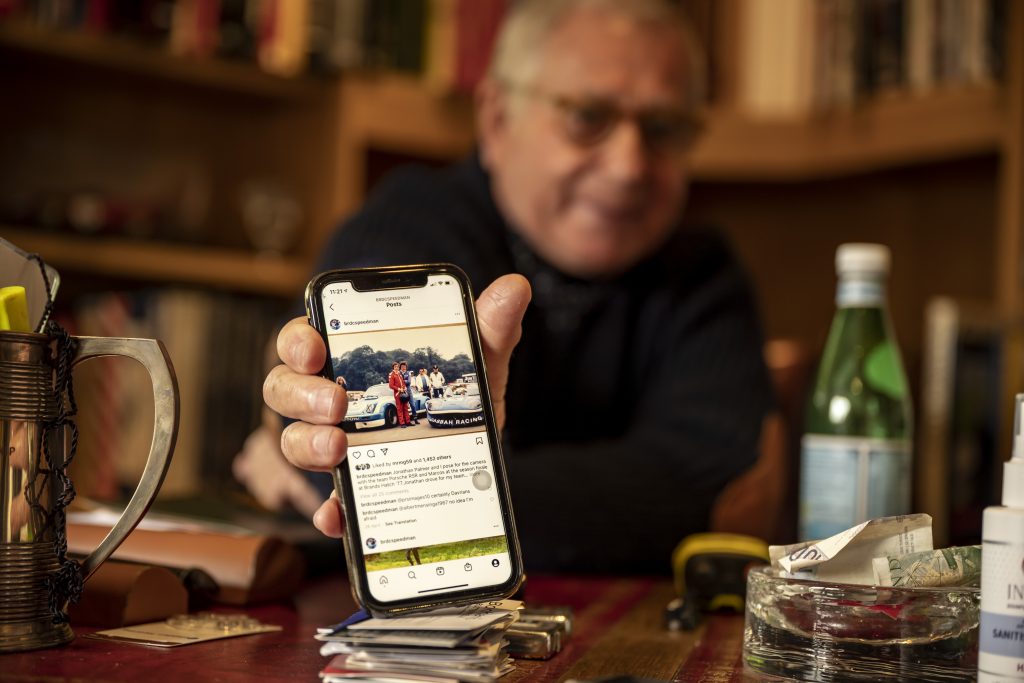 "I spotted it in a classified ad in London's Evening Standard, which in those days was a very good source for finding cars," he says. "I called the number, discovered the car was located in Italy and flew to Milan the following morning. I was met by a trendy young American named Tom Meade, who later went on to build his own Thomassima cars with Ferrari running gear. He used to ride around on a Lambretta with a big Alsatian on the back, as you do. Anyway, he drove me to see the car in this deserted warehouse, which contained the 250 SWB and some crates of Lambrusco.
"It took us most of the day to start it, because we didn't know it had a cut-out switch under the dash, but once it was running I said I'd take it. We then headed to the airport in the car, but it was fitted with these old Pirelli Cinturatos and one of them blew. There was no spare, so we ended up sleeping in the 250 by the side of the autostrada…"
The Ferrari and its new owner eventually made it back to the UK – crossing the Channel by hovercraft – and, with no prior racing experience, Fisher made his debut at Silverstone. "I can't recall a great deal about it," he says, "but I think it was an Aston Martin Owners Club event, on the old, almost triangular short circuit. I do remember barrelling far too quickly into the Becketts hairpin, then spinning and very nearly wiping out an Aston Martin DB4 Zagato.
"I ended up racing it for a year, then switched to an Aston Martin DB4 GT for which I paid £6,000 – quite a lot for an Aston at that time! I thought that would do the trick, but it didn't go as well as it looked and had a bloody awful gearbox, so I sold it on. This was in the early 1970s, historic racing was just getting into its stride and Willie Green seemed to be winning everything in an ex-Briggs Cunningham Lightweight E-type owned by JCB chairman Anthony Bamford. I found an interesting E-type – not to full competition specification, though it had a few Lightweight bits – and raced it until I was able to acquire the sister Lightweight to Willie's, though I ended up having a big accident in that…"
When nobody was interested in the Ferrari 250 GTO
You will note that his interest lay not in acquiring such cars as assets, but to use them as their creators had intended.
It's a reflection on our changing times. For the past couple of decades, encouraged by a collector car market that has been buoyant and racing regulations that have encouraged factory-built cars for private teams and individuals, buyers of the flagship performance cars of today more often than not view them a way to make a shrewd investment rather than get themselves on the front row of a racing grid.
"That's what it was like," recounts Fisher. "You wanted the fastest car you could get and to drive it as quickly as possible. Many years ago, I remember going to [car and accessory trader] Jack Pearce's place in Southall to get some wheels. In his yard he had two 250 GTOs, a couple of Ford GT40s and a Ferrari 250 LM. They were just sitting there; they were yesterday's cars and nobody seemed to want them because they weren't quick enough!"
Eventually, Fisher turned his passion for cars into a business.
"I'd worked for the family fashion firm, which had been very successful in its day," he says. "I stayed on after the company was sold, but my father and uncle eventually retired. One Christmas I found myself in Los Angeles and decided I didn't want to go back to my everyday life.
"When I returned to London, I was sitting in my flat, twiddling my thumbs and wondering what to do next. I thought, 'Well, I know a bit about cars' – and that was that. I set up a trading company, the goal being to sell the cars at a profit while knowing that I might also be able to enjoy some of them for a short time." In the early 1990s, he was also recruited by expanding auction house Brooks to work for them, sourcing cars – often Ferraris – in the United States. He would be based there for 12 years.
He's not sure exactly how many cars he has owned, however briefly, though he has swathes of paperwork recording all the details. "This was a good one," he says, pointing to a line in his ledger. "Frank Sytner [a respected car dealer and racer, who won the 1988 British Touring Car Championship] thought a red Aston DB4 GT Zagato was the car for him and was jumping up and down to get one. I paid £60,000 for just such a car on March 13 1985 and sold it to him five days later for £67,000 – not a bad return in five days.
"But it wasn't always like that. There's a note here about a Cobra 289, a full-house competition car I bought from Brian Classick. I simply couldn't find anyone to buy the thing, so I sold it back to him a year later. At the time I wrote that I hadn't won, but I hadn't lost, either…"
In addition to the exotica, he has dealt with a number of curios – including a Dove TR4, one of only 43 shooting-brake versions of the sporting Triumph that were ever produced – and countless Mini Coopers. Among the latter, one in particular stands out.
Paul McCartney's Radford Mini Cooper S
"I suppose it was about 2000," he says, "and I was in America. I was flipping through some adverts in Hemmings Motor News when I spotted a Radford Mini Cooper S for sale, 'thought to have been owned by one of The Beatles'. Now, I was aware that Paul McCartney had owned one of these, because in the 1960s I lived quite close to him and would sometimes see him driving through the West End when I was making my way home. I really liked the car because of its colour, California Sage Green.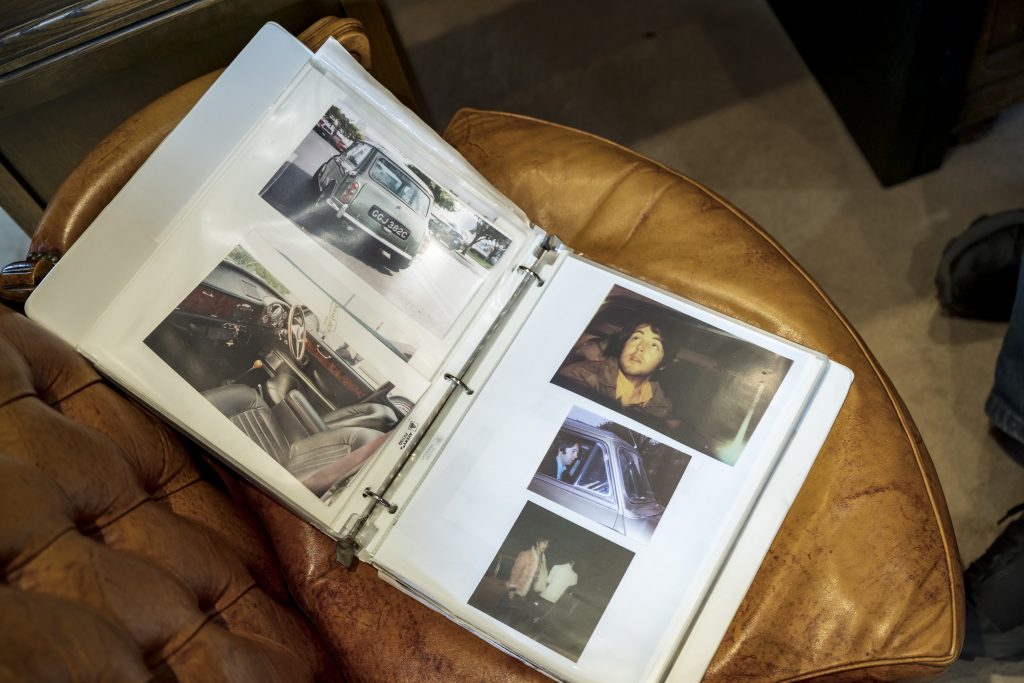 "So I phoned the seller, who lived on a private island off Canada's west coast. We didn't have all the instant communication tools we have now, so he sent me a CD with photos of this maroon and black Radford Mini. It didn't look like the right car at all, but I remembered the registration number from all those years earlier and it was still fitted with its original UK plates. So I bought it, had it shipped to Florida and sent it straight to a bodyshop, where they stripped it down and found the original green paintwork beneath. I then had it restored to look almost exactly the way I remembered it, albeit with a different set of wheels.
"I wrote to Paul McCartney's secretary, but she replied that he had no recollection of ever having owned it! [McCartney may not remember but it was well documented at the time, as recounted in our story about Harold Radford – Ed.] All the paperwork tallied, though, and eventually I sold it to Red Bull F1 team principal Christian Horner [who also owns an ex-Ringo Starr Mini]."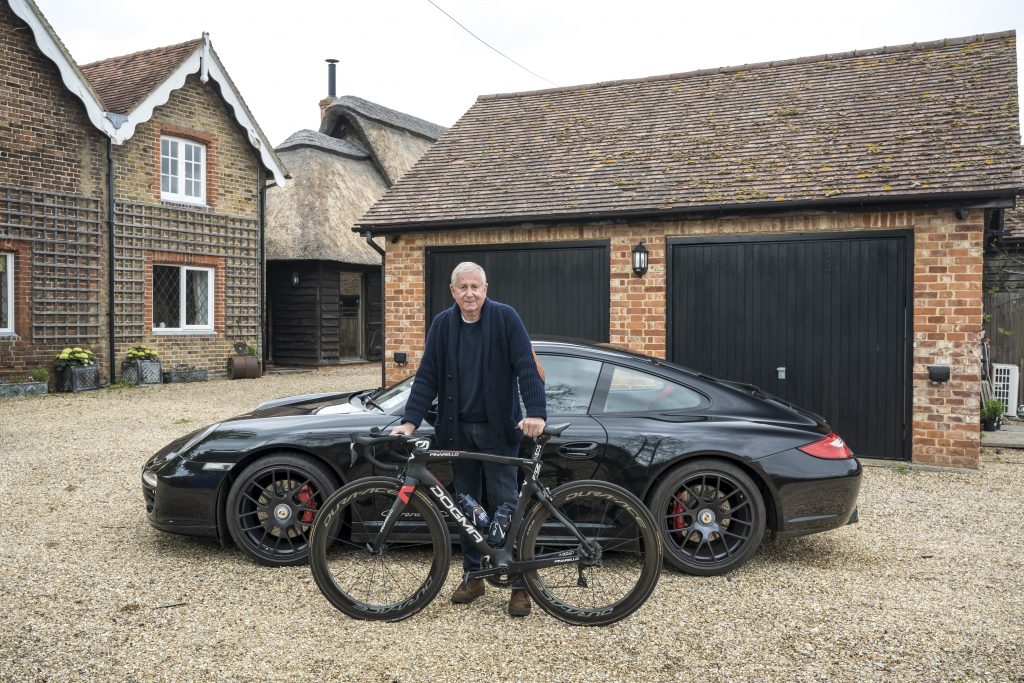 Through all his wheeling and dealing, the one car he has kept is a 997-series Porsche 911 Carrera GTS. "Someone from Porsche told me they thought it was the best car the firm had ever built," he says, "so it's definitely a keeper – and it does everything so well, a sports car you can use every day." His other regular transport is a featherlight Team Sky racing bike, which he exercises on the Surrey lanes.
Does he regret selling any of the cars that have passed through his hands? "I suppose if I had to pick one it might be a D-type Jaguar, XKD 544, an interesting car that was once fitted with an experimental fibreglass body. It didn't corner terribly well but was extraordinarily quick in a straight line.
"In truth," he adds with a chuckle, "I probably regret selling all of them…"
Read more
The story of Harold Radford, coachbuilder to the rich and famous
The likely lads in a lock-up who made it to the F1 grid
What do you do when your Ferrari 250 GT SWB is too valuable to drive? Buy this recreation and enjoy the drive of a lifetime