Sometimes you have to make the odd compromise in order to get your story. In this case I have been sworn to secrecy regarding the identity of the owner and the location of the car, hence referring to my mysterious benefactor as 'J'. It is a small matter though when you consider the story of this car and of J's ownership – or rather his custodianship. It is, admittedly, something of a cliché these days to talk of being the custodian of a classic car rather than the owner; but in this case more than most it is clearly true.
J told me how he ended up owning his Aston Martin DB4 GT almost by chance. As a successful racer and businessman in the City he responded to an advert in 1969 offering an aubergine coloured Aston Martin DB4 GT for sale. His initial shock at discovering "Aubergine is not, as I thought, a shade of green" was forgotten when he spied a Gullwing Mercedes for sale in the garage next door. He mulled the two cars over; the Gullwing sported a relatively hefty £2,000 price tag against the Aston's £1,250 but it was an inherent worry about the future of fuel injection, and the subsequent potential servicing issues that eventually persuaded him to buy British. The Mercedes was famously one of the first injected cars on the market whereas the Aston by comparison had three inherently bombproof, if somewhat old fashioned, SU carburettors.
How much is your car to insure? Find out in four easy steps.
Get a quote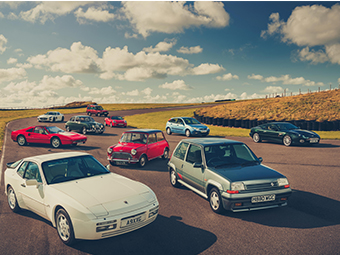 Once bought, he settled into using it for the daily commute into town along with family days out. Unusual for any Aston Martin I should imagine, let alone one so special. As a DB4 GT this has always been one of the most desirable products of the David Brown era with light alloy panels, a short wheelbase and faired-in headlights. This particular example transcends even those special features, and the unusual colour is a hint as to its secret. This was David Brown's own car and unique features abound from a custom dash layout to electric windows. During a recent respray Aston Martin would only release the paint that was his specific colour once provenance of the previous ownership had been established. Unfortunately it also has the David Brown gearbox as well. This is entirely appropriate as it was how DB made his money, but unfortunately it is also the single disappointing aspect of the whole car. J's racing pedigree probably helped him but the gearchanges are best described as clunky coupled to an imprecision that comes with a vague and poorly defined gate. Most notably 3rd and 4th gears are fiendishly difficult to obtain with any hint of hubris being immediately dispelled by noisy protestations. "Agricultural" is how J Junior referred to it; I used more colourful expletives.
Funnily enough double de-clutched down changes were fine but accelerating up beyond second was all too often accompanied by a loss of momentum until trial and error finally found the slot. When it went straight in though the feeling of verve from this 60-odd year-old car was intoxicating with the torquey delivery of the twin cam straight six being perfectly matched to the tall gearing of the 4-speed box. The competition spec engine in this DB4 GT, aided by race cams that really help her to breathe from 3000 RPM onwards, is both smooth and relentless. Easy to believe the claim then that "Trundling into London or heading for the South of France, you could pretty much leave it in a single gear and treat it as an automatic."
The refined cabin is stylishly appointed and has an airiness that belies the shallow glasshouse. However the period Motorola radio is made redundant once over 30 MPH due to the deep bellow of the exhaust coupled to various resonances, once up on the cam it was then rendered entirely pointless by the hard edged howl from the exhaust. Despite the aural intrusion everything about this car is focussed purely on fast touring. Ridiculously heavy steering through the thin wood rim wheel immediately lightens when moving and what can feel like a slight wallowing when pulling out of junctions settles into an assured balanced poise around fast, sweeping corners.
Although the external aspects have been restored the interior remains original. That cracked and frayed leather on the plush armchair-comfortable driving seat is the very same leather that DB himself sat on and the door cards wear the scuffs of numerous occasions loading up the family for a run out. The rear parcel shelf has the same covering that was the race track in the imagination of a young J Junior on long journeys. At least until one corner was taken with particular gusto and the toy car that was up to that point racing to victory "flew out of the open rear window" never to be seen again.
This is a car that drives along a thin line. Bought almost by mistake, a lengthy layup due to blowing up an engine at Silverstone ensured it was kept rather than sold on. It is neither scruffy nor languishing unused, neither carefully preserved time warp car nor soulless "perfect" restoration. It is telling that during private conversations with J and various members of his family each confided a concern of what would happen to the Aston Martin when J's tenure of it comes to an end. This in itself reassures me that it will stay with them, it is too much a part of their shared memories to part with. Make no mistake, this is a hugely capable and desirable GT from the golden age of the 1960's – a highly significant one too. More importantly though it is, in every meaningful way, a family car.