The Radford name is set to ride again. And hooray to that. Entrepreneur Roger Behle, an unfamiliar name, has pulled together a group of talent for the revival you possibly/probably have heard of. Mark Stubbs, described as a 'leading automotive designer', is tasked with the heavy-lifting, while celebrity stardust will be sprinkled by TV's ebullient Ant Anstead and – perhaps surprisingly – F1 legend Jenson Button, who you may still regard as a relatively fresh F1 face but has, inside his helmet, the sprouting grey hairs of middle age.
This bullish consortium, the British car industry's newest tribute boy-band, has announced it's going to build a new mid-engined sports car in partnership with Lotus. Stubbs says the new Project 62 is going "to be a Radford through and through". Button says: "It's going to be truly analogue and thoroughly engaging." Intriguing stuff.
How much is your car to insure? Find out in four easy steps.
Get a quote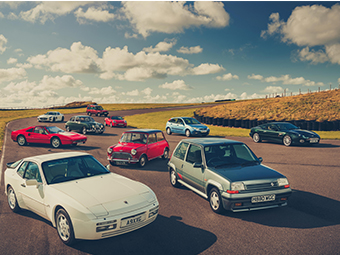 But you can be forgiven for wondering – even if you know lots about classic British car marques – what this hype is all about. What is "a Radford"? A select number of enthusiasts have actually heard of it, and I'd say an even smaller cluster know much about it, apart from the fact it's vaguely to do with gingered-up Minis.
So, if you're a bit mystified, read on, because I can give you the full, tangled background, with insight from harold Radford himself. And, actually, you won't get that anywhere else in this online world, because my interview with Harold Radford, published 36 years ago, is pretty much the only one there's been.
I just re-read my words from back then. It's hard not to blush. I was a green, 21-year old journalist, nervously shoving my tape recorder under an interviewee's nose (and, in this case, bristling moustache) for the first time. It's not my most masterly work, obviously. He was 77, the stature of Captain Manwaring with the exaggerated courtliness of Terry-Thomas, and pretty patient with me in the face of my junior inexperience. Only years later, though, did I realise he'd spun me quite a bit of rich-voiced, rewound, name-dropping blarney. Once a car salesman, and all.
What makes it odder is Radford initially strove to establish some ethical standards in the car trade. "I felt there was an opening for somebody who was going to have a proper business training to start a motor business, and play the game 100%", he told me. "No putting back speedometers and all that sort of outrageous nonsense. It was something I was determined to do."
He was talking about the day, in 1935, when he borrowed a few hundred pounds from his father to start his own car business in South Kensington. The Radford family were well-to-do shipping brokers with lots of connections to South Africa and, potentially, a comfortable shoe-in for young Harold, or 'Titch' as his friends called him, to become the third generation in the City of London firm.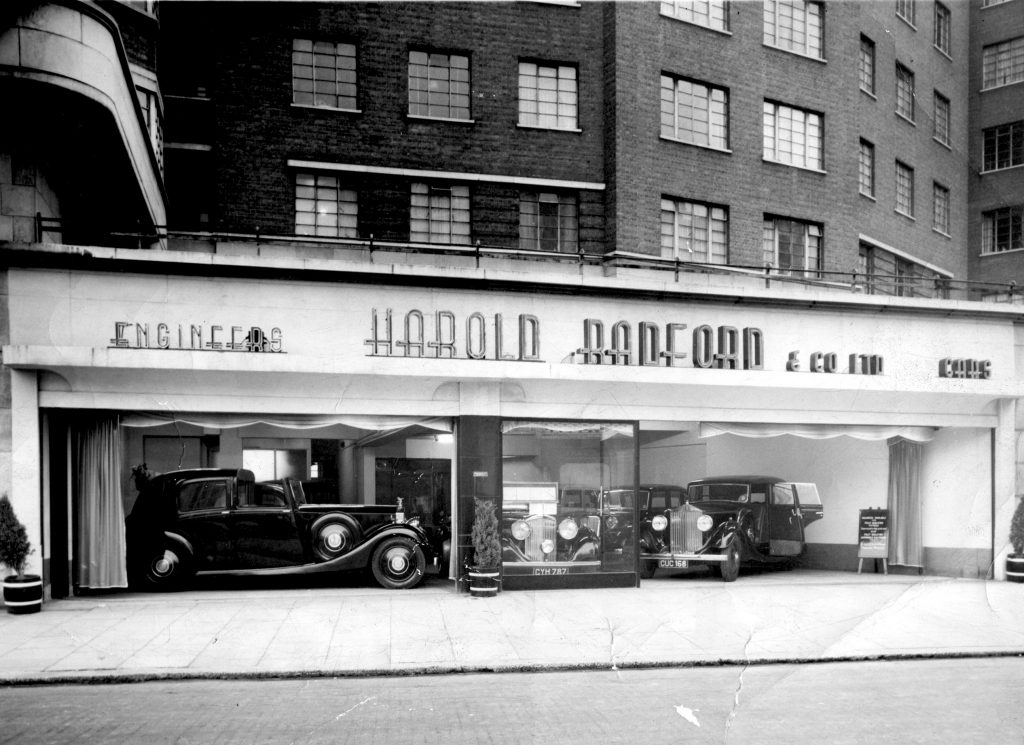 Instead, he became a car dealer, and with all his old-boys-network customers from Marlborough school and Trinity College, Cambridge, and the families of the debutantes and models he met on the finest tennis courts of the Home Counties, he did a brisk trade. Before long Harold Radford & Co had spanking new showrooms right opposite South Kensington tube station stuffed with choice nearly-new Rollers, Bentleys and similar sports-tourers.
Harold first started to modify cars for his customers' specific requirements in 1936 with tweaks to a secondhand Bentley. Before long he was arranging for cars to be converted into shooting brakes – effectively stylish estate cars – for the enjoyment of shooting parties on big estates. Then, during the war, he was put in charge of a fleet of 250 cars for the Mechanical Transport Corps.
"I was sent for again and this time they asked me to build a conversion which would take a complete repair crew and its equipment to the site of a plane crash, so that it could be repaired on the spot," he told me. "They wanted 10 a week! I cut the body off some long wheelbase American car like a Buick from behind the doors, and added a box with a bench seat along each side, beneath which all the blankets and such were stored, with a folding hammock above each seat. The cooking gear and tent was stored under the floor, and all their equipment was on one of their own trailers towed behind."
He claimed to have all his best ideas while sitting in the bath, and when the war ended he then couldn't stop poking about inside cars and thinking of ways to make use of wasted space. It led to the launch of a range of Countryman conversions on Bentleys (there were Jaguar and Humber ones too) that, in Harold's words "created something that was useful and practical for certain times of the year, including a fishing rod container along the side of the car, a folding picnic table concealed in a tray under the boot, seats for it that folded out from the this sort of thing being offered on a car from Land Rover, Bentley or Roll-Royce, you can thank Harold for it.
At their most elaborate and expensive this could be an entire coachbuilt body designed to cater for a day bagging pheasant or catching salmon, or a simpler but still innovative split tailgate conversion on a Bentley MkVI, in the style of the much later Range Rover. He took out a patent on the folding and divided rear seat with access to the boot, and came up with a roof-mounted spotlight that could be aimed at something – a tiger, perhaps – at night from inside the car, and all the work was done in his own workshops, with a full trimming department.
This started in 1948, and Rolls-Royce was so taken with the bespoke nature of Harold's offerings – and his upper-crust clientele – that he was soon selling Rolls and Bentley cars alongside the French Hotchkiss marque for which he was UK agent.
Behind the scenes, though, things were not going too well. His father died suddenly in 1947 and from this point on Harold was torn between loyalty to the family firm, where he took the reins, and his own, expanding company.
His own personal code to be a decent chap and not pour sand into whining gearboxes was all very laudable and such, but made it hard to make any money in the car game. Now, finding more and more time taken up with shipping matters, he decided to sell a controlling stake to a Hampshire transport company, but before he knew it the company that bore his name had been traded on until it was part of HR Owen. At first remaining as managing director, he soon cut that back to just being a consultant. "I fought like hell against it, but I hadn't got a controlling interest, and I was outvoted. I was very, very upset because my great friend Jack Barclay wanted to buy me out, but they couldn't come to terms." He was politely but firmly shown the door in 1961.
Returning to the callow me in 1986, interviewing the 77-year old buffer at his country house in Liphook, I notice Radford boasted he came up with the idea for the super-luxury Mini Cooper that was an icon of the 1960s British motoring scene.
"I had the idea that there were an awful lot of Rolls-Royce and Bentley owners who wanted a small runabout car different to the normal Mini," he purred, "so I decided to produce what was essentially a mini- Rolls, that being a Mini that matched a man's Rolls Royce in every detail – paint, trim, electric windows, stereo – everything he wanted. This caught on, and we were soon doing four or five a week. It came to be known as the Radford Mini."
Hmm, well, the Radford Mini certainly did become 'a thing'. But Harold had precious little to do with it. Firstly, the very first Mini given such an opulent makeover was actually created by Hooper & Co for Peter Sellers in May 1963, and even then the impetus came from Sellers himself. "Anything you boys can think of you have my full permissions to do," he said in late 1962, and that resulted in a car costing £2600 (four times the cost of a basic Cooper) with such lush features as a mahogany dashboard, leather-coveted, reclining Reutter seats, electric windows, a sunroof, wood-spoked steering wheel, transistor radio with twin speakers, deep purple paintwork, front spotlamps and hand-painted wicker-effect panels done by a heraldic artist.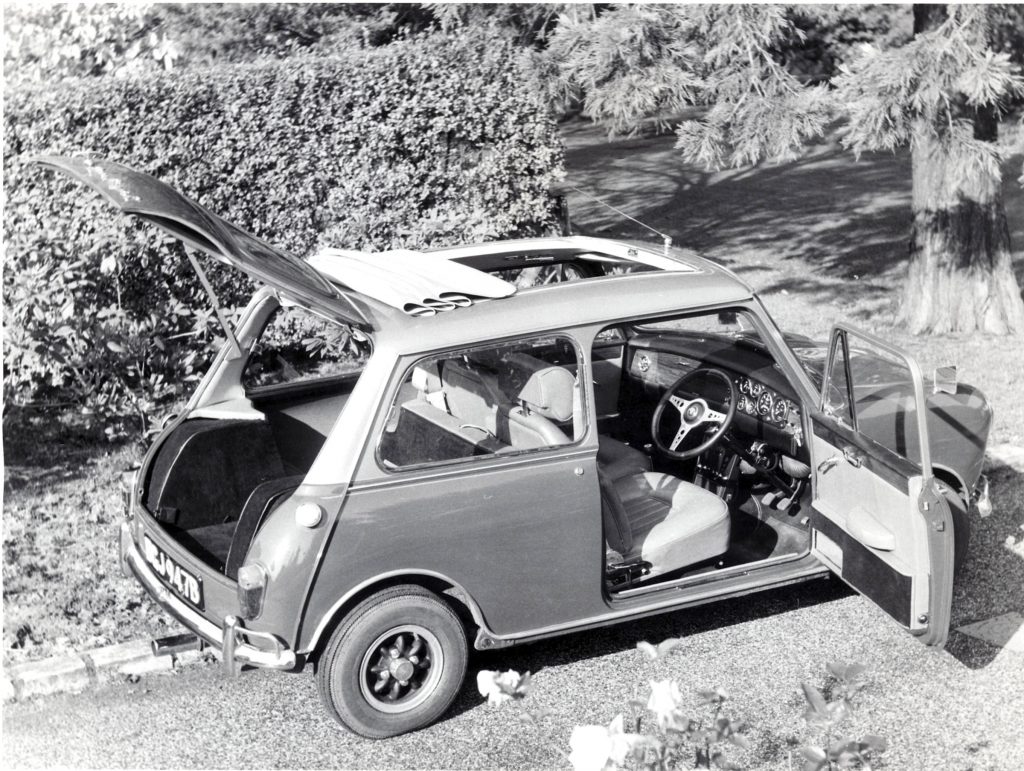 Second, and for reasons unknown, when Sellers asked Hooper to produce another one to use in his 1964 Inspector Clouseau film A Shot In The Dark – and to give to director Blake Edwards as a present afterwards – Hooper point-blank refused. Instead, in 1963 he turned to Harold Radford (Coachbuilders) Ltd, which took it on with glee.
Harold had departed and there the Hooper car was the template. The Hammersmith workshops were then being run by one Graham Arnold, and in a letter to me he claimed to have had the idea for a super-lux Mini himself. 'After Harold had left we took a long, hard look at the Countryman conversion of Rolls-Royce and Bentley and the tough times Britain was experiencing. I took the executive decision to produce a "Millionaire's Mini". We fitted a Mini Cooper with leather interior, luxury seating, electric windows, Riley 1.5 headlamp hoods and basketwork panels treatment. Peter Reynolds, managing director of our [HR Owen] Rolls-Royce and Bentley division, had the bright idea of painting the cars in Rolls-Royce two-tones, and offering them to customers who had a Rolls painted that way already. We started off with R 1000 and painted it silver over maroon. We showed it to Sir Basil Smallpiece of Cunard who ordered one on the spot, without asking the price!'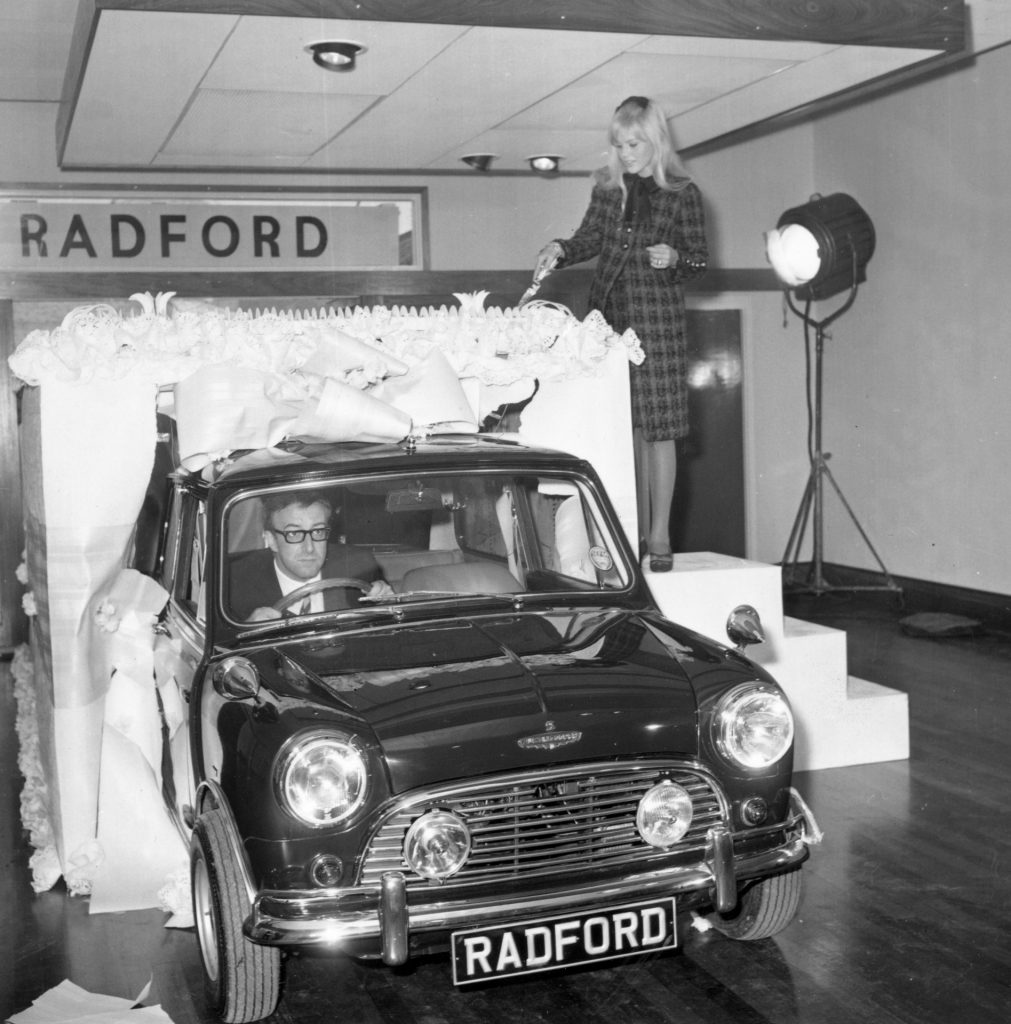 Arnold also said he adopted the 'Mini-de-Ville' name for the galaxy of conversions the Radford company subsequently offered, which later included one for Sellers' wife Britt Ekland, complete with an integral hatchback, which she drove out of a huge wedding cake in the Radford showroom in Hammersmith as a cheesy PR stunt in front of tabloid paparazzi in October 1965.
By that time, the Radford firm had been sold off by HR Owen to Taree Ltd, run by the Hon Christopher McLaren and the Australian John Kary. Graham Arnold had departed for Lotus.
But what of Hazzer himself?
Despite having had virtually nothing to do with the Radford Mini, he seems to have hung around as a matter of honour. "He wanted to remain associated just to be able to say 'I am Harold Radford'." said Eddie Collins, the company's manager who replaced Arnold and later founded rival customiser Wood & Pickett. "He was an absolutely charming man, though – someone who I would call a proper English gent."
And so it was Radford's influence and bizarre role as unpaid ambassador that next reeled in Aston Martin.
"David Brown, whom I knew very well indeed, came to me and asked if I would do an estate car on his Aston Martin, for shooting and that sort of thing," Harold told me back in the day. "So we did the conversion for him. We built about 12 further examples for Aston Martin. We also did a special body for Stirling Moss based on the Ford Cortina, which was designed by Ogle. I remember meeting him in our works in Hammersmith, and discussing all the details with him; he wanted all sorts of funny things inside, but we didn't touch the engine."
The by-now famous firm then seemed to branch out in all kinds of directions. It won a contract to produce the seating and interior for the roadgoing Ford GT40; it started to turn tin-top cars into convertibles, including the Volvo P1800 and Jaguar 420; and it executed luxury makeovers on such unlikely stablemates as the Citroen DS Safari, Alfa Romeo GTV and Vauxhall Cresta. At one point there were 90 craftsmen hammering, painting, carpentering, stitching and polishing in Hammersmith. The enterprise, apparently with terrible cost control, then went bankrupt in 1966, and although the name lingered on until 1975, it was effectively all over.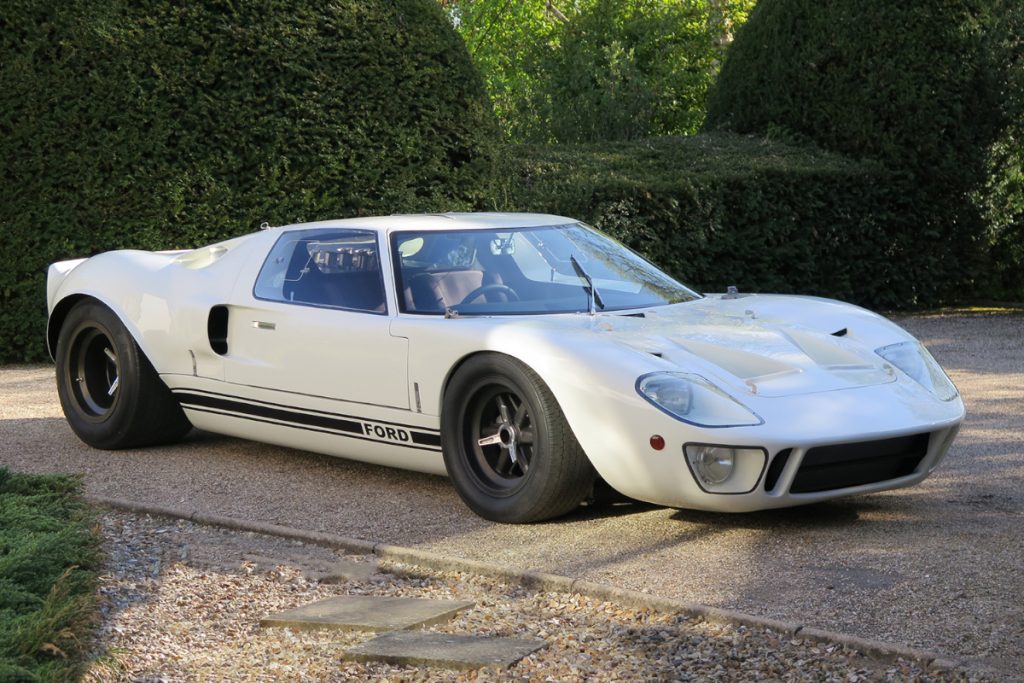 Harold Radford passed away in March 1990, and so he never lived to see two attempts to revive his company. The first was in 1992 for a series of classic Mini modifications including one with the wheelbase stretched by 10in via longer doors; the second was in 2005 with an opulent £30,000 transformation of BMW's MINI. Neither one proceeded much beyond the initial launch, perhaps suggesting that Harold Radford was an intriguing name best left to history. Jenson, Ant and the lads, however, clearly think they can bring old Harold's blend of craft and contacts back to life.
Whether they can ever operate in the same well-connected circles, though, is another question. His little black book must have been unrivalled in his heyday. For example, he told me of his hush-hush involvement in top-level international relations.
"At the 1952 Motor Show, I had the Rolls/Bentley stand and also a Hotchkiss stand, but the secretary of the Society of Motor Manufacturers & Traders, a Mr Stanley, called me urgently. He'd just had a phone call from 10 Downing Street saying it was very important to get the Spanish to increase our export quota because so few English cars were allowed into Spain.
"They would only agree to this if their new luxury car called the Pegaso was exhibited at Earls Court. I was asked to exhibit it at the show, and was assured it wouldn't cost me anything. So I was given a stand in a very prominent position. I then had a phone call from the Spanish ambassador: would I please give a champagne cocktail party on the stand, and invite the chairman and managing director of every English motor manufacturer, and he was arranging for Prince Philip and the Queen Mother to come. He insisted it must be on the stand, all around the cars. I cleared it with the SMMT, and organised the whole thing.
"Prince Philip looked at the car and asked me the price, which was in the region of £10,000. 'Who the bloody hell's going to pay £10,000 for a thing like this?' came his reply. Unfortunately he was overheard by the Spaniards." The Pegaso on display didn't have an engine and, although Harold took one deposit from building tycoon Robert McAlpine, the Spanish factory never built the car…
At the end of his life, Harold Radford was the satisfied owner of a Honda Accord proudly bearing his HAR 1 cherished number plates
"I consider Rolls-Royces too ostentatious, I've always owned Bentleys, but there's no English car to touch it," he said then. "I mean, how can you justify £60,000 for a Rolls-Royce or Bentley? It's a horrible thing to have to say, but I'm afraid it's true!"
Back in 1986, that made a wonderfully spicy ending to our interview. However, a few weeks after it was published, I received a sheepish letter in which he atoned: 'I realise I made one terrible mistake about which I am really very ashamed', referring to his heretical damning of Rolls and Bentley. 'If you get an opportunity to rectify my terrible error which has cost me considerable embarrassment and adverse comments from old Bentley friends of mine, I would much appreciate it.'
It's taken 35 years but no problem, Harold, old boy…
Read more
Button and Anstead rev up Radford with Project 62 mid-engined sports car
The One That Got Away: Paddy Hopkirk's first car
Review: The David Brown Mini Remastered Oselli Edition is a miniature marvel