Think back to the best gig or party you've been to. Now imagine you could click your fingers and be back in that moment. Admit it; you're tempted. What if you could do the same with cars? How many of us would want to be back behind the wheel of a hot Mini, bombing along a perfect stretch of B-road, the engine shrieking, car dancing and you and a friend or two laughing along without a care in the world?
That, in a nutshell, goes a long way to justifying the existence of the Mini Remastered Oselli Edition, the latest offering from David Brown Automotive. If the saying 'everyone loves a Mini' is true, then all those who cut their teeth on a Mini and have now grown up, worked hard and set aside money to indulge themselves, may find the lure of this plaything irresistible – especially after driving it.
How much is your car to insure? Find out in four easy steps.
Get a quote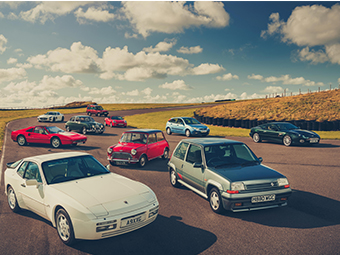 Driving is almost the wrong word. You hussle a hot Mini, forever busy with the steering, throttle, brakes and gears, working away in a blur of activity like a trader in the pit of a trading floor. It is never not doing something, so you need to engage with it, roll up your sleeves and get stuck in.
And that is, in the main, why this little car costs so much money – the best part of £100,000. At this point you're possibly thinking, "How much?!". But David Brown Automotive has already shown there's an appetite for such indulgences, in the guise of the original Mini Remastered car that was introduced in 2017. The hotter Oselli Edition is likely to find even more fans.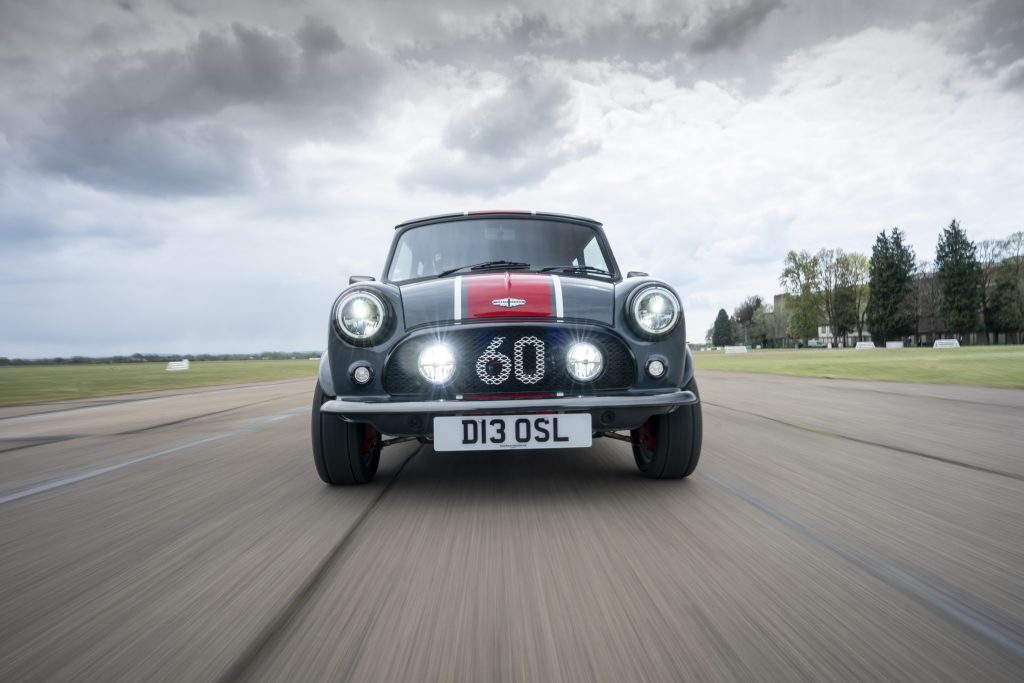 A lot of work has gone into creating the basis for the run of 60 Oselli Edition Mini Remastered cars, much of it beneath the bonnet or where the eye can't see, and it has created a car that serves up a unique driving experience. Unless you own an original, hot Mini, you won't have anything quite like this in your garage, and once you've left-foot braked your way into a corner or five – on a race track, naturally – you will appreciate that nothing but nothing is as plain fun as a hot Mini.
Jack Aitken, reserve driver for the Williams F1 team, agrees wholeheartedly. Aitken's first car was a Mini, a 1275 GT. Today he gets around in a second-generation Mini John Cooper Works. And he's been involved in the development of the Mini Remastered Oselli Edition, working on the damping, steering and general fine-tuning of the rorty little car. Minis, it would seem, have got under his skin.
Together, we're zipping around the modest circuit at Bicester Heritage, piling into the longest of the right-hand corners, me giving it the beans, in technical parlance, and Aitken encouraging me to left-foot brake deep into the corner in a manner that feels unnatural. The intention, he says, is to keep the Mini rotating.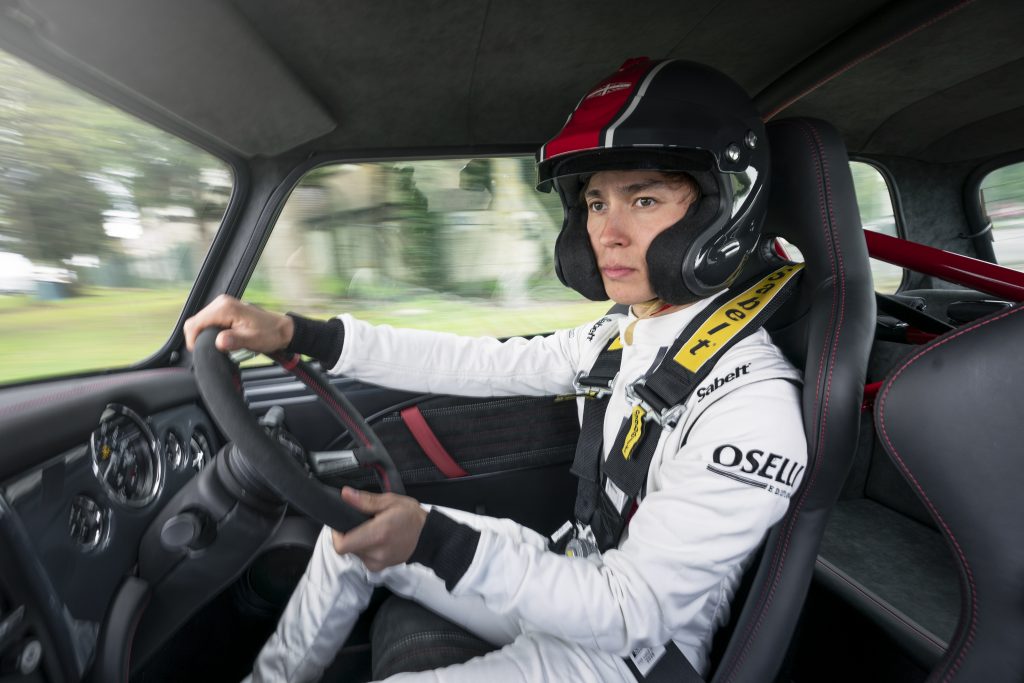 And sure enough, rotate it does. The Oselli Edition car needs no excuse to shake its booty. Tweak the steering and it twerks its backside; lift off the throttle and it drifts more aggressively; back out of the power and get on the brakes as you carve into a bend and the car remains at a jaunty, oblique angle to the direction of travel until you return right foot to throttle and straighten it up.
Set things up correctly for a sequence of corners and the Mini sashays its way through the turns in true 'Scandinavian flick' style, making you feel like Paddy Hopkirk, Graham Hill and Barrie 'Whizzo' Williams rolled into one.
All the while, the little car talks to you in a way no other car can. Your bum, finger tips and ears are spoilt rotten with feedback. It's why, when you see them racing today at Brands Hatch, Goodwood, Silverstone and beyond, they appear to dance before your eyes. At a track, a hot Mini is always operating at the point where grip turns to slip; it's the driver's job to manage it in that window, drifting hither and tither while keeping it out of the kitty litter.
The noises as you play are Mini signature sounds. The rear tyres rub the wheelarches every now and then; the engine note flares as the front tyres and limited-slip differential hunt for traction; the carbs snort as you heel-and-toe into a turn.
With just 790kg to shift, it is brisk, even if the stats seem nothing special. It can probably get to 60mph in a shade under 8 seconds and the top speed might just make 100mph, on a good day with a following wind. But by now you might have twigged that it is the way you maintain rather than build the speed that makes the experience so enthralling.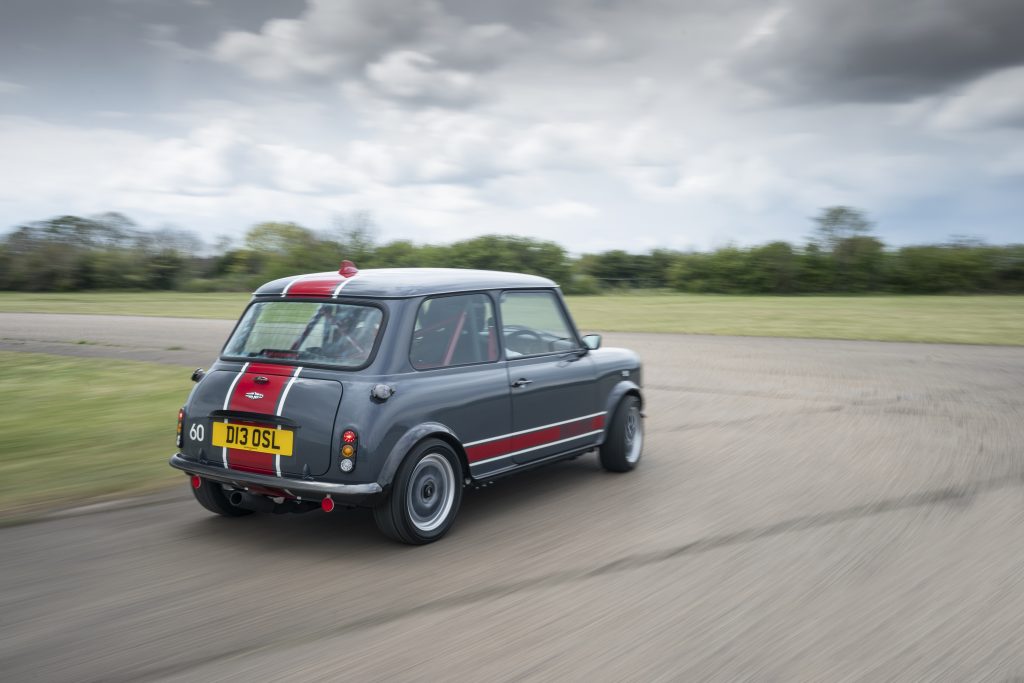 Firing it down the straights is an A-Series engine that has been built by Oselli Engineering, the engine building specialist residing outside Milton Keynes these days, that was founded in 1962 and has been breathing new life into A-Series engines since.
Oselli takes a 1275cc, four-cylinder lump and bores it out to 1450cc, fits lightened and balanced rotating parts and tops it off with a hand-ported and polished cylinder head. There's a new crank and camshaft, as well as upgrades to the flywheel and clutch and a reworked five-speed gearbox. The motor runs a compression ratio of 10.1:1 and breathes through twin SU carburettors. This means it sounds delightful and loves to rev; below 3000rpm you have to tickle the throttle and persuade it to play. Beyond this point it gets its groove on, you can floor the throttle and it growls its way past the peak torque of 113Ib at 4500rpm and then beyond 6200rpm, where all 125hp lies.
That said, it's not set up to be a race-track special. The motor is tractable enough to potter about town, even if – during my time behind the wheel – there are a few instances when it died declutching coming to a stop. But that could be down to running the air conditioning (yes – really!). A little further fine-tuning could be in order.
Out on the roads around Oxfordshire, it is the Oselli Edition's suspension pliancy that is a pleasant surprise. The car does without anti-roll bars, and its Bilstein dampers have a fluid feel, while the little 13-inch Yokohama tyres gently track with the camber of the road. The car is never not doing something; it feels ever-alert but never unhappy or agitated. It's a joyful, playful little thing, and the electric power assisted steering is perfectly resolved to lend a hand at low speeds but back off as the pace builds so you feel every grain of detail through the Alcantara-trimmed wheel.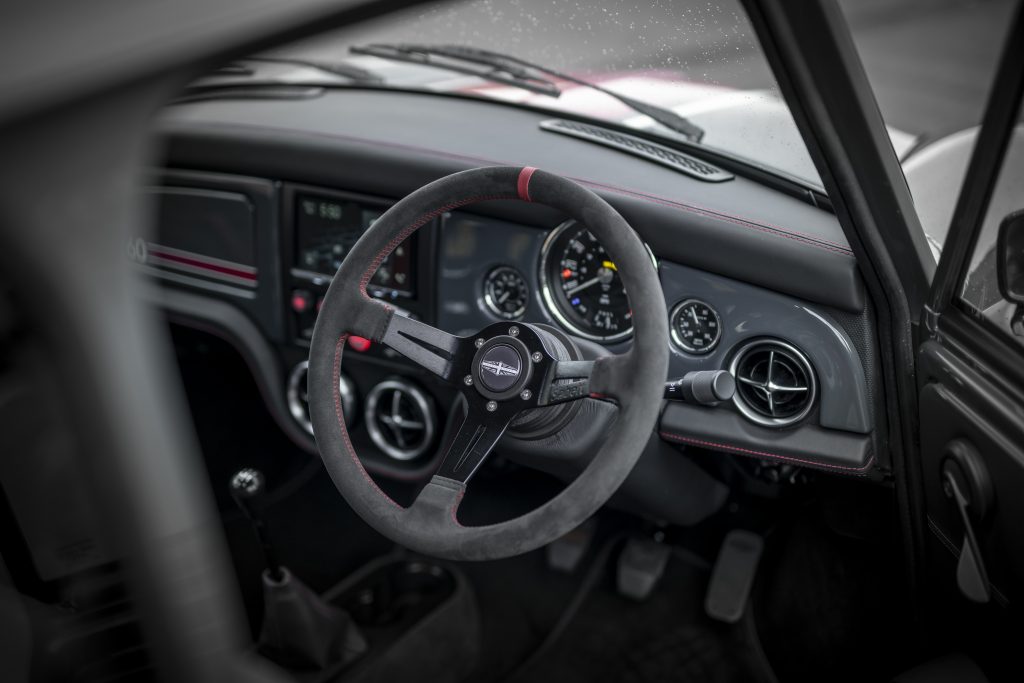 The throttle response never fails to amaze, the clutch is easy to get along with and with a bit of practice the spindly gearlever can be deftly manipulated with accurate shifts. Only on the odd occasion did I find myself crunching into second hear, something that can be ironed out with enough rev-matching
Behind the 13-inch alloy wheels are AP Racing front brakes, which cram in 4-piston calipers, and at the back there are aluminium rear drums. The brakes felt strong in all conditions, but the throttle pedal could do with an extension plate to make it easier to heel and toe – you can't do it while keeping your heel on the floor at the moment. David Brown agrees it's one thing that could be tweaked. As for the rest of the driving position, what's this – more legroom than I could possibly need, fantastic Sabelt seats and steering wheel, and everything nicely centred? Miracles do happen.
Needless to say, it's no miracle. David Brown Automotive takes a new heritage body shell and performs all manner of surgery to make it what it is, to both the exterior and interior – including modern rust protection treatment and no small amount of reinforcement. Removing the shell's seams may have purists tut-tutting, but it's surprising just how much cleaner it looks for it.
And oh my goodness does it look good. If the Oselli Edition doesn't melt your heart, take yourself off for a cardiogram immediately. The stylistic flourishes are tastefully judged, the colour schemes work a treat and the level of personalisation available means no two of the 60 cars are likely to be identical.
The biggest choice anyone will have to make is whether to have two or four seats. Personally, I'd have two seats with five-point harnesses together with the half-cage configuration of the test car. After all, this is not really the sort of car for the school run. And I'd ask that the central speedo be swapped for the rev counter and vice versa, should red tape regulations permit such choices.
Other than that, I wouldn't change a thing. All the switchgear and detailing displays an impressive level of craftsmanship. You can see where the time and effort has gone in addition to the engineering of the car.
By now, you're possibly minded to wonder why on earth someone would pay such a significant sum of money for such a seemingly insignificant little car. Drive it, though, and you will understand. A hot Mini like the Oselli Edition feels alive.
Add this to your collection of cars, or have it as your only plaything, and you can be assured that every time you climb behind the wheel, this tiny machine will transport you to a special place. When a Mini dances about beneath you, all is good with the world.
2021 Mini Remastered Oselli Edition specifications
Price: £100,000 (est)
Engine: Four-cylinder, 1450cc, twin-carb
Power: 125bhp @ 6200rpm
Torque: 113Ib ft @ 4500rpm
Gearbox: 5-speed manual, front-wheel drive
Kerbweight: 790kg
0-62mph: less than 8 seconds
Top speed: About 100mph
Read more
Little red devil: MST Mk2 review
Revenge is sweet: Maserati MC20 review
Review: The Ami city car is Citroën's welcome return to stranger things