Minsk? Why on earth did you start in Minsk, Paddy? Paddy Hopkirk, 86-year-old rallying legend, effortlessly charming Ulsterman, 1964 Monte Carlo Rally winner and the man indelibly linked with the Mini legend, thinks for a bit.
"Ah yes, Minsk," he says. "Well Stuart Turner, BMC Competitions manager, didn't want to put all his eggs in one basket. Anyway I'd never been to Russia so I put my hand up."
Modesty prevents me from reminding Hopkirk that he once told me how he'd traded a load of stockings for a big tin of beluga caviar out there, which he hid in the Mini's tool box, but he does remember something I hadn't heard.
"Raymond Baxter [distinguished television presenter, writer and wartime Spitfire pilot] started there as well. He was driving a Mini Cooper, and when the Russians heard the BBC was there, they sent down a complete army unit with big diesel trucks and searchlights. So one of the young soldiers gets one of these million candlepower searchlights and hits the main power cable with it and puts out the electrics for the whole city…"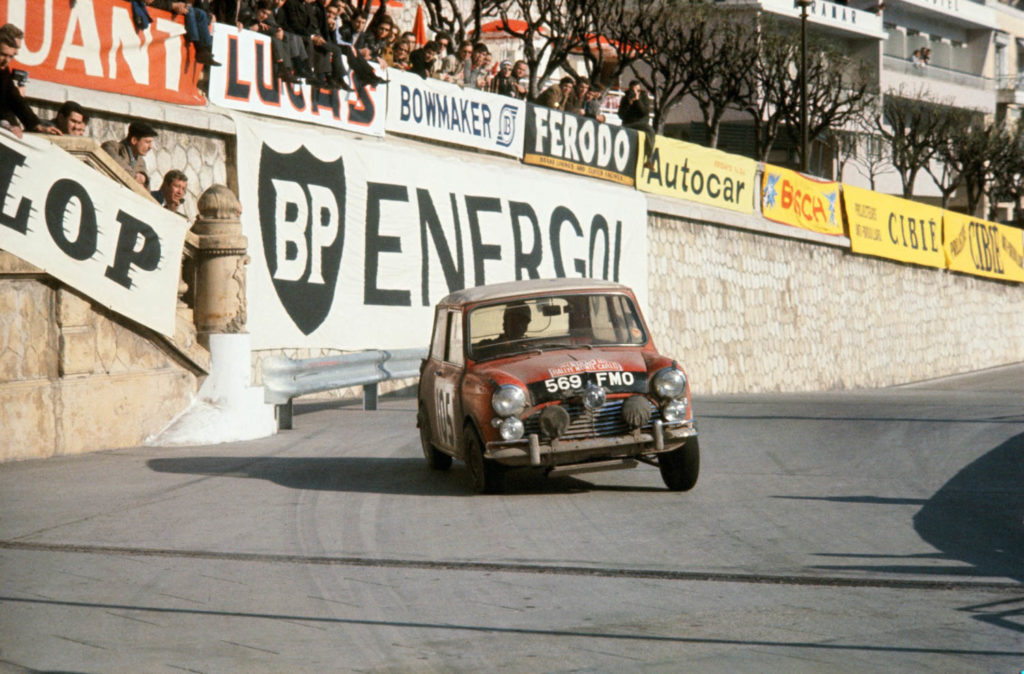 That was how international rallying was in 1964, you didn't just climb out of the helicopter, kiss the popsie (male or female) goodbye and pull on the fireproofs. Participation depended on driving non-stop from a far-flung location (Minsk was one of nine in 1964, the others being: Glasgow, Warsaw, Frankfurt, Lisbon, Athens, Monte Carlo, Oslo and Paris) before facing down the might of works teams over several days and some of the toughest roads in the Alps.
Motor Sport magazine reported that Hopkirk's rivals in Russia also included Sidney Allard and his son Alan in Ford Cortinas, Michael Fostick in a Hillman Imp and a team of Russians in Volgas and Moskvitchs, although they lacked maps for the route through France and missed all the important controls.
This 33rd Monte Carlo Rally also saw an entry from a strong team of powerful Ford Falcons, which were expected to do well, with lead driver Bo Ljungfeldt much the favourite. The weather wasn't as snowy and icy as expected, but that meant tyre choices were critical as some sections had both clear Tarmac and ice which penalised the heavier, more powerful cars.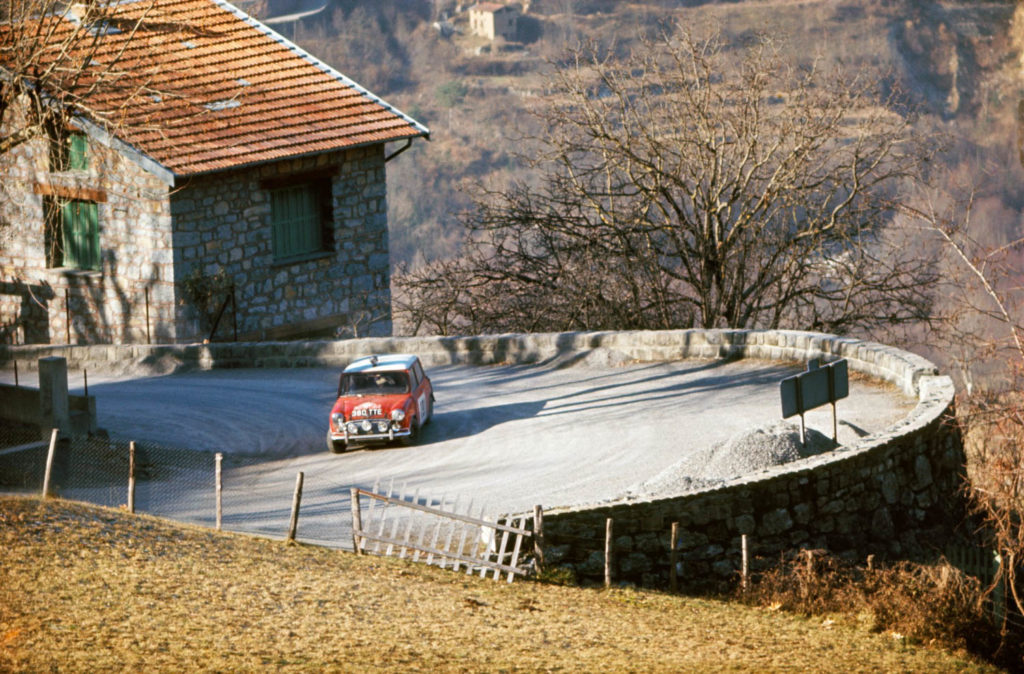 "It wasn't the toughest rally," Hopkirk recalls, "but it was the most glamorous. Motorsport was a different thing in those days. People followed the Monte, it was front-page news as well as being on the sports pages. Rallies were seen as a thrilling adventure and while there were better and tougher rallies like the Acropolis or the Liège-Rome-Liège, they didn't get the publicity. There'd be lots of journalists sitting on their arses in Monte Carlo just waiting for something to happen; sneeze and you'd be on the front page."
Alec Issigonis's 'wizardry-on-wheels' Mini was launched in 1959, with the Cooper version debuting in 1961. It had got off to a slow start, but by 1963 the little car was fairly flying off the lines at Longbridge, with production figures of 236,713 for 1963 and 244,359 in 1964.
Early rallying success proved elusive for Mini, however, with its 848cc engine too slow to keep it in contention. Issigonis said he'd not developed the car for motorsport and even dismissed the car as "the district nurse's car". That changed with the arrival in 1961 of the 997cc Cooper with disc brakes, and Stuart Turner, former journalist and rally co driver to head up the competitions department. Monte success still eluded the team, however, though in 1963 you could see the planets start to align…
By this time Britain was well into the Swinging Sixties, with the tightly repressed and rationed world of the Fifties giving way to new ways of thinking, living and dressing…
Mary Quant generously credited the girls on the Kings Road for the invention of the mini skirt, but by 1964 she and French designer André Courrèges had raised hemlines to as much as eight inches above the knee for a wearable pelmet, which Quant is reputed to have named after her favourite car.
The country was ready for new things. Ro Ro ferries, introduced on the Dover Calais route in the early Fifties had carried 100,000 in the ensuing decade. Elizabeth David published her second influential cookery books on France, French Provincial Cooking in 1960 and we were beginning to understand what garlic and artichokes were actually for.
Music was changing, too. The Beatles, formed in 1960, had released their first album Please Please Me and then With The Beatles in 1963. Beatlemania was in full cry and thousands of young girls in miniskirts and backcombs would turn up at Heathrow to scream themselves hoarse simply to see the Fabs climbing onto an aeroplane.
Actor Peter Sellers hot off the success of The Pink Panther movie in 1963 and walking out with Swedish actor Britt Ekland, took delivery of his coach built Mini costing £2,600 at a time when the standard Mini Cooper cost £679.
Labour leader Harold Wilson had given his "White Heat of Technology" speech at the party conference in September 1963 and was soon to be Britain's youngest ever prime minister. The winds of change were in the air, including the fortunes of Mini on the Monte.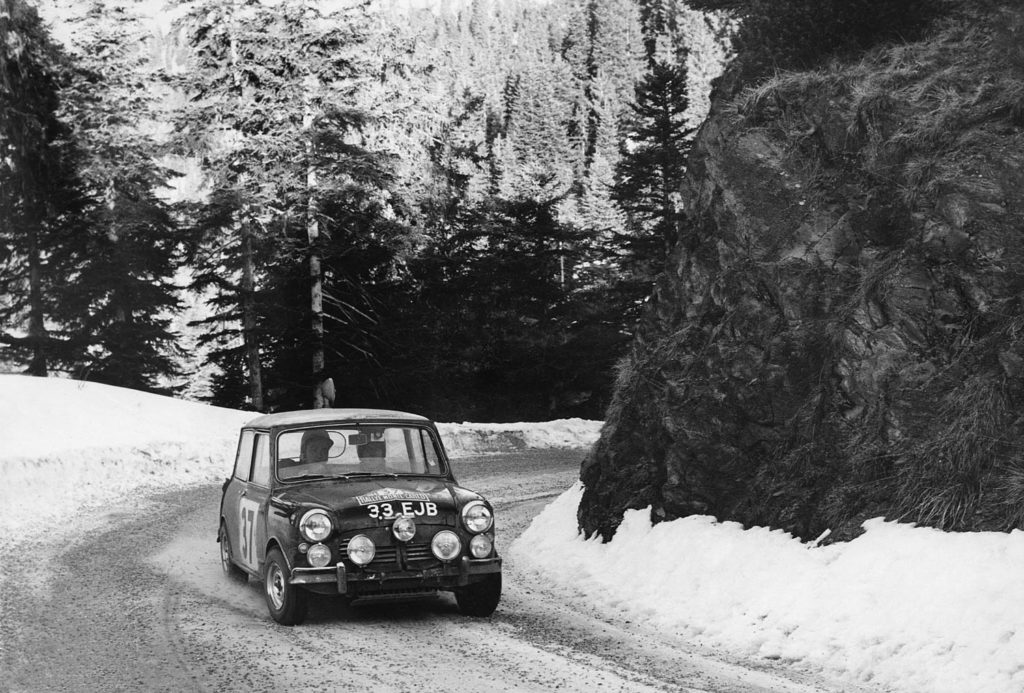 Flying Finn Rauno Aaltonen had proved the potential with a fine third place on the 1963 Monte (Paddy Hopkirk was sixth) and in April the Cooper S was launched with an uprated 1,071cc engine. Hopkirk proved its mettle with a first place in that year's Tour De France rally in 33 EJB, his Monte car.
"The French went mad about it," he says, "it was the first time that rallying had been on French national television every day," he recalls, "and after that French dealers were ordering more Minis than they'd ever done before."
Even John Thornley, MG's managing director had grudgingly predicted that despite its days being numbered as a competition car, the Mini "could still win the next Monte."
As then there was Hopkirk himself, newly teamed with the dapper Englishman Henry Liddon as co-driver. Hopkirk learned to drive on a bequeathed Harding 250cc invalid carriage with tiller steering (both it and 33 EJB are in the British Motor Museum at Gaydon in Warwickshire) and had some success in auto tests with an Austin Chummy while at university. He dropped out and went to work at VW Dublin's retail operation in Ballsbridge, which is when he started having success rallying a string of VW Beetles, winning his class in The Circuit of Ireland in 1955. A good 'deal' on a Triumph TR2 ensued and in 1955 he won the Hewison Trophy, given to the year's most successful Irish rally driver. He was offered a Vanguard drive on the 1956 Monte, but the organisers refused to change the name on the entry.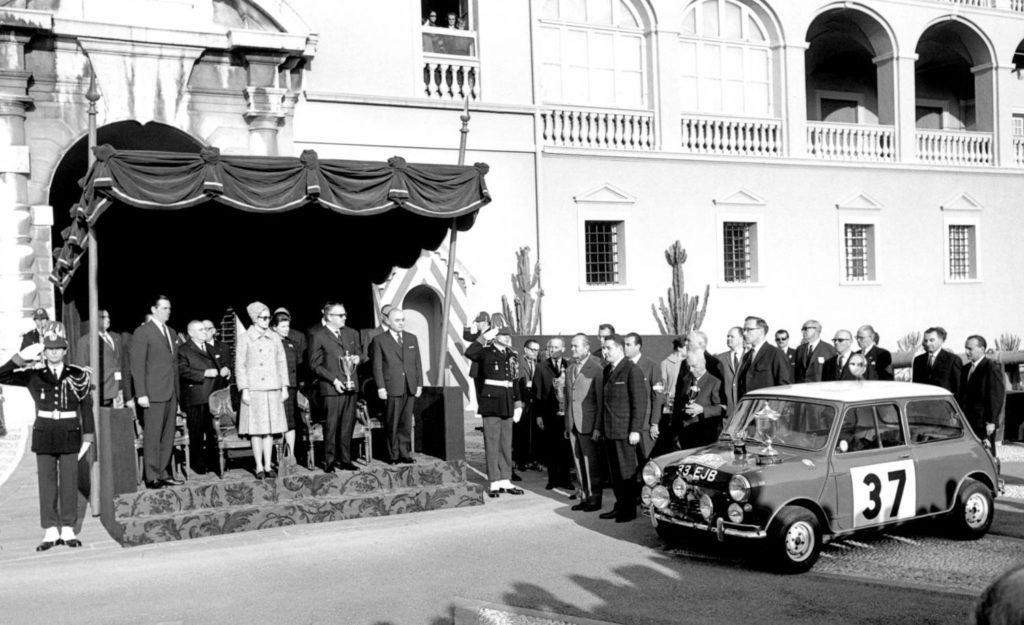 Standard Triumph team boss Ken Richardson kept faith with the big Ulsterman, though and drives were coming through as well as those in his own cars in Ireland. Hopkirk drove on the 1958 Monte in a Triumph TR3, won the Circuit of Ireland in a TR3a and was sacked by Richardson that autumn. He was swiftly picked up by Norman Garrad head of the Rootes team and achieved a lot of success including third place on the 1962 Monte. But he was tempted away by the professionalism of Turner at BMC initially behind the wheel of a big Austin Healey and then the Mini.
Monte Carlo, "Home of white yachts," as the Pathe News reels had it at the time, might have been a glamorous destination for the idle rich, but make no mistake this was a very serious rally. Ford of America had fielded eight 300bhp V8 Falcons with John Sprinzel, Graham Hill, Peter Harper and Bo Ljungfeldt among the drivers but there were equally committed works cars from Mercedes-Benz, Ford UK, Saab, Volvo and Citroën.
And Turner left nothing to chance. "He used to make us practise like mad," recalls Hopkirk, "it was all pretty professional, but the other teams were doing it, too. There was one night before the 1963 Monte; we were on the Chamrousse stage north of Gap when we saw some brakes lights ahead. We'd been up and down there all day and we thought, 'oh it's the Germans or the Swedes', so I chased and chased and when I eventually caught them at the bottom of the mountain it was Citroën 2CV with two nuns in it – must've left the vicar at the top of the mountain."
Hopkirk acknowledges Turner's logistical skills, too. "There were always the tyres where you needed, when you needed them" and the mechanical skills of the team including legendary mechanic Gerald Wiffin who built 33EJB. Turner even instituted ice notes where noted rally drivers Logan Morrison, Julien Vernaeve and Sir Peter Moon, drove the stages in Mini Coopers a couple of hours before the rally came through to amend the pace notes.
Ljungfeldt in the Ford set the fastest scratch times on all five special stages, but Paddy was driving the little Mini for all he was worth equalling the Ford's time on the Chorges/Savines leg.
"Henry and I pushed very hard and in places it was quite snowy, and because of the snow drifts the roads got narrower which were of benefit to the Mini.
"When we got down to Monte Carlo for the rest day Stuart Turner asked how we'd done and I said I'd no idea but we'd done our best and hadn't hit anything or done anything stupid. Of course there were no computers in those days so we had to wait. So we went to bed and it was French journalist Bernhard Cahier who phoned at 4 in the morning to say he thought we'd won. I thought we'd done pretty well in our cars, but those big American Fords were so much more powerful and faster especially up the hills on Tarmac – on a dryish road there was no way we could touch them, so it was a genuine surprise."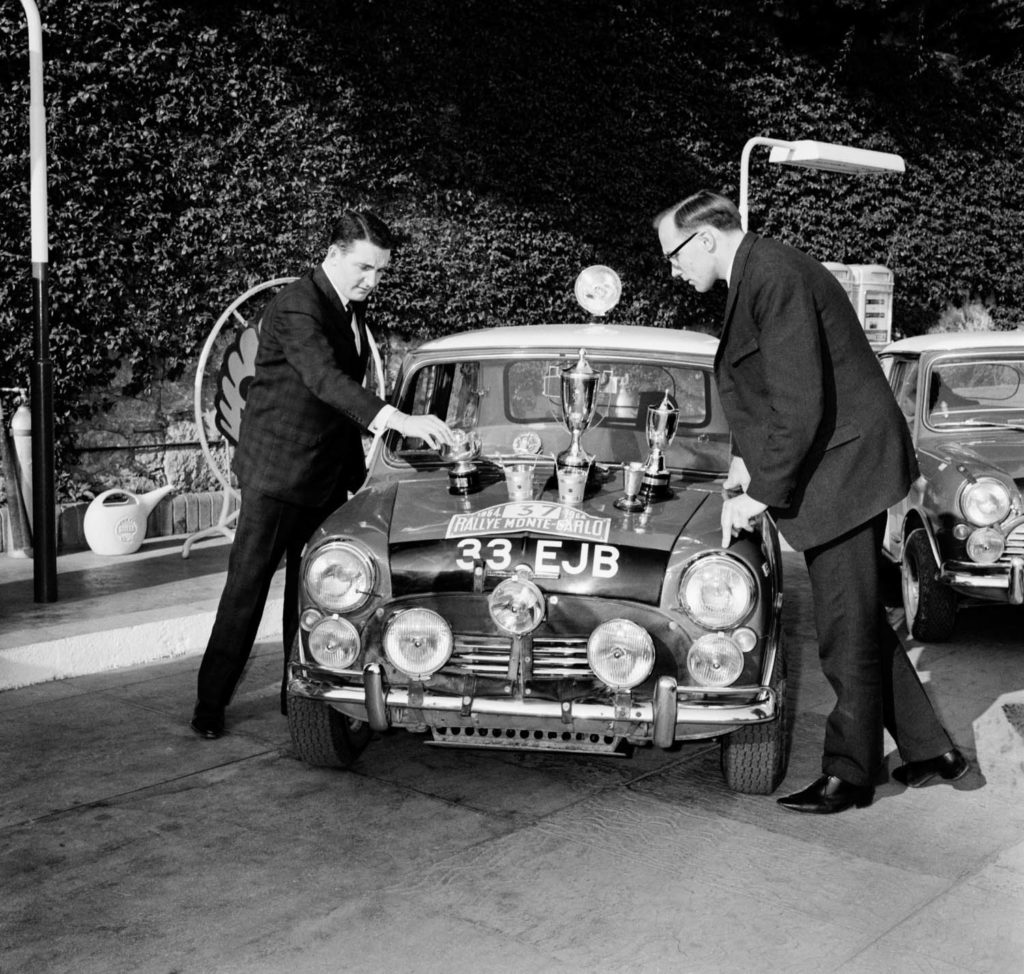 With Timo Mäkinen and Patrick Vanson fourth, and Rauno Aaltonen and Tony Ambrose seventh BMC scooped the team prize as well.
Hopkirk generously credits the team, Turner and the Mini, but that plays down his sheer skill and pluck behind the wheel. As Motorsport magazine put it: "these performances must have depended to a great extent on sheer nerve supported by reconnaissance as well as driving ability."
Hopkirk and 33 EJB were on the front of every British newspaper, the little red Mini was shipped back to Blighty to appear on Sunday Night at the London Palladium, Lew Grade's prime-time entertainment show with Bruce Forsyth, Tommy Cooper, singer Kathy Kirby and The Tiller Girls; one estimate puts viewing figures at 22 million, which is about twice that for Ant and Dec's current Saturday night equivalent.
"Golly I wish we had the tapes of that show," says Hopkirk wistfully. "I do have a photograph of the Beatles with a personally signed inscription saying: "you're one of us now, Paddy." He reckons there's a film being made of the rally, but it's currently in development hell.
Hopkirk can't remember how much he got paid for the win, but says it was "the making of me and on the strength of the win I bought a house in Belgravia, 40 Groom Place; Jimmy Clark rented a room with me for a while."
As for BMC, it commissioned a report on the benefits of Hopkirk's win concluding that Mini sales were 53 per cent up on the same quarter in 1963 and 1100 sales were up 35 per cent. It founded the reputation of the Special Tuning department and that of Downton, which had helped develop the engine. Mini went on to win the Monte twice more in 1965 and 1967 and didn't win in 1966 when the French organisers expelled the team on dubious grounds for cheating.
Above all Hopkirk's win created the myth and reputation of a giant-killing little car, which went on to become the most successful British cars of all time with over 5.3 million built between 1959 and its eventual demise in 2000.
Marvellous Mini and a pretty marvellous driver, too.
Read more
Paddy Hopkirk, the man who put the Mini on the map, has died aged 89
The One That Got Away: Paddy Hopkirk's first car