There has been the odd creative spark, the occasional dissenting move from the mainstream, and even one or two examples of genuinely fresh thinking (the Cactus's side 'air bumps' were certainly effectual, even if they were ugly). But now, for the first time in four decades, Citroën is being brave again. It has boldly gone where no mainstream car maker has gone before. The new Ami electric city car is a daring and highly original attempt to answer the thorny issue of motorised urban mobility.
Citroën has innovative form, of course. In the '50s, '60s and early '70s, before Peugeot bought Citroën and emasculated it, Citroën was the world's boldest car maker. Every new model was a brave attempt to reinvent the automobile rather than a gentle refinement of the status quo, as is the case with most new cars today. We saw new suspensions, new engines (notably, a bi-rotor), new aerodynamic solutions, new ways to steer and to brake. Gallic eccentricity met genius to produce some of the world's most modern and memorable cars, such as the DS, GS, SM, CX and more.
How much is your car to insure? Find out in four easy steps.
Get a quote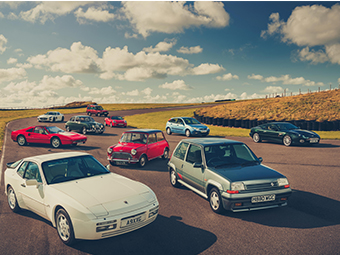 Then we had generations of facelifted, cheaper Peugeots. Linda Jackson, the former Citroën boss, sought to rekindle the flame, and at least cars under her watch – the Cactus, the C3 and C5 Aircross, even some of the small hatchbacks – had distinctive style and a pleasing priority on comfort.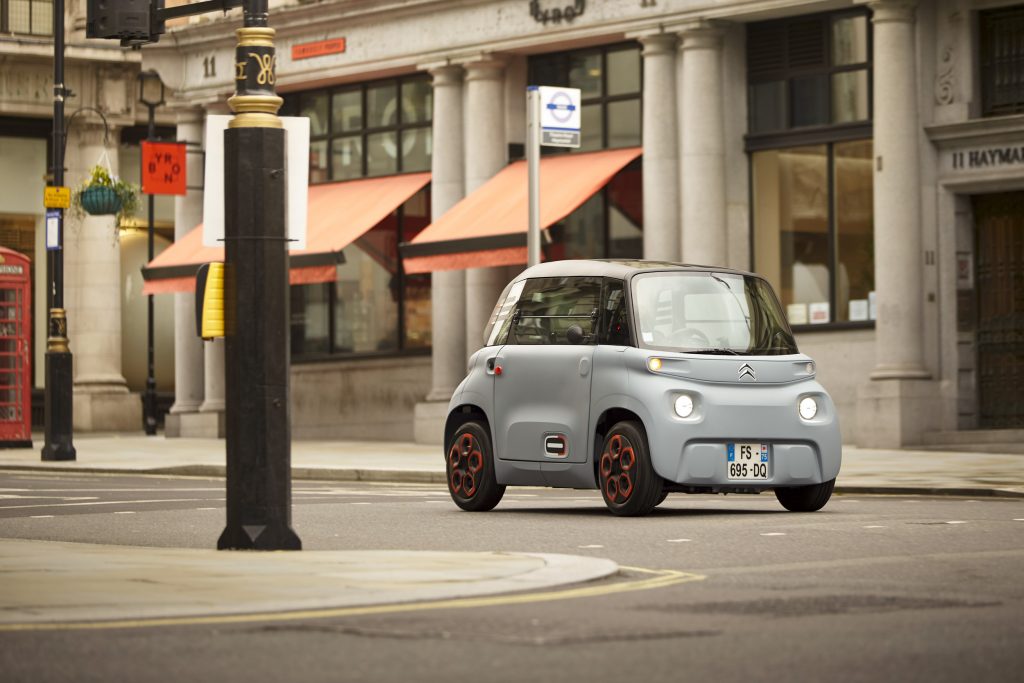 The new Ami seeks to redefine the car, or at least the city car. It's very small, at just 2.4 metres long (or about three quarters the length of an original Mini). It's Europe's cheapest car, available for under £20 a month leasing plus a deposit of about £2400. (You can also buy one outright for about £5500, though not many people will.) And, at just 485 kg total weight (no more than a Caterham Seven) and with a tiny 5.5 kWh battery, it has a minimal environmental footprint, in both manufacturing and in operation.
Rather than an alternative to a small conventional hatchback – all of which are bigger and much pricier – the Ami is an alternative to a motor scooter, a bicycle or even the bus. In France, where deliveries began a few months ago, it will be mostly used by car sharing schemes, notably Free2Move. From as little as 20p a minute, plus a monthly subscription of under £10, you are free to roam Paris and other French cities in an Ami. You don't even need a driving licence. Fourteen-year olds can drive these tiny Citroëns. In other European countries the age limit will be more typically 16. Some nations will insist on driving licences and that will probably include the UK, where deliveries are likely to commence in early 2022.
The no-licence loophole is because the Ami is officially a quadricycle, not a car. That also allows it to circumvent safety regulations, saving cost and adding to its design simplicity. So, we find no airbags, crumple zones or electronic safety aids. It may not be as safe as a small hatch but it's a lot safer than a scooter or bicycle in a crash. Plus, top speed is just 28mph.
The Ami is built in Morocco, which presumably also saves a few quid compared with Europe. The structure is a simple welded steel spaceframe, to which are fixed unpainted plastic panels. Further to save manufacturing costs, the front and rear plastic panels are identical. So are the right and left doors. The driver's door – all Amis are left hookers – is rear hinged and opens like the coach door of a Rolls-Royce. (The similarities between a Rolls-Royce and a Citroën Ami end there). The right passenger door is front hinged, as in a conventional car.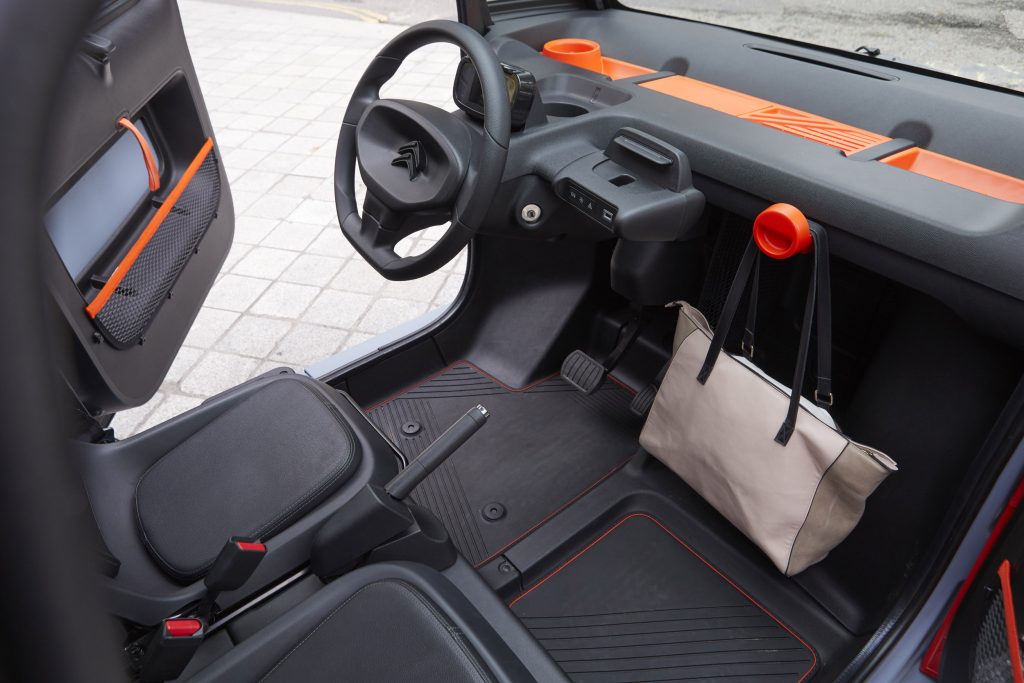 The doors open wide, giving excellent access, and inside we find a simple, colourful and minimalist cabin. A big glass roof bathes the cabin in light and the deep glazing also helps the brightness and airiness. Under foot are simple rubber mats. The only instrumentation is a small digital display, for speed and range. There's a cradle for your smartphone, which supplies your music, your navigation, and whatever other infotainment your phone can serve up. A set of portable speakers can be fitted on the big and versatile dash tray.
The doors are opened by conventional key (and lock) – remember them? Another key turns the ignition. Select Drive, Neutral or Reverse by buttons next to the driver's seat, and you're ready for action. Or rather, ready to move, for the Ami is not very fast. There is no 0-60 mph time, for the Ami can't do 60. It can't even do half that. But it gets along quickly enough, and the 28mph top speed is fast enough for nearly all urban driving.
It's a hoot to drive. It reminds me a bit of Renault's lovable Twizy, the nearest 'car' to an Ami. But while the doorless Twizy is really a plaything for sunny climes, the Ami is way more practical, and far more big-city focused. Plus its two abreast seating is more sociable than the Twizy's tandem chairs. And, guess what, the Ami is no wider, either (and just a smidgen longer). The ride is firm, and potholes can jar. But, again, it's okay; you'll still be smiling.
The seats are fairly basic plastic shells with pads for bum and back, but they're comfortable enough for short journeys. The cabin is surprisingly spacious, easily big enough for a tall driver and tall passenger, and the stowage space – in the passenger footwell, behind the seats, and in deep door pockets – is generous for a car so small.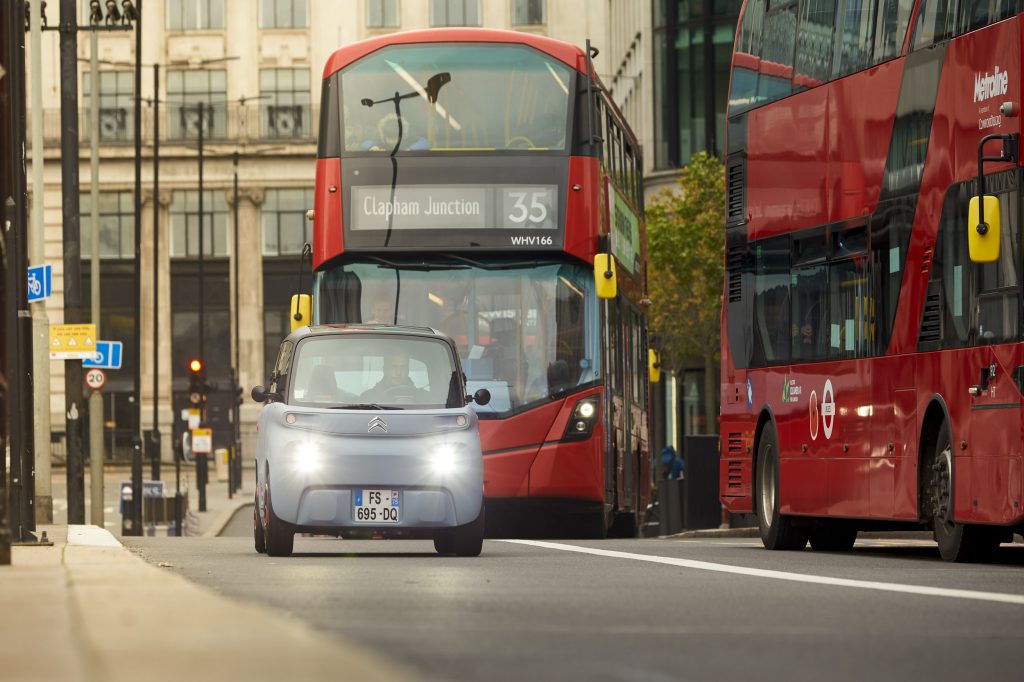 Range is very decent 43 miles. That's the claim and, unlike virtually every other electric car, my test Ami delivered on its range promise. Charging is by a normal 230v home socket. There's an onboard cable and it's blissfully easy compared with the faff of some fast or rapid chargers. And because the battery isn't very big, just 5.5 kWh, it charges in three hours.
Is it the solution to urban mobility and the race toward a net-zero society, as Citroën hopes? It could certainly be part of the solution, in tandem with bicycles and buses and electric scooters and electric bikes. It is far superior mass transport for big congested cities than any mainstream car, owing to its smallness, manoeuvrability and eco friendliness (no exhaust emissions and its lighter footprint means fewer nasty particulates being thrown from its brakes and tyres).
I scooted around London, smiling more than ever before while driving in the capital. Many people grinned and waved. They weren't sure what it was. But they didn't care. The Ami makes everyone feel good. It's a long time since we've been able to say that about a new car.
Très petite voiture: the mythical car that gave rise to the Citroën 2CV