One of two surviving Mini Mokes made for the quirky classic TV show The Prisoner could soon be yours.
The classic, somewhat existential TV show, which ran from 1967 to 1968, is known for enjoying a cult-like following, which could lead to this star car selling for more than double the price of the very best Mokes.
How much is your car to insure? Find out in four easy steps.
Get a quote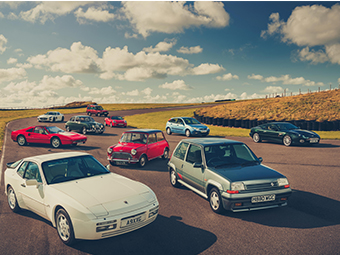 Wood & Pickett converted four cars in 1966, including uprating their original 850cc motors to 998cc Cooper specification. The Mokes were then sent to Portmeirion in Wales where shooting took place with the star of the series, Patrick McGoohan, and a Lotus Seven. (It can't just be us that thinks an island full of Mini Mokes and a Lotus Seven doesn't sound like such a bad thing, can it? If nothing else, the traffic jams would be fun…)
After the show was completed the cars were sold on, with just two believed to have escaped the crusher since. This particular model, built in 1965, is the only one that indisputably starred as its number plate HLT 709C was glimpsed in one episode.
It was discovered in a barn in Holland in 2015 and then completely restored in the UK by enthusiasts Phil Caunt and Jeremy Guy who acid dipped the shell and treated it to several new exterior panels, while the canvas top and seat covers were beyond repair and had to be reproduced. The car does retain its 'Penny Farthing' motif on the bonnet, though.
"Given the state of the car, it would have been easier to buy a new shell, but that would have undermined the authenticity of the car," says Caunt.
The Moke was also mechanically overhauled, with its more powerful engine rebuilt with new pistons, crank, and a rebore. The rebuild and restoration has been fully documented by the seller, and its provenance further documented by several magazine features in recent years.
Who wouldn't want to drive about in this marvellous Prisoner Moke shouting "I am not a number. I am a free man"? So far the numbers attached to the cost of this screen star may take casual observers by surprise. Richard Greenhalgh of Silverstone Auctions tells Hagerty it will be set with an estimate of £50,000 to £60,000 – meaning this mighty Moke may command more than double the price of a #1 Concours condition car, which the Hagerty Price Guide values at £27,500.
Interested? You can make your escape when the Moke comes up at the Silverstone Auctions November 13 sale.
Read more
A new Moke for the woke
The cars of The Prisoner at 50 years
'The Prisoner' Moke escapes from Holland