In a lucky find, one of four Mini Mokes used in the television show "The Prisoner" was recently discovered practically complete in a Holland barn.
You may recall that "The Prisoner," which aired in the late 1960s, was the brainchild of "Danger Man" actor Patrick McGoohan. In "The Prisoner" he was also director/co-producer/creator/theme-music-writer, and his allegorical tale concerned the retirement/imprisonment of a spy who knew too much. Historians have long argued whether he was retiring his character John Drake from the previous series.
How much is your car to insure? Find out in four easy steps.
Get a quote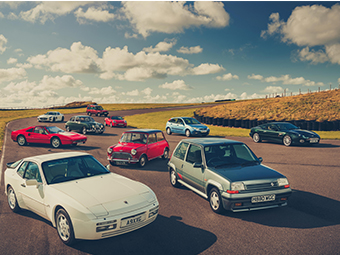 The series follows an unnamed British agent who abruptly resigns, then finds himself held captive in a mysterious seaside village. The Village is secured by cameras and security forces, including a balloon called Rover that captures those who attempt to escape.
The Village is filled with people from different cultures and each has been assigned a number. The agent inquires of the Village's chief administrator, Number Two, "Who is Number One?" to which Number Two responds, "You are Number Six." The dialogue continues, "We want information," to which the agent responds, "You won't get it!"
The task of extracting information from Number Six is carried out by the ever-changing Number Two, acting for the unseen "Number One." Number Six refuses to co-operate and struggles to concoct his own plans for escape and subvert the operation. By the end of the series, The Village administration becomes fearful of Number Six's growing influence and takes drastic measures.
"The Prisoner" concerns the rights of the individual against collectivism. Surreal storylines include hypnosis, drug experiences, identity theft, mind control and dream manipulation. Though set in a place where motorized transportation seems unnecessary – The Village has boundaries – two iconic automobiles were involved in all 17 episodes.
The first was KAR 120C, the BRG/yellow Lotus Seven shown in the opening credits. But Mini Mokes were also used as taxis in the series ("local service only") and painted white with red-and-white-striped canvas tops, as well as The Village's Penny-farthing bicycle image on the hood. Four Mokes are said to have been converted by Wood & Pickett during summer 1966.
Recently, top "Prisoner" fan website The Unmutual received news that one of the original "Prisoner" Mokes, believed to have been owned by someone involved in the production, has been discovered, disheveled but mostly complete, in a barn in Holland.
A continuity goof showed 1965 license plate HLT 709C (rather than a generic "taxi" plate in the series' trademark Albertus font) in the "Living in Harmony" episode, which matches the one on the Moke found in storage. The Moke is largely complete, missing only rear seats, spare tire and cover, front seat covers and interior trim.
At least four "Prisoner" Mokes were transported to North Wales in September to be used on location in Portmeirion, the quasi-Italian village built out of local stone near Penrhyndeudraeth by celebrated architect Sir Clough Williams-Ellis.
Each Moke was subtly different, and parts and fittings were swapped round during the course of filming. Some, if not all, of the Mokes later returned to London for use in studio filming, and there are a few other photos of them in use. Two vehicles, believed to be CFC 916C and HLT 709C, have survived. CFC 916C was on display at Portmeirion for several years before being restored and sold to an American buyer.
Each Moke had "spats" added over the rear wheel arches and the windscreens repositioned to be upright rather than slanted back. New hoods plus seat and spare wheel covers were also produced in a candy striped fabric. Unfortunately, there doesn't appear to be any surviving studio documentation, so the discovery of this car with its original license plate is a stroke of luck.
McGoohan's series, which he produced with George Markstein, led to issues with the Internal Revenue, as is often the case and, as I recall, he became a tax exile for a while. There was a half-hearted attempt to revive the show in 2005 as a miniseries with American James Cavaziel as McGoohan and Sir Ian McKellen in the role of Number Two, but the village was moved to a desert setting in Namibia. The six-part series debuted April 17, 2010, but the original show's fans were reportedly unimpressed.