Most of us would be all too happy to add a Mini, E-Type or burbly Rover P5 to our garages, but as prices of the most prized examples of each continue to ascend, sometimes it pays to look for less likely candidates if you're seeking that British classic car experience.
The good news is that with such a vast back-catalogue of cars, you're likely to find something for almost every taste – even if you set a modest budget cap, such as the £10,000 limit we've given ourselves to find the seven alternative British classics you see here. Which would you pick for ten grand?
How much is your car to insure? Find out in four easy steps.
Get a quote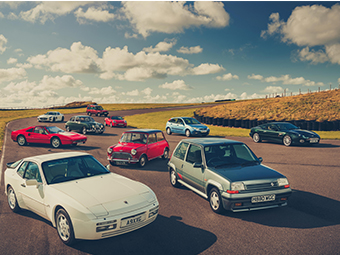 Austin FX4
Short of a Mini or E-Type, British classics come no more iconic – yet most people probably forget the Austin FX4 even existed. That's despite subsequent generations of black cab being styled to look not unlike the FX4 and its variants – even the current cab of choice, the plug-in hybrid LEVC TX, looks like an FX4 in passing.
FX4s may be less glamourous than many classics due to their intended purpose, but take a step back and it's a quintessential shape, not unlike a scaled-up Austin A30 or similar. And ridiculously practical, too – short of an old Volkswagen bus, few cars of 1950s origin are so commodious.
Production ran from 1958 until 1997, across numerous variants. Our classified find is a final-year model, badged Fairway, which used a legendarily stout 2.7-litre Nissan diesel and a four-speed auto (the same gearbox, fact fans, that Mazda used in automatic MX-5s). The seller's asking £5800 and notes a few issues. Just remember these things now attract the ULEZ charge, if you intend on taking a trip south of the river…
One we found: 1997 LTI Fairway, £5800, eBay
Ford Cortina Mk3
So often overlooked in favour of the Mk1 Cortina in particular, the Mk3 Cortina has to be one of the most attractive cars to wear the badge. Often dubbed the "Coke bottle" Cortina thanks to its curved haunches, it's probably one of the best expressions of the Transatlantic style that Ford of Europe chased through most of the '50s, '60s and '70s.
Perhaps the lack of a true performance model has stopped the Mk3 reaching the same levels as earlier versions – the Escort and then Fiesta took over that mantle from the Cortina until the Sierra arrived in Ford's range. The South African market did get a V6, though the car we've found, itself a South African import, packs a more modest crossflow 1.6.
Imports aren't such a bad idea if you're Cortina shopping these days, having avoided five decades of British winters. The ad says this one needs a bit of tinkering, but also reckons it's never been welded. The unusual white vinyl roof is a concession to warmer climates and the light cabin trim probably helped too. It's fairly priced too; £8500 puts it dead-level with a condition 2 "Excellent" value in the Hagerty Price Guide.
One we found: 1972 Ford Cortina Mk3 1.6, £8500, Car & Classic
Lotus Excel
Excel by name, excel by nature? Owners may be able to enlighten us there, but the Excel, just like the Elite and Eclat before it, remained a constant fixture in magazine sports car group tests until it disappeared in 1992. If not always a paragon of quality, its handling behaviour was rarely in doubt.
As an affordable classic, it's in a good place right now too. A sort of blind spot, if you will, between ultra-desirable '60s and '70s Elans, the bewildering mass of models that is the post-Elise Lotus range, and further obscured by its even wedgier stablemate, the Esprit. It's not unusual, then, to see models for sale well under ten grand, like the 1988 car we have here, up at £7950. That's consistent with a car in condition 2, "Good" shape in the Hagerty Price Guide.
Lotus steadily improved the Excel at virtually every model year, so by '88 the 2.2-litre Lotus twin-cam was good for 180bhp and there were tweaks under the skin too, improving both longevity and usability. Could've done with better glue for the headlining though, according to the ad for this one. The seats could do with a wet-vac too, but otherwise all looks well.
One we found: 1988 Lotus Excel 2.2 SE, £7950, eBay
Reliant Scimitar GTE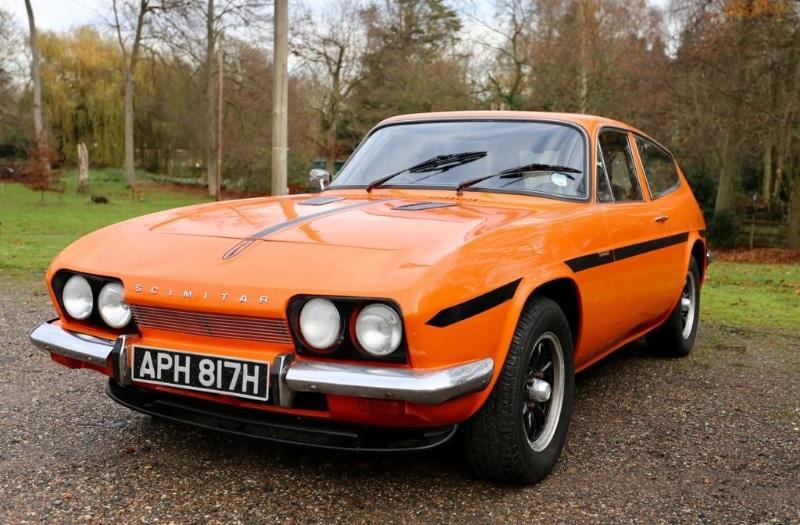 The Reliant Scimitar GTE must be one of the great British sports car bargains at the moment. Just look at what you get: a fab-looking (styling is subjective, but c'mon now), V6-engined rear-driver that's practical, generally easy to work on, and has a healthy aftermarket and specialist network only too happy to maintain and improve it.
Why are they so affordable, with plenty still falling well below £10k? Perhaps it's the Reliant name, a millstone for some – despite the innovations of the company's three-wheeler family of cars – and not recognisable enough for others. Maybe the blocky lines are a little too butch, not as elegant as coupé contemporaries.
Still, their loss. The one we've found, for £5750, is a bright orange 1969 SE5 that was apparently restored back in 2011. This one even has the desirable manual, though we'd go in with eyes open: There's just the one photo, and the words "too much to list" in the undernourished description are all too often shorthand for "don't want to make the effort". The price isn't excessive if it's tidy though – the Hagerty Price Guide puts a condition 3 "Good" SE5 at £6400.
One we found: 1969 Reliant Scimitar GTE, £5750, Classic Cars for Sale
Singer Gazelle
While pre-war Singers attract strong prices, particularly those with motorsport history, post-war models are significantly more affordable. That's doubly true for those produced after the brand was absorbed into the Rootes Group in 1956, and it's one of those – a Gazelle "VI" – that we're focusing on here.
The Gazelle sat between the Hillman Minx and sportier Sunbeam Rapier, and this 1966 model used a 1725cc overhead-valve four with a horsepower figure in the low 60s. Rakish lines and a four-speed, floor-mounted manual – plus a rear-wheel drive layout, of course – provide the requisite sporty image, even if the performance isn't quite there.
The car we've found looks sharp in sage green with a dark green stripe, and the cabin's trimmed in a matching hue. The ad suggests the bodywork has "room for improvement", but the blue silicone radiator hose and taped-up heater hoses suggest usage has been prioritised over originality, which isn't necessarily a bad sign. Priced at £7500 it's perhaps a little rich (up there with an "Excellent" example in the Hagerty Price Guide) but well inside our £10k budget.
One we found: 1966 Singer Gazelle MkVI, £7500, Car & Classic
Triumph Acclaim
Search for a Triumph under ten grand and you'll probably land on a Herald or Spitfire, with a few 1300s, Dolomites and the like thrown in for good measure. The swing-axle cars in particular are fantastic value these days, with all the classic styling and driver engagement of their contemporaries, but often for less dosh.
You probably don't need informing of their virtues though, whereas the improbably tidy Triumph Acclaim you see here is probably a harder sell. Particularly for £6995, which would still land you a decent Herald.
A Herald though probably wouldn't result in quite as many incredulous double-takes at your local car show. Or the Festival of the Unexceptional, at which this Acclaim seems destined to star. Honda mechanicals, but an absence of rust, are both points in its favour, and a manual 'box promises at least a little of the driver engagement you'd get from those older Triumphs.
One we found: 1982 Triumph Acclaim HL, £6995, Car & Classic
Wolseley Hornet
Good Austin and Morris Minis are getting jolly expensive these days, particularly if you want anything from the '70s backwards. That's not to say you can't get a Mini experience for less though, and that's where the Riley Elf and Wolseley Hornet come in.
The Brits nailed down badge engineering well before German brands ever did, but to BMC's credit the Elf and Hornet weren't just a grille job. They were also a tail job, each car tacking on a slightly out-of-place boot extension. One can imagine Issigonis absolutely hating it, but if you can get over the looks, the result is a car that drives near-identically to a Mini but costs a great deal less.
Take this 1967 Hornet as an example. At £8950 it's barely more than a "fair", or condition 4 Morris Mini Mk1 in the Hagerty Price Guide. Ideally it should be even less, since that price is more than the concours value in the guide. It certainly isn't that, but the ad says it drives nicely, and an unleaded cylinder head conversion and modest 44,800 miles are both points in its favour.
One we found: 1967 Wolseley Hornet, £8950, Car & Classic
Read more
8 affordable classic cars you can use all winter
Cars That Time Forgot: Sunbeam Alpine by Harrington
Living in a box: The rise, fall and resurrection of the red telephone box