As is so often the way with low-volume cars, the history of the Harrington-built Sunbeam Alpines is more than just a bit convoluted, not least of all because despite a relatively small production run, there were several different models, and in some cases they overlapped with each other.
Thomas Harrington set up a coachbuilding company in 1897, in Brighton, to build bodywork for buses. As early as 1905 the company produced its first car body, but until the start of the 1960s Harrington was best known for its luxurious and aerodynamic bodyshells on Commer and Bedford bus chassis.
How much is your car to insure? Find out in four easy steps.
Get a quote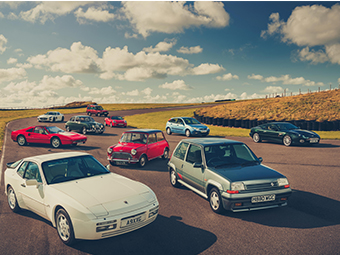 The problem Harrington had was that its buses were expensive and the company was small compared with rivals, so it lost business because its production capacity was limited. The answer, it seemed, was to focus on coachbuilt cars which could be turned round quicker, to help the company's cashflow.
Harrington had built up a lot of expertise in working with glassfibre, and a Rootes dealership had been a part of the company since the 1930s, so something from the Rootes range seemed the obvious choice for Harrington's attention. The fact that Harrington already had a relationship with Rootes meant that the latter would endorse the company's products, allowing them to be sold in its dealerships.
It was in 1960 that Harrington started to develop a Sunbeam Alpine with a fixed glassfibre roof, and by March 1961 the world got to see the fruits of its labours. The Harrington Alpine was available through Rootes dealers, priced at £1225 compared with £985 for the standard car and despite the significant price premium, the fastback Alpine proved popular. Based on the Alpine Series II, these first cars featured hefty rear fins and about 110 examples were made. Those wanting extra pep could pay £25, £75 or £215 for a Stage 1, 2 or 3 engine courtesy of factory-approved marque specialist Hartwell.
Despite reasonably brisk sales of the standard car, at the October 1961 Earls Court motor show the next iteration was introduced: the Le Mans. An Alpine Harrington coupé had been entered into the 1961 Le Mans 24 Hours in which it won the Index of Thermal Efficiency, and Rootes capitalised on this by introducing a Harrington Le Mans which was an official Rootes product, rather than one which was merely officially sanctioned. Despite costing about 50% more than the standard Alpine (£1495 compared with £985), the Harrington Le Mans sold well with 250 shifted in all, about half of which were shipped to the US.
A year later, in October 1962, Harrington introduced an updated Alpine coupé, known as the Series C and featuring a hatchback instead of the previous boot lid. The new car sold alongside the Le Mans, which had been shorn of its distinctive rear fins; the Series C retained these. Just 20 examples were made before the Sunbeam Alpine Series 2 gave way to the Series 3, which featured a completely different design for its windscreen surround. Harrington would need to have a rethink.
The solution was the Harrington Alpine Series D, which was launched in July 1963, but just a dozen or so of these were made before Rootes dealer Robins and Day (which was owned by the Rootes family) acquired a controlling share in Harrington. It didn't prove to be a very shrewd purchase though, because the company wasn't making any money with its limited output, and by early 1965 Harrington was no more.
Before it was shuttered it did build just one Tiger-based coupé though, and that's the dark blue car shown here, which as you can see has survived in magnificent condition.
Read more
Cars That Time Forgot: AC 428
The Sunbeam Tiger is NOT the poor man's Cobra | Buyer's Guide
This Mini camper was a big project on a small budget