The Sunbeam Tiger combined the power of a smallblock Ford V8 with the sporting heritage of a British roadster to create a roadster that was as adept at shaking up a Sunday drive as it was racing for silverware.
The Tiger was a high-performance riff on the Alpine, a charming if somewhat underpowered four-cylinder roadster built by the Rootes Group, the British car company that began in 1928. It was Ian Garrad, a sales manager for Rootes whose territory spanned the West Coast of America, who came up with the idea of swapping the 1.7-litre four-pot for a 4.2-litre, 260-cubic-inch Ford V8.
How much is your car to insure? Find out in four easy steps.
Get a quote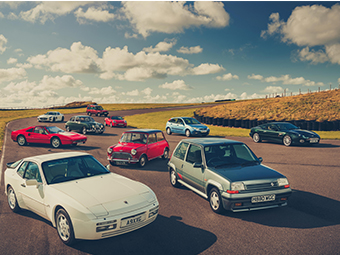 Legend has it he dispatched his service manager to nearby dealerships with a yardstick to find a V8 engine that would fit. The Ford lump was the winner, and Garrad discussed the idea with his father Norman, who led Rootes Competition, together with racing driver Ken Miles and engineer Carroll Shelby. Then the work started.
Garrad had his team relieve an Alpine of its four-banger, then sent it to Shelby's workshop in Venice, California, so he could build a prototype Tiger. Miles also built one, using a 260 Ford and an automatic gearbox. After thoroughly testing both vehicles, Garrad sent Shelby's Tiger to England for further development by Rootes.
Lord Rootes himself approved production of the Tiger after a convincing test drive. The company farmed out the stamping and painting of bodies to Pressed Steel, which sent the shells to Jensen Motors for assembly with imported Ford V8 powertrains purchased through Ford's Industrial Division. Shelby was initially hopeful that he would get the contract to build the cars but was instead paid a royalty on each Tiger built.
Taking up the story, Colin Comer, Marketplace Editor for Hagerty US, gets behind the wheel of a Tiger and shares what it's like to drive, how to tell apart a Series 1 from a Series 2 Tiger, the original features that make early cars even more desirable and the important checks any buyer should make when inspecting a Tiger that's for sale.
Read more
11 alternatives to the Jaguar E-Type
The complete guide to £50,000 starter classics
The Special Relationship: Five of the coolest British cars with American power