Between our previous £35,000 price point and £50,000, things start to get a bit serious in the classic car market. You could, very reasonably, go out and buy any number of new or nearly new metal for such a sum and be privy to both rampant performance and considerable kudos. But we know that you want more than that.
A £50,000 classic car then has to earn its keep, delivering a truly special driving experience, and justify its spot in your garage with compelling aesthetics every time you sneak a glance. And ideally, given what you're investing in it, it should also look after your money as well as put a smile on your face when you wheel it out for a drive.
How much is your car to insure? Find out in four easy steps.
Get a quote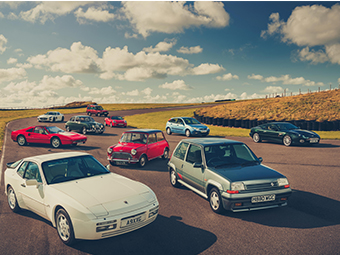 The following five cars are, we think, examples that should hit all of those marks plus others besides. We've found sports cars from both Britain and America, a luxury coupé, and an iconic off-roader, and while our £50,000 maximum may get better examples of some than others, Hagerty's valuation tool – which is free to use and provides an up-to-date picture of vehicle values – should give you an idea of what you can expect for a given budget.
Any of these cars would be a pleasure to own. The most challenging aspect, then, is deciding which you find most appealing.
Range Rover Classic (2dr)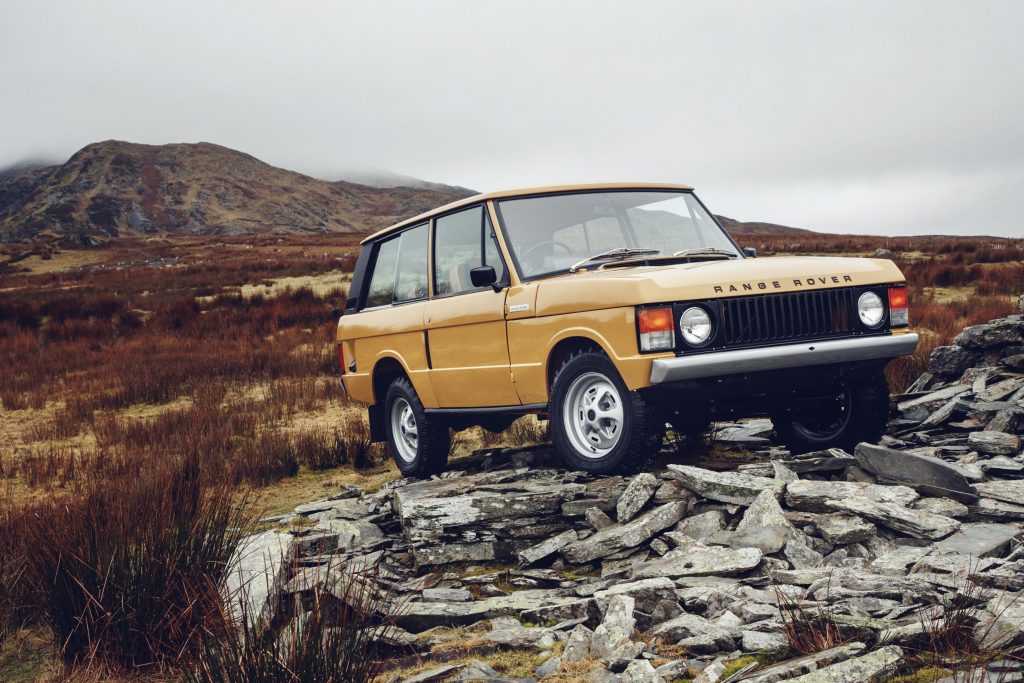 Within the last decade the market has woken up to the brilliance of the original Range Rover. One of the few truly classless classics, a Range Rover fits in whether your idea of an estate is Blackbird Leys or Blenheim, a capable carry-all with go-anywhere ability. That huge glasshouse, the commanding driving position and those easy-to see corners makes this a car that's supremely untaxing to drive.
Owing to this newfound popularity, most parts are now available – and JLR will even restore one to as-new for you if you have double our budget and a little bit more to spend. Jensen restorers JIA also offers restomod Range Rovers with modern mechanicals and toys, if that's a route you'd want to take.
Where just a decade ago you'd feel hard done by for spending £5000 on an old Range Rover, our budget now won't buy the best suffix-A cars – concours models are now up to £85,000. But other reasonably early two door versions are attainable with ease for this sort of money, and early four doors are about half the figure.
For regular use we'd spend around £14000 on a late 1980s Vogue SE (the Hagerty valuation tool puts good cars at £10,300 and excellent ones at £24,100), but collectors will see the two door models and their entry level of around £30,000 and up money well spent.
Jensen Interceptor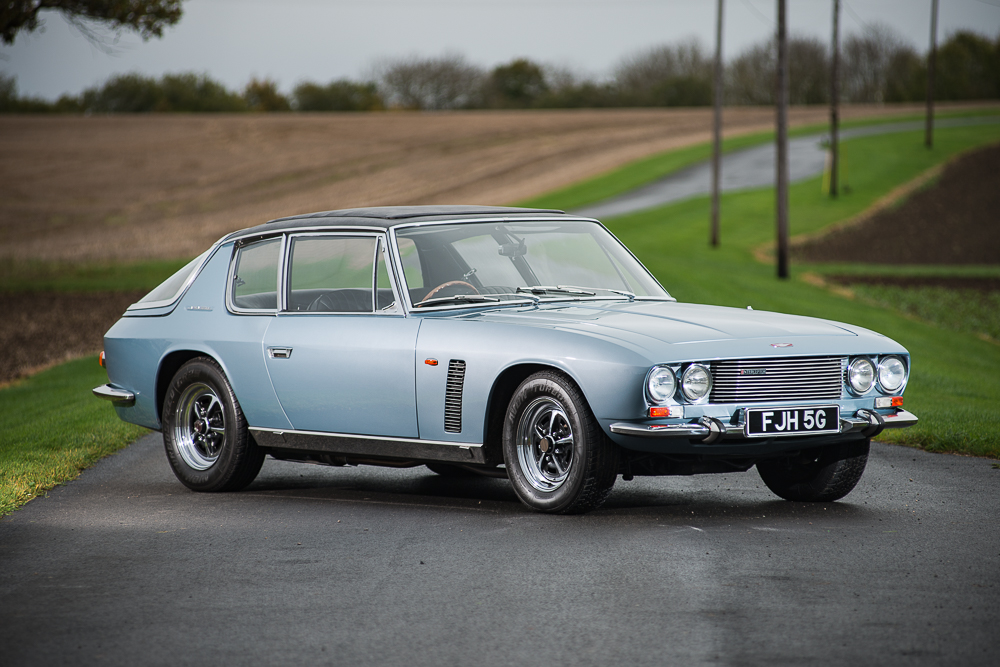 Like the Bristol 412, the Jensen Interceptor melded an American V8 with Italian style and British production. It is at once both unstated and classy, a car that some may view as a refreshing change from showy sports cars. Though perhaps it's fairer to consider the Interceptor as a British Studebaker Avanti – whenever production ceases, a band of loyal followers seek either to reinstate it or to modernise existing examples. Companies such as Cropredy Bridge or JIA produce modern uprated Interceptors, though they fall outside of the purview of this feature.
For our budget you'll get a good standard example, typically a MKII or MKIII with excellent examples of the latter currently trading at just over £40,000, though late MKIVs and SPs may also be available. The desirability of the MKI and FF means that these will be rare at this price point, but we'd put excellent examples at £35,000 and concours as much as £63,500. Best buy would be a solid and very presentable Interceptor III for our budget – condition being more important than spec.
Valances, sills, and the cross tube under the car should all be inspected before purchase as these are key rust spots. Any trim issues can be sorted by a competent trimmer, while Chrysler V8s and Torqueflite transmissions can be imported from America for the same sort of money as a rebuild – if not for less. For a car of its class an Interceptor needn't be costly or expensive to keep.
Austin-Healey 100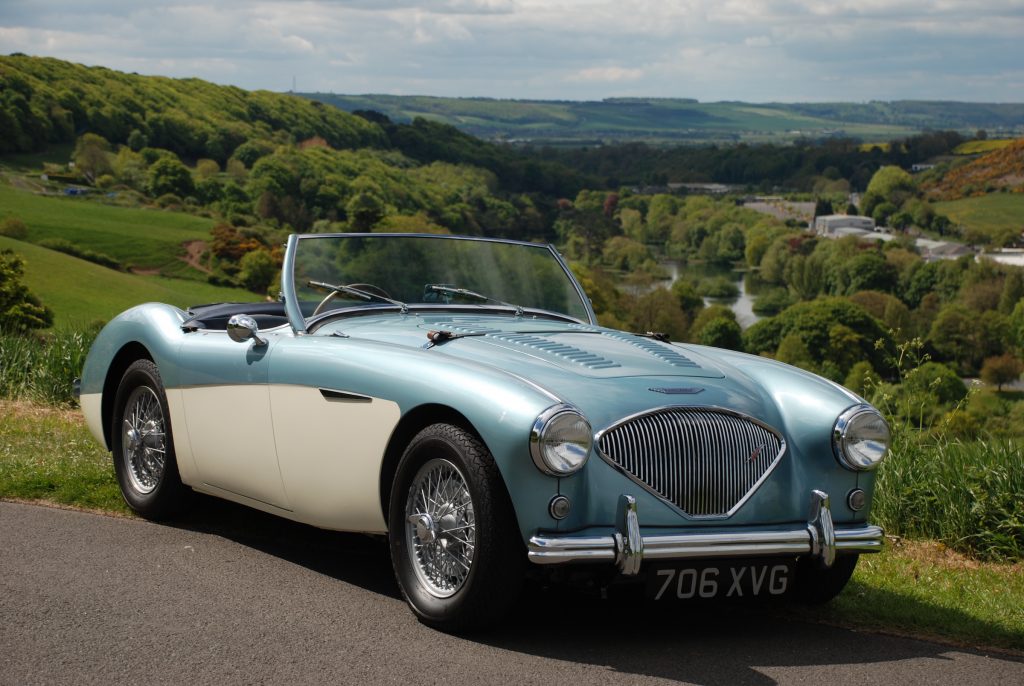 If you like the idea of the traditional British sports car as espoused at a lower price point by the Triumph TR6, you can't do much better than the Austin-Healey range. And it's this car, the 100, which first established that legend.
Using the 2.6-litre four cylinder engine from the Austin Atlantic (Later the BMC C-series six), the Healey earned itself a reputation for ruggedness, reliability, and no-nonsense sports car handling. Named for its ability to reach 100mph in an age where 80mph was an impressive achievement, the Healey 100 offers a rawness that's rarely seen on the public highway this side of an Ariel Atom. Torquey, weighty and straightforward, the Healey's enduring appeal and BMC mechanicals mean that owning a Healey 100 needn't be too much of a headache.
From an investment perspective it's looking like a wise move too; prices haven't been firmer in decades. Our budget should be enough for a 100-4 somewhere between condition 2 and condition 3 or an excellent (condition 2) 100-6. Concours cars can be as much as double our £50k limit.
It's important to check that the rear axle isn't leaking oil onto the brakes when you inspect the car, as well as to assess the state of the dampers. These can wear quickly, causing shaking and poor handling. This can be worsened if the grease points in the suspension haven't been maintained properly.
Sunbeam Tiger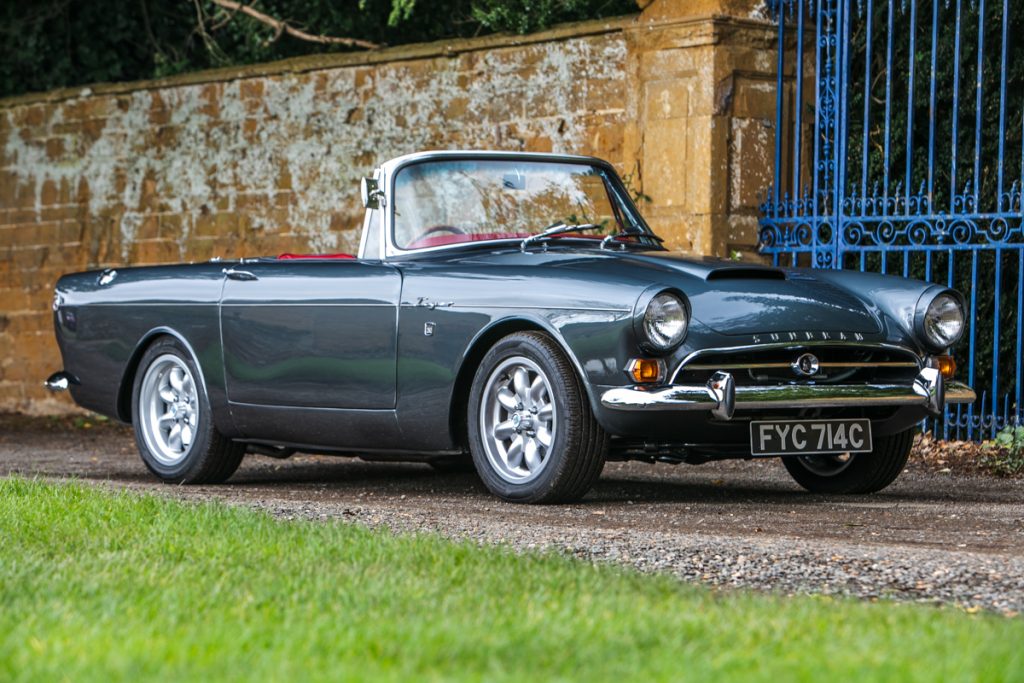 After the AC Cobra, it struck Carroll Shelby that his formula worked: take one British sports car, plug in a big Ford V8, and the natural byproduct was enormous fun.
So he approached the Rootes Group, suggesting that if they started with Sunbeam Alpine and applied a similar formula they'd have an entertaining budget alternative to his previous work. Rootes, perhaps seeing the sparkle in Shelby's eye, said yes. The resulting Tiger used Ford 260ci and 289ci Windsor V8s, in bodyshells so similar to the original Alpine that to many, the badge was the only real giveaway.
This similarity means that keeping your Tiger looking pretty really won't be hard. Inside and out, the majority of components are common to the Alpine with the exception of the drivetrain, which is relatively easily sourced in America. The purchase of Rootes by Chrysler killed Tiger production almost before it began, with just 7083 built over a three year period. The American giant couldn't countenance the idea of using a rival's engine, while none of Chrysler's own V8s would fit the Alpine shell.
Just 633 of these cars were the more desirable MKII with the larger 289ci engine and even condition 3 cars are out of budget now at £60,200, so thrill seekers may be better advised to buy and upgrade a good MKI, with good condition 3 examples currently just over £40,000 and used but driveable models less than £30k.
Chevrolet Corvette Sting Ray (C2)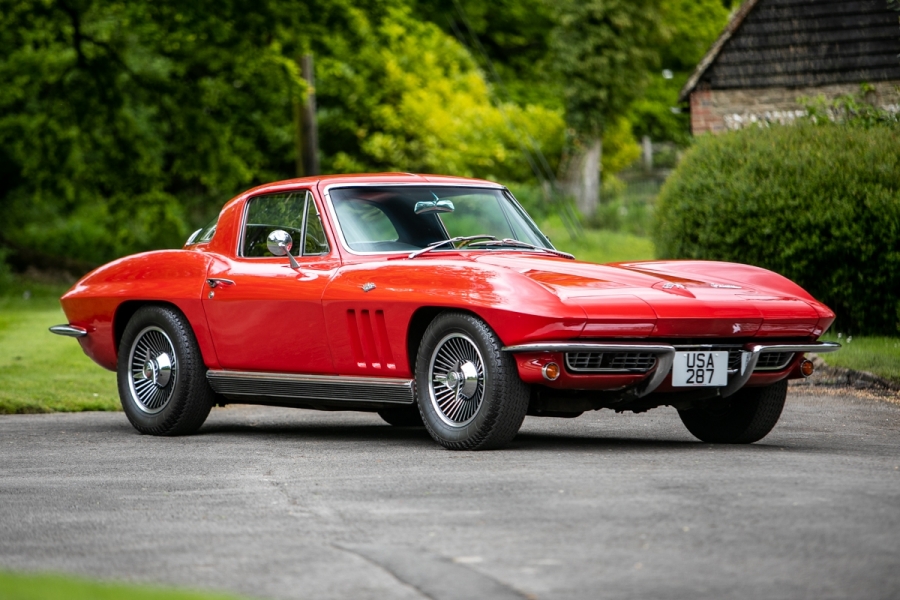 The C2 is for many the ultimate Corvette; the first Sting Ray was a massive departure from the supposed sports tourer which came before and its impact has never quite been usurped by any Corvette since.
Derived from the Sting Ray racer and the Q-Corvette prototype, the Sting Ray was the first production Corvette coupé, and the first exclusively to be powered by V8 engines. Both the small-block and big-block were used throughout the life of the model in varying sizes.
Here's the thing about the Sting Ray though. With just a little work, you'll have a car which is every inch the equal – if not the better – of the E-Type, for a fraction of the cost and with just as much cult popularity. Good examples of split-window 327s and later 427s should be possible under our budget.
The GRP body means there's less rust to worry about (though the chassis could still rot) and the Chevy V8s are so ubiquitous that spares and replacements are easy and inexpensive to source. There's a big Corvette scene in America, and a surprising following in Britain, meaning that there are plenty of modification options available to boot. If you want a classic American car and can afford to play in this league, there's nothing better suited than a Sting Ray.
Read more
Want to spend less on your first classic? Try these £5000 suggestions
2021 Bull Market list: 10 of Britain's hottest collectable cars