There is something about an Ariel Atom that performance figures and photographs of over-eager roadtesters sliding them through a corner will never reveal. It's a sense rather than a tangible object, as difficult to describe in words as it easy to understand once you've been aboard. How best to describe it? It's that feeling you get when you listen to a genuinely outstanding music system, or when you click so completely with a work of art it seems briefly as if the artist sketched it with you alone in mind. It's what you get when the finest materials and best minds are brought together to create something even greater than these qualities suggest. It is almost magical.
I will not be the first to observe that genius is most often found in simplicity and the Atom is simplicity itself, both in concept and design. A lightweight sports car powered by a small, four cylinder engine wrapped up in a spaceframe chassis is hardly a novel idea: Colin Chapman's Mk VI – the first proper Lotus – fitted that bill as long ago as 1952. But it is the way the Atom is built that makes it stand out: light but strong, hand-made but, in my experience, faultlessly reliable.
How much is your car to insure? Find out in four easy steps.
Get a quote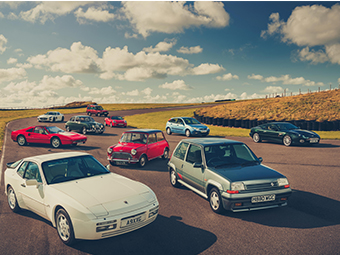 Atoms are so scarce it took 16 years for the company to build its first 1500 cars, meaning all usual production processes are notable only by their absence at the tiny factory near Crewkerne in Somerset. Instead of cars moving along line from technician to technician, they are built in situ, one person to one car, from opening the first box of bits to driving the completed car.
The pride of the individual who built it is evident in every Atom. Which is one reason they're so well put together. Another is that they are incredibly simple to build, leaving almost no room for error. The reliability is designed in on the drawing board.
So that's one way in which an Atom is rare and special. The other is in the way it drives. Although they have changed little visually over the years, not a single component of any importance is transferable from first to last. The original Rover-powered Atom was a rough diamond. I only drove one in period and didn't much care for it.
The pride of the individual who built it is evident in every Atom
The Atom 2 of 2003 brought Honda power and the option of a 300bhp supercharged version which would try to rip your face off every time you touched the accelerator but the most significant change, at least to me, came with the Atom 3 of 2007. Although the power remained the same, the structure was stiffer and the cockpit more spacious. Both handling and ride quality were improved too. It was was as though this was the Atom that its creators had always been working toward.
Except it wasn't: in 2012 Ariel introduced the Atom 3.5 which once more brought small incremental increases in a number of areas, particularly the chassis and powertrain which added up to another meaningful step forward. I've not driven the Atom 500 with its 3-litre, 500bhp V8 engine so don't feel qualified to comment on it, but I do know the people at Ariel reckoned most people would be quicker in the Atom 3.5R with a trifling 350bhp from its 2-litre four, combined with a six-speed sequential gearbox.
Yet even that's probably not as rapid as a common or garden Atom 4, which trades supercharging for turbocharging, bringing a level of torque low in the engine's rev range (310Ib ft from 3,000rpm) that is beyond any previous Atom. And it is as satisfying to steer as it is fast in a straight line.
Which to choose as a future classic? The extraordinary thing about Atoms is because of their intrinsic quality and extreme scarcity, they suffer glacial depreciation rates. Some owners who've kept the mileage low, looked after their cars and always had them serviced by Ariel have sold them on having effectively enjoyed an almost free sports car. So there's no individual model to avoid for fear of it falling out of bed.
I'd definitely choose an Atom 3 or 3.5 over an Atom 2 because they're just better cars. Don't turn your nose up at a 245bhp normally aspirated one either: it still has the power to weight ratio of a Ferrari F12, and Ariel will always be happy to retro-slap a supercharger on the side, if that's your thing.
The thornier debate is whether to go for an Atom 3 or 4. The 3 is a more raw car, the engine revs higher, has better throttle response and makes a simply ridiculous sound. But they are not the easiest of things and can be twitchy on turn in at track speeds or in the wet. The Atom 4 is faster in a straight line and, once acclimatised to its sheer speed, a well balanced and confidence inspiring car in the corners. But the turbocharged engine does not have the charm of the earlier supercharged cars. On balance I'd go for the new one. The price is £39,975 but could be nearer £50,000 once you've specified the big brakes, limited slip diff' and variable boost adjuster you'll be wanting. And such is the demand you may have to wait for up to two years for it to arrive. But believe me, it will be worth it for this explosion of energy.
Andrew Frankel argues the case for the BMW M2 Competition as a future classic