When judging a car's likely status as a future classic, the asset possibly most overlooked is its usability. Most of us know instinctively that the better a car is to drive, the more glamorous its badge and the lower the production number, the more likely it is to become recognised as a classic in future. But the ability to be easily used is an important consideration too, at least among those who intend to use their cars for the purpose for which they were designed – to be driven – rather than to be kept at home as an alternative form of art.
It's a principle you'll find in every part of the market. Why, for instance, is a Jaguar D-type, Aston Martin DB3S or Ferrari 750 Monza a more valuable car than any Formula 1 car of the same era and from the same quality of stable? The F1 car is faster, purer and rarer but all you can do is race it. The sports cars you can drive on the road, on track, in races and events all over the world. They are more usable, and for that reason they are worth more.
How much is your car to insure? Find out in four easy steps.
Get a quote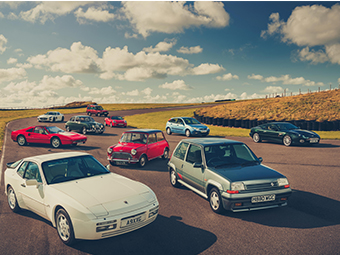 But back to reality. Hagerty asked me to consider which modern cars are likely to become sought after classics in years to come. And the car I'd like to begin with is the BMW M2 Competition. It has so many of the components required to make a great driver's car: a powerful and sonorous straight-six engine at one end, driving the wheels at the other end and them alone. Between the two – heaven be praised – is a six speed manual gearbox (though fewer pedals are available). But before we get carried away in a world of horsepower and tyre smoke, there is the small matter of the M2's rear seats.
The two seats are not the vestigial perches you'll find in the back of an Audi TT or Porsche 911, there essentially for show, shopping and dire emergencies. They are proper seats, not exactly lavishly commodious I'll concede, but usable as such on a regular basis by most conventionally proportioned people. This doesn't just make the car easier to use. It makes it easier to buy too. How many of you would love to own some slinky two-seater but haven't a hope in hell of getting such an idea past your other half? It's an issue with which plenty of us can sympathise.
The M2 Competition provides no such dilemmas. Not only does it have those seats, it's sufficiently quiet and comfortable to function perfectly well on the school run, the daily commute or a holiday abroad. It's actually better in these regards than its big brother, the M4 Competition.
But the reason it's here is because there's something else it does better than the M4 too: it's better to drive. Yes you'll go faster in an M4, but not only is the M2 easier to drive fast, it's more fun too. For this is a car of the most exquisite balance, both between the provision of power and grip, and also more traditionally in the way its chassis behaves when put to the test.
On the road you'll most likely notice only how well damped it is, the pleasing accuracy of the steering and how the engine is so responsive you'd barely believe it was turbocharged. But when you push it on the track, another world opens up. Like all the best handling cars, it leaves the choices to you. You can drive it completely cleanly and it'll lap quickly and impressively. Or you can prod beyond the technical limit of adhesion whereupon it adopts the most deliciously neutral stance, often so you can corner with the front wheels pointing dead ahead, your direction governed by throttle setting alone. And yes, you can go full caveman and incinerate your rear tyres in endless drifts, too.
But it has something else too. I think most of us would agree that over the last decade or so BMW's M cars have not all done that badge the justice it deserves. And I've lost count of the number of times people have asked when BMW will recapture the spirit of the original 1980s E30 M3. Actually the 1M Coupe of 2011 came pretty close, but that's out of the running as a future classic as anyone who's checked out their asking prices of late will attest: ads range from around £45k to above £60k, the cheapest now more expensive than when new. So they've already gone. But I think the M2 Competition, while less rare, is actually a better car.
Put it this way: I know of no other current BMW more likely to acquire future classic status.