So, you've never owned a classic or 'enthusiast' car, have spent half of lockdown watching vintage movies packed with cool cars of the period or binged on episodes of The Grand Tour, Top Gear, Wheeler Dealers and Salvage Hunters: Classic Cars – all in one sitting – and now you quite fancy the idea of buying something fun for high days and holidays? Then begin your search here, as we name some of the best starter classic cars for a budget of £5000.
As some classics soar in price, others remain within tantalising reach. Even with £5000 of savings (or, indeed, the bank or building society's money) the choice of classic cars is surprisingly broad, with everything from family saloons to sprightly sports cars and sharp-suited coupés.
How much is your car to insure? Find out in four easy steps.
Get a quote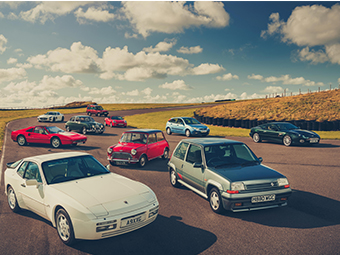 Below we've assembled five such models, with something to suit most tastes. Not only are they inexpensive to buy right now, but they have humble mechanicals too, so even if you consider yourself an amateur with the spanners you should be able to get stuck right in. And if that's not for you, they won't be expensive to entrust to a local garage or specialist. Plus, parts are available and insurance is affordable – you can check any of these models yourself, using our quick quote tool.
You'll have to be quick, though. Several of the cars below are already on the radar of buyers priced out of more exotic machinery, and 1980s and 1990s metal in particular is on an upward trajectory. So without further ado, here are six starter classic cars we'd suggest first time buyers consider.
The nostalgic choice: Ford Cortina Mk5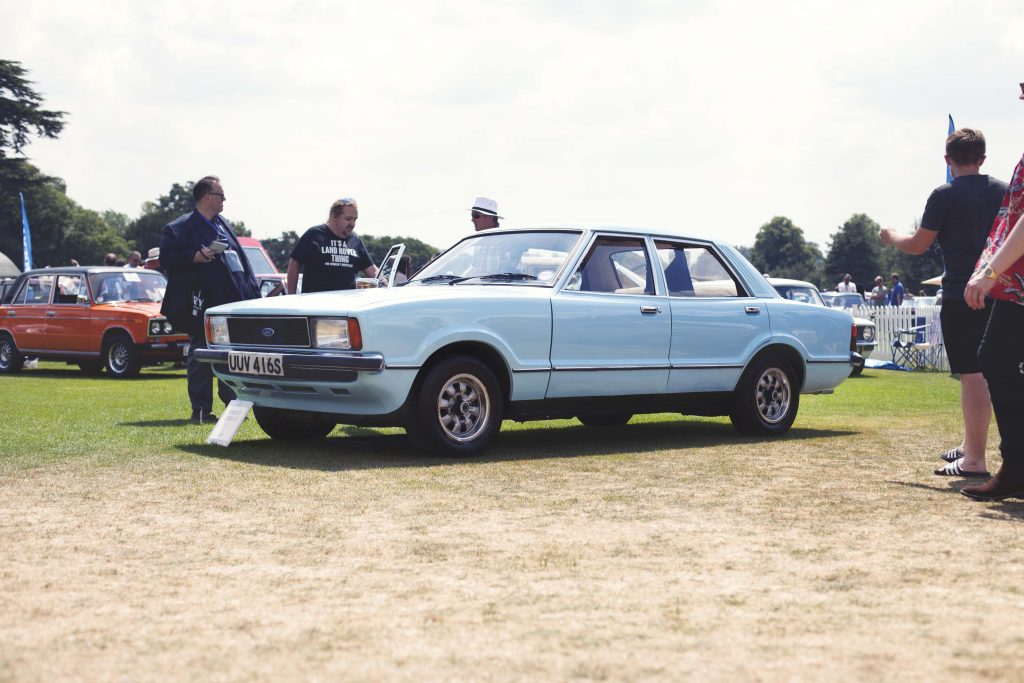 Upon first acquaintance, the Ford Cortina may not seem the most exciting choice for your first classic car. Its square lines might be a little uninspiring to younger drivers, while those who remember it in period may view it as a sales-rep special. But the things that made it part of the furniture when new now make it a fantastic family classic. Space for 2.4 kids in the back, a boot big enough for a fortnight at Frinton-on-Sea, and simple mechanicals that won't cost the earth to maintain.
The MK5, or Cortina 80 in Ford terminology, was a thorough facelift of the preceding MK4 – itself a broad re-skin of the MK3. That meant a full range of two- and four-door saloons, four- and six-cylinder engines, estates, and even (through Crayford) a rare convertible. According to the Hagerty Price Guide our £5000 will get a 1300 or 1600 in good condition.
A-pillars, floorpans, outriggers and windscreen surrounds are the biggest potential rust spots, so check them with care upon purchase. The Cortina MK5 was powered by Kent and Pinto fours, and the Cologne V6, and they are all well catered-for in terms of spares. Interior trim will be the biggest problem – the cloth seats can stretch and go baggy, especially as the foam in the seats degrades. Replacement trim in good condition is scarce but there are plenty of seat specialists who can refurbish them.
A modern classic: Volkswagen Corrado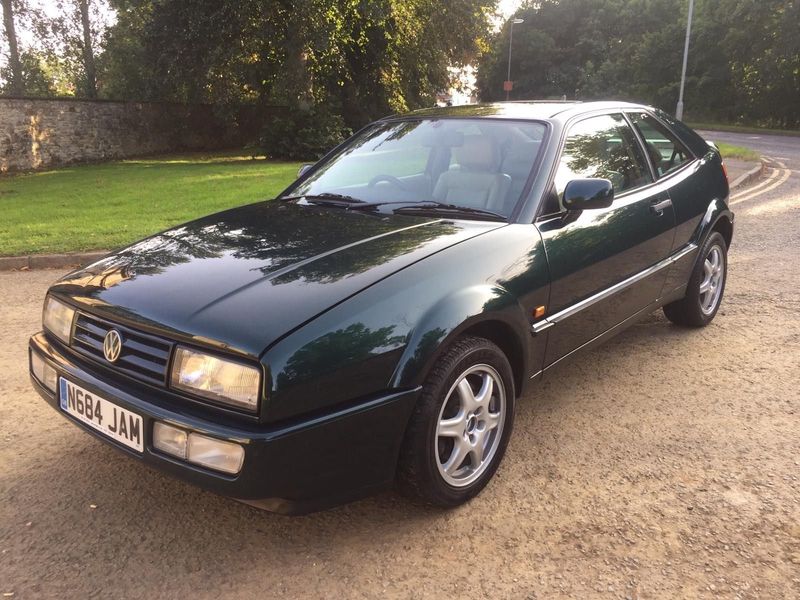 These are the kind of cars that some 40- and 50-something enthusiasts lust after, as the Corrado was the pick of the coupés back in the day. Far more than just a Golf in a party frock, the VW Corrado can lay claim to one of the best front wheel drive chassis of the 1990s and a spot on Hagerty's Bull Market list in 2020 (in the US).
Corrados are sturdy cars as a rule, but the G60 supercharged models do require regular servicing. A better performance bet would be the VR6, while the standard 2-litre, four-cylinder naturally aspirated models are good for everyday use.
Known rust spots include the area beneath the screen, suspension mounts, inner arches and the spare wheel well. Seats can wear, and body trim is rare in good condition. Recaro seats add value, as does a leather interior. Doorhandles can break but repair kits are available.
We'd advise you to avoid modified examples and dig out the cleanest standard car you can find. Our budget should net a reasonable VR6 or G60, or one of the nicest 8v or 16v 2.0s left. We'd avoid the 1.8 as the Corrado is a coupé with sporting pretensions – it needs the performance to back that up. High mileage shouldn't put you off the right car – condition matters more than mileage. A tidy 150000-miler is a far safer bet than a rough car with a third of the mileage.
Perfect unexceptional classic: Austin Allegro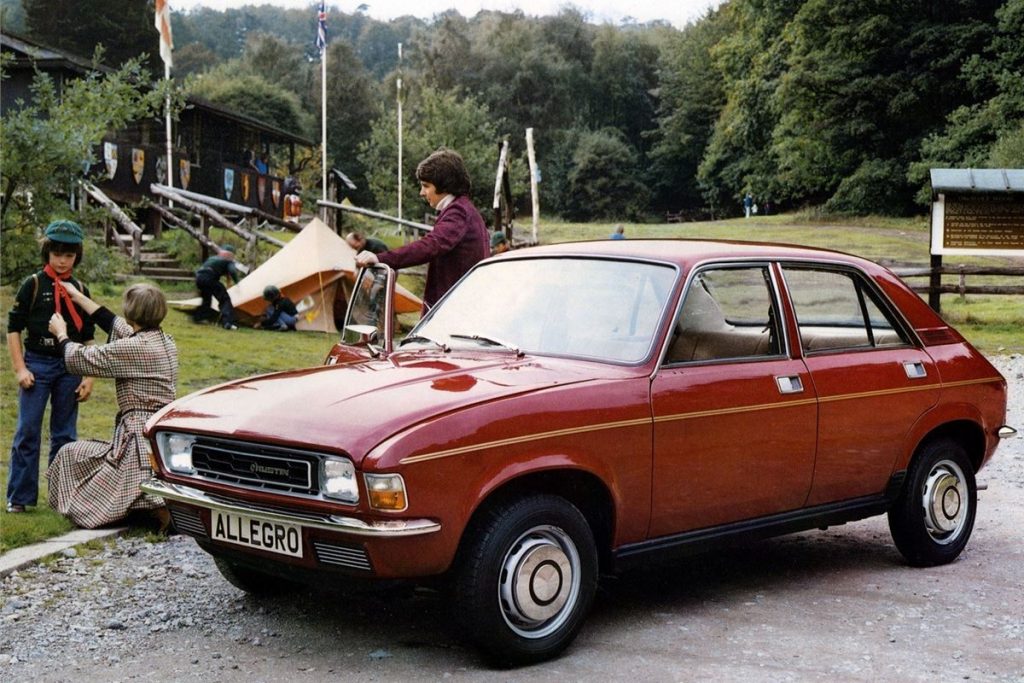 Mocked when new, the Austin Allegro is one of those classics that will always generate conversation. Younger enthusiasts may find them appealing as an ironic, anti-cool car which will draw a crowd at any classic car event you care to take it to. Those who drove them new will delight in telling you horror stories, but while it divides opinion, ownership of an Allegro is a great way of meeting new people.
Mechanically the smaller-engined variants are similar to the Mini, so parts are easy to source. Getting hold of bits for the 1500 and 1750 can be harder, but commonality with the Maxi will help here. Plenty of specialists are willing to tackle the car's suspension, which is based on a Hydragas system. Rot is the biggest enemy with the Allegro, so check the lower extremities carefully. Wing tips and valance panels are also at risk, as they're exposed at the nose. Trim can be hard to find in good condition as these cars are rare, but there's a thriving owner's club which can help.
The most desirable models are the 1750SS, Equipe and Vanden Plas 1500 – the best buy would be a mid-range 1300 for ease of maintenance, and our £5000 classic car budget could bag you a concours example. You'll spend maybe £3000 on a tidy one, while £5000 should be enough for an SS or Vanden Plas in excellent condition.
The mountain goat: Fiat Panda 4×4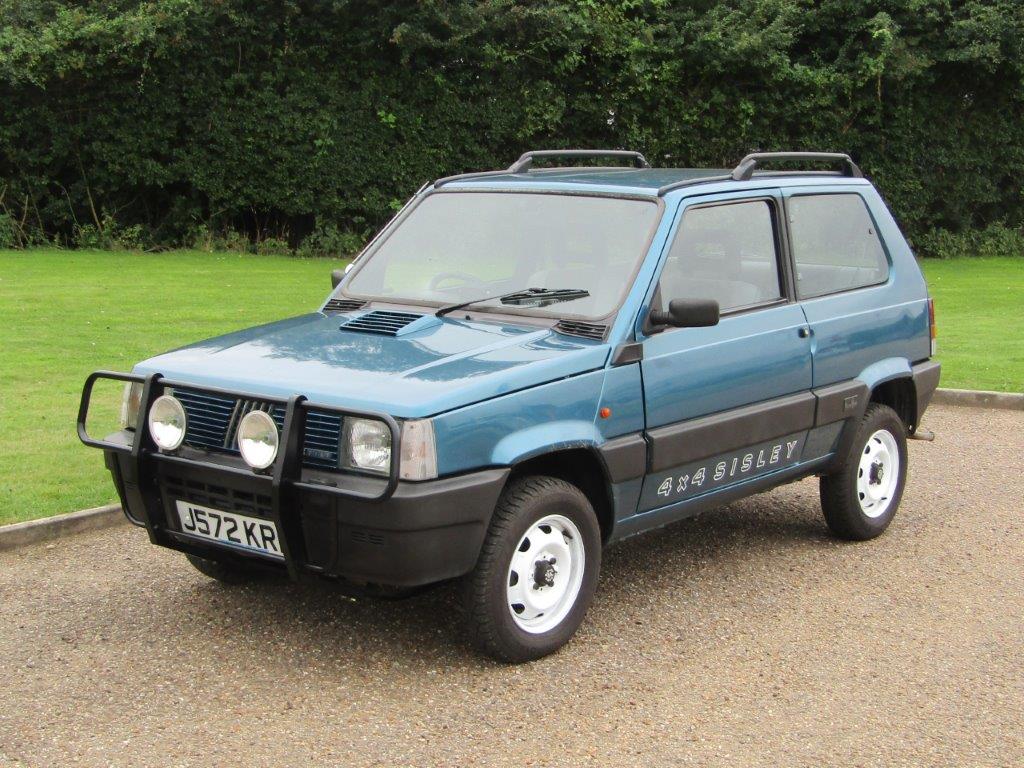 If you've been to a modest village high in the Alps in the height of winter, you'll have seen Panda 4x4s parked outside the boulangerie or panetteria. You may have even hung around long enough to marvel at the small, agile Fiat make its way back out of sight, perhaps tackling a snow-covered road as it goes. So you will know it's truly deserving of its mountain goat reputation.
It is simple, hardy and oh-so loveable. And today it is cherished in certain circles. Launched in 1983, it was the first small, transverse-engined production car to have a four-wheel-drive system. That system, developed by Steyr-Puch of Austria, is key to the car's capable character. Later examples used Fiat's 1-litre FIRE engine, and it's considered supremely reliable – assuming all maintenance tasks are performed without exception.
A Panda 4×4 is valued at around £5000 in good condition, according to the Hagerty Price Guide. The very best, concours example is worth as much as £10,000, so buying a Panda 4×4 in average condition and looking after it, or indeed raising it to a higher standard, could be a shrewd move.
Classic British roadster: MG Midget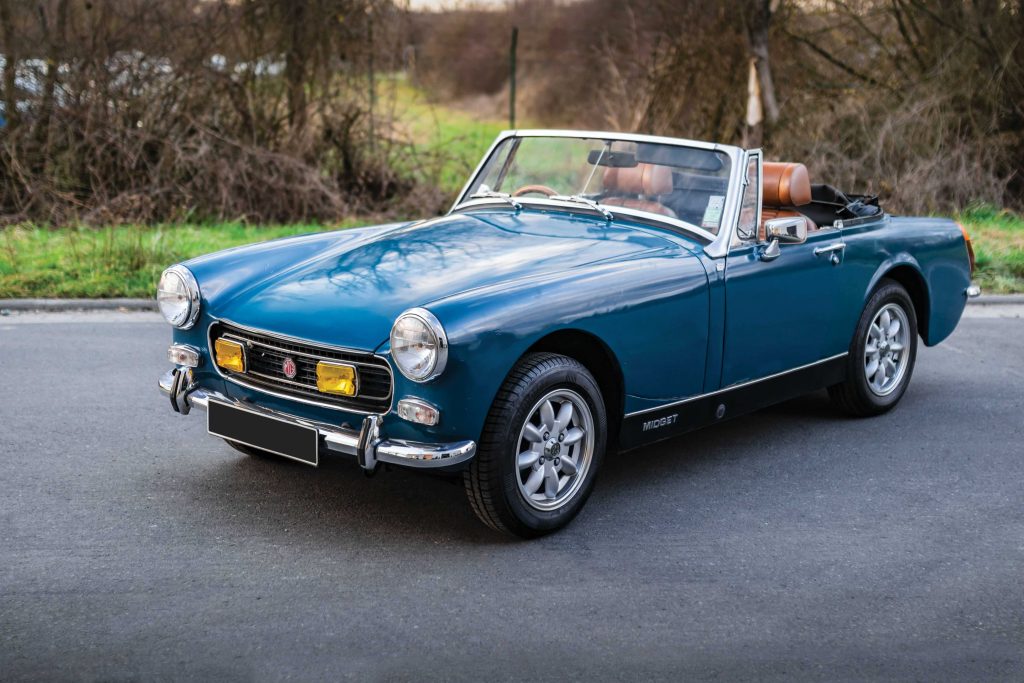 If you want a British sports car on a budget, the good old "Spridget" is an obvious port of call. It might lack the brutal appeal of the Austin-Healey 3000 or the Triumph TR6, but they're more money and what it loses in power it gains in manoeuvrability. The MG Midget and its Austin-Healey Sprite brother offer simple mechanicals in a small, light package, which means a raw driving experience rarely found in modern cars.
This budget means that realistically we're looking at cars with the 1500cc Triumph engine, though earlier models used the A-Series engine seen in so many of British Motor Corporation's past glories. Both are simple with several sources of service items, and pretty much every item of trim is available too.
Check the sills and valances for rust, but if you get a rot-free example there should be little to worry you. Buy in the winter or at the end of summer – prices soften as the weather cools, and it'll give you time for fettling before the warmer weather arrives again. £5000 nets a rubber-bumpered 1500, or a very late chrome-trimmed 1275 if you're lucky.
The quirky super-trooper: Saab 900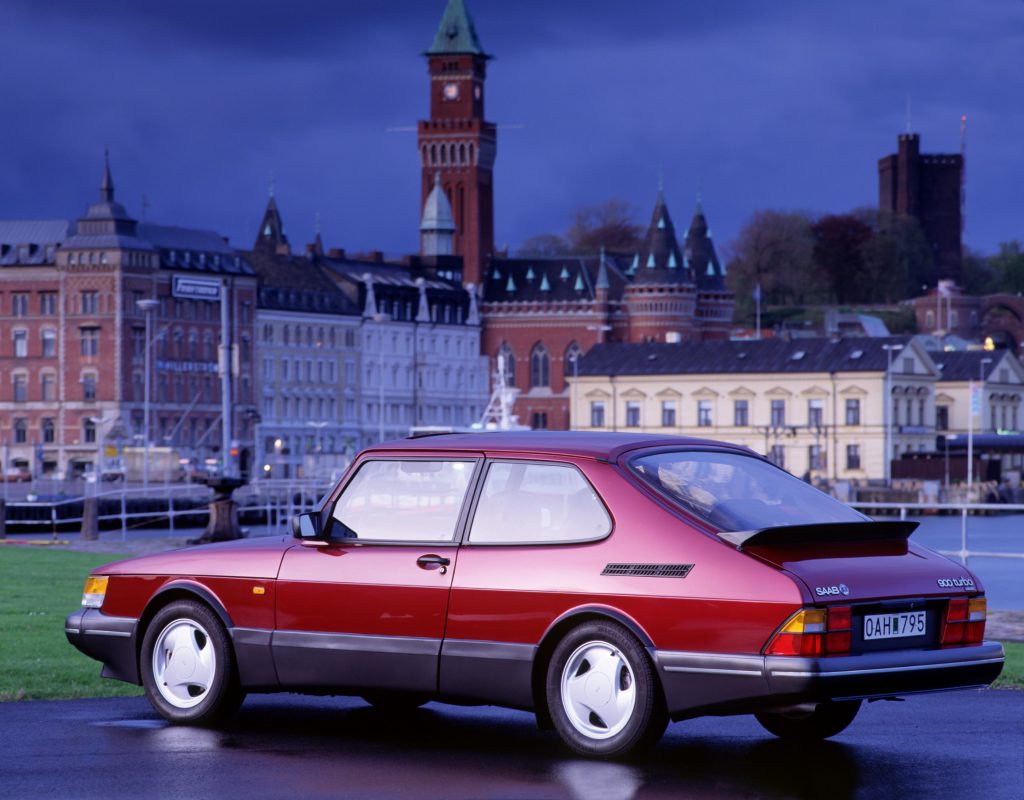 A Saab 900 is probably one of the most sensible classics you can buy – so sensible it should come with a polo neck for every driver. Comfortable, commodious, hardy and with plenty of power, even the basic 2-litre cars running carbs are a pleasure to own. A good 900i or Turbo is a desirable package too, offering economical and reliable performance in a car capable of the daily commute – if desirable.
An evolution of the 99, the 900 was a larger car with executive aspirations, a genuine alternative to the E30 BMW 3-series for those who wanted to be a little more individual. The hatchback versions had boots to rival the biggest estates, while the stylish convertible remained desirable long after the saloons and hatches entered banger territory.
Turbo models made the 900 famous, and the power even from an "LPT", or low-pressure turbo, should be adequate for most. Full turbos with 175bhp are excellent fun, but finding a good one within this budget is a thing of the past – unless you get lucky or it's a tired example. Plastic trims can act as water traps on the doors and wings, so check thoroughly for corrosion. Wings, valances and sunroofs can be susceptible too, as can suspension mountings, floors and the radiator support panel.
Got a suggestion for a good starter classic for £5000? Share it with the community, and add your comments, below.