Browse Instagram, and you'd think camping impossible in anything less than a hundred grand's worth of knobbly-tyred and matte-painted Mercedes Sprinter or Land Rover Defender. We'd respectfully disagree, as the best camper van we've seen in a very long time could probably fit in the back of the average #vanlife-tagged social media build.
Those high-end campers are ten-a-penny compared to Paul Bird's Mini motorhome, for a start – it's the only one of its kind in existence. Originally built by a company in the Isle of Wight better known for its 2CV camper conversions, the firm managed just a single prototype before deeming the project not economically viable.
How much is your car to insure? Find out in four easy steps.
Get a quote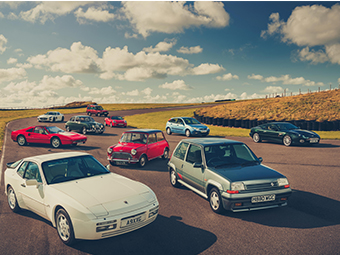 It was a proper job, though. Built on a 1982 Mini Clubman estate, it came complete with provision for a fridge, cooker, heater, and has stabilisers at the back to keep the camper level on-site. There's even a bunk bed arrangement, making this Mini camper a two-berth affair.
Not that it was quite as pristine before Bird got hold of it. If you recognise that name, incidentally, it could be from the electric DKW 3=6 also on display at the recent NEC Classic Motor Show, but it might also be because Bird rebuilt the camper in just 26 days, documenting it on his YouTube channel, Odd Autos.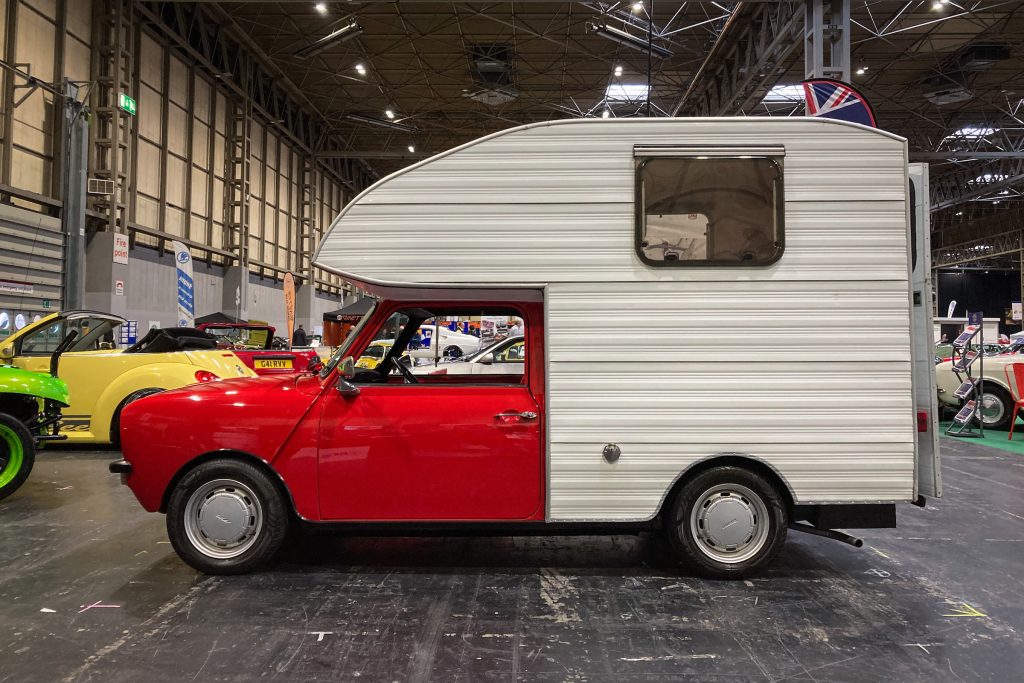 "It had been sitting in a barn since 1996," says Bird. "So inside it was damp, and the seats were all mouldy…" As well as a full re-trim (in a fetching furry red material – very period-appropriate, we reckon), Bird had the Mini repainted (in bright red, rather than the original bluish-silver), gave it a new exhaust and fuel tank, and generally resurrected it from a sorry barn find to a gloriously retro camper.
Perhaps most impressively of all, it was all done on a tight budget. "The challenge was that we had ten grand, and a month to restore it. But the camper itself was eight grand despite the state it was in, so we only had two grand left in the budget."
Bird has already taken the Mini camping – well, in the field opposite the workshop, anyway, and an electric hookup provides the power for that heater, plus any accessories he needs to charge. And while you might think a large white box hinders the Mini's driving characteristics, it's apparently not too bad on the road either.
"The camper is quite light – it's a timber frame with aluminium panels. And it's got a 1275cc engine in it, so it'll plod along at 50-60 or so no problems, just cruising along."
Peer inside and, from the driver's seat at least, you'd struggle to tell anything was different. The Clubman's characteristic three-spoke steering wheel is present and correct, as is the boxy little dial pod and shelf-like dash. It's only when you look behind (or up!) that things get weird… but weird in the best possible way.
The décor – furry red trim aside – is all fairly neutral, but as Bird said, you've got all the basics despite the car's tiny size, with a fridge, sink, stove, and plenty of storage. And with an automatic gearbox, stately but smooth progress should be a given.
Most importantly, explains Bird, projects like this are just good fun. "I just enjoy these more than newer cars," he says. "You'll do a journey of 100 miles and you're patting the steering wheel when you get there, like 'well done!'. There's anxiety, but it's mixed with happiness."
And when you turn up at a campsite, patting the wheel in a mixture of relief and pride, you can be sure you won't see another one of these Mini campers – which isn't something you can say about the average #vanlife Sprinter…
Read more
Your classics: The Thompsons and their 1961 Volkswagen T2 split screen 'snail'
Stars in your eyes: How to buy a classic camper van
Plastic fantastic! The caravan is making a comeback and you could tow the line too