Just 12 miles into its first journey, the three-cylinder, two-stroke engine in Paul Bird's 1958 DKW 3=6 went up in a cloud of smoke.
What you do in this kind of situation probably depends on where you bought the car. Buy a dud from a dealer, whether new or used, and there's usually some legal recourse to hand it back. Private sales can be a little trickier, and more than a few of you will be nodding along here, remembering a car that expensively expired within the first few hours, days or weeks after bringing it home.
How much is your car to insure? Find out in four easy steps.
Get a quote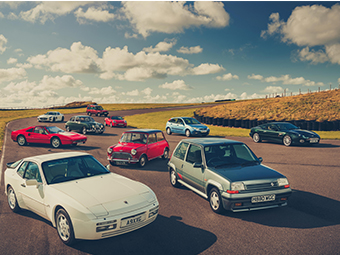 Even if Bird could have handed his DKW back though, it would've been a bit tricky – as it'd come over on a boat from South Africa.
"The seller had bodged it, basically," Bird explains. "When you're importing cars they only give you like, a minute-long video of it running and driving and they say, 'yeah, it's fine.' But one of the pistons was basically flopping around, and they'd got it running just well enough to sound good on the video."
Most would either move the car on, fingers burned, or bite the bullet and source a new engine to try and coax their expensive mistake back to life. But Bird, who runs a YouTube channel called Odd Autos and has a penchant for unusual projects, decided on something a little different.
"With a new engine it'd owe me more than the car's worth, and in reality the paint job wasn't amazing anyway, so I decided it was worth more to future proof it."
The future-proofing solution came in the futuristic form of a 2011 Nissan Leaf. Nissan's first electric car – and indeed one of the first on the market from any manufacturer – is now a decade old, making early cars a tempting source of parts for electric vehicle conversions. "I used as much as I could," Bird says, managing to harvest the EV's battery pack, motor, and inverter – combining them with a Chevrolet Volt charger from American firm Thunderstruck, and a battery management system from Orion, also US-based.
It wasn't all plain sailing, with the charger and battery management system initially struggling to communicate. Fixing it took three months, Orion eventually rewriting their system to allow the electrics to chat in the same digital tongue.
"It's the first EV conversion I've done, and a massive learning curve" states Bird, "and it was a bit scary handling a 400-volt system! But getting everything into the car was fine – I've been a mechanic for more than 20 years."
Hooked up to the original column-change gearshift, which is left in third, the electric DKW will now accelerate from a standstill to more than the legal limit all in the same gear – despite Bird detuning the 110bhp motor to go easy on the transmission. With the full Nissan battery pack, there's enough juice for a hundred miles of range too, despite the original battery gauge showing nine "dots" of capacity left from the original 12 – Leaf batteries have been particularly prone to degrading over time from repeated charge and discharge cycles.
The conversion is otherwise beautifully integrated, looking right at home under the bonnet. That beautiful two-tone colour scheme, meanwhile, pairs two modern Audi colours – Daytona silver and Floret silver, from the RS6 and RS4 respectively.
If there's one issue, explains Bird, it's cost. The results have been worth it, but with the Leaf coming in at around £5500 (demand for used EVs means even decade-old cars are still relatively valuable) and the other battery components from the US costing similar money, it's far from cheap – and that's with Bird doing the installation work himself.
Still, the electric DKW project has become something quite special. "It's great fun, and still drives like a DKW – just a bit quicker! It scares people too, as it's so quiet – driving into the NEC halls I had to keep excusing myself as people couldn't hear the car behind them. Once the price of batteries comes down, I can see a lot more people doing this kind of thing."
Read more
Convert a classic to electric? It's assault and battery
This Citroën DS could be the perfect electric classic conversion
Vorsprung Durch Technik: Five ways Audi has advanced cars in five decades