It's all Vicky's fault. Before she could even drive, she owned a Volkswagen Beetle and it's from that little blue and white bug born in 1971 that her obsession for VW grew. First, to the size of campervan, and most recently into the shape of "Snail", a half split-screen VW minibus, half Monza caravan, which is affectionately known to Brian, her husband, as "The Big S**t Bin."
"He'd sell it tomorrow," giggles Vicky.
How much is your car to insure? Find out in four easy steps.
Get a quote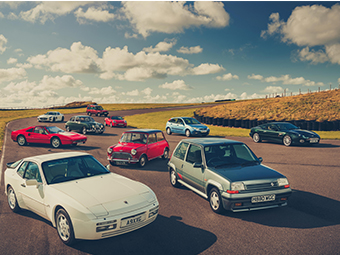 "I'm emotionally detached," Brian adds.
The Thompsons made their transition from traditional VW camper to something a little more unusual after years of faff and lack of space during family camping holidays with their three sons.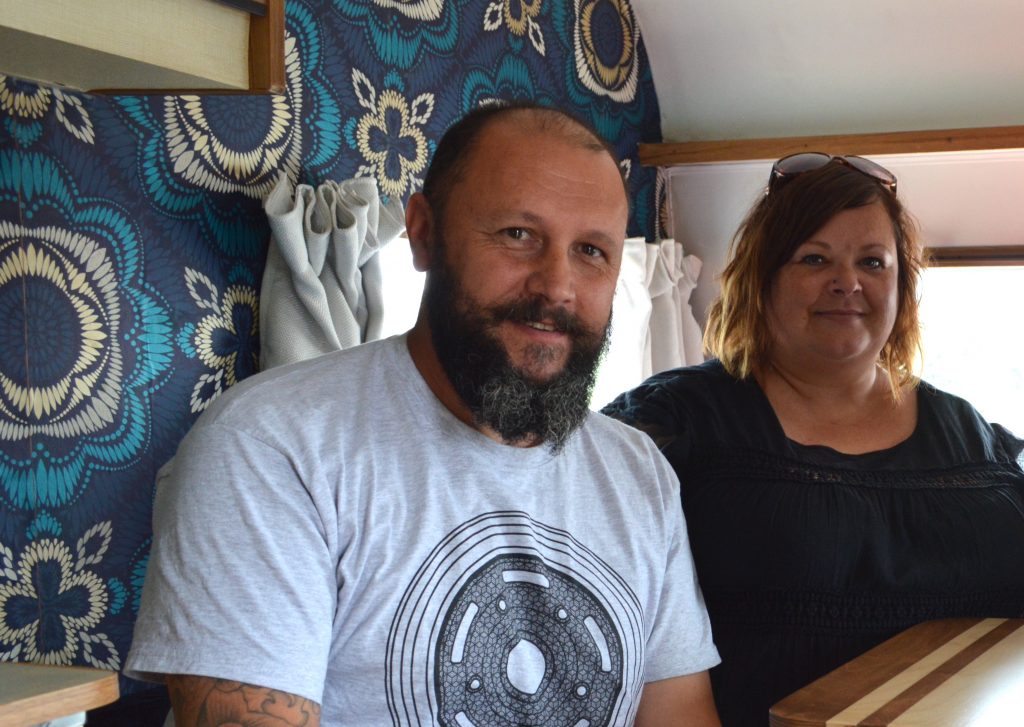 "Our van would be full to the brim," says Vicky. "We had a full length roof rack, which would be full, and it would take us hours to set everything up when we arrived anywhere. Brian said 'I'm getting too old for this' so we decided to find something with more room."
Initially, the couple flirted with the idea of buying a ready-made Jurgens Autovilla (a South African mashup of the VW Kombi van and Jurgens caravan) but instead took inspiration from a friend who had gone down the DIY route. To fund their project, the Thompsons sold the 1957 split-screen Microbus they'd used on family holidays for 15 years.
After Brian sketched a "terrible" design, they set to work on turning their Frankenstein dream into a real-life mini-break machine. Vicky, the creative one, focused on the interiors, and Brian, on the build.
Before they became one, the Snail's two parts spent their lives in different continents; the 1961 split-screen in Canada, and the 1971 Monza in the UK. The couple struck a £3,000 deal for the donor bus based on what they saw in three photographs, which they admit, would have put most people off.
Unaware of its history and how it had reached such a sorry state, the bus, with its driver-side door hanging awkwardly on its hinges, wore rust like camouflage, but despite the dents, dinks and holes that existed either through decay or because components were missing, the chassis and front cabin – two vital components – were salvageable.
"It was a huge risk, but we knew most of it was going to be cut off anyway," says Vicky.
To accommodate the caravan (which had to be 10ft long in order for it to marry together safely and comfortably) the rear section of the bus and its floor were removed, leaving just the cab and the chassis rails. To provide the stripped-down structure with the extra strength required to carry the weight of the caravan, they had new box section framework fabricated into the front and rear. With its rotten parts removed, the trimmed-down Monza was then welded into position.
To maintain as much originality as possible, the couple saved what they could. In the cab, the lower panels were repaired, but the doors, wheel arches, floor and electrics had to be replaced.
"There were times when I wish I'd just bought one," says Brian. "We had a lot of help from friends and professionals, when I tried to do some welding I just kept blowing holes in it because the metal was knackered. I think there's only two or three Snails in the UK with split-screen windows, and this is the only one currently on the road. It was all worth it in the end."
It took three attempts to decide on the exterior colour scheme, but when it came to the interiors Vicky was far more decisive. Contrasting the muted hues of mango green and original white outside, she opted for dark colours, bold patterns and retro vibe furnishings.
She found the wallpaper online by searching "funky" and its vibrant mix of navy, turquoise, yellow and white, pops against the finishing touches she bought on eBay and in supermarkets – including a statement mirror with gold surround and soft to the touch scatter cushions. It's budget style that looks luxe. 
"When people poke their head in they do say 'Wow!'," smiles Vicky. The best part? They can stand up in it. 
With a fridge, oven, grill and even its own kitchen sink, the Snail is full of hidden features tucked away behind doors and beneath work surfaces. By day, the squishy u-bench seat that sits at the rear surrounds a dining table, and by night, with a little rearranging, it turns into a king-sized bed. It's compact living, comfortably, but for Vicky and Brian it's sometimes a little too cosy – so cosy in fact they're considering removing the Propex heater they installed and putting a loo in its place. 
The Snail wears its weathered life beautifully and most noticeably in the cockpit. "We like that it's ratty, and it does turn heads," says Vicky. Brian adds: "Yeah, it's all right isn't it. Other than a coat of Owatrol Oil to stop the rust getting worse I don't have to do much to look after it." Just don't pull down the sun visors. "There's forty years of dust behind there," he warns.
It took the Thompsons over two years to complete the build at a cost of £17,000, and mercifully, their concerns about being able to get it registered and insured came to nothing. Powered by a second hand 1500cc Type 3 single port engine that came out of a beach buggy, the proud parents won't be leaving a Snail trail any faster than 50-55mph, not that they'd want to.
"When we first had it I kept thinking to myself oh my god, what if the caravan falls off the back," giggles Vicky. "I know it would never happen but can you imagine driving along and the front splits, I'd be like 'ahhhh'". To be on the safe side (and alleviate any further irrational fears) they plan to have the Snail MOT'd annually despite it being exempt.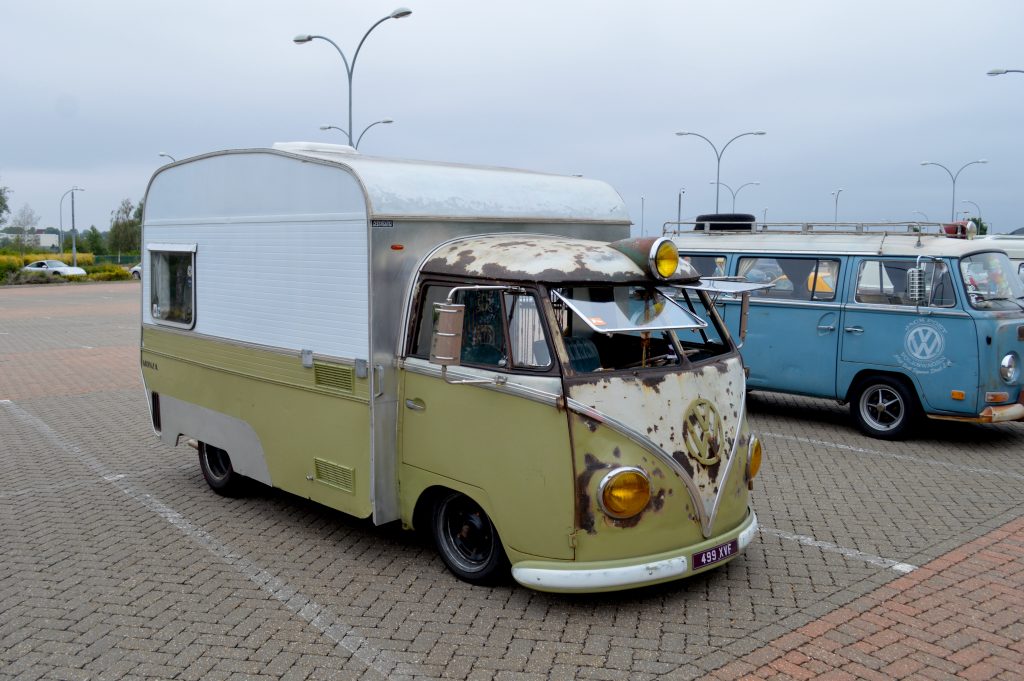 As a reward for their hard work, and taking their fair share of criticism from members of the VW and camper van community on the chin, Vicky in particular looks forward to hitting the road. "It's not as bumpy as the last van," says Brian.
Vicky continues: "Whenever we used to get to where we were going I would have really bad pains in my jaw from clenching my teeth. The previous van was quite low so every bump we went over we scraped the floor, we had sparks, the lot. I would be holding on for dear life, but I don't feel like that in this one."
Brian picks up the conversation: "It's a nice drive, the only bad thing is when lorries go past. They pull you in a little bit. We only tootle along anyway."
Vicky's advice if you want to tackle something similar? Patience. Brian's? Don't do it, but take what he says with a pinch of salt, because on the ceiling between the two front seats there's a tatty sticker in the shape of a heart. Put there by a previous owner, it's the most delicate thing to survive the restoration, and whether that was deliberate or not, it's a sentimental symbol that for Vicky and Brian bringing their Snail to life has been a labour of love.
Read more
Stars in your eyes: How to buy a classic camper van
Your Classics: Cat Mulligan's 1971 VW Beetle 1302S
Seven quirky classic cars to brighten any garage