Dominic Chinea is a craftsman and member of the team on the BBC's Repair Shop, and is also on a missing to save the English Wheel.
"My parents told me not to do it, but I thought, sod it, and transferred $6000 to some random guy selling his VW Camper in America. Up until then we'd had good comms over email but obviously, once he had the money, he went quiet. I was terrified.
A few months later I heard from the shippers, who said 'Oh yeah, it's turned up' and I thought, thank Christ for that. I asked where the camper had been and something about fumigation or quarantine was mentioned, but I wondered whether it even had wheels on it anymore. 
Its journey from America in the container should have taken six weeks, but six weeks came and went; my parents were like 'See, you've wasted your money'. I don't know how it happened but something went completely wrong because the container got lost and went on a tour to Tokyo. It was ridiculous, why they'd left it on the boat I'll never know, but eventually the phone call came, my 1966 split-screen Deluxe VW Camper had arrived! 
How much is your car to insure? Find out in four easy steps.
Get a quote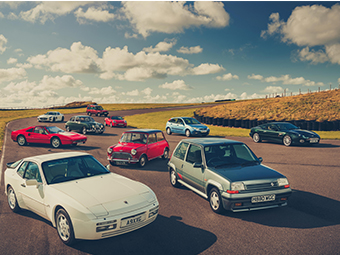 I grew up in a little village just outside of Southend in Essex and had VWs before I even had a driving license. To buy my first Beetle I saved up £500 of newspaper round money to get one that I'd seen on someone's driveway on my route. I worked my way up from there to campers, restored and sold a couple of bay-windows, and then got a job as a workshop lad at the VW and Porsche specialist, Karmann Konnection. It was a brilliant few years that saw me through college and university, but being surrounded by the most amazing split-screens inevitably made me a bit of a classic VW snob! 
It was around 2008, when I was in my early twenties, that all of a sudden a bay-window wasn't good enough. I found the '66 split-screen for sale in California and everyone at work said 'Go on Dom, why don't you get it?'. At home, my parents were like 'No way in hell are you doing that'.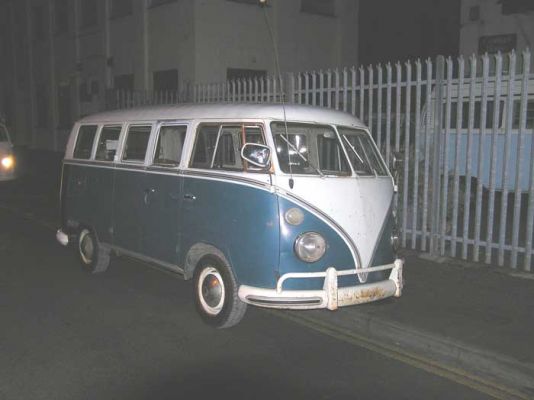 I had literally seen three blurry photos the size of a stamp on my computer screen but the only way I was going to get a split-screen was to get one from the 'States because they were pretty much half the price. Sure, it was a risk, and I had never done anything like it before, but I had to take the leap. I went to the bank, learnt all about IBANS and SWIFT codes, filled in lots of forms and then sent the £3000, which just so happened to be my student loan. 
It took a while for my 13-window chariot to arrive, which was scary, so when it cleared customs at the docks (it was either Portsmouth or Southampton) I was over the moon, but honestly, I was still really worried that something would go wrong – maybe someone would hit it with a forklift, or stack another car on top of it, but thankfully the shipping company arranged for it to be dropped off outside Karmann Konnection. It arrived in the pitch black of night and I was so relieved. It didn't have a badge and I was convinced it had been stolen at the port, but the seller had removed it and hidden it under the seat upholstery so it didn't get stolen!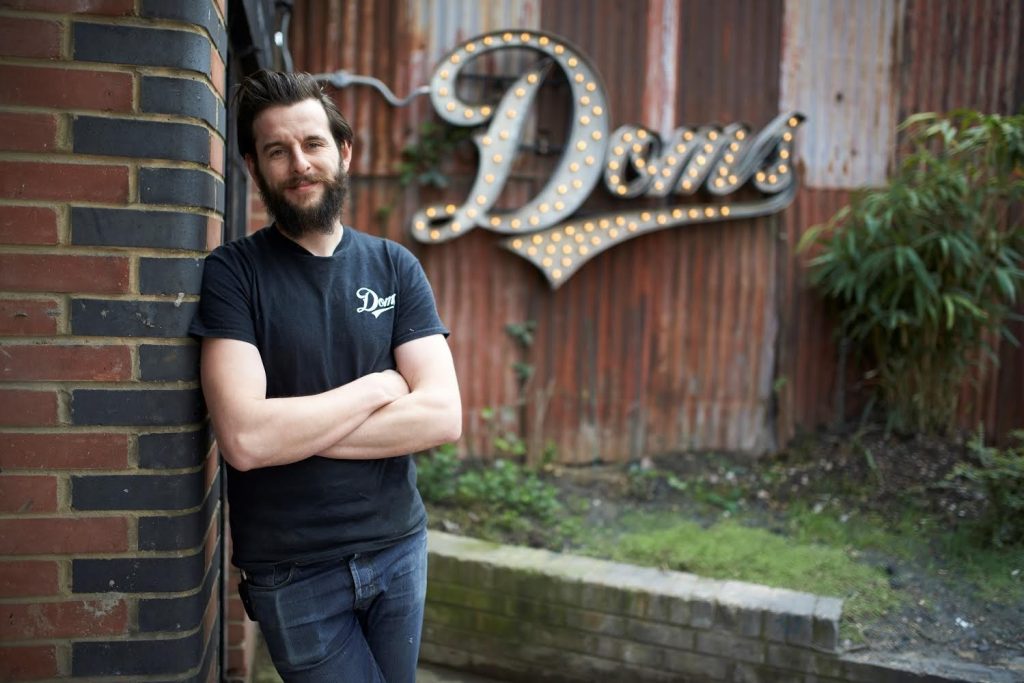 The van was everything I'd dreamed of and more; it was wearing its original sea blue paint and the roof was stripy with raw California patina, it was fading in such a lovely way, but when I got the engine running and drove it round the block I thought it was awful, so took it off the road straight away.
I rebuilt the original reduction gearbox and engine, and made it my own by putting on a narrowed lowered front beam and straight rear axle conversion. It was a quirky old thing but there was nothing like a door that never shut properly because if it didn't, I'd fix it, and if I couldn't, I would take it to KK where John the mechanic would sort it out. I never did anything to the interiors because my friends and I would use it like a proper van; we would sling the side doors open and sling our mountain bikes and BMXs in the back.
It was my everyday car, which was quite unusual for someone at college because most of my friends had fairly modern cars, but mine was way more fun. What I hadn't expected was the faff of it being left-hand drive and me being on the wrong side when I went through a McDonald's drive-through or tried to pay for the Dartford Tunnel.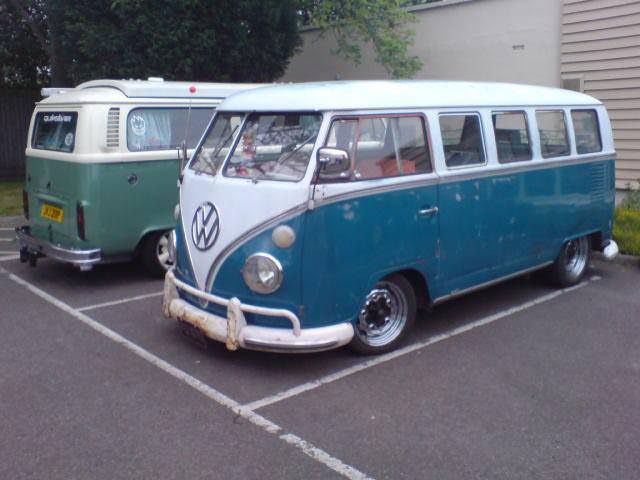 Me and my mates would bundle down to Cornwall in it two or three times a year to mess around and go surfing. It would take eight or nine hours to get there but everyone would have a great time drinking in the back. Once we were there we'd cause absolute mayhem, I had a little tannoy connected to a microphone inside so we would cruise around and shout at people, but never anything nasty, it was all in good fun and because there was no Instagram, nobody really took pictures; we didn't have a reason to document it other than as a good memory.
As an 18 year-old kid, Friday and Saturday nights were cruise night on Southend seafront, it was massive back then. There were Novas, Saxos, Fiestas, Renault 5s, all that kind of stuff, but me and my friends arrived in bashed up old bangers like air-cooled Beetles and camper vans; there wasn't a neon light in sight! As a 22-year-old with a 13 window camper, weekends were a little different.
My friend Ash bought a split-screen panel van fire engine and on a Friday or Saturday night we'd drive in convoy to Raleigh in Essex, pull in to the corner of a car park, drink cider, have a BBQ and then leave the campers there while we went to a nightclub called The Pink Toothbrush. Everyone was so jealous that we could just stumble back to the vans and go to sleep while they had to get the last train or pay for a cab at three in the morning.
If I had a camper now I would definitely not be leaving it in a car park behind a nightclub overnight, and not just because I think someone would nick it, the windows would just slide open and there was barely a door lock. I'm mid-thirties now, so I'm probably a little bit too old for all that anyway, but how I didn't get in more trouble back then I don't know.
We did the same thing when we went on nights out in Brighton. On one occasion we parked up on the seafront and when we woke up and opened up the doors we  discovered we were in the middle of a Land Rover show. It was the London to Brighton Land Rover run and there we were, just two men and their camper vans with empty cans of Strongbow tucked up at the wheels.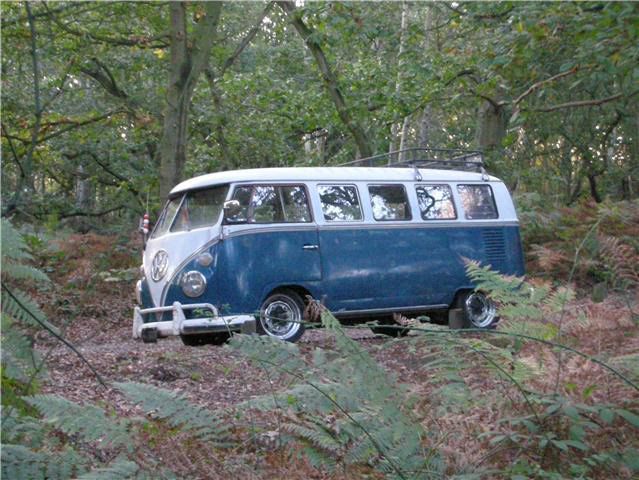 As I said, I was over the moon with it, for a while. After five or six years of ownership, the California rusty bits had started to turn to English rust, but looking back now I don't know what I was stressing about because apart from the sills, the rest of it was solid. It's kind of true that I thought I should get rid of it because it needed welding but really, it was me being a snob again – I'd decided I wanted an earlier model so found a very rare '56 in Canada. At the time I told myself that selling the '66 was fine but I'd talked myself in to it because I was desperate to get the fifties one. I sold it to someone at KK and they sold it on; I'm such an idiot, I wish I still had it; the '66 is the one.
The '56 turned up more smoothly but it was a big project that I never got finished because I moved to London to work for Rankin, the British fashion photographer. The weird thing is that everyone knows me for being on The Repair Shop or through my YouTube channel, but I was a set designer before all that. I swapped the '56 camper for an American dodge truck because it was more functional for work and regret doing that too. The new owner has completely restored the bus, sand blasting the shell, along with all of the original remains of dove blue paint, pin striping and signwriting I'd spent months uncovering with wire wool. He has done a fantastic job of the restoration but I'd still rather buy the '66 back because of all the memories. 
Every now and again I have a reminiscence and look it up on the DVLA checker. The last logbook change was in 2014 and it's still taxed, so I think whoever has got my old '66 loves it, but the heartbreaking thing is it's now registered as red, so that beautiful sea blue paint is long gone. It would be amazing to see if the faded Disneyland sticker that was on the tailgate when I got it is still there, but I suspect it's not. I found an identical one at a boot sale, which I've still got, and plan to keep.
Everyone's lives have gone in different directions and it's all become very serious so to jump back in that old bus and go back down to Cornwall with all my mates would be amazing. The last time I went to a campsite was in that bus, and now I'd be there in my socks and sandals. Oh, how things have changed."
Dom is a member of the Association of Heritage Engineers, an organisation that promotes the sharing of skills and experience. He has just published his first book, Tools A Visual History: The Hardware that Built, Measured and Repaired the World
Read more
Stars in your eyes: How to buy a classic camper van
The One That Got Away: Actor Jim Piddock on cars, miscarriages and VIP passengers
Volkswagen T25 video: "You'd make memories in it" | Hagerty UK Bull Market List