Luck didn't go Steve Parrish's way at the 2023 Goodwood Members' Meeting. But Parrish has had his fair share of disappointments in his time as a professional bike racer, team manager and truck racer.
"Unquestionably the worst was the British Grand Prix, at Silverstone, in 1977. I went across the start/finish line with one lap to go, and a three second lead, and stupidly I was already thinking about what I'd do with the prize money and the big trophy and all of adulation that comes with winning your home grand prix – which is a dream for any rider, and to this day no British rider has ever won the Silverstone Grand Prix.
How much is your car to insure? Find out in four easy steps.
Get a quote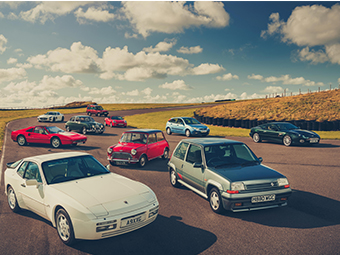 "Anyway, as I went over the start/finish line, it started to drizzle with rain, and as I was the first one to get to Copse corner, I was the first to discover how slippery it was – and down I went!"
As Parrish tells it, Barry Sheene was "…p*ssed off because Pat Hennen won the race and he didn't like him. Suzuki was pissed off too because I had thrown away a certain win so they sacked me and kept Pat in the team, which didn't please Barry either. It also cost me third place in the world championship so it was a bad day all round."
But surely that's not down to a technical failure? "Well, I'd say it was a technical failure on my part, gassing it too much and pulling on the front brake too hard!" laughs Parrish.
Parrish's last race in a car was way back in the mid '90s, and the Caterham Vauxhall Championship. Last weekend, he was racing a 1964 Lotus 23B at Goodwood's 80th Members' Meeting, in the Gurney Cup, a class for sports-racing prototypes that competed between 1963 and 1966. Each car has two drivers for the 45-minute race and there is an enforced driver change, which can't be any faster than 50 seconds – from entering the pit lane to leaving.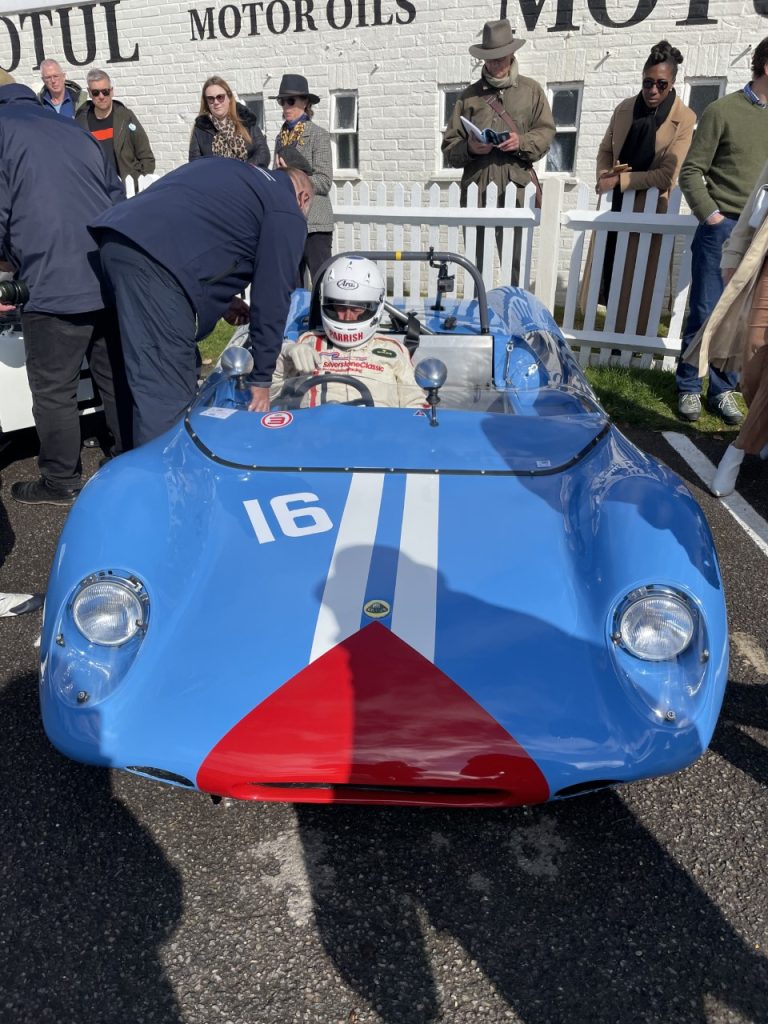 The car is campaigned by Nick Fennell since he acquired it 13 years ago, and prepared by Hasu Racing. A Goodwood regular, Fennell is something of a Lotus enthusiast and self-confessed fan of Jim Clark. Hasu Racing runs an enviable fleet of Norfolk- and Cheshunt-born machinery that includes a Lotus 25, the car that propelled Jim Clark to his 1963 World Championship title and is said to employ the first fully-stressed monocoque chassis in Formula One, as well as a Lotus 72, the ground-breaking, 1970 F1 car that would evolve into a hugely successful, championship-winning machine.
"Nick and I had met at Goodwood in the past," explains Parrish of the connection, "got chatting and found that we're local to one another, with me in Croydon [Cambridgeshire] and Nick in nearby Royston."
Fennell says he believes one of the key attractions of Goodwood's motorsport events is the mix of motorcycles and cars. "I started racing motorbikes as a hobby and so I have a great passion for motorbike as well [as cars]. Goodwood is the only event on the global scene that does bikes and cars together, so getting Steve into a Hasu Racing car is bridging that gap.
"For me, the car was built as a racing car and it should be raced. It's very competitive, and we have to work hard to develop them and keep them competitive."
One thing led to another and before you know it an entry is submitted for the 80th Members' Meeting and Parrish is standing in the paddock at Goodwood, sizing up the Lotus 23B for his first test session in the weeks leading up to the race.
"My first impressions of the car were that it was tiny. It's like a toy car. Thank goodness racing drivers wear Nomex overalls because I'd never have flexed my way into the Lotus wearing uncomfortable leathers.
"It's pretty uncomfortable, the top of my right leg pressing into the cross member, and if you didn't wear the little pixie boots that racing drivers wear you'd press all three pedals at once. It's so cramped it makes a Caterham Seven feel like a limousine."
The cramped nature is part and parcel of the success of the 23 series Lotus racing cars. They weighed as little as 455kg without fuel – "probably the same as two wheels and tyres from one of my racing trucks," jokes Parrish – and were powered by small, fuel-efficient, 1.5 or 1.6-litre four-cylinder, twin-cam engines built by Lotus, and would immediately threaten the establishment in Group 4 motor racing.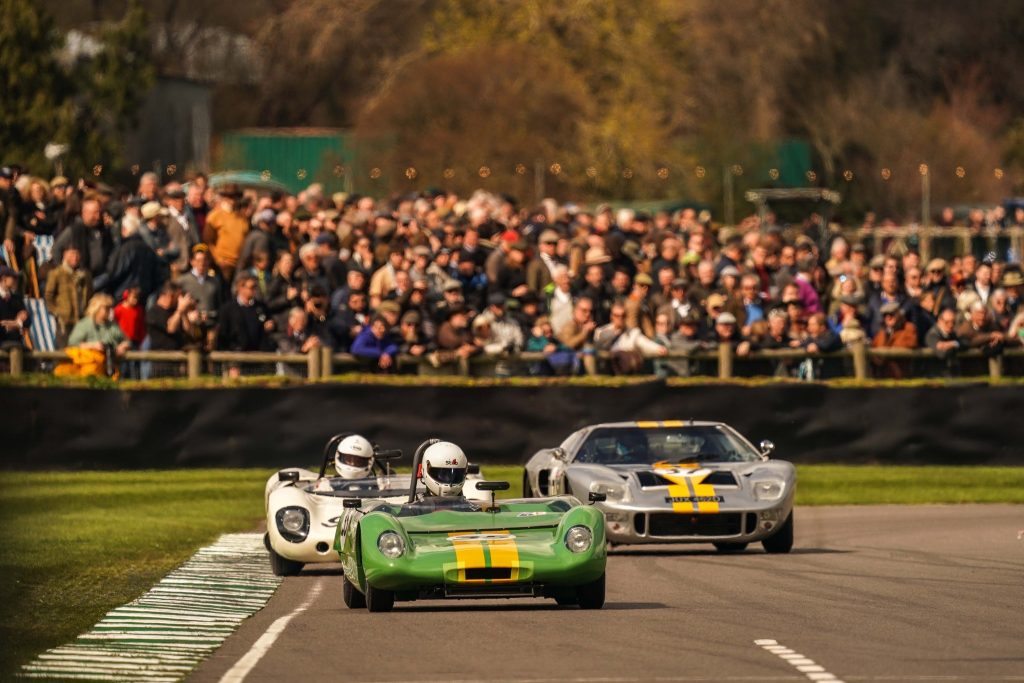 The car proved its potential at its first race, the 1962 Nürburgring 1000km, where Jim Clark led Dan Gurney's Porsche 718 GTR by a full 27 seconds after the first lap, but was later forced to retire with damage to the exhaust manifold.
Colin Chapman entered a pair of 23s for that year's Le Mans 24 hour race, but the Automobile Club de l'Ouest organisers seemingly made up their minds that the upstarts from Britain wouldn't be allowed to race, and threw all manner of technical infringements at Chapman and his team. Despite addressing all the minor points – points that, some have said, were waived for the likes of Ferrari – the organisers dug their heels in. Chapman vowed to never return to Le Mans, and sure enough, in his lifetime, Lotus never did.
"I didn't know that," says Parrish. "I'm not surprised, though, as the car has such tremendous potential. The test day was wet so I never got to drive it in flat-out anger, especially as the circuit is so slippery. So my first dry laps were in qualifying, and I think I had four in all."
Parrish and Fennell qualified 16th on the grid, "second in class" points out Parrish showing a hint of his competitive streak. The little Lotus powered to a time of 1m 24.5sec, whereas the pole-position GT40 achieved a 1m 20.9sec time. It was sat alongside another Lotus 23B and a Ford GT40, while ahead was a mix of the dominant GT40s, a Lotus-Ford 30, a handful of Chevrons and an AC Shelby Cobra 427.
"It felt tremendous through the corners. The car is so well balanced. The team were telling me that it is pretty much 50/50 perfect front-rear weigh distribution, and that's how it feels oh the track. All four wheels load up and do their fair share of work, and you can feel what's going on and put your trust in it. But I have to say that four dry laps is not enough to get close to the full potential of the car."
With Parrish to start, the tactic was simple – go hell for leather. "People may think that these races are all terribly gentlemanly but nothing could be further from the truth. These are hugely competitive people, with half professional or former professional racers, and once a racing driver always a racing driver.
"Fellow bikers asked me if it's as easy as it looks from the outside, and I told them 'It's tough; you've got to put your neck on the line if you're to stand a chance.'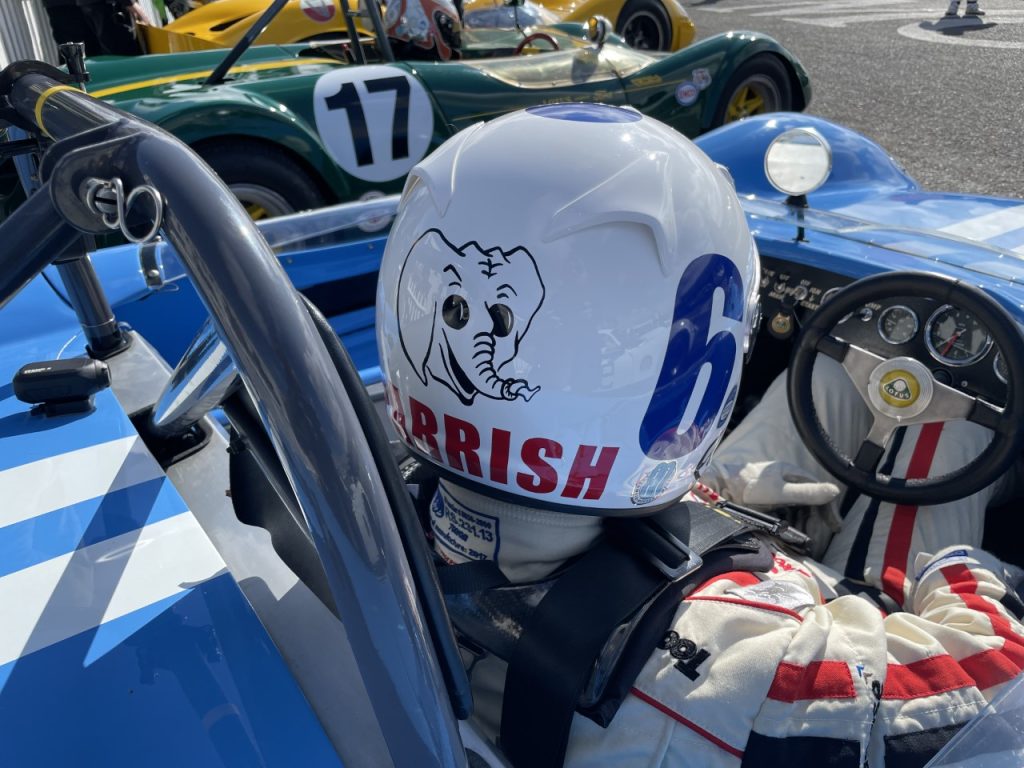 "I made some strong moves on the opening lap, getting past another Lotus and a GT40, and crossed the line after the first lap in 13th place, but then that same GT40 made a strong move on me, at about 150mph around Fordwater and put me on the grass, which was a hairy moment!"
The next 'moment' that Parrish would experience was one of bitter disappointment. "I came on to Lavant and there was no response from the throttle. The £5 throttle cable had sheared where it meets the carburettors. I was gutted, but mostly for Nick and the team who had gone to so much trouble to get the car to this point, only for Nick to not event get to race it. But that's racing, right?"
Happily, this time then, it's not down to driver, or indeed rider, error. "I did joke that perhaps I'd push my foot through the floor" says Parrish, and with that he says he's already got his fingers crossed that he and Fennell can have a more successful race together, in the future.
Read more
Steve Parrish: A lifetime of getting away with it
Saving Donald Campbell's AC Aceca
Winning ways: How the Ford Escort dominated the RAC Rally, 50 years on