I have been lucky enough to have been invited to be a motorcycle Judge at Salon Privé for the past 10 years. This event, I believe, morphed out of a show originally held back in 2001 called the Louis Vuitton Concours at the Hurlingham Club in Fulham.
Back then my great mate Barry Sheene was a judge – and the funny thing was that his favourite day was always Ladies Day. I can't for the life of me imagine why.
How much is your car to insure? Find out in four easy steps.
Get a quote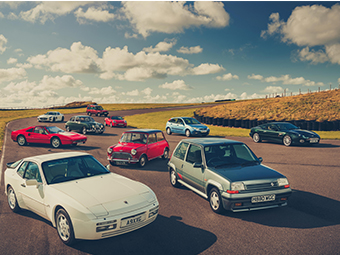 It became the Salon Privé Concours d'Elegance and moved to the fabulous setting of Syon Park, West London in 2011 when I joined the judging team – not, you understand, because I demanded an even more glamorous venue befitting of my status! By the time I became involved as a judge Barry Sheene had passed away – he left us in 2003 – and I have no doubt we would have made a formidable pairing that would have ensured there was never a dull moment for the motorcycle owners generous enough to submit their bikes for the concours.
At this point, you might be asking yourself what qualifies a racer of mature years (no sniggering at the back) to cast a critical eye over some of the world's rarest motorcycles or bikes that have undergone dramatic and challenging restorations. Well, that's easy: I once served my time as chief judge at the Miss Isle of Man TT competition, at the Palace Lido on Douglas promenade.
Andrew and David Bagley, the organisers of Salon Privé, make it a very special event that encompasses all the beauty and magic of the World's most prestigious and exotic cars and motorcycles that have been sculpted over the last 120 years.
Since 2016 the event has been held at the majestic Blenheim Palace. There's definitely a feeling of a bold and powerful building watching over the bold, powerful cars and motorcycles.
This year, my partners in crime, I mean my fellow judges, at Salon Privé were Henry Cole, the television presenter, Mike Jackson, the adventurer and competition rider turned concours connoisseur, and Dennis Frost, the respected journalist and author, all aficionados in their knowledge of classic motorcycles. And then there is me who, as I always put it, "knows what I'd like to own".
Over the past 10 years, we'd always have our own respective favourites and our reasons why a particular motorcycle should take top honours. However, we generally agree and reach a consensus around the winner and runner up.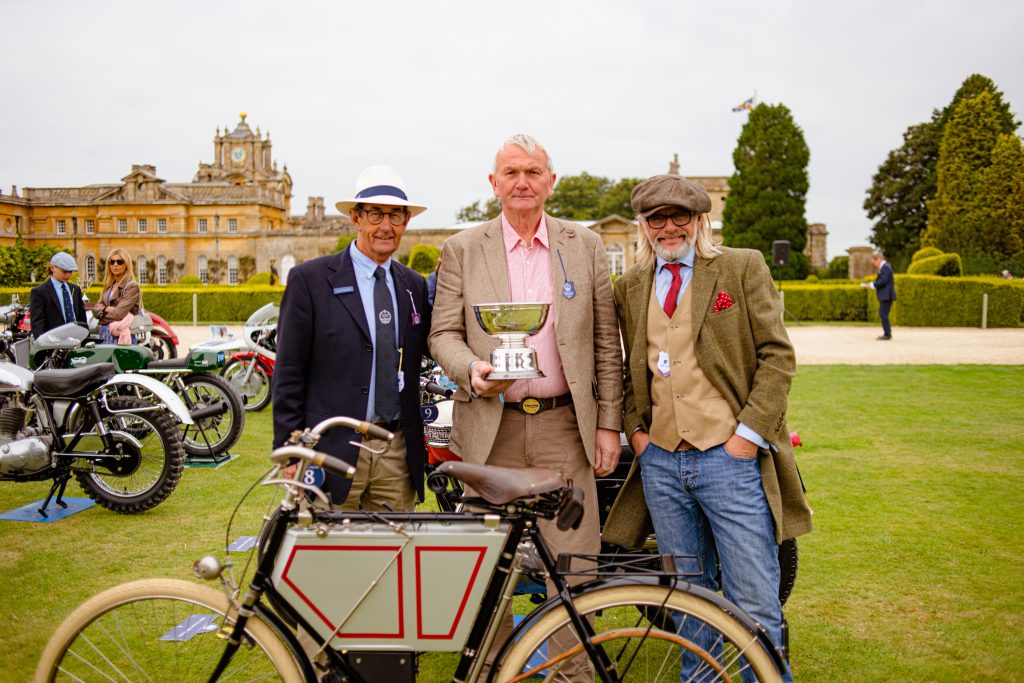 Unlike judges of the Salon Privé car concours, who find themselves crawling all over and under the cars to check out originality, condition of the chassis, matching numbers and tell-tale things like glass etching and dealer number plates, we motorcycle judges have it pretty easy. A motorcycle is naked as a jay bird, laid bare for all to see.
This year the four of us had about three hours to talk to the owners and hear the bikes run. Drooling over the 15 motorcycles entered, all the bikes were deserving of an award as they were all exquisite.
We finally agreed – after the odd glass of champagne (the water supply had run out, honest) and not a brown envelope in sight – on the winner and runners up.
The Duke of Marlborough Award went to Dick Shepherd's amazing 1901 Triumph. The bike was recently discovered in Ireland and as with all Dick's Triumphs, he had returned it to its original glory, even better if truth be told, as if it had just rolled off the factory floor.
In the competition class Sammy Miller took top honours with his 1951 Moto Guzzi Bicilindrica – a proper piece of history that enjoyed much success in racing from the 1930's to 1950's, with its V Twin engine possibly the forerunner to Ducati's design.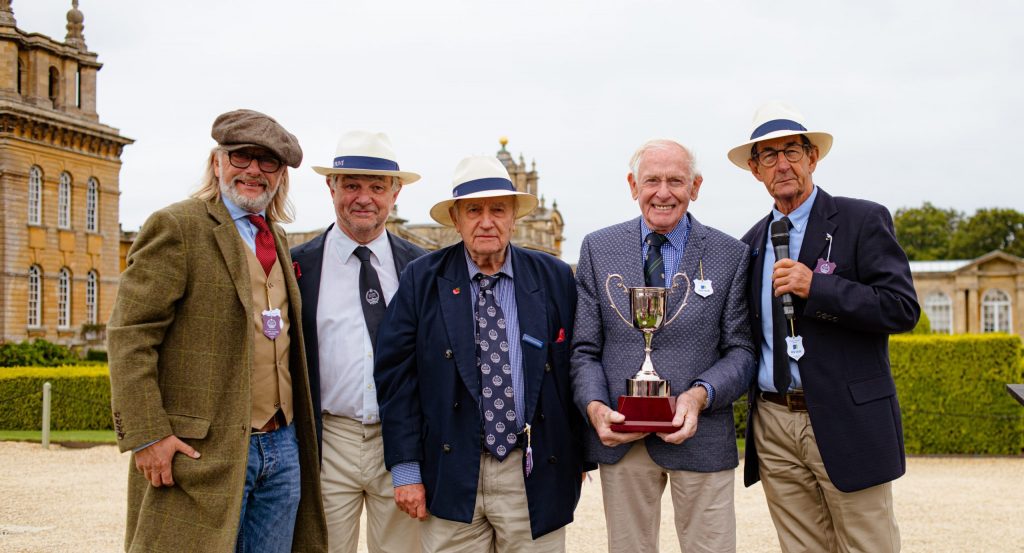 The runner up was Andy Sawford's TZ 250A Yamaha racer. One again, the judges felt it was exactly how it came out of the factory in 1973. But there was one key difference that yours truly picked up – the rear shock absorber was different. I know as I bought one back then and raced it…
In the exceptional motorcycle class, the 1975 MV Augusta 750 Sport was the winner, and let's be honest, how can an MV Augusta not win? Giacomo Agostini, the 15 times world champion cemented the Italian brand in history and the road version, with its 4-cylinder engine, looks like it should be on a GP track.
I know I may come across as taking this lightly, but in fact judging was taken very seriously and run according to International Chief Judge Advisory Group rules around concours events. That said, those guidelines are designed with cars rather than motorcycles in mind.
You might imagine owners could be disgruntled, given how proud they are of their bikes and how, like children, they can do no wrong in the eyes of the 'parent'. Yet truthfully, in 10 years of judging I have never had an irate owner upset that they didn't win.
While the whole process can be subjective and all four of us have reasons to like and dislike bikes, we arrive at what we truly believe is the right winner on the day. And if ever I were to be approached by an irate owner, there's a simple way to handle things… I'd just blame Henry Cole!
Read more
The One That Got Away: Steve Parrish and the Yamaha TD2B that made him partially deaf
2021 Goodwood Revival preview
Tanked up: Learning to make aluminium fuel tanks with Tab Classics