With a mouth-watering array of classic cars, no holds-barred racing around a fearsomely fast track and star drivers from all eras, there is nothing quite like the Goodwood Revival.
Against a backdrop of the beautiful South Downs National Park near the West Sussex Cathedral city of Chichester, the Goodwood race track hosts this annual event to celebrate the era from 1948 to 1966.
How much is your car to insure? Find out in four easy steps.
Get a quote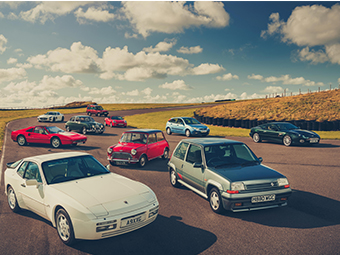 This was when international racing stars of the day such as Stirling Moss, Juan Manuel Fangio, Graham Hill and Jim Clark pitted their talents and cars against each other around the demanding 2.36-mile, seven-corner circuit.
The Revival commemorates this with a series of races designed to recreate those of a bygone time. On top of its bucolic setting, visitors are encouraged to dress in period clothes, recreating a nearly authentic 1940s to 60s race weekend.
Read our full preview to find out all about the Revival and plan your perfect visit.
When is the Goodwood Revival?
The 2021 Goodwood Revival starts with 'First-glance Friday' on 17th September and culminates with 'Super Sunday' on 19th September.
Where can you buy tickets?
Tickets are still available for all three days, but they're selling out fast and not available on the day. Prices for an adult day's admission start at £62, while admission prices for younger visitors aged between 13 and 21 cost from £31, and anyone younger can attend for free. The three-day pass that Goodwood offers has proved popular, selling out for 2021. Get tickets from the Goodwood Revival website or by calling 01243 755055.
What's great about the Revival?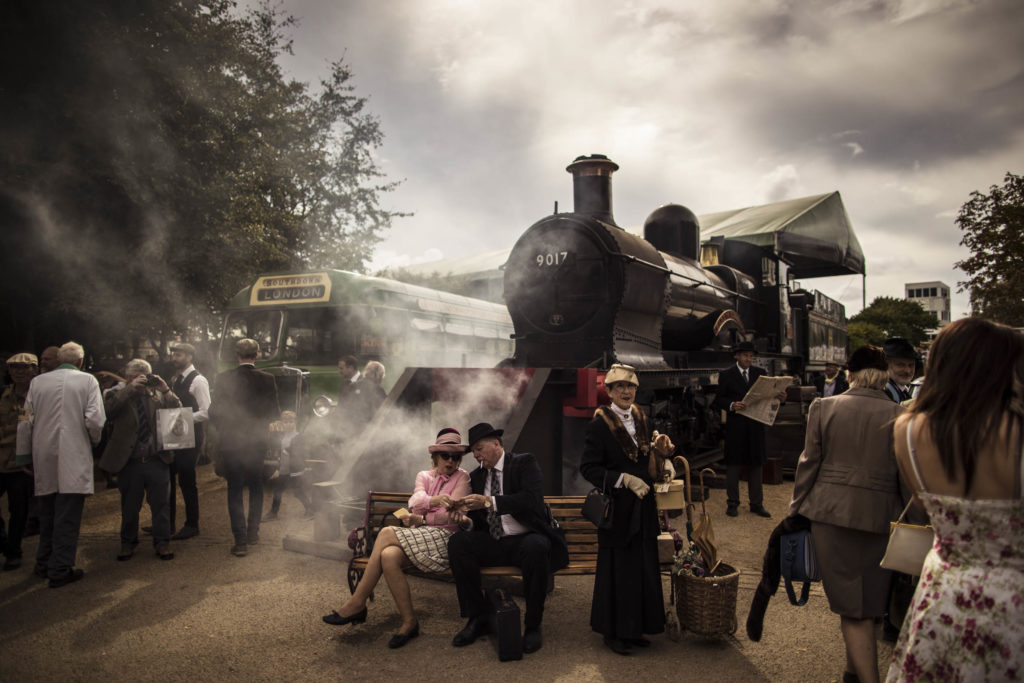 Off the track, the Revival represents a unique look at life in post-war Britain – if a highly sanitised one without any of the deprivation. A bit like Call the Midwife on a Sunday evening, it manages the delicate balance between authenticity and modern sensibilities.
On the track there are many millions of pounds worth of unique, rare and historically interesting cars being driven as they would have been 60 years ago. The racing is exciting and the driving top drawer with big-name professionals competing against talented owners who know their cars from the tyres up.
And then there's the Bonhams auction, held on 18 September and packed with highly prized collector cars. Highlights this years include a brace of Lagondas and cars from The Stan West Collection, which includes Aston Martin and Bentley gems.
Revival regular recommends… Don't ignore the races featuring the less glamorous cars, where the competition is often at its fiercest. The John Whitmore Trophy celebrating 60 years of the Mini Cooper promises some thrilling bumper-to-bumper racing.
Is the racing really that great?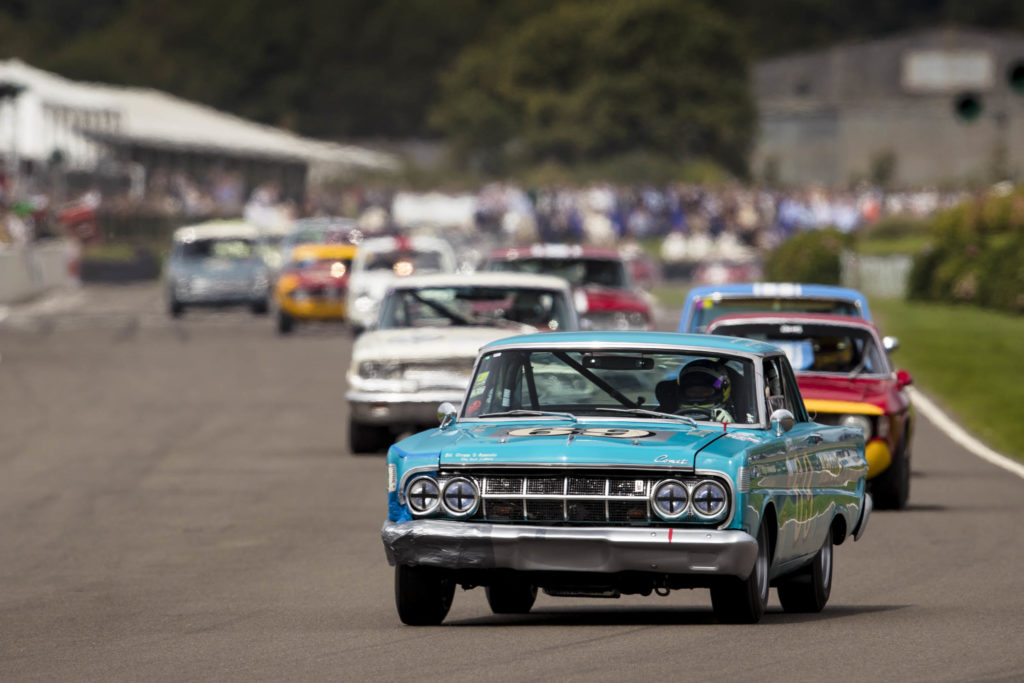 In a word, yes. You just have to watch how the cars drift through the track's fast corners on their skinny tyres to see how hard the drivers are trying.
Former bike and truck racing champion Steve Parrish says: "As a racer, the beauty of the Revival is you've got 75-year olds against 25-year olds. Of course when I race the bikes I want to beat the people I used to race against back in the day, but you also want to give your best and do as well as you can.
"You'd be surprised that the young bike racers aren't as quick as you might expect because they'll never have ridden anything like it. They're used to all the technology of modern bikes and an old bike will be completely alien to them."
What's new for this year?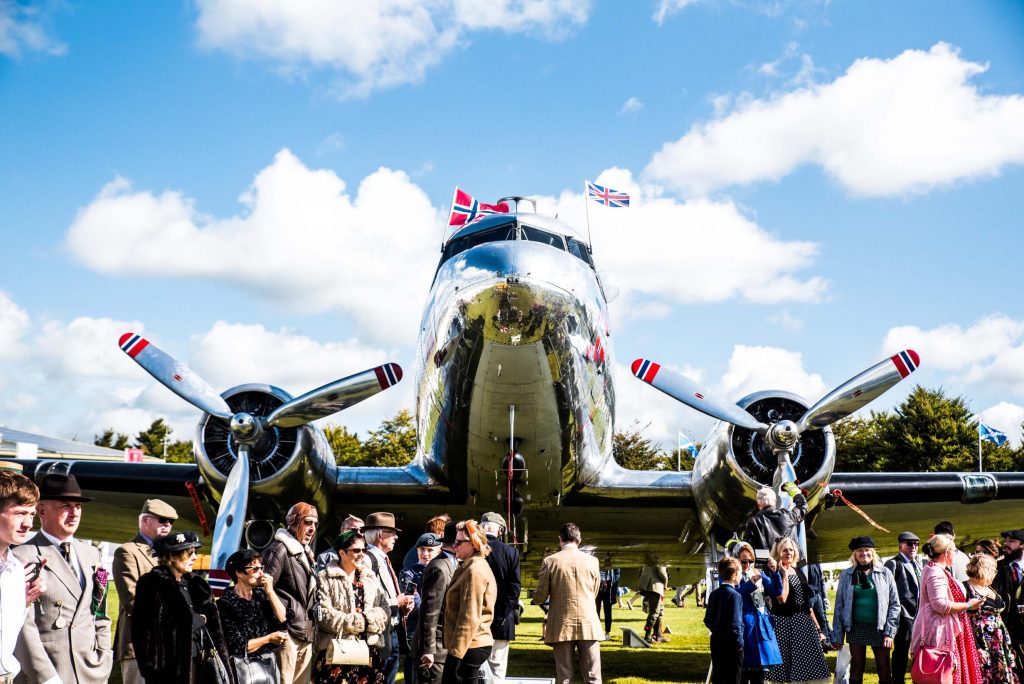 For anyone interested in social history, Revival is a trip in a time machine and this year it goes even further. The infield has been themed as RAF Westhampnett, celebrating the history of the airfield before anyone thought of racing cars round it. There you can view the priceless 1960s GT cars racing in the Stirling Moss Memorial Trophy and the victory parade military vehicles.
There's a new bridge at Madgwick Corner to make crossing to the infield easier. A 600sq ft allotment has been planted to show the kind of vegetables grown to sustain people during the years of rationing. If shopping's more your thing, there's the Revival High Street, the perfect place to pick up some souvenirs.
At Gate 2, there's a 70th anniversary celebration of the Festival of Britain, a cultural event designed to raise the spirits of the war-shattered country. On the Sunday there's a spectacular victory parade of vehicles commemorating 75 years of the London celebration.
And if you fancy coming away from the Revival with a new skill, there are interactive workshops at the new make-do and mend area where you'll be able to take part in automotive restoration projects.
Revival regular recommends… If you want to take part in the workshops at the make-do and mend area you need to get there early!
What should I wear?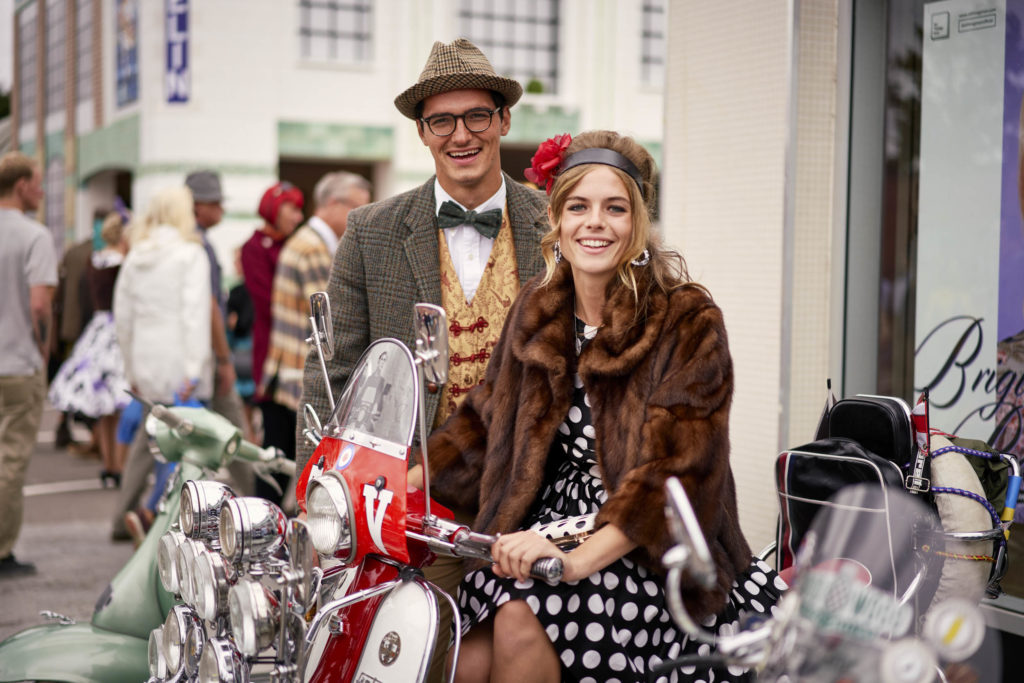 Dress from the period is vital. Ladies wear furs and frocks, gents are in trilbies and tweeds. But you can think slightly off the wall. Perhaps go as a mod or rocker, or maybe a mechanic in old-fashioned looking overalls. There are extensive hints and tips on the Goodwood website.
Revival regular recommends… Don't think you can get away without period dress. You'll stand out like a sore thumb. And you'll struggle to get access to any of the more interesting areas. Start trawling the charity shops!
Will there be any famous drivers there?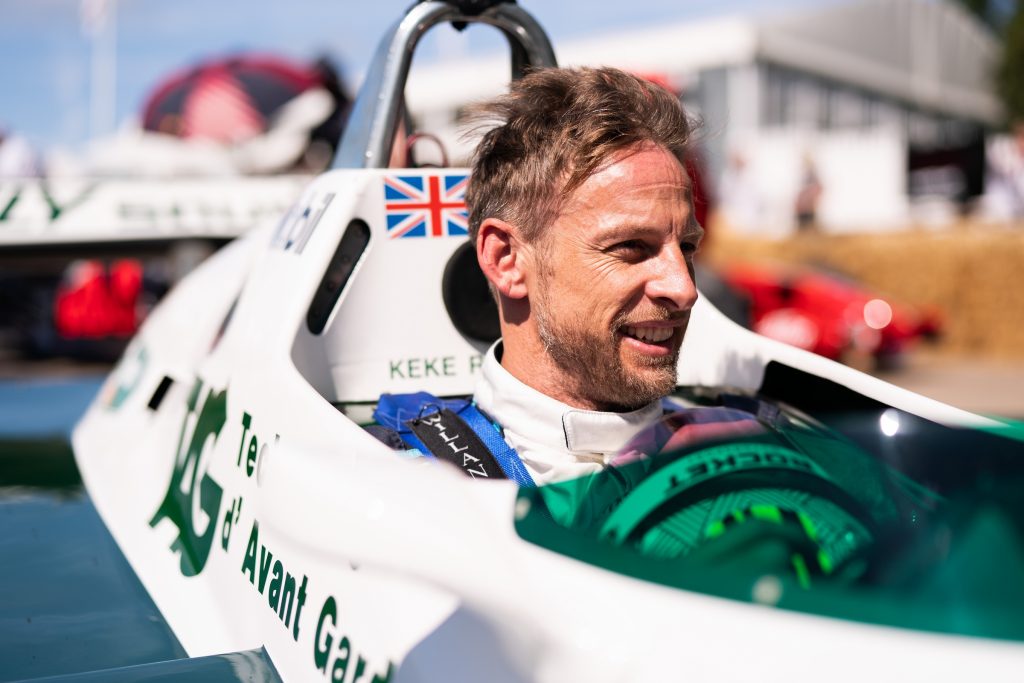 The Revival is a great place to spot celebrity car fans such as Rowan Atkinson and of course, racing drivers. Expect to see Grand Prix stars from the past such as Jenson Button (making his Goodwood racing debut this year), David Coulthard, Jean Alesi and Mark Blundell; Le Mans winners Tom Kristensen, Derek Bell and Richard Attwood; plus touring car stars Steve Soper, Matt Neal and Jason Plato. From the world of bikes there'll be Michael Dunlop, John McGuinness and Steve Parrish.
Where should I watch from?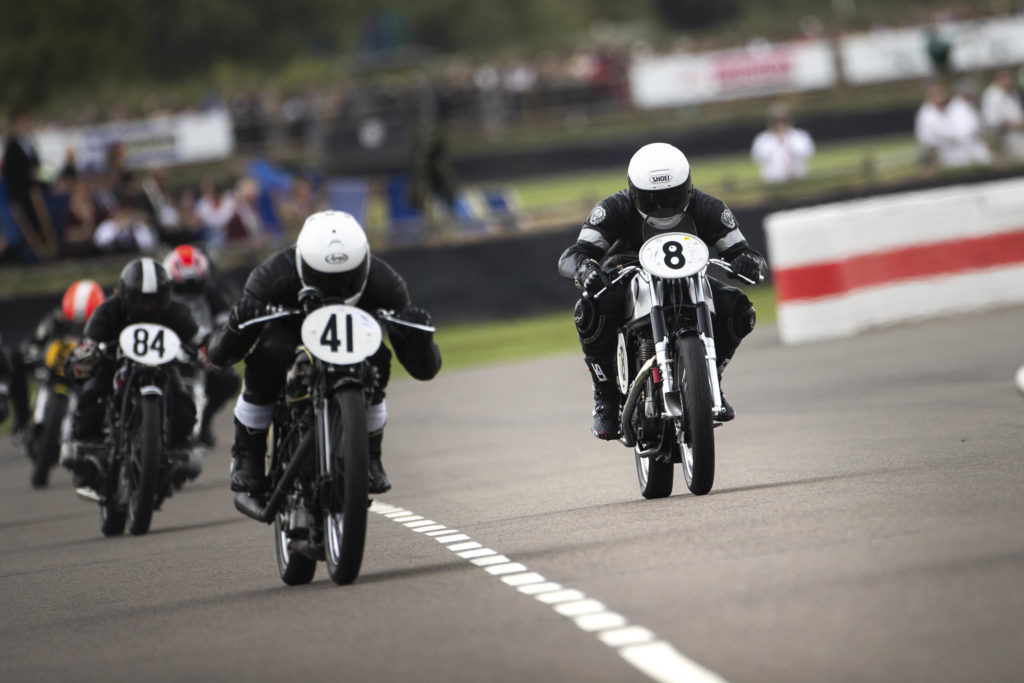 Steve Parrish, who competed at the cutting edge of bike racing, is a Goodwood Revival favourite. The 68-year old tells us, "Spectate at Madgwick and you can see the start-finish line. It's a double apex corner so it's quite tricky and vitally important for lap time to get the run out of there right.
"As a racer that corner scares the s**t out of me is Madgwick. The old Manx Nortons and MV Agusta bikes don't handle particularly well and that's the place where I always think I'm going to hurt myself! You just throw it into the corner and hope and pray the skinny Avon tyres we're on will hang on. Goodwood is a great track, really old school. You just try not to look at the run off areas – or lack of them – combined with the fast corners."
What kind of cars will I see?
More like what won't you see! There'll be everything from ultra-rare and expensive Ferrari 250GTOs to the humble Austin A35 and pretty much everything in between. Expect to see Jaguar D- and E-Types, AC Cobras and Aston Martin DB4 GTs competing with the Ferraris. And for F1 aficionados there are front-engined Grand Prix cars from the 1950s such as the stunning Maserati 250F, Ferrari 246 and BRM P25. Music to the ears will be the thunderous Ford GT40s and McLaren M1s.
Revival regular recommends… Get there for the gates opening at 07:30 and you'll be able to get up close and personal with some of the rarest, most historic and priceless cars in the world. And if you want to see some interesting old motors, just go for a wander around the car parks.
Read more
Goodwood gallery: Famous faces and Festival favourites return for 2021
The Goodwood effect
Sand storm: The women of speed tackling Pendine Sands in hot rods