To expand any of the images in the Goodwood gallery, simply click on the image to switch to slideshow view.
So that's it for another year; another Goodwood Festival of Speed, another instance of one of the biggest events on the UK automotive calendar, and another opportunity to enjoy the incredible variety and excitement that our hobby has to offer.
How much is your car to insure? Find out in four easy steps.
Get a quote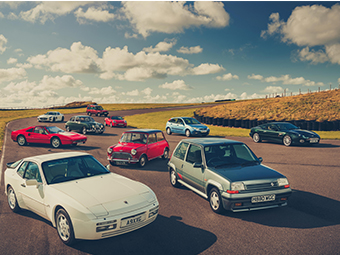 If there were any differences at this year's Festival compared to pre-Covid years, you'd struggle to guess given the selection of people, cars and motorcycles present. Objectively, some usual favourites just weren't able to make it across the border as they might have in the past, but such was the quality of what remained, you'd need some pretty lofty standards to complain about what was missing.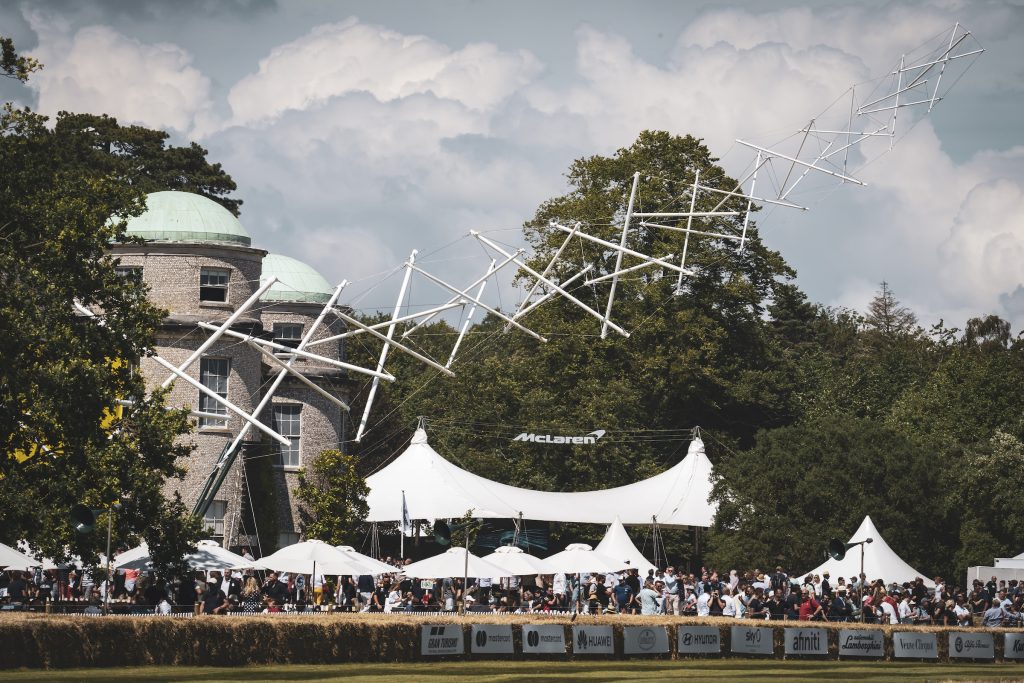 Centrepiece this year was Lotus, whose intriguing sculpture seemed to be floating away in the wind, but with an interactive element via visitors' smartphones, allowed you to watch a selection of iconic Lotus models scream through the sky on a virtual race track.
Lotus itself is going through a period of rapid change right now under Geely ownership. The Chinese firm's ample purse has certainly allowed Volvo to find its creative freedom, and with the all-electric Evija and recently-revealed petrol-powered Emira – which you can read about in detail here – there's a chance to repay that investment many times over.
There was other new metal at the Festival too, including the latest supercar from Scuderia Cameron Glickenhaus, the Aston Martin Valkyrie – not all of whose appearances went smoothly – the Maserati MC20 (reviewed in detail here) and several others.
It's fair to say most Goodwood attendees are there to spy some iconic race cars though rather than modern supercars, and the show certainly did not disappoint. Modern-era Grand Prix cars were out in force…
…as were those from earlier periods, including a pair of Jackie Stewart's Tyrrells, an ex-Fittipaldi Lotus 72, and an earlier Lotus 49 resplendent in Gold Leaf colours. Smoking might be unwise, but the artists that turned their corporate colours into racing liveries created something incredibly enduring.
There was a similar mix from the world of rallying – quite aside from Goodwood's dedicated rally stage. If you've never seen an Audi Quattro S1 Group B car at full noise then it's a real treat (if you've never stood next to one being refuelled with Toluene used as an octane-booster, that's less of a treat but still a real experience).
Lancia had a few treats too, including a Group A Delta Integrale and an Alitalia-liveried Stratos, while Porsche's Rothmans 911 was another sight to behold.
There were, of course, Imprezas too – on Sunday, former F1 driver and current F1 commentator Karun Chandhok revealed Prodrive had let him loose in a former McRae car – at Goodwood even established racing drivers turn into kids in a sweet shop.
One of the great things about the Festival of Speed is that fans can get up close and personal with the drivers and riders, their teams and their machines. We took the opportunity to speak with Maria Costello, one of the most successful women ever to compete at the Isle of Man TT, and she shared a story about her first trip to the TT that ended in disaster – and Steve Hislop coming to her rescue. You can read all about that here.
The world of GT racing and even NASCAR was also represented, though as ever, a few vehicles didn't quite make it all the way up the hill. One was a 2012 "Mello Yello" Chevrolet Camaro which took a tumble towards the top, while on Friday an Alpina B8 Gran Coupe came a cropper at the infamous Molecomb left-hander.
Goodwood's vintage selection is typically unmatched anywhere in the world – and their owners and drivers really let them loose. We've already heard from "Queenie" Louwman and her experience driving a Ferrari 375 Indianapolis up the hill, but Bugattis, Aston Martins and Alfa Romeos were similarly well represented.
And of course, everywhere you look at Goodwood there's a face familiar from the world of motoring and motorsport, many of whom are fortunate enough to get a run up the hill at some point during the weekend in cars driven by their own childhood heroes.
No doubt a few young spectators looking on will one day return to Goodwood to drive up the hill themselves – and that's the real joy of the annual Goodwood Festival of Speed.
Also read
Not bad for my first Ferrari! Driving the 375 Indianapolis at Goodwood
When Steve Hislop came to the rescue of Maria Costello
Retro Rides Weekender: Car show season kicks off in style – giant picture gallery