Her eyes are turning misty as the memories come flooding back, but Maria Costello has a smile on her face.
We're at the 2021 Goodwood Festival of Speed, and Costello has just taken Hagerty on a technical tour of her 2008 LCR Kawasaki F2 sidecar that she campaigns with Vicky Cooke.
The two are part of the Festival of Speed's tribute to 110 years of Mountain Course racing, the most fearsome challenge any bike racer can add to their CV.
Costello is the first woman to take a podium position at the Isle of Man TT and held the lap record for a woman competitor for five years. Clearly, she thrives on speed.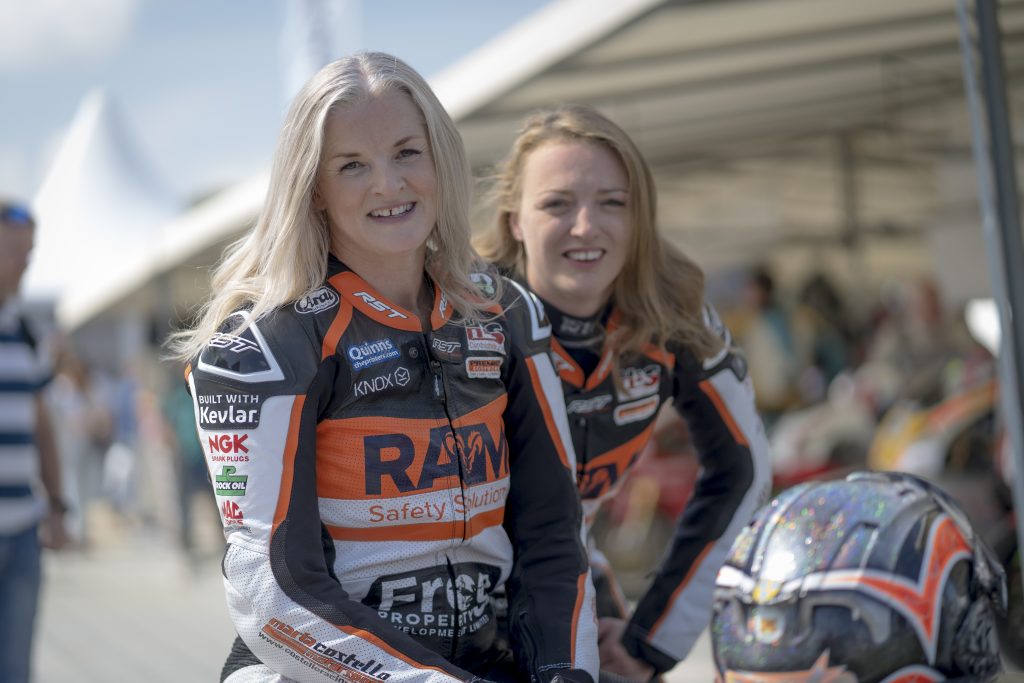 Her latest challenge is trying her hand at the sport of sidecar racing, a project launched in 2019 and interrupted by the global pandemic. She and Cooke are a newly formed partnership, and they're enjoying working together. "We have a great relationship, a really good rapport. We just click and that really helps in this sport," says Costello of her passenger, Cooke. The feeling is mutual, Cooke tells us.
The wide slick tyres, short-travel suspension, thick chain and drilled disc brakes all spin at ridiculous speeds, inches from Cooke as she shifts herself around the simple passenger platform and switches her right hand between the crude looking slots carved into the fibreglass bodywork for her to grasp.
Surrounding them are around 40 motorcycles charting more than a century of engineering innovation and riders in the Mountain Course class. Wander up to the Main Paddock and you'll find everything from the inaugural TT-winning Norton 6hp Twin to Peter Hickman's Isle of Man TT lap record-setting BMW S1000RR, with the likes of Giacomo Agostini, John McGuinness, Michael Dunlop and Jenny Tinmouth all doing the same as Costello – drinking in the atmosphere, chatting with the fans and riding their machines up the hill past Goodwood House.
With so many machines, which, we wonder, is Costello's stand-out bike amongst those forming the 110 anniversary celebrations?
Putting the question to Costello, she reacts as anyone else would: "Oh gosh, where do you start? There is so much here!"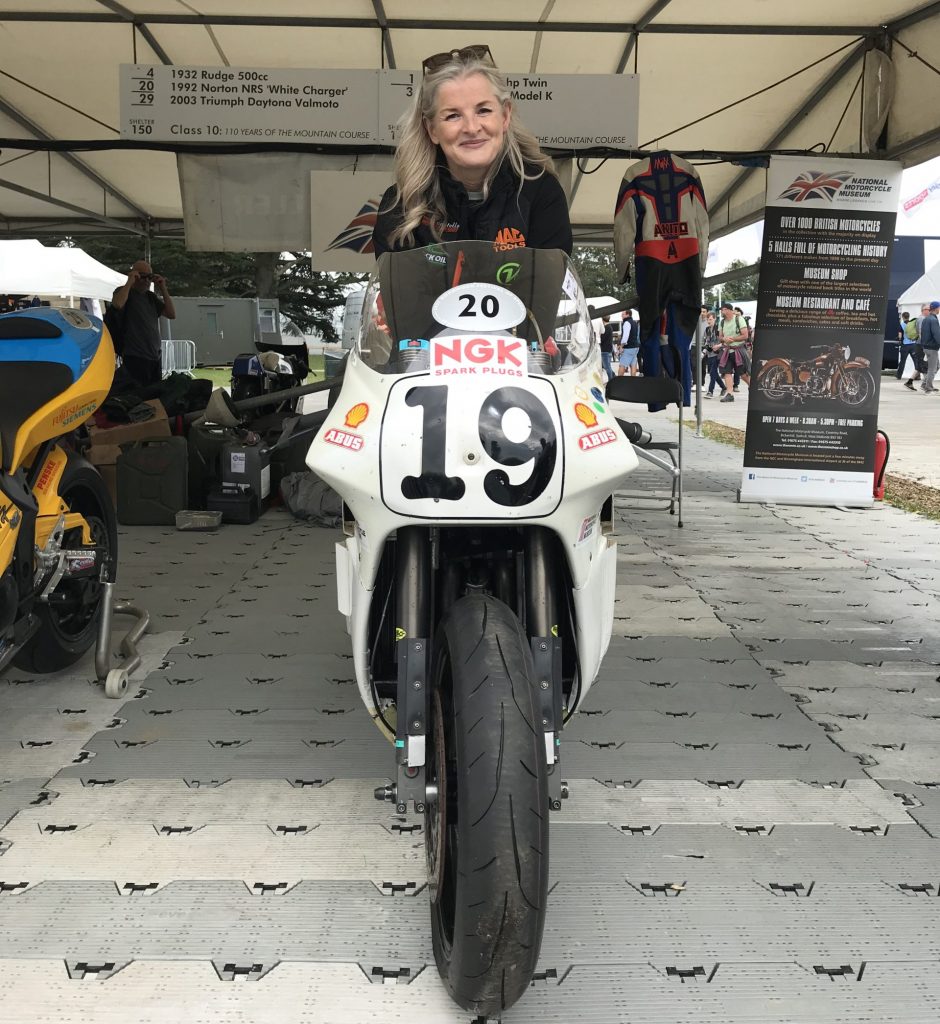 We wander around the paddock, taking in the bikes and their stories, before stopping at a Norton. It looks scruffy, its huge rear tyre seemingly over-sized for the frame, the front mudguard missing, a few simple decals stuck to the fairing like a teenager's race-replica and nothing to say it's anything special. But Costello knows better.
"This is called the White Charger. It was ridden by Steve Hislop and he became my hero the moment he won the TT on this bike," recalls Costello.
The White Charger is a Norton RCW588, powered by a twin-rotor Wankel engine that was water-cooled for Hislop's 1992 bike that took victory in the Senior TT. It was the first time Norton had won the event since 1961, and the race went down in history as being the greatest moment ever seen at the TT.
Does 1992 seem like a long time ago to Costello? "No! That's the funny thing. It feels like it was only yesterday.
"The first year I went to the Isle of Man, in 1996, my boyfriend, who worked for Motorcycle News, was racing at the TT and we got to meet Steve Hislop, so it was like all my dreams come true in one moment.
"My boyfriend actually had a nasty accident, and Steve Hislop was the first person to come and see us at the hospital. He was like, 'What are you going to do, Maria? Where are you going to stay?' because he knew I wanted to be with my boyfriend while he was in hospital.
"I ended up living with Steve Hislop for a week."
Hislop threw open his doors and took Costello in during her moment of need until her boyfriend could be discharged from hospital.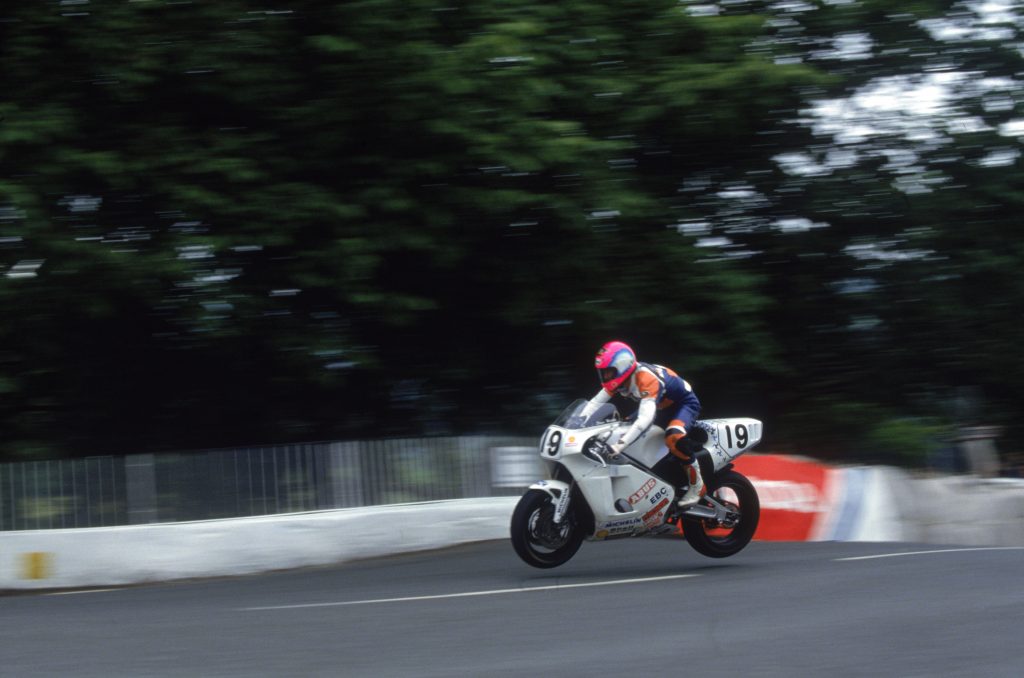 "Getting to sit there, drink a beer of an evening, talk about his career, and have him get out all his scrap books just blew my mind. He was there when I needed help. What does that say? I picked the right hero.
"The Norton is from the same year Hislop went up against Carl Fogarty on the [Yamaha] 0W01, I think." Scot rider Hislop did indeed fend off up and coming Fogarty, not to mention Joey Dunlop and Phil McCallen riding factory-supported Hondas.
Throughout the six-lap, 226 mile race, Hislop swapped the lead with Carl Fogarty before the Scot eventually won just 4.4 seconds ahead of Fogarty. Hislop's average speed for the race was a staggering 121.8mph.
Yet Hislop was only riding with Norton after being dropped by Honda and then signing but subsequently falling out with Yamaha. It was a last-minute deal that took a £10,000 contribution from the Isle of Man tourist board to help fund efforts – and only came about after an inspired approach to Hislop, by Brian Crighton, the engineer who initially had to develop the Norton RCW588 in his own time at home because the company thought a race bike based on its rotary machine would never work.
"He is my hero on that bike," says Costello of Hislop. "I've got a signed poster of him on that bike, from that TT, framed, in my house!"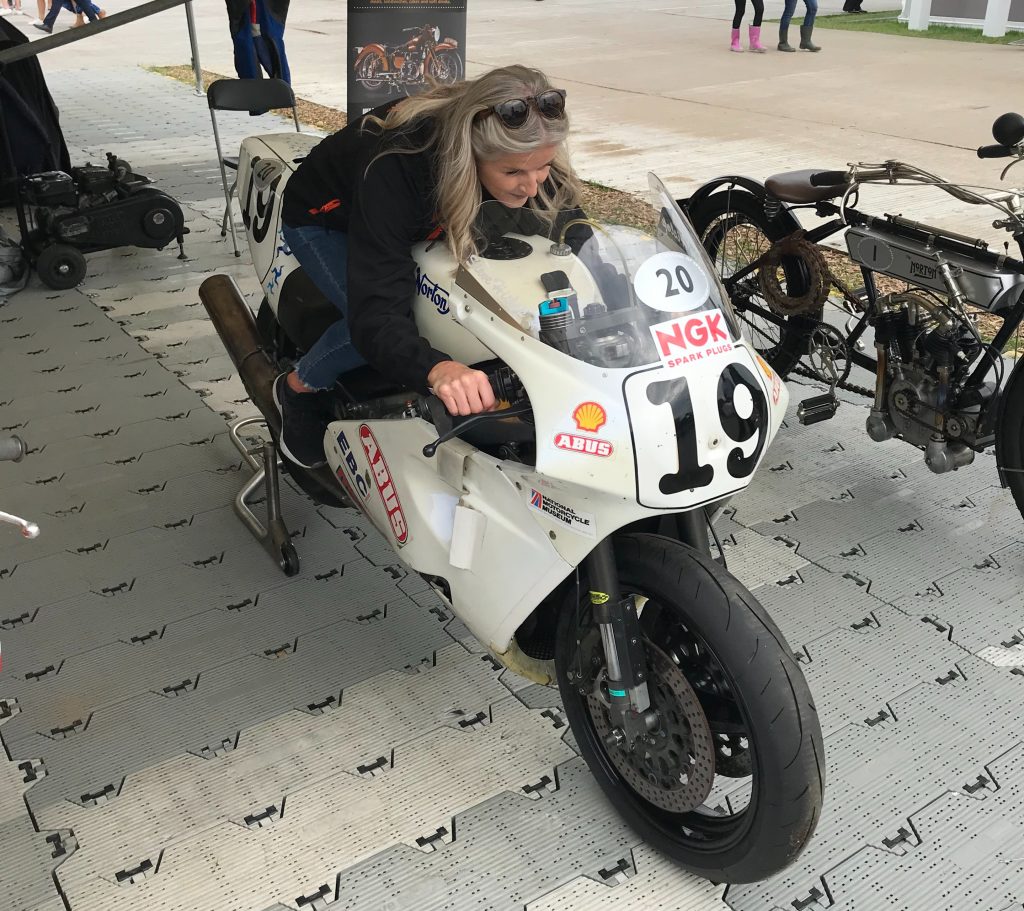 Hislop lost his life in a helicopter crash, in 2003. Costello takes a seat on his Norton, which is now in the keep of the National Motorcycle Museum, and shakes her head is disbelief as she remembers what happened after her boyfriend came home.
"Even though I went home at the end of that, saying 'I'm never coming back to this place, this has been horrendous,' at the end of the year I went back to do my first Manx TT. Three laps in I was loving it!
"Road racing is almost like a moment of meditation. When I'm on a bike, racing at the TT, it takes me to this amazing space, a moment of inner calm. And how lucky am I to still be doing it?"
Read more
Not bad for my first Ferrari! Driving the 375 Indianapolis at Goodwood
Opinion: It's good to be back at the Festival of Speed
Ride on time: 13 collectable motorcycles to buy now