The Isle of Man looks to extend its franchise to other countries and its government calls for bids from promoters to recreate the world's most exciting – and dangerous – race series.
The Isle of Man Tourist Trophy races just celebrated the centennial of the 37.75-mile Mountain Course and had another stunning year's TV coverage, bringing the event into more homes worldwide. In fact, these historic races get more media coverage today than when the TT formed part of the World Championship race series.
How much is your car to insure? Find out in four easy steps.
Get a quote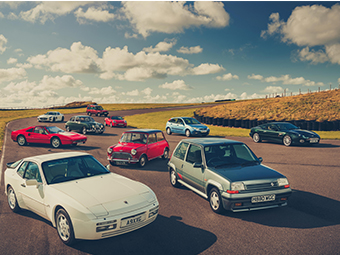 Clever marketing has seen the likes of Valentino Rossi and other Moto GP legends flown in to ride parade laps and attract even more coverage and visitors to the island, helping its economy. There is no doubt that professional marketing and public relations, and innovative features like the TT Zero for electric bikes, have seen the races start to repay the considerable investment by the local government in securing the TT's future.
As a committed TT fan of 34 years, I am delighted that this unique event continues to flourish and present the ultimate road racing challenge. In a world full of health and safety concerns, these races continue to represent the pinnacle of competitive risk and reward.
Earlier this year, the Isle of Man Government Department of Economic Development, who are the commercial rights holders for the TT Races, announced their intention to look into creating a TT Races World Championship. The latest step is to invite individuals or organisations to bid for the rights to research capitalising on the popularity of the TT Races, by creating additional revenue streams. Such income would come from sponsorship, television, licensing and hospitality.
The TT organizers anticipate that other countries could host rounds of the proposed championships, and benefit from sponsorship and coverage. As a result, the Isle of Man would get licensing income and increased publicity, which would help promote it as a worldwide business centre.
I used the word "unique" to describe the TT races, and it was carefully chosen. Northern Ireland's Ulster and Northwest events don't carry the same interest, despite being run on pure road circuits like the TT. Even the Southern 100 road races held at Castletown on the Isle of Man don't have the same magic, despite many TT riders competing in them.
The TT's very specific location and the riders it attracts could be the biggest reasons a worldwide series would never work. Many riders are not professionals and save all their money and vacation to take on the TT challenge. They simply couldn't afford to travel the world to race elsewhere.
In addition, pure road racing is so different and so much more dangerous than racing on purpose-built tracks, that many professional Moto GP and World Superbike riders won't accept the risks. This is why they boycotted the TT in the 1970s, leading to its being removed from the World Championship circuit.
Even today, comments from Moto GP champions like Valentino Rossi, Jorge Lorenzo, Mick Doohan and Nicky Hayden are uniform, after just one parade lap. They think a 229-turn, 37-mile road course, in which riders average 125+ mph between stone walls for 226 miles, is much too dangerous. With a few exceptions, such as Geoff Duke, John Surtees and Carl Fogerty, history has also shown that good road racers do not make good track racers, and vice versa.
Lastly of course, what makes the TT unique is its history, micro-climate, and most of all, the Manx people. I don't think the event can be recreated elsewhere. Most other road circuits are long gone for safety reasons, apart from Macau near Hong Kong, which is truly a different world.
Imagine trying to recreate Florida's Daytona Speedway elsewhere: You could build a banked tri-oval, but it wouldn't be Daytona. In a similar vein, the Japanese cruisers may emulate Harley-Davidson, but they will never be such a bike to the rider who wants a Harley for its history and image. Finally, you may have a cat with no tail, but if it didn't come from the Isle of Man, it's not a Manx.
I look forward to the results of the study and I'm open to creative ideas, but I suspect that money spent on the feasibility study could be better used reducing the expense of competing at the TT, and easing travel costs for spectators.