Pendine Sands – you must have heard of it? The legendary beach in Carmarthenshire, South Wales where 1920s Land Speed Record pioneers such as Malcolm Campbell and JG Parry-Thomas diced with death before the high-octane thrill-seekers travelled across the Atlantic to faster locations at Daytona and Bonneville.
Their spirit lives on in the racers of the UK's Vintage Hot Rod Association, who since 2013 have been privileged to follow in those historic wheel tracks at the award-winning annual Hot Rod Races. Speeds of the traditionally hopped-up 'n' stripped-down pre-1949 cars are measured through a 110-yard trap after a half-mile run-up, and racers compete across a number of vehicle and engine classes to enter the coveted 100mph Club and challenge for the King of the Beach title. The fastest speed recorded so far is 127.8mph.
How much is your car to insure? Find out in four easy steps.
Get a quote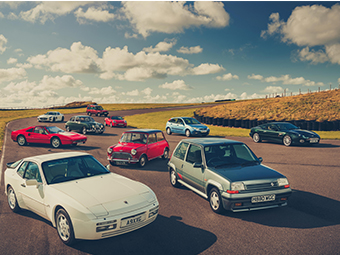 The VHRA is widely respected for its inclusivity. Which is why I'm here competing, and meeting just some of its lady racers whose racing dreams have come true on Pendine's hallowed sands.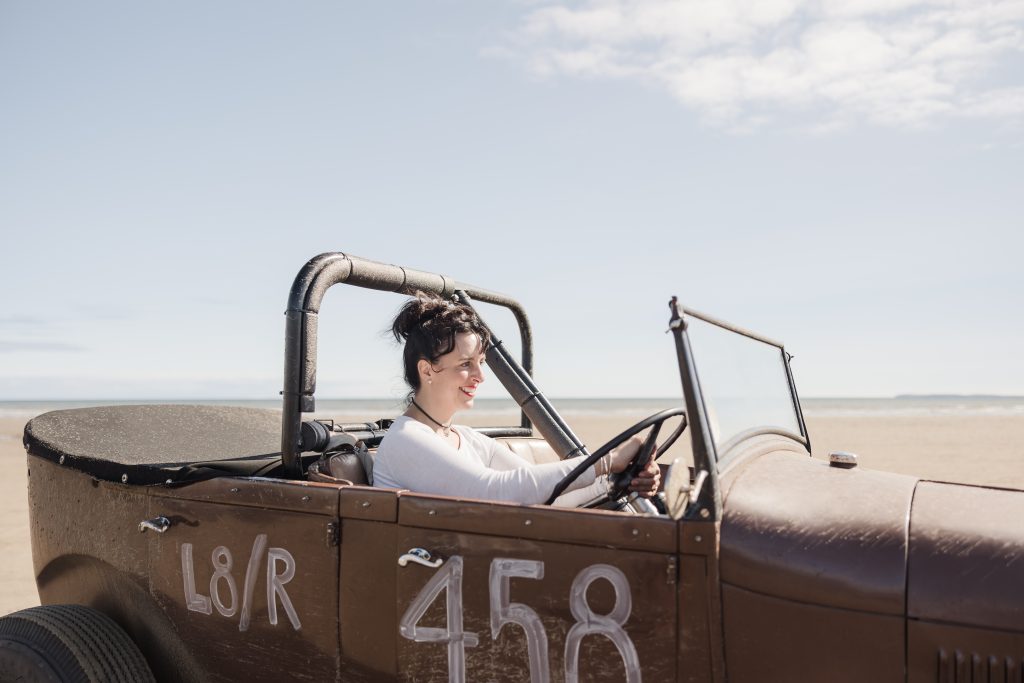 "I grew up with American muscle cars and customs," says Rebecca Valverde. "For a young girl in the 1980s it was unusual to want to be in the garage learning everything. The sound of a Chevy small-block V8 running through cherry bombs still makes my tummy flutter, reminiscent of being driven to school and family days out."
The reflexologist and massage therapist now runs a 350ci small-block-powered 1928 Ford Model A phaeton, which has hit 97mph at Pendine: "My fiancé Steve had it built for me in 2014 as a surprise. I've used it for everything from pottering about to drag racing, where I've hit the 13-second bracket.
"My pursuit is to drive it hard and have fun; I've just generally bloody ragged it, and I adore it! I love how little girls in their parents' cars always look amazed and wave… I was once that little girl. The rod is living its life to the full – and I'm having a ball."
Scarlett Devey is a true multi-tasker at Pendine; she not only competes on the beach, but she's also a regular startline flag-girl. The anti-doping scientist grew up with rods and kustoms. She usually drives her dad's 1948 Pontiac on the sand, as her own car – a 1953 Austin A40 Somerset, transformed with a 2.0-litre Ford Pinto and chopped kustom styling – is too 'new'.
Sporting name-appropriate flame-red hair and matching club overalls, Scarlett says: "Pendine's incredible atmosphere feels like you've gone back in time. I love being a flag-girl. It's slightly harder than people might think, standing for long periods in all weathers, with a big smile and not a hair out of place.
"Waiting to flag the first rod off at the beginning of each day is so exciting, though, and one of my favourite things is bantering with the drivers as they're waiting for the all-clear. I also get the best view of the cars and track."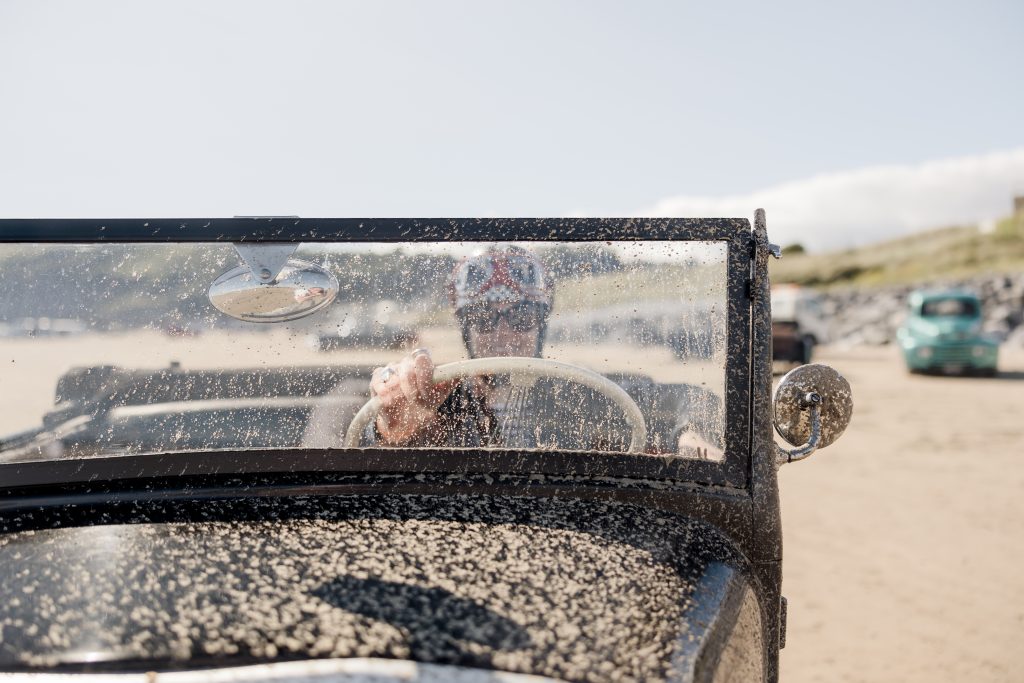 "My 1929 Model A roadster is so agricultural, it's like driving a 90mph tractor – and I love it," grins Sarah Bradley, who's owned classic cars and motorcycles since she was a teenager and built a parallel career as an automotive writer and editor around her passion for old machinery.
Her hot rod sits on Model B chassis rails and runs a twin-carb Ford flathead V8, three-speed manual gearbox and 'banjo' rear end, and Sarah drives the wheels off it. She's raced at every VHRA Pendine Sands event so far, as well as taken the car on numerous jaunts around the UK and to Europe, including a 2500-mile round road trip to Sweden.
"I love Pendine, although my speeds (87mph at my fastest) will never trouble the 100mph Club," she laughs. "While I push my rod as hard as I can, being consistently mid-field suits me fine; I need it to run, not break!"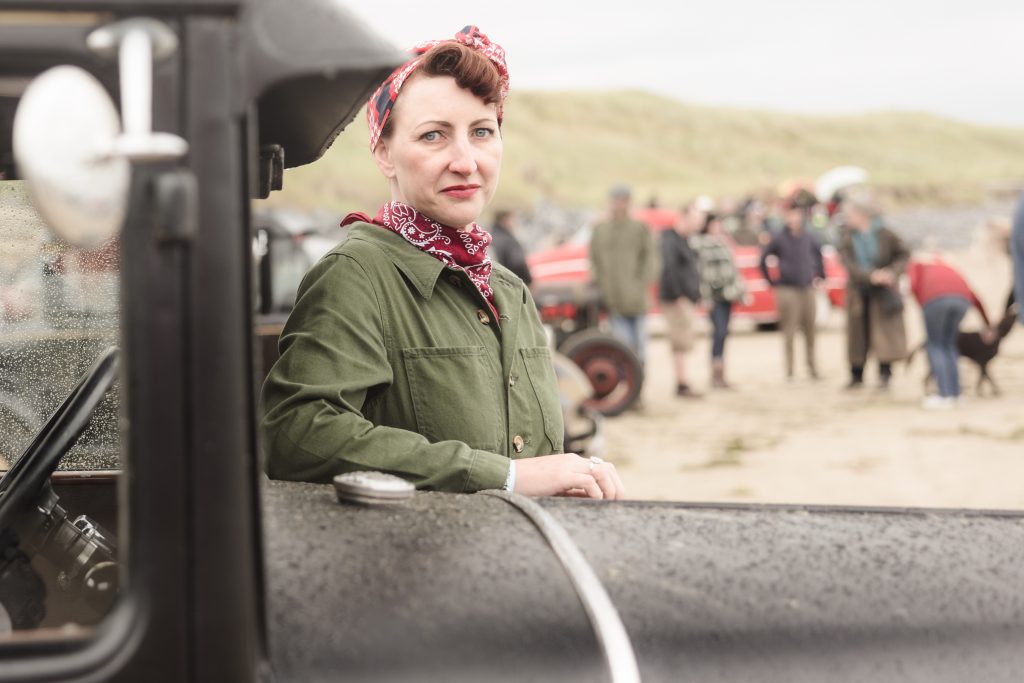 Seamstress Debbie Clewlow has owned her 1931 Model A pick-up since 2018. Husband Martin bought the Ford as a 20th wedding anniversary surprise after Debbie saw it for sale online. "I'd fallen in love, but he said we couldn't afford it," she smiles. "Unbeknownst to me, he purchased it and arranged to have it delivered on our anniversary. Unfortunately, I found out the day before, when I noticed our bank account was empty…"
The truck has been hopped up with a 2.0-litre Pinto and 1939 Ford gearbox. "I love racing it at Pendine, even though I'm scared to death sat on that startline," says Debbie, whose daily is a 1956 Austin A30.
"But once you set off, foot to the floor, the adrenaline kicks in. I enjoy the thrill of driving fast on the empty sand that so many great people have raced on before me. Stopping at the other end is another matter entirely…"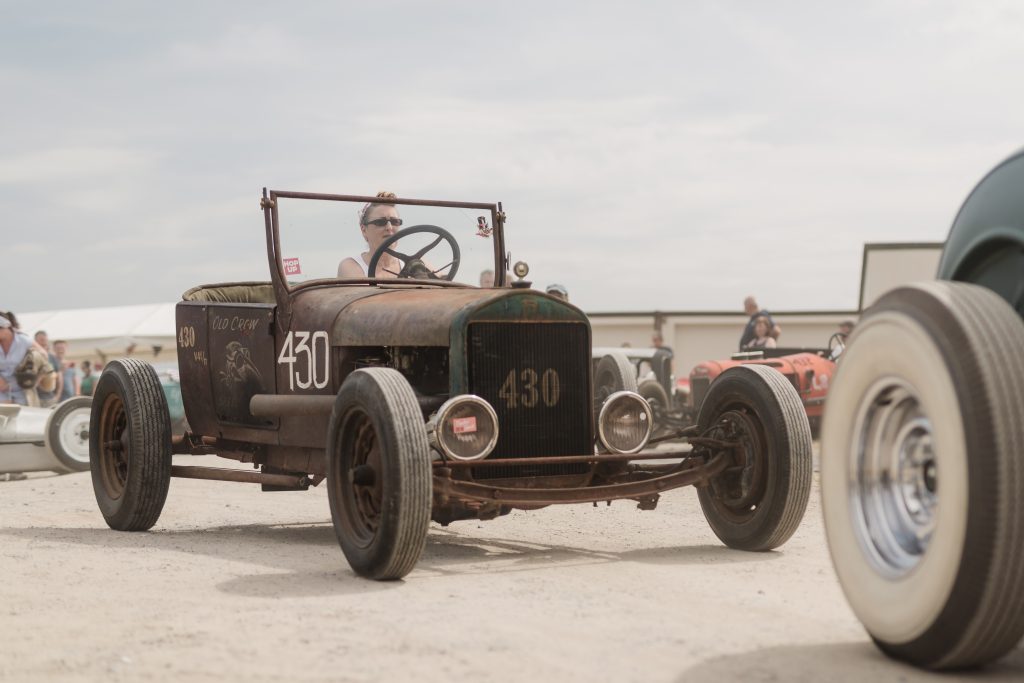 Classic car trimmer Joanna Kirkby can regularly be seen whizzing around her hometown with her dog in the 'Old Crow', her 1927 Model T. Sadly this year's Pendine jaunt was thwarted when a trailer vehicle – commandeered after the Ford had starting issues – broke down. "I nearly cried, I was so looking forward to it. I still went along without the rod, though; it was great to see everyone."
Beaters club member Jo owns several American classics, and is fully involved in their upkeep. "I don't just make cups of tea for the men working on them; I wield a spanner and get involved in the build."
Despite this year's setback, Pendine 2022 is firmly in her sights. "I'd love to get into the 100mph Club, but my little Old Crow won't do it – although when I'm flying along at 48mph it feels like I'm doing 110mph. It's utterly exhilarating!"
With its 327ci Chevy smallblock V8 and TH350 three-speed auto, Melissa Gee's channelled and shortened 1932 Model B pick-up is a serious contender for the 100mph Club – but her ultimate goal has had to wait for another year after she suffered a nasty accident (not in her Ford) several days before the 2021 Pendine races.
"I have the need for speed; I'm super competitive, and every year I hone my car to make it go that bit quicker. My fastest is 99.25mph," the office manager smiles. So near, yet so far…
She's owned the B for 18 years, having imported the cab and bed from the US and rodded it with husband Mark and the help of professional chassis/engine builders. "I drive it constantly," she says. "We shipped it to Bonneville Speed Week some years ago, and averaged 400 miles a day around the Western states in 120-degree heat. There were plenty of breakdowns, but it got us everywhere."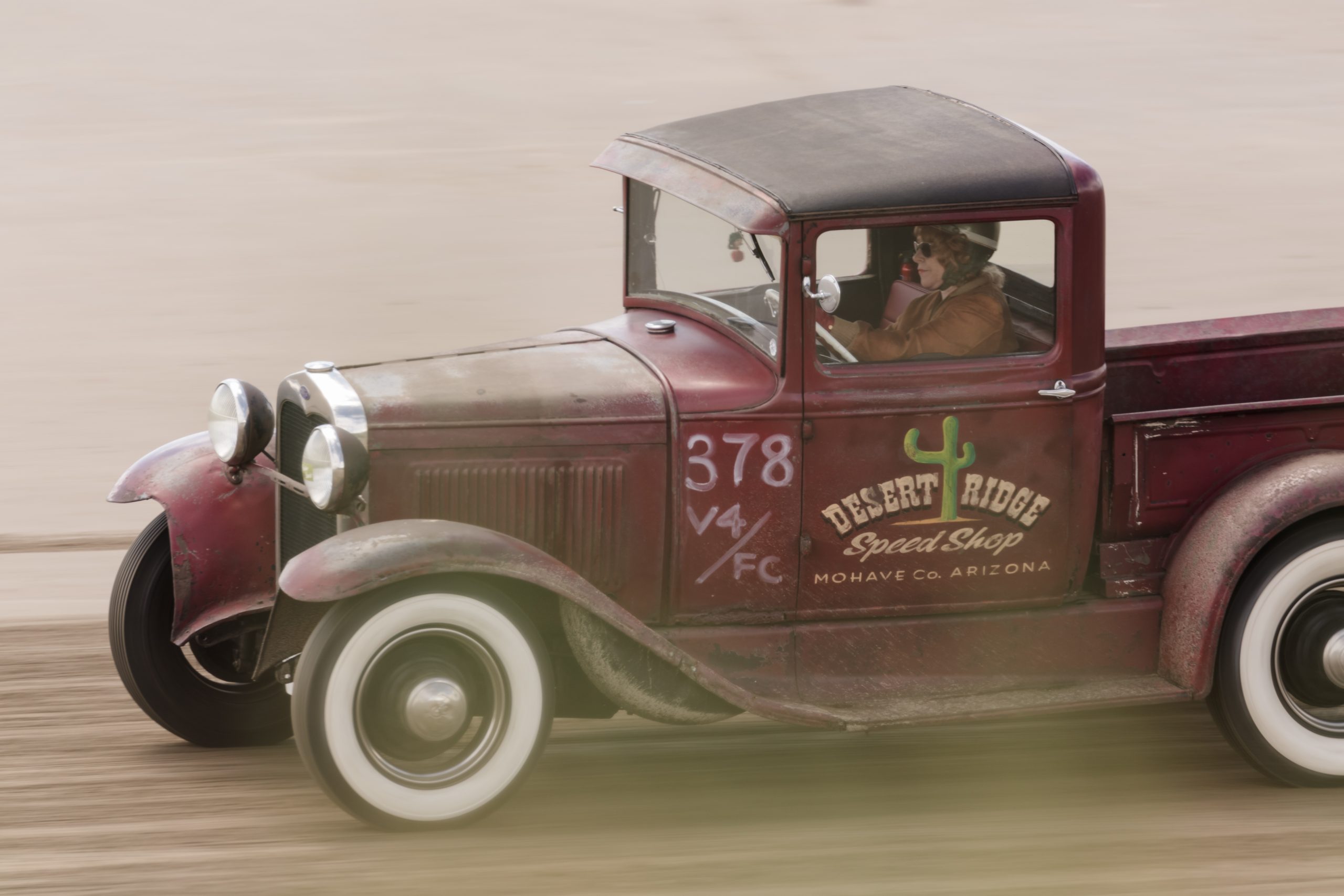 Pendine 2021 was bittersweet for Lisa Coombes; she should have been attending with her husband and fellow hot rodder Stephen, whom she recently lost to cancer.
Understandably, this time the software test engineer didn't feel ready to race her treasured 1930 Ford Model A pick-up, 'Martha', which she helped Steve build in 2015. But she still wanted to see much-missed friends at what was the only event the couple had planned to attend in these COVID-ravaged times.
"Rodding played a major part in our lives," she says. "Together we loved our cars and loved Pendine – the atmosphere, the friendly competition, the trying to get a bit extra out of your rod each year, but most of all the friendship of the VHRA members. My amazing friends have shown so much love to me. I hope to have Martha back racing next year. She meant so much to Stephen, as he always wanted to build a little rod for me, and he had a special fondness for four-bangers. He loved that I loved the racing, too."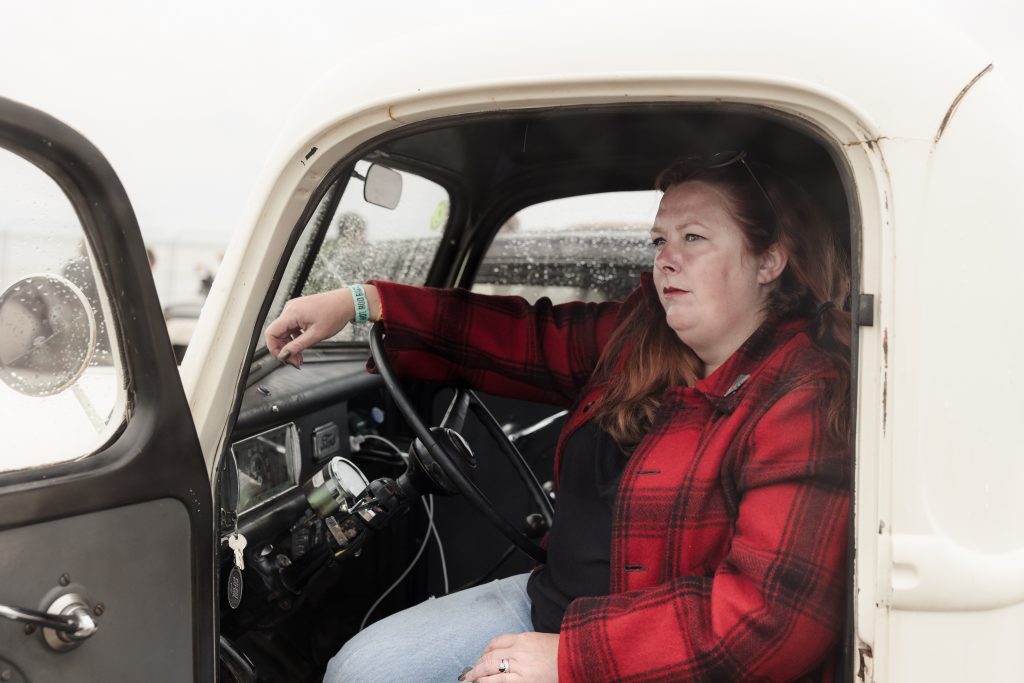 Tara Harvey fell in love with her 1941 Ford pick-up when she saw it at Pendine Sands with its previous owner, so when it came on the market five years ago she snapped it up. With its honed flattie V8 running Edelbrock heads and dual Stromberg carburettors, it's so far achieved 83.49mph.
Electrical engineer Tara says: "Pendine is a truly special place to race; what those before us achieved is awe inspiring. When I put my foot down and see the timing flags up ahead, I feel like I'm flying and experiencing just a tiny piece of all that went before. I scream at the truck to go faster; as fast as it can.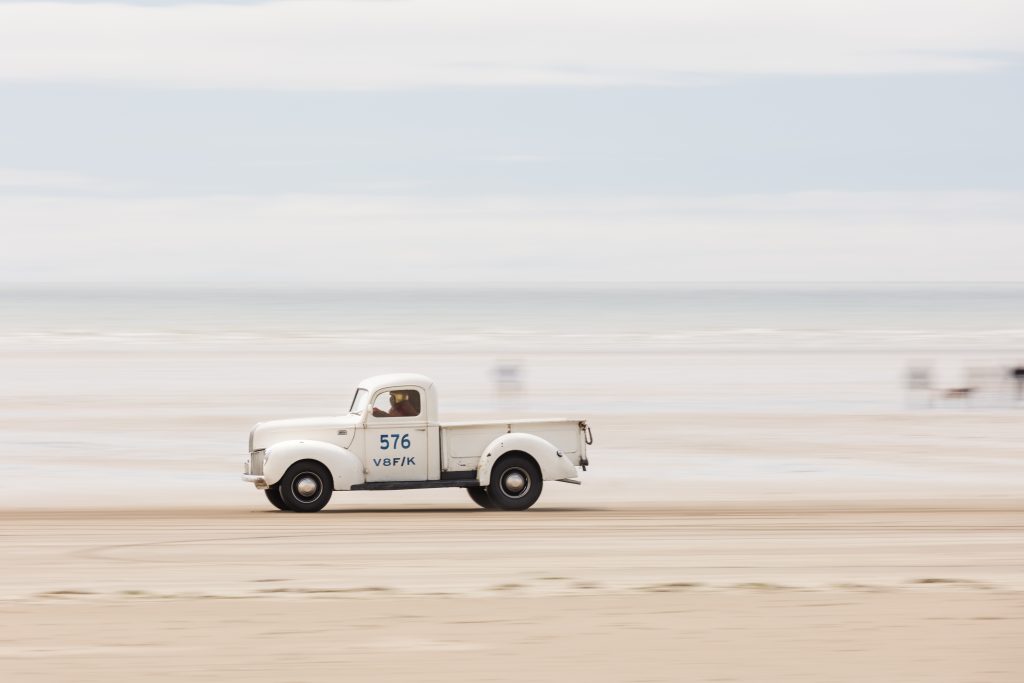 "The shared experience of the racers, the adrenalin, the excitement and the smell of oil and petrol; it evokes a sense of kinsmanship and belonging to something bigger than yourself. It takes me back to the garages I grew up in with a car-mad dad and his friends."
This chopped 1934 Model 40 sedan is the second hot rod Claire Irwin has owned and raced since the Pendine Sands event began. This year was its inaugural outing to the beach, where its 283ci smallblock V8 powered it to 86mph. However, she realised only afterwards that her throttle pedal was bottoming out on the floor carpet. "I hope I will be quicker next year," she laughs.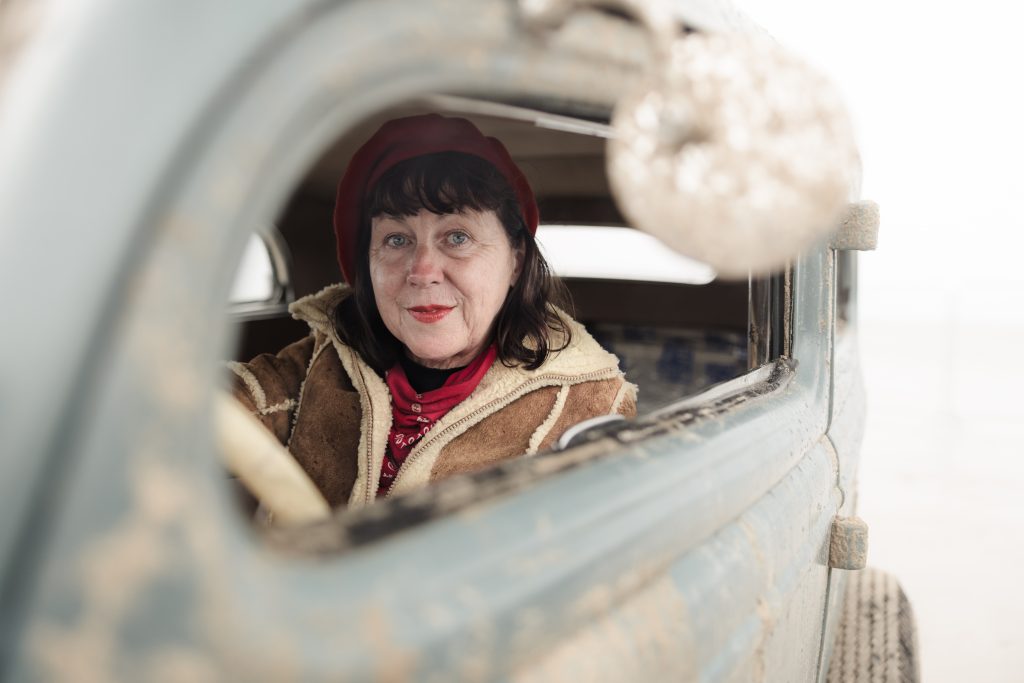 Claire bought the professionally built body and chassis separately, and carried out the panel prep, paint and interior retrim herself; all this work came easily to the retired art teacher who now specialises in upholstering custom cars as well as making bespoke vintage clothing.
"I've ridden motorcycles since I was 17, and bought my first classic car at 25," she says. "I've had a passion for two- and four-wheeled customs for so long, I can't imagine ever giving up the good feeling I get from driving them."
Read more
The 13-year old role model leading by example and winning on track
The One That Got Away: Maria Costello and her Suzuki RGV250
These boots were made for racing