"I realised that there weren't any old road racers, but there were old trials riders. I decided I wanted to grow old."
In 1958, with three successive 250cc North West 200 wins under his belt, Sammy Miller left motorcycle road racing behind to concentrate his effort on the sport that was to make his name. 11 successive British Trials Championship wins, two European Championships, a total of 1,428 wins and even today, aged 85, he's still competing.
How much is your car to insure? Find out in four easy steps.
Get a quote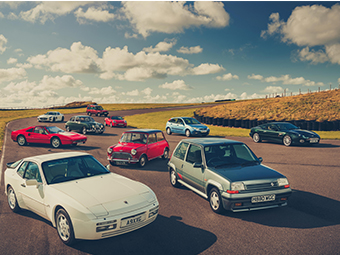 And yet, although his trophy cabinet is one of the most impressive I've ever seen, it isn't just the race wins that have led to Miller being awarded the MBE and presented with the MCN Lifetime Achievement Award. No, what marked him out from all the other riders of his day was his ability to develop his bikes into race-winning machines. First with Ariel, then famously Bultaco, later Honda and SWM, Sammy was a man who combined a mechanic's understanding, an engineer's attention to detail, and a racer's thirst for success. It was a powerful mix.
Visit the Sammy Miller Museum at Bashley in the New Forest, and you quickly realise that Miller's passion hasn't dimmed. 400 classic motorcycles road, track and trials, are presented in astonishing condition. "All but five of them are road-worthy," Miller told me. "And one of the non-runners is made of wood."
The collection includes some wonderful machines, many liked to Miller but others just outstanding bikes in their own right. There's the only working example of the AJS 'Porcupine' that took Les Graham to the 500cc Championship which, on the day I visited, had its distinctive, spiky cooling fins exposed. There's a 1954 BMW RS54 Rennsport similar to Walter Zeller's famous 500cc bike, and there's the 1939 AJS V Four 500cc, the first bike ever to lap the TT circuit at over 100mph.
Then there are the bikes from Miller's own story. A 1955 NSU 250cc Sportmax dominates the entrance to the racing hall with its wonderful full fairing so evocative of the era. On this model prepared by Hills Engineering, Miller rode to many victories including wins at Aintree, Cookstown, Leinster, twice at the North West 200 and two second places at the Ulster Grand Prix.
In the trials hall, almost every bike has a strong link to Miller. In pride of place is 'GOV 132', the Ariel HT-5 developed and ridden by him between 1957 and 1964, with a board full of its successes mounted on the wall behind it. The 1977 Honda 305 developed by Miller using his 'HiBoy' frame is shown, the bike that took Honda to their first trials championship win with Rob Shepherd. Next there's his own bike, 'The Miller', developed in 1978, near to a 1964 250cc Bultaco Sherpa which Miller developed into the clubman rider's favourite.
Whether you're a bike enthusiast or just a lover of classic machines, the museum is an impressive place. The quality of the restorations is extraordinary, some of the work contracted out to local specialists and the rest completed in-house. A paint specialist who has worked for the museum told me that he took his first job, a couple of fuel tanks, without knowing who the work was for. When the client came to pick up the tanks, he was direct. "Not bad," he said. "But not perfect. How about you flat them off and put another five clear coats on." The result, he told me, were two tanks he described as "glistening like gems."
He didn't say whether the client that day was Miller himself, but I wouldn't be surprised. When I arrived to meet him, I found Miller working on parts at his bench in a blue shop coat, and Bill Gibson, his long-serving curator, told me Miller had been hands-on with almost every bike in the museum. From his racing to his development, and now to his museum, Miller isn't a man who stands for second best. It shows.
The Sammy Miller Museum is at Bashley Cross Roads, New Milton, Hampshire, BH25 5SZ. More information can be found at www.sammymiller.co.uk.