With no Isle of Man TT race this year, Hagerty asked Giacomo Agostini – the most successful rider of all time – to take bikers on a full-throttle ride down memory lane…
"OK, 60 miles an hour max – it's a few parade laps. That's it," said Mallory Park Race Circuit boss Eddie Roberts.
Now, there's two types of people who are going to conveniently let that instruction go in one ear and out the other: motorcycle racers, and Italians.
Giacomo Agostini, Italian, and 15-times World Champion motorcycle racer, was busy zoning out on the grid. Eddie, himself a pretty handy racer – including a TT top step – was somewhere between responsibly pointing out the rules and knowing there wasn't a chance he'd pay attention to his own directive if he'd been handing it to himself.
How much is your car to insure? Find out in four easy steps.
Get a quote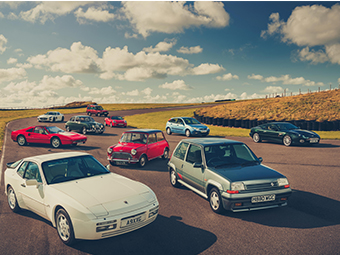 But this wasn't a race: it was a Mallory Park Festival of 1000 Bikes. Nevertheless, it was a grid, and Ago was astride a race-winning MV Agusta 500, and alongside him was John Cooper on his BSA Rocket 3, and they were about to recreate, at 60mph of course, the race in which Cooper pipped then reigning 500cc World Champion Ago to the chequered flag by three-tenths of a second in the 1971 Race of the Year.
It wasn't going to happen again. Nor was the 60mph nonsense.
It was about 200 yards into the parade that Ago on the angry sounding MV and Cooper on the can't-really-be-bothered sounding BSA decided it was a race. And at the end it looked like three-tenths of a second again, although which way was debatable.
So, to those who may bump into Agostini and ask him if he still rides, the answer is clear. And according to friends, he doesn't take many prisoners when exercising his bikes around the Italian lakes near his home.
"I have four MVs: an F4, an F4 Gold, an F3 Ago and a Brutale," he tells Hagerty. "I also have a Yamaha T Max scooter. I also have four race bikes: MV 500 3-cylinder, MV 350-4 cylinder, Yamaha 350 2-cylinder, Yamaha 700 4-cylinder with which I won in Daytona. I use the street bikes every day. My favourites on the road are the F3 and the T Max – I ride the T Max most often.
"My favourite race bikes were the MV Agusta 500 3-cylinder and Yamaha 500 4-cylinder 2-stroke. For 'Revival' events, I ride the competition bikes five or six times a year. And I ride them as I think race bikes should be ridden.
"My first bike was given to me when I was nine: a 48cc Aquilotto Bianchi, with pedals. My first race bike was a 175cc Moto Morini Settebello with which in 1961 I participated in my first race, the 'Trento-Bondone', a hill climb, finishing second.
"The first victory came in 1962, in the Bologna San Luca hill climb, also on the Moto Morini Settebello.
"I really regret selling that bike, and I wonder where it is today – if it still exists."
When you're officially the greatest rider of all time, you'd think it might be a challenge to identify standout races. But Agostini is crystal clear on his three most memorable.
"The 1966 race in Monza when I won my first 500c World Championship in front of the home crowd. Everything went crazy.
"Then the 1967 Isle of Man TT when I was leading in front of Mike Hailwood and I had to retire when the chain broke. But finally in Daytona when I won on my debut with Yamaha."
While the Yamaha TZ700 was the dominant bike of the era – it didn't even have to run to the full 750cc permitted in the rules – that win perhaps confirmed Ago as a special talent: only two years earlier he'd been wrestling MV four strokes to wins around the Isle of Man, yet here he was dominating on an 180mph oval in the USA.
But he goes back to that 1967 TT: "For me it was a very important race, as I knew I had to fight with a great one, Mike Hailwood, who had a very powerful Honda, but which was less-manageable than my MV.
"The night before the race, I was very agitated thinking about the possibility of being able to beat a great champion, given that at the TT he was almost unbeatable.
"Halfway through the race, when I stopped for refuelling, I was in the lead by seven seconds. Unfortunately my chain broke on the penultimate lap, and so the dream of a possible great victory vanished.
"After the race I was very upset, in tears. But Mike came over, hugged me and told me that the moral winner was me.
"He taught me life, to struggle, to know the various cultures and the relationship with people. I always respected my opponents, because I too wanted respect from them.
"With Mike and I it was respect both ways."
Discover the insurance that Hagerty offers for classic bikes